Legalizing Marijuana May End the Opioid Crisis, Say Scientists
A new study shows how access to medical marijuana significantly impacted the use of opioids by patients.
30 November, 2017
A volunteer helps Alex Barak to smoke cannabis at the Tikun Olam company clinic on March 03, 2011 in Tel Aviv, Israel. In conjunction with Israel's Health Ministry, Tikon Olam are currently distributing cannabis for medicinal purposes to over 1800 people
---
As we reported previously, scientists from the University of New Mexico have been studying how access to marijuana may help alleviate the opioid crisis, declared a national emergency by President Trump. Their study has now been published in the journal PLOS One, with the researchers concluding that there is "clinically and statistically significant evidence" that increased cannabis use led to patients cutting down on opioids and improved their quality of life.
The study analyzed the health data of 66 patients who were using opioids habitually to manage their severe chronic pain. 37 of the patients were enrolled in a medical marijuana program between 2010 and 2015 while 29 patients in the control group were not.
The scientists found that patients using cannabis were 17 times more likely to stop their prescribed opioids and five times more likely to lower their daily dosage of opioids. On average, they cut their doses in half. Comparatively, the patients not enrolled in the medical marijuana program actually increased their opioid usage by more than 10%.
The cannabis use also had a positive effect on the life of the patients overall, with most reporting improved levels of activity, social life and concentration. None of the patients in the program reported adverse effects.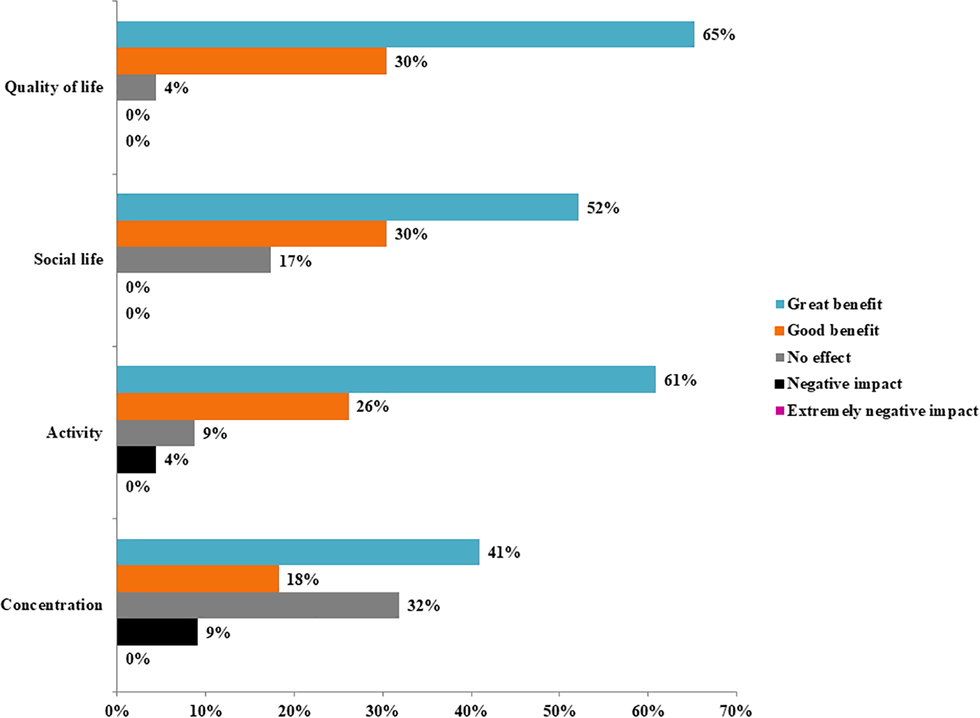 Effects of medical cannabis on the quality of life, social interactions, activity levels and concentration. Credit: PLOS One.
Overall, over 40% of medical cannabis patients stopped filling their opioid prescriptions completely after about a year and a half of being in the program. This result indicates that medical marijuana can be used as an effective alternative to opioids, say the scientists, especially in light of the statistics that over 90 people die from opioids every day in the U.S.
"If cannabis can serve as an alternative to prescription opioids for at least some patients, legislators and the medical community may want to consider medical cannabis programs as a potential tool for combating the current opioid epidemic," wrote the scientists.
The researchers stress that their findings are preliminary and further studies are necessary, with larger samples.
You can read the current study here.
Who is to blame for the U.S.'s dismal college graduation rate? "Radical" educator Dennis Littky has a hunch.
Sponsored by Charles Koch Foundation
COVID-19 has magnified the challenges that underserved communities face with regard to higher education, such as widening social inequality and sky-high tuition.
At College Unbound, where I am president, we get to know students individually to understand what motivates them, so they can build a curriculum based on goals they want to achieve.
My teaching mantra: Everything is permitted during COVID-19. Everything is permitted during COVID-19. Everything is permitted during COVID-19.
Meteorologists propose a stunning new explanation for the mysterious events in the Bermuda Triangle.
Surprising Science
One of life's great mysteries, the Bermuda Triangle might have finally found an explanation. This strange region, that lies in the North Atlantic Ocean between Bermuda, Miami and San Juan, Puerto Rico, has been the presumed cause of dozens and dozens of mind-boggling disappearances of ships and planes.
Did you know that shifting to a positive perspective on aging can add 7.5 years to your life? Or that there is a provable U-curve of happiness that shows people get happier after age 50?
Sweden tops the ranking for the third year in a row.
AXEL SCHMIDT/DDP/AFP via Getty Images
Technology & Innovation
What does COVID-19 mean for the energy transition? While lockdowns have caused a temporary fall in CO2 emissions, the pandemic risks derailing recent progress in addressing the world's energy challenges.
Culture & Religion
Neo's superhuman powers were only inside of The Matrix. The outside world offered a different reality.
Scroll down to load more…