Legalizing Marijuana May End the Opioid Crisis, Say Scientists
A new study shows how access to medical marijuana significantly impacted the use of opioids by patients.
30 November, 2017
---
As we reported previously, scientists from the University of New Mexico have been studying how access to marijuana may help alleviate the opioid crisis, declared a national emergency by President Trump. Their study has now been published in the journal PLOS One, with the researchers concluding that there is "clinically and statistically significant evidence" that increased cannabis use led to patients cutting down on opioids and improved their quality of life.
The study analyzed the health data of 66 patients who were using opioids habitually to manage their severe chronic pain. 37 of the patients were enrolled in a medical marijuana program between 2010 and 2015 while 29 patients in the control group were not.
The scientists found that patients using cannabis were 17 times more likely to stop their prescribed opioids and five times more likely to lower their daily dosage of opioids. On average, they cut their doses in half. Comparatively, the patients not enrolled in the medical marijuana program actually increased their opioid usage by more than 10%.
The cannabis use also had a positive effect on the life of the patients overall, with most reporting improved levels of activity, social life and concentration. None of the patients in the program reported adverse effects.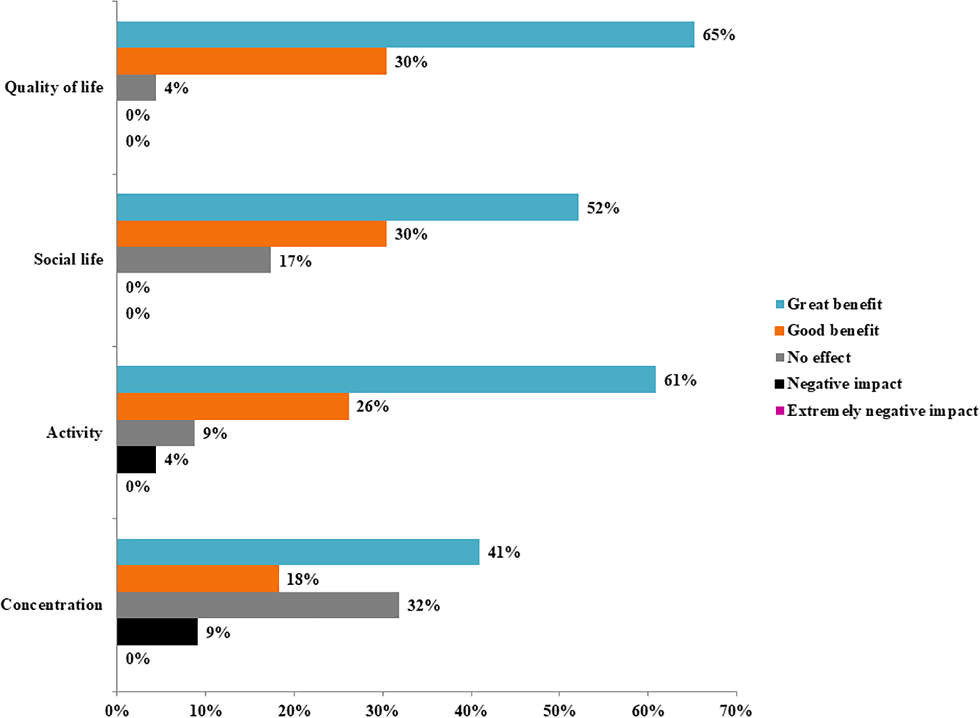 Effects of medical cannabis on the quality of life, social interactions, activity levels and concentration. Credit: PLOS One.
Overall, over 40% of medical cannabis patients stopped filling their opioid prescriptions completely after about a year and a half of being in the program. This result indicates that medical marijuana can be used as an effective alternative to opioids, say the scientists, especially in light of the statistics that over 90 people die from opioids every day in the U.S.
"If cannabis can serve as an alternative to prescription opioids for at least some patients, legislators and the medical community may want to consider medical cannabis programs as a potential tool for combating the current opioid epidemic," wrote the scientists.
The researchers stress that their findings are preliminary and further studies are necessary, with larger samples.
You can read the current study here.
As religious diversity increases in the United States, we must learn to channel religious identity into interfaith cooperation.
Sponsored by Charles Koch Foundation
Religious diversity is the norm in American life, and that diversity is only increasing, says Eboo Patel.
Using the most painful moment of his life as a lesson, Eboo Patel explains why it's crucial to be positive and proactive about engaging religious identity towards interfaith cooperation.
The opinions expressed in this video do not necessarily reflect the views of the Charles Koch Foundation, which encourages the expression of diverse viewpoints within a culture of civil discourse and mutual respect.
Two Apollo 11 astronauts question NASA's planetary safety procedures.
Credit: Bettmann, Getty Images.
Surprising Science
Buzz Aldrin and Michael Collins revealed that there were deficiencies in NASA's safety procedures following the Apollo 11 mission.
Moon landing astronauts were quarantined for 21 days.
Earth could be contaminated with lunar bacteria.
Here's why you might eat greenhouse gases in the future.
Technology & Innovation
The company's protein powder, "Solein," is similar in form and taste to wheat flour.
Based on a concept developed by NASA, the product has wide potential as a carbon-neutral source of protein.
The man-made "meat" industry just got even more interesting.
When it comes to sniffing out whether a source is credible or not, even journalists can sometimes take the wrong approach.
Sponsored by Charles Koch Foundation
We all think that we're competent consumers of news media, but the research shows that even journalists struggle with identifying fact from fiction.
When judging whether a piece of media is true or not, most of us focus too much on the source itself. Knowledge has a context, and it's important to look at that context when trying to validate a source.
The opinions expressed in this video do not necessarily reflect the views of the Charles Koch Foundation, which encourages the expression of diverse viewpoints within a culture of civil discourse and mutual respect.