"Hobbit" Ancestors of Early Humans Shrank Rapidly, Find Studies
New studies shed light on a species of half-size humans who lived in Indonesia 700,000 years ago.
09 June, 2016
Two new studies confirm the discovery of ancestors for a species of hominids, dubbed "hobbits" for their size, filling in a link in the evolutionary chain.
---
The original "hobbits" (or homo floresiensis) were discovered in 2003 on an Indonesian island of Flores. The skeletons that were found then and in subsequent years allowed the scientists to conclude that a species of hominins that were around 3.5 feet tall existed about 60,000-100,000 years ago. Despite having small brains, these little humans made and used stone tools, hunted and may have used fire.
"The hobbit was real," said archaeologist and the one of the authors of the studies Adam Brumm from the Research Centre of Human Evolution at Griffith University in Queensland, Australia. "It was an ancient human species that is separate to ours and that no longer exists on the planet today."
Interestingly, scientists proposed that the hobbits arrived on the island as a larger people and shrank over time, in an process called "island dwarfism," to adapt to their environment and scant resources. 
As the new studies shows, a group of 700,000-year-old fossils, unearthed in Flores in 2014, proves that the hobbits shrank from Homo erectus.
These fossils are of an even smaller people, which means the species must have shrank shortly after appearing on the island. An adult lower jaw fragment from one of the new fossils is 20% smaller than the smallest  lower jaw fragment of the Flores Hobbits found earlier.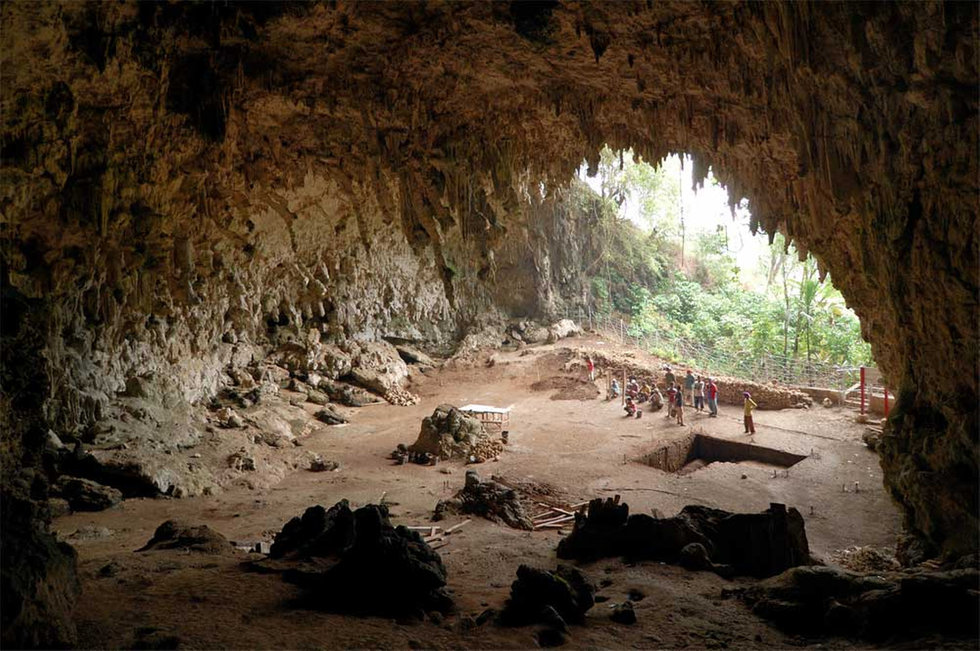 The cave in Indonesia where the findings were made.
The shape and dating of these new fossils suggest they are the ancestors of the H.floresiensis. 
"All the fossils are indisputably hominin, and they appear to be remarkably similar to those of Homo floresiensis," said Yousuke Kaifu, co-author of one of the studies and a paleoanthropologist from Japan's National Museum of Nature and Science in Tokyo.
You can read the studies in Nature here and here.
Here's a video on the Flores Hobbits from the Smithsonian National Museum of Natural History:
Credit: the title image is by Kinez Riza/Nature.
Related Articles
Are university safe spaces killing intellectual growth?
Videos
Why you should want your ideological opposites on campus
Universities must be safe—but they cannot be censored
Don't be afraid of being offended. Be afraid of never changing your mind.
Our experience of time may be blinding us to its true nature, say scientists.
Back to the Future.
Surprising Science
Time may not be passing at all, says the Block Universe Theory.
Time travel may be possible.
Your perception of time is likely relative to you and limited.
From questionable shipwrecks to outright attacks, they clearly don't want to be bothered.
Culture & Religion
Many have tried to contact the Sentinelese, to write about them, or otherwise.
But the inhabitants of the 23 square mile island in the Bay of Bengal don't want anything to do with the outside world.
Their numbers are unknown, but either 40 or 500 remain.
Big think's weekly newsletter.
Get smarter faster from the comfort of your inbox.
See our newsletter privacy policy
here
Most Popular
Most Recent
Big think's weekly newsletter.
Get smarter faster from the comfort of your inbox.
See our newsletter privacy policy
here
© Copyright 2007-2018 & BIG THINK, BIG THINK EDGE,
SMARTER FASTER trademarks owned by The Big Think, Inc. All rights reserved.