History's First Terrorists
Modern terrorism has roots in a mythical sect of assassins from the time of the Crusades.
23 July, 2016
Like a cycle that comes back around almost a thousand years later, modern terrorism has historical roots in a notorious sect of medieval assassins from Syria and Persia (modern-day Iran). In fact, the word "assassin" comes from "hashishin", the Arabic nickname for this group's most rabid followers, which meant "users of hashish" or "hashish addicts". These drug-pumped young men would strike terror into  the hearts of the public by killing high-profile targets to further the political goals of the sect's masters.
---
The sect was comprised of Nizari Ismailis, a group that split off from Ismailisim, a branch of Shia Islam, in the end of 11th century (around 1080). The "assassins" were founded by Hassan-i Sabbah, a radical missionary, who along with other leaders of the sect came to be evocatively-nicknamed "The Old Man of the Mountain". Over the course of several hundred years, the "hashishin" became known throughout the Middle East for killing two caliphs, many viziers, sultans and Crusader leaders.
Of course, not all Nizari Ismailis were assassins. Rather it was a portion of their followers known as the fida'i or fedayeen, meaning "those who sacrifice themselves". The popular legend was that these well-trained young men would be pumped full of drugs like hashish, shown a promissory "paradise" garden full of virgins and sent off on a suicide mission that would allow them to return to this garden for good.
The fame of the assassins was such that it spread to Europe courtesy of Marco Polo, the celebrated Venetian world wanderer, who wrote about them in his Crusader accounts, embellishing their deeds and increasing their notoriety. In fact, stories of the "secret garden" and drugging are often attributed to Marco Polo's writing prowess and as such debated for their historical accuracy.
Why take this approach?
Lacking numbers and an army, the leaders of the assassins realized that they needed well-trained fanatical warriors to further their political and religious goals. In particular, they initially battled against the Seljuk Empire, a Turko-Persian Sunni Muslim Empire which had a great chunk of territory under its control and actively battled the Ismailis, whom they regarded as heretical.
Hasan-i Sabbah and other assassin leaders saw that asymmetrical warfare worked in changing the leaders who opposed them and in seeding terror throughout the population. Their targets were often killed in broad daylight and in public spaces, to maximize the exposure of the act to the public. A possibly drugged assassin would suddenly appear in a marketplace and stab a well-known person through the heart with a poison-tipped dagger, an act sure to be worthy of fearful conversation. The assassins saw the elimination of leaders as a way of political discourse, a rather different tactic from the modern terrorists who see direct attacks on the population as the main operating principle. 
Hasan-i Sabbah, the sect's founder, was a remarkable man, versed in art, metaphysics, philosophy, math, astronomy and other sciences of the day. He conducted the sect's operations from Alamut (meaning "Eagle's Nest"), an impregnable Persian mountain fortress which is about 60 miles away from modern-day Tehran in Iran. The castle stood strong against many assaults, finally captured by the Mongols in 1256.
Many legends are told about Hasan-i Sabbah and it's hard to separate fact from fiction. One version of his story tells of esoteric religious teachings that he would impart to his most advanced followers. He gets credit for saying: "Nothing is true. Everything is permitted." - a statement that endeared him to generations of mystics.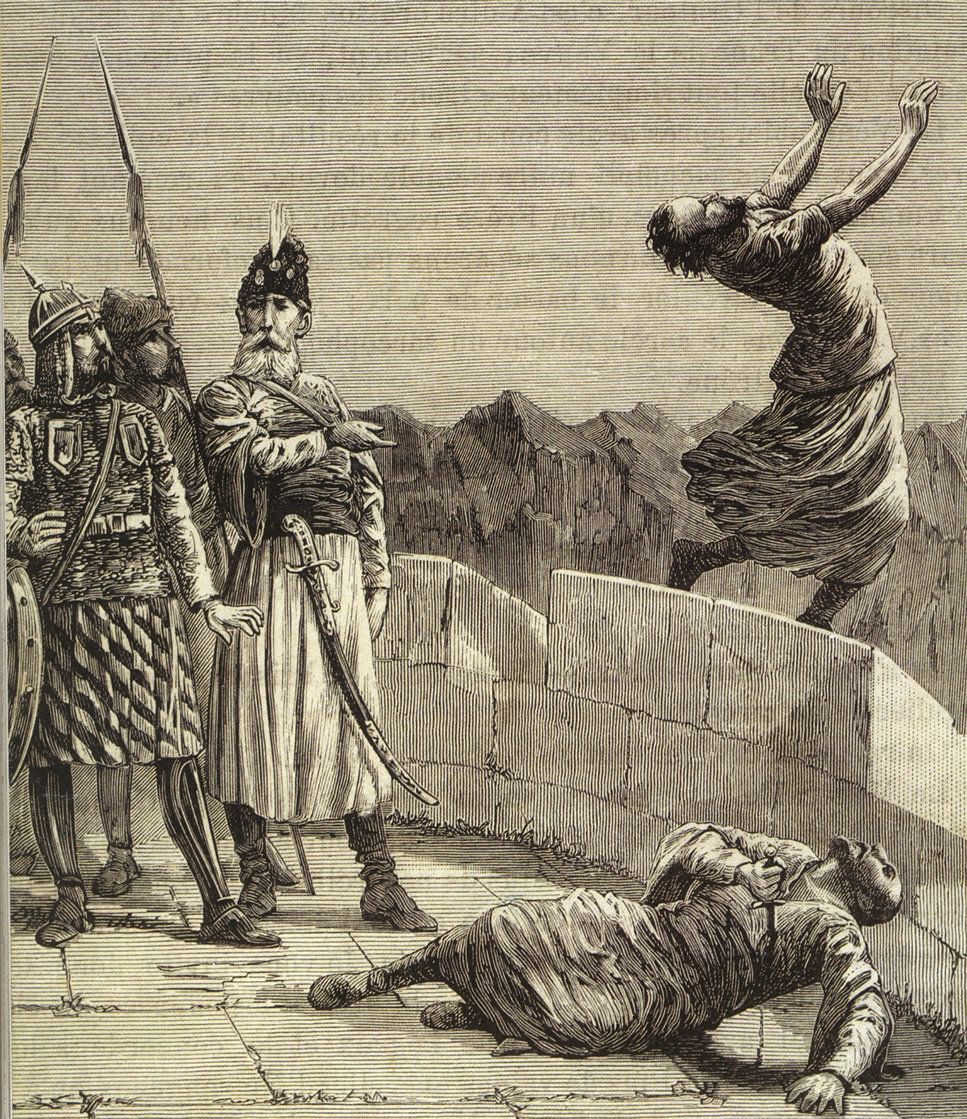 One legend tells the story of the Old Man of the Mountain demonstrating the loyalty of his followers to a visiting Crusader leader by ordering them to kill themselves.
Another infamous assassin leader was Rashid ad-Din Sinan, an Iraqi who led the group during the time of the famous Sultan Saladin, who ruled Egypt and Syria form 1174 to 1193. Saladin escaped assassins on several occasions. Less lucky was the Crusader King of Jerusalem Conrad of Montserrat, who was assassinated in 1191, perhaps in collusion with other Crusaders who contracted the Old Man of the Mountain to eliminate a common enemy. 
In modern-day lore, the assassins are an inspiration for the popular video game and soon-to-be movie franchise "Assassin's Creed".
What can 3D printing do for medicine? The "sky is the limit," says Northwell Health researcher Dr. Todd Goldstein.
Northwell Health
Sponsored by Northwell Health
Medical professionals are currently using 3D printers to create prosthetics and patient-specific organ models that doctors can use to prepare for surgery.
Eventually, scientists hope to print patient-specific organs that can be transplanted safely into the human body.
Northwell Health, New York State's largest health care provider, is pioneering 3D printing in medicine in three key ways.
Shutterstock
Big Think Edge
Generational differences always pose a challenge for companies.
How do you integrate the norms and expectations of the new generation with those of the old?
Social psychologist Jonathan Haidt points out that Gen Z—the cohort born after 1995—differs sharply from the Millennial generation before it and offers some advice for understanding and working with a generation in some ways more sheltered and less independent than any before it.
A new study shows that some men's reaction to sex is not what you'd expect, resulting in a condition previously observed in women.
Credit: Pixabay
Sex & Relationships
A new study shows men's feelings after sex can be complex.
Some men reportedly get sad and upset.
The condition affected 41% of men in the study
Big Think Edge
There's a crisis in the workplace. According to a 2016 Gallup Poll, 70% of people are disengaged at work. And a whopping 18% are actively repulsed by what they do for a living.
This is clearly no good for the workers themselves. But it's also no good for the companies they serve.
What makes us happy is fairly well understood, as is the fact that happy workers work harder, make fewer mistakes, and invest creative energy in making companies successful.
Big think's weekly newsletter.
Get smarter faster from the comfort of your inbox.
See our newsletter privacy policy
here
Most Popular
Most Recent
Big think's weekly newsletter.
Get smarter faster from the comfort of your inbox.
See our newsletter privacy policy
here
© Copyright 2007-2019 & BIG THINK, BIG THINK EDGE,
SMARTER FASTER trademarks owned by The Big Think, Inc. All rights reserved.