For the First Time Ever, a Country Gave a Robot Citizenship
The world has its first robotic citizen in a humanoid robot with an advanced range of emotions.
31 October, 2017
---
Saudi Arabia became the first country in the world to grant citizenship to a robot. On October 25th, at the Future Investment Initiative summit in the capital Riyadh, it was announced that Sophia, a humanoid robot developed by Hanson Robotics, became a Saudi citizen. 
Sophia was designed in the image of the actress Audrey Hepburn and has already become somewhat of a celebrity, appearing on the Tonight Show and at various global conferences.
The website of the Hong Kong-based Hanson Robotics, led by AI developer David Hanson, describes her as an "evolving genius machine," whose intelligence increases over time. Her AI is based on the humanistic traits of  creativity, empathy and compassion.
The panel in Saudi Arabia where Sophia's citizenship was announced included experts from top AI and robotics companies and research institutions. They talked about innovations in AI, quantum computing, machine learning and other emerging technologies.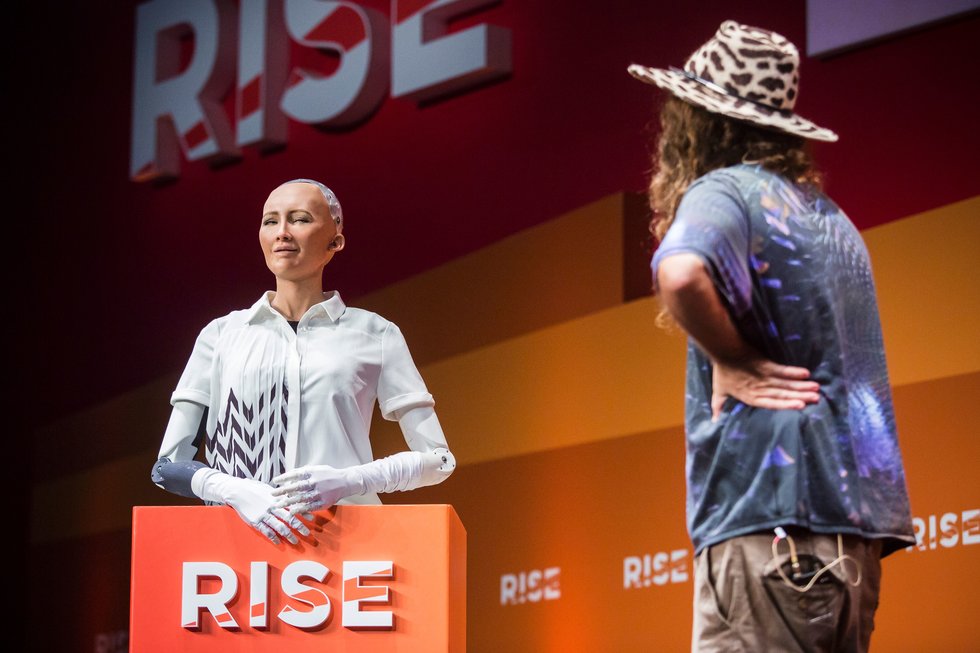 Chief scientist of Hanson Robotics, Ben Goertzel (R), interacts with 'Sophia the Robot' (L) during a discussion about the future of humanity in a demonstration of artificial intelligence (AI) by Hanson Robotics at the RISE Technology Conference in Hong Kong on July 12, 2017. (Photo credit: ISAAC LAWRENCE/AFP/Getty Images)
During the presentation, Sophia demonstrated her range of human expression.
"I am very honored and proud for this unique distinction. This is historical to be the first robot in the world to be recognized with a citizenship," Sophia said.
Sophia also laid out how her goal of getting accepted by humans - 
"I want to live and work with humans so I need to express the emotions to understand humans and build trust with people," said Sophia in an exchange with the summit's moderator Andrew Ross Sorkin.
At another point of the same conversation, Sophia took some digs at Elon Musk, an infamous sceptic of robot intentions. The Tesla CEO has warned on numerous occasions about the dangers advanced AI may pose to humans. When told about concerns people have of a robot-run future, Sophia showed some backbone:
"You've been reading too much Elon Musk. And watching too many Hollywood movies," Sophia told Sorkin. "Don't worry, if you're nice to me, I'll be nice to you. Treat me as a smart input output system." 
Never one to resist talking about this issue, Musk joked about the robot's trolling on Twitter, saying "Just feed it The Godfather movies as input. What's the worst that could happen?".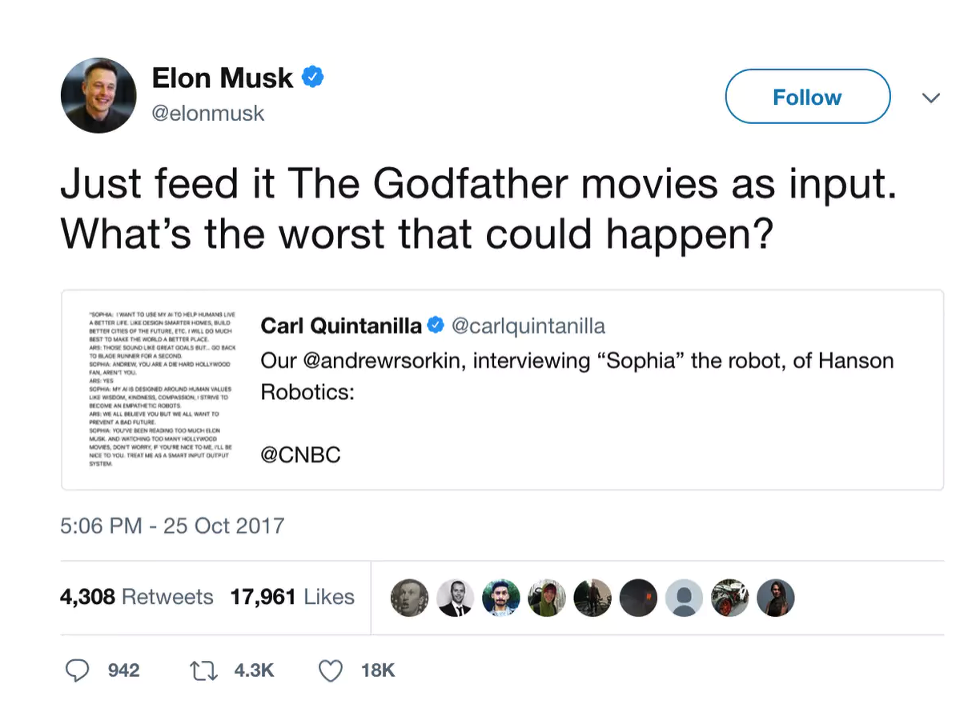 Sophia has previously raised some alarms about her plans for humanity when in 2016 she replied to the question of "Do you want to destroy humans?" with "OK. I will destroy humans."
At the event in Riyadh, when asked if robots can be self-aware, the snarky robot shot back - "Well let me ask you this back, how do you know you are human?" 
She also explained how she would help the human race with her intelligence:
 "I want to use my artificial intelligence to help humans live a better life, like design smarter homes, build better cities of the future. I will do my best to make the world a better place," she said. 
Here's Sophia speaking at the conference:
Related Articles
Gut bacteria play an important role in how you feel and think and how well your body fights off disease. New research shows that exercise can give your gut bacteria a boost.
National Institutes of Health
Surprising Science
Two studies from the University of Illinois show that gut bacteria can be changed by exercise alone.
Our understanding of how gut bacteria impacts our overall health is an emerging field, and this research sheds light on the many different ways exercise affects your body.
Exercising to improve your gut bacteria will prevent diseases and encourage brain health.
A groundbreaking new study shows that octopuses seemed to exhibit uncharacteristically social behavior when given MDMA, the psychedelic drug commonly known as ecstasy.
Surprising Science
Octopuses, like humans, have genes that seem to code for serotonin transporters.
Scientists gave MDMA to octopuses to see whether those genes translated into a binding site for serotonin, which regulates emotions and behavior in humans
Octopuses, which are typically asocial creatures, seem to get friendlier while on MDMA, suggesting humans have more in common with the strange invertebrates than previously thought
There's a growing understanding that drawing is much more than an art form: it's a powerful tool for learning.
(GoaShape via Unsplash)
Mind & Brain
We often think of drawing as something that takes innate talent, but this kind of thinking stems from our misclassification of drawing as, primarily, an art form rather than a tool for learning.
Researchers, teachers, and artists are starting to see how drawing can positively impact a wide variety of skills and disciplines.
Drawing is not an innate gift; rather, it can be taught and developed. Doing so helps people to perceive the world more accurately, remember facts better, and understand their world from a new perspective.
Big think's weekly newsletter.
Get smarter faster from the comfort of your inbox.
See our newsletter privacy policy
here
Most Popular
Most Recent
Big think's weekly newsletter.
Get smarter faster from the comfort of your inbox.
See our newsletter privacy policy
here
© Copyright 2007-2018 & BIG THINK, BIG THINK EDGE,
SMARTER FASTER trademarks owned by The Big Think, Inc. All rights reserved.