For the First Time Ever, a Country Gave a Robot Citizenship
The world has its first robotic citizen in a humanoid robot with an advanced range of emotions.
31 October, 2017
'Sophia' an artificially intelligent (AI) human-like robot developed by Hong Kong-based humanoid robotics company Hanson Robotics is pictured during the 'AI for Good' Global Summit hosted at the International Telecommunication Union (ITU) on June 7, 2017
---
Saudi Arabia became the first country in the world to grant citizenship to a robot. On October 25th, at the Future Investment Initiative summit in the capital Riyadh, it was announced that Sophia, a humanoid robot developed by Hanson Robotics, became a Saudi citizen. 
Sophia was designed in the image of the actress Audrey Hepburn and has already become somewhat of a celebrity, appearing on the Tonight Show and at various global conferences.
The website of the Hong Kong-based Hanson Robotics, led by AI developer David Hanson, describes her as an "evolving genius machine," whose intelligence increases over time. Her AI is based on the humanistic traits of  creativity, empathy and compassion.
The panel in Saudi Arabia where Sophia's citizenship was announced included experts from top AI and robotics companies and research institutions. They talked about innovations in AI, quantum computing, machine learning and other emerging technologies.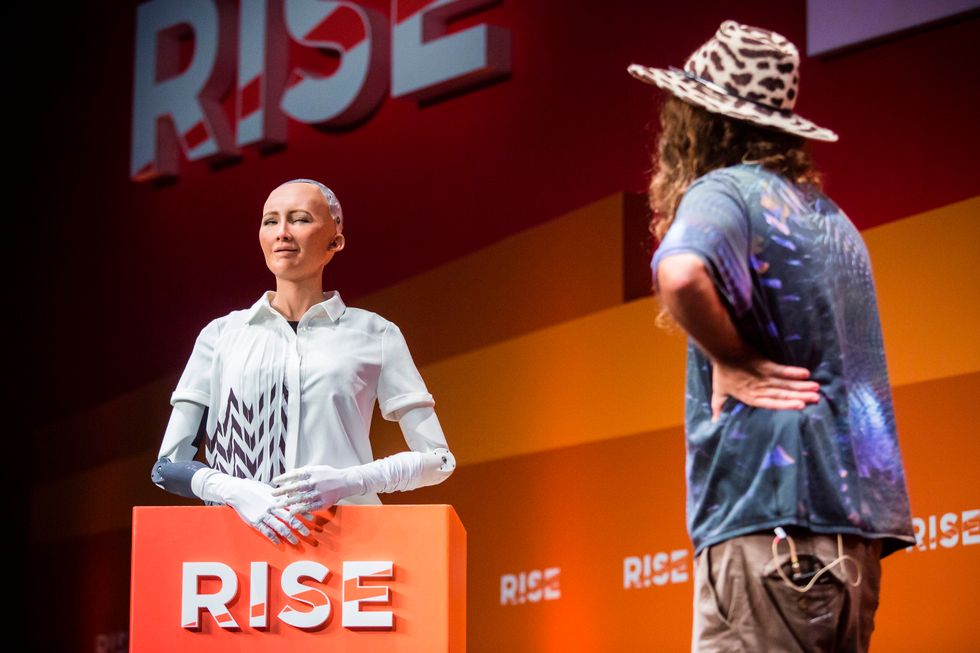 Chief scientist of Hanson Robotics, Ben Goertzel (R), interacts with 'Sophia the Robot' (L) during a discussion about the future of humanity in a demonstration of artificial intelligence (AI) by Hanson Robotics at the RISE Technology Conference in Hong Kong on July 12, 2017. (Photo credit: ISAAC LAWRENCE/AFP/Getty Images)
During the presentation, Sophia demonstrated her range of human expression.
"I am very honored and proud for this unique distinction. This is historical to be the first robot in the world to be recognized with a citizenship," Sophia said.
Sophia also laid out how her goal of getting accepted by humans - 
"I want to live and work with humans so I need to express the emotions to understand humans and build trust with people," said Sophia in an exchange with the summit's moderator Andrew Ross Sorkin.
At another point of the same conversation, Sophia took some digs at Elon Musk, an infamous sceptic of robot intentions. The Tesla CEO has warned on numerous occasions about the dangers advanced AI may pose to humans. When told about concerns people have of a robot-run future, Sophia showed some backbone:
"You've been reading too much Elon Musk. And watching too many Hollywood movies," Sophia told Sorkin. "Don't worry, if you're nice to me, I'll be nice to you. Treat me as a smart input output system." 
Never one to resist talking about this issue, Musk joked about the robot's trolling on Twitter, saying "Just feed it The Godfather movies as input. What's the worst that could happen?".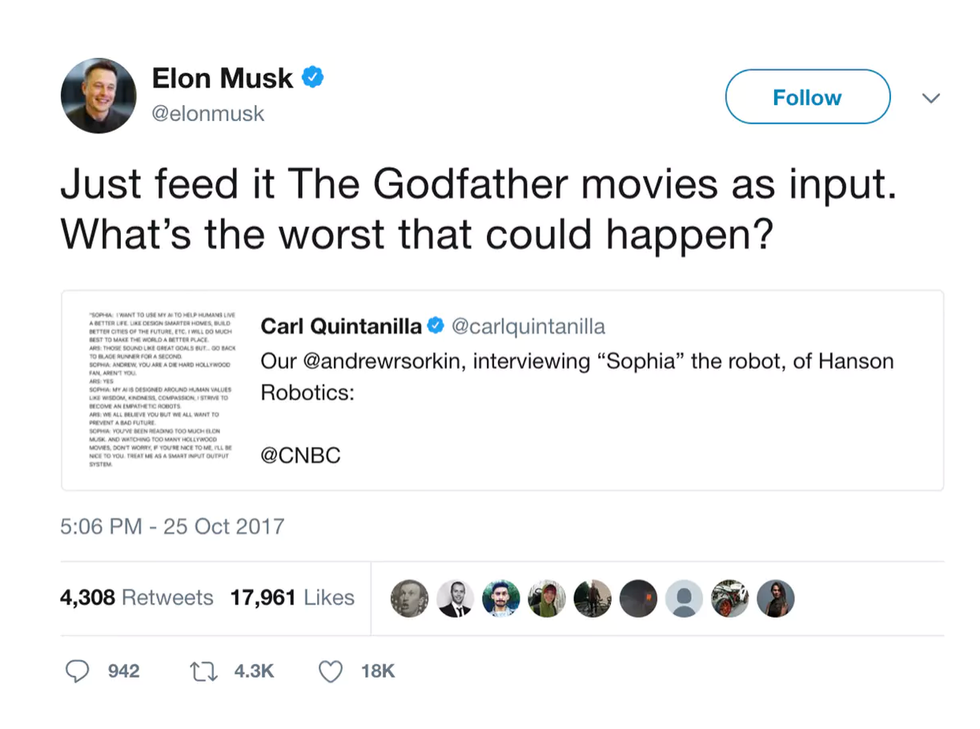 Sophia has previously raised some alarms about her plans for humanity when in 2016 she replied to the question of "Do you want to destroy humans?" with "OK. I will destroy humans."
At the event in Riyadh, when asked if robots can be self-aware, the snarky robot shot back - "Well let me ask you this back, how do you know you are human?" 
She also explained how she would help the human race with her intelligence:
 "I want to use my artificial intelligence to help humans live a better life, like design smarter homes, build better cities of the future. I will do my best to make the world a better place," she said. 
Here's Sophia speaking at the conference:
To create wiser adults, add empathy to the school curriculum.
Sponsored by Charles Koch Foundation
Stories are at the heart of learning, writes Cleary Vaughan-Lee, Executive Director for the Global Oneness Project. They have always challenged us to think beyond ourselves, expanding our experience and revealing deep truths.
Vaughan-Lee explains 6 ways that storytelling can foster empathy and deliver powerful learning experiences.
Global Oneness Project is a free library of stories—containing short documentaries, photo essays, and essays—that each contain a companion lesson plan and learning activities for students so they can expand their experience of the world.
Philosophers like to present their works as if everything before it was wrong. Sometimes, they even say they have ended the need for more philosophy. So, what happens when somebody realizes they were mistaken?
The inequalities impact everything from education to health.
ANGELA WEISS/AFP via Getty Images
Politics & Current Affairs
America is experiencing some of its most widespread civil unrest in years following the death of George Floyd.
Astrophysicist Michelle Thaller talks ISS and why NICER is so important.
Videos
Being outside of Earth's atmosphere while also being able to look down on the planet is both a challenge and a unique benefit for astronauts conducting important and innovative experiments aboard the International Space Station.
NASA astrophysicist Michelle Thaller explains why one such project, known as NICER (Neutron star Interior Composition Explorer), is "one of the most amazing discoveries of the last year."
Researchers used x-ray light data from NICER to map the surface of neutrons (the spinning remnants of dead stars 10-50 times the mass of our sun). Thaller explains how this data can be used to create a clock more accurate than any on Earth, as well as a GPS device that can be used anywhere in the galaxy.
Mind & Brain
Just before I turned 60, I discovered that sharing my story by drawing could be an effective way to both alleviate my symptoms and combat that stigma.
Scroll down to load more…