Big ideas.
Once a week.
Subscribe to our weekly newsletter.
Two Infants Cured of Terminal Cancer by Breakthrough Gene-Editing Therapy
British doctors eliminate the disease in two infants with incurable cancer by utilizing a medical first gene-editing techniques.
29 January, 2017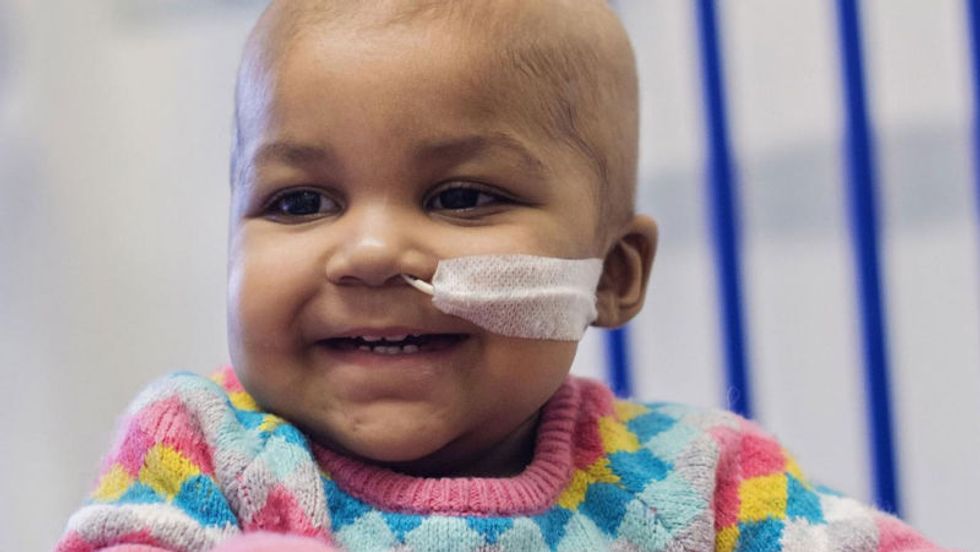 A group of British doctors successfully eliminated cancer in two infants with leukemia by using genetically modified immune cells from a donor. The accomplishment opens a new age of cancer therapy treatment.
---
This medical first was carried out by doctors from London's Ormond Street hospital on two children aged 11 and 16 months, who were not responding to other forms of therapy. Scientists manipulated the donor T cells to be able to kill the cells of leukemia, with chemotherapy following the new experimental approach. Now one of them has been cancer-free for a year and another for 18 months.
The difference in the treatment was that the engineered T-cells (known as CAR-T) were from another person, while usual T-cell therapy involves removing immune cells from the patient, modifying them and giving them back to the patient. What's remarkable about this approach is that the cells could be collected from donors, treated and stored before they are needed, thus making it possible for the patient to receive them immediacy upon diagnosis. They would not have to wait for their own T cells to be modified. Additionally, blood from one donor could supply hundreds of treatments, reducing costs and efficiency. 
"We estimate the cost to manufacture a dose would be about $4,000," told Julianne Smith, vice president of CAR-T development for Cellectis, supplier of universal cells, in an interview with Technology Review. "That's compared to a cost of around $50,000 to alter a patient's cells and return them." 
The novel treatment is not yet available to the general public but CAR-T cell therapy is currently in phase II clinical trials in the U.S. There is also the question if the infants are actually cured, because doctors usually wait a few years before declaring someone completely cancer-free.
Some critics have pointed out that because chemotherapy was also used as part of the treatment, it's not entirely clear if the modified T-cells were the main cause of the improvements. But the doctors point to the long-lasting effects of their treatment and are enthusiastic about its potential in future treatments.
You can read the details of the cases here, published in the journal Science Translation Medicine.
Cover photo: One-year-old Layla Richards was treated by the new therapy and is now cancer-free. Credit: Great Ormond Street Hospital
New anthropological research suggests our ancestors enjoyed long slumbers.
Credit: Gorodenkoff / Adobe Stock
Surprising Science
Neanderthal bone fragments discovered in northern Spain mimic hibernating animals like cave bears.
Thousands of bone fragments, dating back 400,000 years, were discovered in this "pit of bones" 30 years ago.
The researchers speculate that this physiological function, if true, could prepare us for extended space travel.
Humans have a terrible sense of time. We think in moments, not eons, which accounts for a number of people that still don't believe in evolutionary theory: we simply can't imagine ourselves any differently than we are today.
Thankfully, scientists and researchers have vast imaginations. Their findings often depend on creative problem-solving. Anthropologists are especially adept at this skill, as their job entails imagining a prehistoric world in which humans and our forebears were very different creatures.
A new paper, published in the journal L'Anthropologie, takes a hard look at ancient bone health and arrives at a surprising conclusion: Neanderthals (and possibly early humans) might have endured long, harsh winters by hibernating.
Adaptability is the key to survival. Certain endotherms evolved the ability to depress their metabolism for months at a time; their body temperature and metabolic rate lowered while their breathing and heart rate dropped to nearly imperceptible levels. This handy technique solved a serious resource management problem, as food supplies were notoriously scarce during the frozen months.
While today the wellness industry eschews fat, it has long had an essential evolutionary function: it keeps us alive during times of food scarcity. As autumn months pass, large mammals become hyperphagic (experiencing intense hunger followed by overeating) and store nutrients in fat deposits; smaller animals bury food nearby for when they need a snack. This strategy is critical as hibernating animals can lose over a quarter of their body weight during winter.
For this paper, Antonis Bartsiokas and Juan-Luis Arsuaga, both in the Department of History and Ethnology at Democritus University of Thrace, scoured through remains of a "pit of bones" in northern Spain. In 1976, archaeologists found a 50-foot shaft leading down into a cave in Atapuerca, where thousands of bone fragments have since been discovered. Dating back 400,000 years—some of the fragments may be as old as 600,000 years—researchers believe the bodies were intentionally buried in this cave.
Evidence of ancient human hibernation / human hibernation for space travel | Dr Antonis Bartsiokas
While the fragments have been well studied in the intervening decades, Arsuaga (who led an early excavation in Atapuerca) and Bartsiokas noticed something odd about the bones: they displayed signs of seasonal variations. These proto-humans appear to have experienced annual bone growth disruption, which is indicative of hibernating species.
In fact, the remains of cave bears were also found in this pit, increasing the likelihood that the burial site was reserved for species that shared common features. This could be the result of a dearth of food for bears and Neanderthals alike. The researchers write that modern northerners don't need to sleep for months at a time; an abundance of fish and reindeer didn't exist in Spain, as they do in the Arctic. They write,
"The aridification of Iberia then could not have provided enough fat-rich food for the people of Sima during the harsh winter—making them resort to cave hibernation."
The notion of hibernating humans is appealing, especially to those in cold climates, but some experts don't want to put the cart before the horse. Large mammals don't engage in textbook hibernation; their deep sleep is known as a "torpor." Even then, the demands of human-sized brains could have been too large for extended periods of slumber.
Still, as we continually discover our animalistic origins to better understand how we evolved, the researchers note the potential value of this research.
"The present work provides an innovative approach to the physiological mechanisms of metabolism in early humans that could help determine the life cycle and physiology of extinct human species."
Bartsiokas speculates that this ancient mechanism could be coopted for space travel in the future. If the notion of hibernating humans sounds far-fetched, the idea has been contemplated for years, as NASA began funding research on this topic in 2014. As the saying goes, everything old is new again.
--
Stay in touch with Derek on Twitter and Facebook. His new book is "Hero's Dose: The Case For Psychedelics in Ritual and Therapy."
Using urinals, psychological collages, and animated furniture to shock us into reality.
Culture & Religion
Dada is a provocative and surreal art movement born out of the madness of World War I.
Tzara, a key Dada theorist, says Dada seeks "to confuse and upset, to shake and jolt" people from their comfort zones.
Dada, as all avant-garde art, faces a key problem in how to stay true to its philosophy.
In a world gone mad, what can the few sane people left do? What can someone say when there are no words that seem up to the job? How can anyone hope to express ideas so terrible when doing so will only reduce those ideas?
These are some of the things that inspired the Dada movement, and in its absurd, surreal, and chaotic nonsense, we find the voice of the voiceless.
The origin of Dadaism
Dada was a response to the madness of World War I. Reasonable, intelligent, and sensitive people looked at the blood and mud graveyards of the trenches and wondered how any meaning or goodness could ever be found again. How can someone make sense of a world where millions of young, happy, hopeful men were scythed down in a spray of bullets? How could life go back to normal when returning soldiers, blinded and disfigured from gas, lay homeless in the streets? Out of this awful revulsion, there came one bitter voice, and it said: "Everything is nonsense."
Dada is the art of the nihilist. It smashes accepted wisdom, challenges norms and values, and offends, upsets, and provokes us to re-examine everything.
And so, the Dada movement expressed itself in absurdity. Tzara, the closest you get to a Dadaist philosopher, put it like this: "Like everything in life, Dada is useless. Dada is without pretension, as life should be." Dada rejects all systems, all philosophy, all definite answers, and all truth. It is the living embrace of contradictions and nonsense. It seeks "to confuse and upset people, to shake and jolt". It aims to shout down the "shamefaced sex of comfortable compromise and good manners," when actually "everything happens in a completely idiotic way."
In short, Dada is a response to the world when all the usual methods have broken down. It's the recognition that dinner party conversations, Hollywood blockbusters, and Silicon Valley are not how life actually is. This is a false reality and order, like some kind of veneer.
The Dada response to life is to embrace the personal and passionate madness of it all, where "the intensity of a personality is transposed directly, clearly into the work." It's to recognize the unique position of an artist, who can convey ideas and feelings in a way that goes beyond normal understanding. Art goes straight to the soul, but the intensity of it all can be hard to "enjoy" in the strictest sense.
Where is this Dada?
For instance, Dada is seen in the poems of Hugo Ball who wrote in meaningless foreign-sounding words. It's in Hausmann, who wrote works in disconnected phonemes. It's found in Duchamp's iconoclastic "Fountain" that sought to question what art or an artist really meant. It's in Hans Richter's short film "Ghost before Breakfast," which has an incoherent montage of images, loosely connected by the theme of inanimate objects in revolt. And, it's in Kurt Schwitters' "psychological collages" which present fragments of objects, juxtaposed together.
Kurt Schwitters, Merz-drawing 85, Zig-Zag Red, 1920, collageCredit: Kurt Schwitters / Public Domain via Wikipedia
Dada is intended to shock. It's an artistic jolt asking, or demanding, that the viewers reorient themselves in some way. It is designed to make us feel uncomfortable and does not make for easy appreciation. It's only when we're thrown so drastically outside of our comfort zone in this way that Dada asks us to question how things are. It shakes us out of a conformist stupor to look afresh at things.

The paradox of Dadaism
Of course, like all avant-garde art, Dada needs to address one major problem: how do you stay so provocative, so radical, and so anti-establishment when you also seek success? How can maverick rebels stay so as they get a mortgage and want a good school for their kids? The problem is that young, inventive, and idealistic artists are inevitably sucked into the world of profit and commodity.
As Grayson Perry, a British modern artist, wrote: "What starts as a creative revolt soon becomes co-opted as the latest way to make money," and what was once fresh and challenging "falls away to reveal a predatory capitalist robot." With Dada, how long can someone actually live in a world of nonsense and nihilistic absurdity?
But there will always be new blood to keep movements like Dada going. As the revolutionaries of yesterday become the rich mansion-owners of today, there will be hot, young things to come and take up the mantle. There will always be something to challenge and questions to be asked. So, art movements like Dada will always be in the vanguard.
Dada is the art of the nihilist. It smashes accepted wisdom, challenges norms and values, and offends, upsets, and provokes us to re-examine everything. It's an absurd art form that reflects the reality it perceives — that life is nothing more than a dissonant patchwork of egos floating in an abyss of nothing.
Jonny Thomson teaches philosophy in Oxford. He runs a popular Instagram account called Mini Philosophy (@philosophyminis). His first book is Mini Philosophy: A Small Book of Big Ideas.
Two different studies provide further evidence of the efficacy of psychedelics in treating depression.
Photo: agsandrew / Adobe Stock
Surprising Science
A phase 2 clinical trial by Imperial College London found psilocybin to be as effective at treating depression as escitalopram, a commonly prescribed antidepressant.
A different study by the University of Maryland showed that blocking the hallucinogenic effects of magic mushrooms in mice did not reduce the antidepressant effect.
Combined, these studies could lead to new ways of applying psychedelics to patient populations that don't want to trip.
Due to stigma, their illegal status and difficulty in finding control groups, research with psychedelics has been a challenge. But research increasingly shows that this class of drug has legitimate medicinal uses, and they may be just as good or even better than more traditional therapies.
Now, the Centre for Psychedelic Research at Imperial College London reports in the New England Journal of Medicine that when pitted against escitalopram (brand name: Lexapro), psilocybin was as effective as the popular SSRI (selective serotonin reuptake inhibitor) in treating moderate to severe depression. Perhaps most significantly, these results were obtained when comparing 6 weeks of daily doses of escitalopram to just two administrations of psilocybin.
Robin Carhart-Harris, head of the center who has published over 100 papers on psychedelics, is confident this study represents another step forward in applying psychedelics to mental health treatment protocols while also reducing fears a lot of citizens have around these substances. In a press release, he said:
"One of the most important aspects of this work is that people can clearly see the promise of properly delivered psilocybin therapy by viewing it compared with a more familiar, established treatment in the same study. Psilocybin performed very favorably in this head-to-head."
Credit: Robin Carhart-Harris et al, NEJM, 2021.
As depicted above, the phase 2 clinical trial included 59 volunteers. The escitalopram (control) group received six weeks of daily escitalopram in addition to two tiny (1-mg) doses of psilocybin — a dose so low that it is unlikely to produce hallucinogenic effects. The psilocybin (experimental) group received two 25-mg doses of psilocybin three weeks apart with placebo given on all the other days.

At the end of the study, both groups saw a decrease in depressive symptoms, though the results were not statistically significant. (That isn't necessarily bad because if the two drugs have similar effects, then they would not produce statistically significant results. Still, a larger study is needed to confirm that psilocybin is "just as good as" escitalopram.)
Additionally, several other outcomes favored psilocybin over escitalopram. For instance, 57 percent in the psilocybin group saw a remission of symptoms compared to 28 percent in the escitalopram group. This result was significant.
Psychedelics without tripping
As psychedelics become decriminalized and potentially legalized for therapeutic use, however, a large population of people might desire the antidepressant effects without the hallucinations. For example, the psychedelic ibogaine may be useful for treating addiction, so the company Mindmed is developing an analog that works without producing the unwanted hallucinogenic side effects.
A new research article, published in the journal PNAS, investigated the antidepressant effects of psilocybin on a group of chronically stressed mice. (Under immense stress, mice develop something resembling human depression.) As with humans, depressed mice lose a sense of joy, which can be assessed by determining their preference for sugar water over tap water. Normal mice prefer sugar water, but depressed mice simply don't care.
Once the mice were no longer juicing up on the sweetened water, the team dosed them with psilocybin alongside a drug called ketanserin, a 5-HT2A serotonin receptor antagonist that eliminates psychedelic effects. Within 24 hours of receiving the dose, the mice were rushing back to the sugar water, indicating that tripping is not necessary for psilocybin to work as an antidepressant.
While the team is excited about these results, they realize it needs to be replicated in a different population.
"The possibility of combining psychedelic compounds and a 5-HT2AR antagonist offers a potential means to increase their acceptance and clinical utility and should be studied in human depression."
Photo: Cannabis_Pic / Adobe Stock
The future of psychedelic therapy

Psychedelics such as psilocybin and LSD have a long track record of efficacy in clinical trials and anecdotal experiences. Almost all volunteers of the famous Marsh Chapel experiment claimed their experience on Good Friday in 1962 was one of the most significant events of their lives — and this was a quarter-century after the fact. A more recent, controlled study found that a single dose of psilocybin showed antidepressant effects six months later.
Proponents of macrodosing and ritualistic experiences sometimes argue that the full-blown mystical trip is the therapy, though this is anecdotal, not clinical research. As the Maryland team noted, a number of people are contraindicated for psychedelics, whether through a family history of schizophrenia or current antidepressant treatments.
Senior author Scott Thompson is excited for future research on this topic. As he said of his team's findings:
"The psychedelic experience is incredibly powerful and can be life-changing, but that could be too much for some people or not appropriate… These findings show that activation of the receptor causing the psychedelic effect isn't absolutely required for the antidepressant benefits, at least in mice."
Hopefully, with more research occurring in psychedelics than even in the 1950s (when studies predominantly relied on anecdotal evidence and little government support), the longstanding stigmatization of psychedelics is beginning to recede. This could open up new possibilities for both clinical research and, for those curious about the ritual effects, a continuation of introspective experiences.
--
Stay in touch with Derek on Twitter and Facebook. His most recent book is "Hero's Dose: The Case For Psychedelics in Ritual and Therapy."
Scroll down to load more…