Scientists Make Breakthrough in Antimatter Research
CERN researchers make a major step in understanding antimatter by trapping antihydrogen atoms and controlling them with lasers.
22 December, 2016
Antimatter is a concept that oozes sci-fi, evocative of amazing engines, time travel and most likely destruction of the whole universe. Or maybe it's a parallel-worlds-are-everywhere-around-us type of thing. In any case, this idea comes to us from the law of physics that predicts that there should be an antimatter particle for every particle of regular matter. But if the two shall ever meet, there'd be a release of energy, annihilating both.
---
This goes to the heart of the mystery of how our universe was created. If equal amounts of matter and antimatter were produced by the Big Bang, how did everything not just explode or just vanish? Why are we even here? 
To study this, scientists have been trying to understand antimatter, looking for decades to compare its properties to matter. And a new report from CERN in Switzerland confirms that for the first time ever researchers were able to control an antimatter particle of the hydrogen atom, manipulating it long enough with lasers to allow for measurement and comparison with the regular matter hydrogen atom. 
In particular, scientists from the ALPHA experiment at the CERN laboratory were able to hit the antihydrogen atoms with a laser to observe the light they gave off as positrons in the atoms returned to lower energy levels.
"Using a laser to observe a transition in antihydrogen and comparing it to hydrogen to see if they obey the same laws of physics has always been a key goal of antimatter research," said Professor Jeffrey Hangst, spokesperson of the ALPHA collaboration.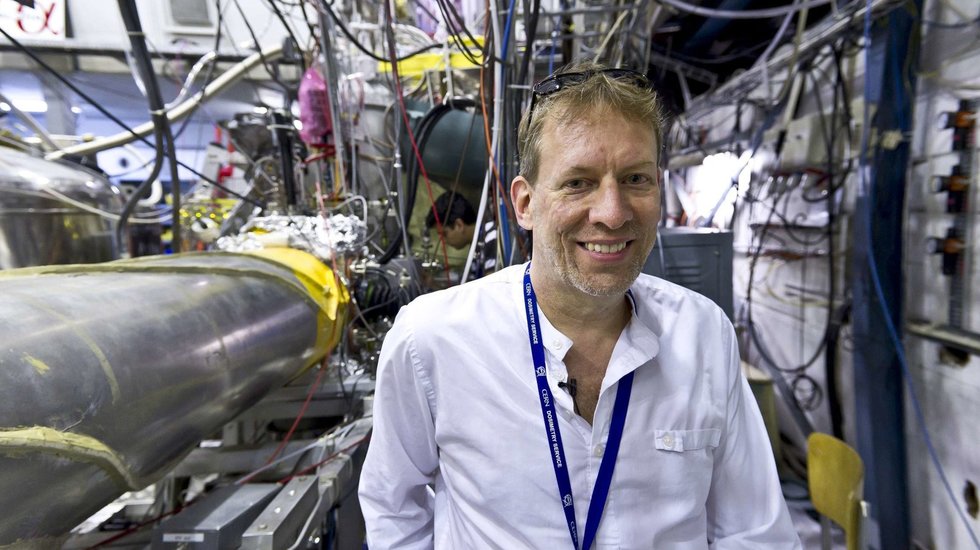 Professor Jeffery Hangst. Credit: CERN
This result is the culmination of 20 years of work for CERN's antimatter team. Unable to find antihydrogen atoms in nature, scientists worked on creating them in the lab. The challenge has been to trap enough of them for long enough to be able to study them. Previous efforts averaged 1.2 antihydrogen atoms trapped every 15 minutes. The new method created about 25,000 antihydrogen atoms every 15 minutes  and trapped about 14 of them. 
If you think your job is hard, try working with antimatter. 
"What you hear about in science fiction — that antimatter gets annihilated by normal matter — is 100 percent true," Hangst told NPR, "and is the greatest challenge in my everyday life."
In other words, his test subjects would constantly disappear.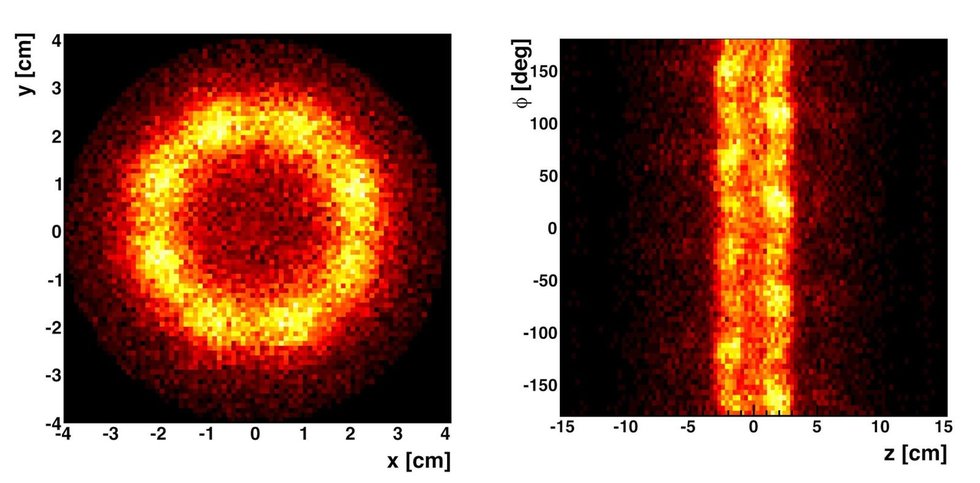 Images show anti-hydrogen atoms annihilating as they come into contact with the ordinary matter walls of the ALPHA experiment. Credit: CERN
Interestingly, the researchers concluded that under the same test conditions, the antihydrogen atoms gave off the exact same light spectrum as regular hydrogen atoms.
"It's long been thought that antimatter is an exact reflection of matter, and we are gathering evidence to show that is indeed true," Tim Tharp from ALPHA said to Gizmodo.
To go back to the question of why the universe didn't just collapse in on itself, with matter and antimatter cancelling each other out -
"Something happened, some small asymmetry that led some of the matter to survive, and we simply have no good idea that explains that right now," explained Jeffrey Hangst to NPR.
Further study of antimatter might yield the answer, especially as the work by Hangst and the team at ALPHA points the way towards a whole new field of antihydrogen spectroscopy.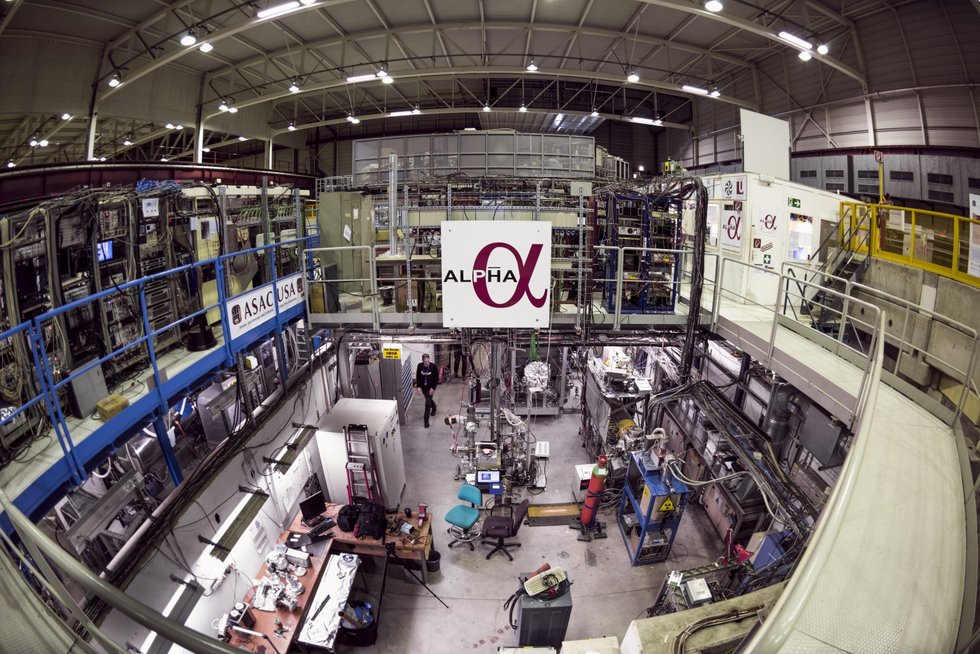 CERN's Alpha lab (Image: Maximilien Brice/CERN)
But what about making antimatter in a lab environment - could that blow us up eventually?
"The amount of antimatter involved in this experiment and created by the history of mankind is such a small amount that it poses no threat to anyone," Tim Tharp reassured Gizmodo.
We'll have to take his word for it. In the meantime, let's dream about this antimatter rocket -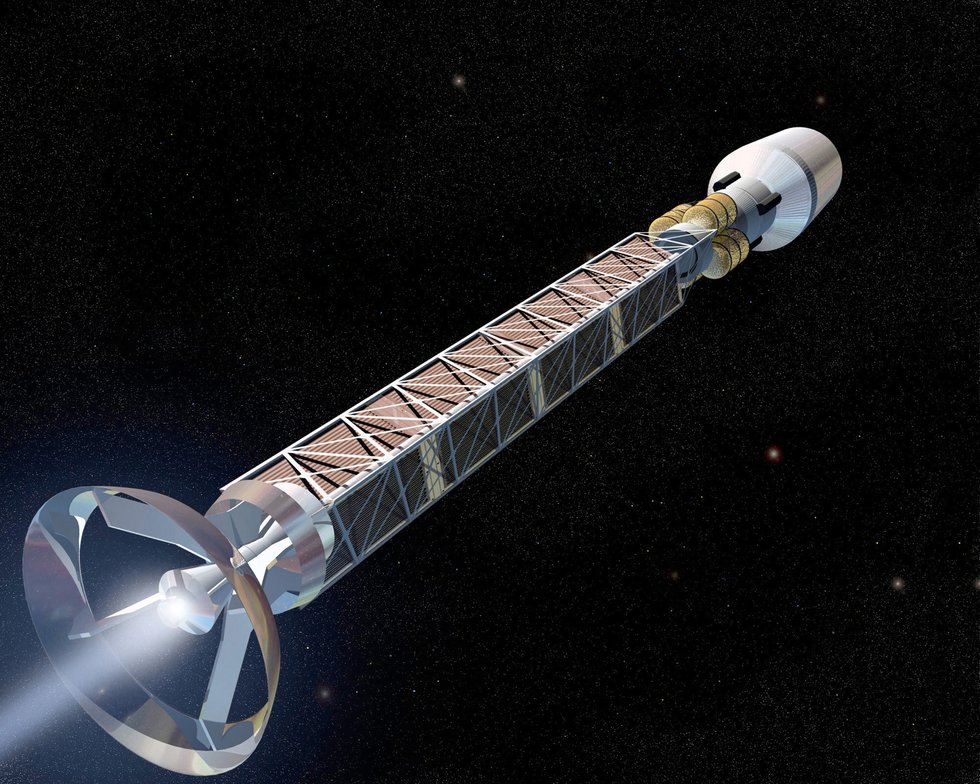 An antimatter propulsion system. 199. Credit: NASA.
Here's the science of black holes, from supermassive monsters to ones the size of ping-pong balls.
Videos
There's more than one way to make a black hole, says NASA's Michelle Thaller. They're not always formed from dead stars. For example, there are teeny tiny black holes all around us, the result of high-energy cosmic rays slamming into our atmosphere with enough force to cram matter together so densely that no light can escape.
CERN is trying to create artificial black holes right now, but don't worry, it's not dangerous. Scientists there are attempting to smash two particles together with such intensity that it creates a black hole that would live for just a millionth of a second.
Thaller uses a brilliant analogy involving a rubber sheet, a marble, and an elephant to explain why different black holes have varying densities. Watch and learn!
Bonus fact: If the Earth became a black hole, it would be crushed to the size of a ping-pong ball.
Protected animals are feared to be headed for the black market.
(VL.ru)
Politics & Current Affairs
Russian news network discovers 101 black-market whales.
Orcas and belugas are seen crammed into tiny pens.
Marine parks continue to create a high-price demand for illegal captures.
In a breakthrough for nuclear fusion research, scientists at China's Experimental Advanced Superconducting Tokamak (EAST) reactor have produced temperatures necessary for nuclear fusion on Earth.
Credit: EAST Team
Surprising Science
The EAST reactor was able to heat hydrogen to temperatures exceeding 100 million degrees Celsius.
Nuclear fusion could someday provide the planet with a virtually limitless supply of clean energy.
Still, scientists have many other obstacles to pass before fusion technology becomes a viable energy source.
Big think's weekly newsletter.
Get smarter faster from the comfort of your inbox.
See our newsletter privacy policy
here
Most Popular
Most Recent
Big think's weekly newsletter.
Get smarter faster from the comfort of your inbox.
See our newsletter privacy policy
here
© Copyright 2007-2018 & BIG THINK, BIG THINK EDGE,
SMARTER FASTER trademarks owned by The Big Think, Inc. All rights reserved.