Researchers Set Up 'Candid Camera' To Test People's Empathy and Altruism
When you see a stranger in some kind of hardship, how do you react? Researchers carried out a rare study in a real-life setting to assess the relationship between empathy and altruism.
04 November, 2016
When you see a stranger in some kind of hardship, how do you react? What goes through your mind when you consider whether to help this person? Researchers, led by psychologist Richard Bethlehem of the University of Cambridge, carried out a rare study in a real-life setting, and found that your level of empathy is related to your altruism and whether you'd get involved in a stranger's problem.
---
The scientists staged a hidden-camera style situation where passersby were given an opportunity to help a cyclist who supposedly had an accident. Regardless of the choice they made, researchers would approach these people afterwards, asking them to take a "memory test". It was important for them to conceal the true aims of the study to get a more honest reaction.
Those who agreed to participate were then given a series of questions and sent questionnaires to gauge their empathy levels as well as possible autistic traits.
1067 walked by the researchers, with about 7% actually helping the cyclist. Of the 55 people who then agreed to be in the study, 29% were those who helped the cyclist.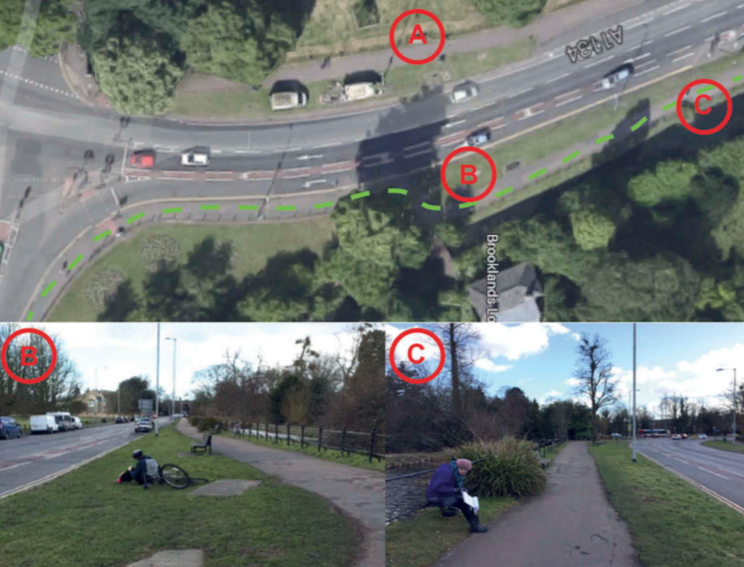 Credit: R. Bethlehem
Analyzing participant data, researchers concluded that empathy scores were related to altruistic behavior – those with higher empathy were also those who helped the cyclist. Their average empathy score was 56/80 while the non-helpers got 20/80.
The reason researchers also looked at autism spectrum scores is because earlier research indicated that people who had more autistic traits were less likely to be altruistic. But the new scores did not show such a correlation. In fact, a person who was diagnosed with Autism Spectrum Disorder was one of those who helped the cyclist. 
One other obvious (and rather sad) conclusion from the study is that most people don't stop to help a stranger in distress. But those with more empathy are more likely to do so.
"The implication of the present study is that within any institution (even perhaps extreme inhumane institutions such as those under the Nazi regime), there will be individual differences in how people within the institution respond, and that some of this variation in helping behavior is accounted for by where on the empathy dimension the individual is situated," wrote the researchers.
Check out the new open access study here in Social Neuroscience.
Pfizer's partnerships strengthen their ability to deliver vaccines in developing countries.
Susan Silbermann, Global President of Pfizer Vaccines, looks on as a health care worker administers a vaccine in Rwanda. Photo: Courtesy of Pfizer.
Sponsored
Community healthcare workers face many challenges in their work, including often traveling far distances to see their clients
Pfizer is helping to drive the UN's sustainable development goals through partnerships.
Pfizer partnered with AMP and the World Health Organization to develop a training program for healthcare workers.
The best-selling author tells us his methods.
Videos
James Patterson has sold 300 million copies of his 130 books, making him one of the most successful authors alive today.
He talks about how some writers can overdo it by adding too much research, or worse, straying from their outline for too long.
James' latest book, The President is Missing, co-written with former President Bill Clinton, is out now.

Progressive America would be half as big, but twice as populated as its conservative twin.
Image: Dicken Schrader
Strange Maps
America's two political tribes have consolidated into 'red' and 'blue' nations, with seemingly irreconcilable differences.
Perhaps the best way to stop the infighting is to go for a divorce and give the two nations a country each
Based on the UN's partition plan for Israel/Palestine, this proposal provides territorial contiguity and sea access to both 'red' and 'blue' America
It's the first time the association hasn't hired a comedian in 16 years.
(Photo by Anna Webber/Getty Images for Vulture Festival)
Culture & Religion
The 2018 WHCA ended in controversy after comedian Michelle Wolf made jokes some considered to be offensive.
The WHCA apologized for Wolf's jokes, though some journalists and many comedians backed the comedian and decried arguments in favor of limiting the types of speech permitted at the event.
Ron Chernow, who penned a bestselling biography of Alexander Hamilton, will speak at next year's dinner.
Big think's weekly newsletter.
Get smarter faster from the comfort of your inbox.
See our newsletter privacy policy
here
Most Popular
Most Recent
Big think's weekly newsletter.
Get smarter faster from the comfort of your inbox.
See our newsletter privacy policy
here
© Copyright 2007-2018 & BIG THINK, BIG THINK EDGE,
SMARTER FASTER trademarks owned by The Big Think, Inc. All rights reserved.