How Optogenetics May Pave a Radically New Way to Curing Brain Disorders
Researchers develop a next generation technique to control individual neurons in the brain, paving a new road towards curing brain disorders.
16 November, 2017
---
New research in life sciences promises to not only paint the fullest picture ever of how the human brain works, but also offers a potential way to influence it with great accuracy.
If only we could see exactly how the neurons in our brain affect behavior, we could cure psychological illnesses and disorders like Alzheimer's or Parkinson's. Such is the ultimate vision of the study's co-author Ed Boyden, an associate professor of brain and cognitive sciences and biological engineering at MIT, who is also a member of MIT's Media Lab and a Big Think expert. 
Among other notable recognitions, Boyden won the 2016 Breakthrough Prize in Life Sciences for the development of optogenetics, the field he pioneered with Karl Deisseroth. 
Optogenetics is a technique in which a focused laser beam controls individual neurons containing engineered light-sensitive protein molecules called "opsins". 
In a recent interview with Medscape, Boyden said that optogenetics grew out of the insight that the brain could be controlled with light.
"All over the tree of life are molecules that are essentially photosynthetic," told Boyden to Medscape. "They convert light into electrical signaling. Brain cells compute with electrical signals. If we can put those molecules in and shine light on them, we can turn on neurons in the brain, in a very precise, digital way."
Boyden is the senior author of the new study, along with Valentina Emiliani, research director at France's National Center for Scientific Research (CNRS) and director of the Neurophotonics Laboratory at Paris Descartes University.
 The advance they made is to figure out a way to target single cells, allowing for precise control of both the timing and location of their stimulation. The achievement will allow for new studies of how individual cells and neural circuits can generate specific behaviors like starting a movement or learning a new skill. 
"Ideally what you would like to do is play the brain like a piano," said Boyden. "You would want to control neurons independently, rather than having them all march in lockstep the way traditional optogenetics works, but which normally the brain doesn't do."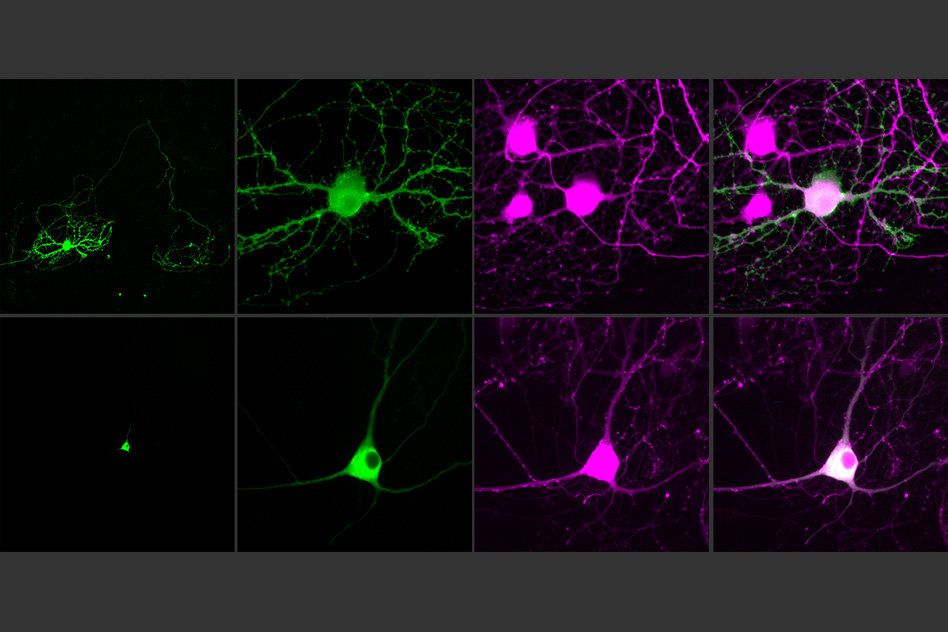 Credit: Ed Boyden. The new opsin that can be targeted to neuron cell bodies is in the bottom row. Neurons in the top row have traditional opsins that you can see being distributed throughout their axons.
The previous optogenetic technique targeted many cells at once. But to Boyden, this wasn't precise enough as neurons may have different functions even if they are near each other.
"Two adjacent cells can have completely different neural codes. They can do completely different things, respond to different stimuli, and play different activity patterns during different tasks," he explained.
Using the new technique, the scientists managed to stimulate single neurons in brains slices and measured responses from neighboring cells. This can make possible diagramming the brain's connections and showing how they change in real time as the brain performs functions or learns.
You can read the new study here, published in Nature Neuroscience.
Big Think Edge
The meaning of the word 'confidence' seems obvious. But it's not the same as self-esteem.
Confidence isn't just a feeling on your inside. It comes from taking action in the world.
Join Big Think Edge today and learn how to achieve more confidence when and where it really matters.
Big Think Edge
Economist Sylvia Ann Hewlett breaks down what qualities will inspire others to believe in you.
Here's how 300 leaders and 4,000 mid-level managers described someone with executive presence.
Get more deep insights like these to power your career forward. Join Big Think Edge.
Upstreamism advocate Rishi Manchanda calls us to understand health not as a "personal responsibility" but a "common good."
Sponsored by Northwell Health
Upstreamism tasks health care professionals to combat unhealthy social and cultural influences that exist outside — or upstream — of medical facilities.
Patients from low-income neighborhoods are most at risk of negative health impacts.
Thankfully, health care professionals are not alone. Upstreamism is increasingly part of our cultural consciousness.
It marks a major shift in the government's battle against the opioid crisis.
George Frey/Bloomberg via Getty Images
Politics & Current Affairs
The nation's sixth-largest drug distributor is facing criminal charges related to failing to report suspicious drug orders, among other things.
It marks the first time a drug company has faced criminal charges for distributing opioids.
Since 1997, nearly 222,000 Americans have died from prescription opioids, partly thanks to unethical doctors who abuse the system.
Big think's weekly newsletter.
Get smarter faster from the comfort of your inbox.
See our newsletter privacy policy
here
Most Popular
Most Recent
Big think's weekly newsletter.
Get smarter faster from the comfort of your inbox.
See our newsletter privacy policy
here
© Copyright 2007-2019 & BIG THINK, BIG THINK EDGE,
SMARTER FASTER trademarks owned by The Big Think, Inc. All rights reserved.