A "new Bermuda Triangle" that leads the world in sea disasters found
A sea region has become the top place for maritime accidents, accounting for almost half the shipping disasters in the world.
04 February, 2018
On January 6th, 2018, the Panamanian oil tanker Sanchi crashed into CV Crystal, a massive freight ship from Hong Kong, in an area now dubbed the "new Bermuda Triangle." As a result of the collision, Sanchi, carrying nearly 1 million barrels of Iranian oil to South Korea, caught on fire and burned while drifting for over a week, with all 32 people who comprised the crew of the tanker dying in the disaster. 
---
Why has the location of the tragic accident, about 160 nautical miles away from Shanghai, China in the East China Sea, been compared to the Bermuda Triangle? The area, which expands towards Indochina, Indonesia, the Malay Peninsula, the Korean Peninsula and Japan has become the leading spot of maritime accidents in the world. In 2016 alone, 34 ships met their demise in the region - that's 40% of global shipping losses of 85 ships, according to the marine insurer Allianz.
To get an overall picture, the 2017 Safety and Shipping Review, prepared by Allianz, looked at 25,898 shipping incidents which included 1,186 "total losses" in the period from January 2007 to December 2016. While the number of total losses dropped globally by 50 percent, this effect was much less pronounced in the East/South East Asian waters. The region continues to average 39 total ship losses per year, about a third of the worldwide sum, reports MarineLink. 
Even the United States Navy has had its share of problems in the region, with recent collisions involving USS Lake Champlain, USS Fitzgerald, USS Antietam and  USS John McCain. 17 sailors lost their lives in the disasters involving the destroyers Fitzgerald and John S. McCain, says Navy Times. 
Here's footage of the burning tanker Sanchi: 
What makes this area so dangerous? The ex-tanker captain Rahul Khanna, who has over 14 years of experience at sea and is now the Global Head of Marine Risk Consulting at Allianz, blamed the accidents on the often-fatal combination of how many ships go through the area, bad weather and lacking safety concerns by the countries operating the shipping there.
"Some have dubbed this wide region as a 'new Bermuda Triangle'," said Khanna. "I wouldn't go that far but it is certainly the number one region worldwide for major shipping incidents. Not only are the seas here very busy, but they are also prone to bad weather and, although I can't speculate on this event, some safety standards in the region are not always as high as one would expect from established international standards."
Volker Dierks, who heads Allianz's ship insurance for central and eastern Europe, ascribed the incidents to the fact that the "ships are getting bigger," which increases the risk of collisions.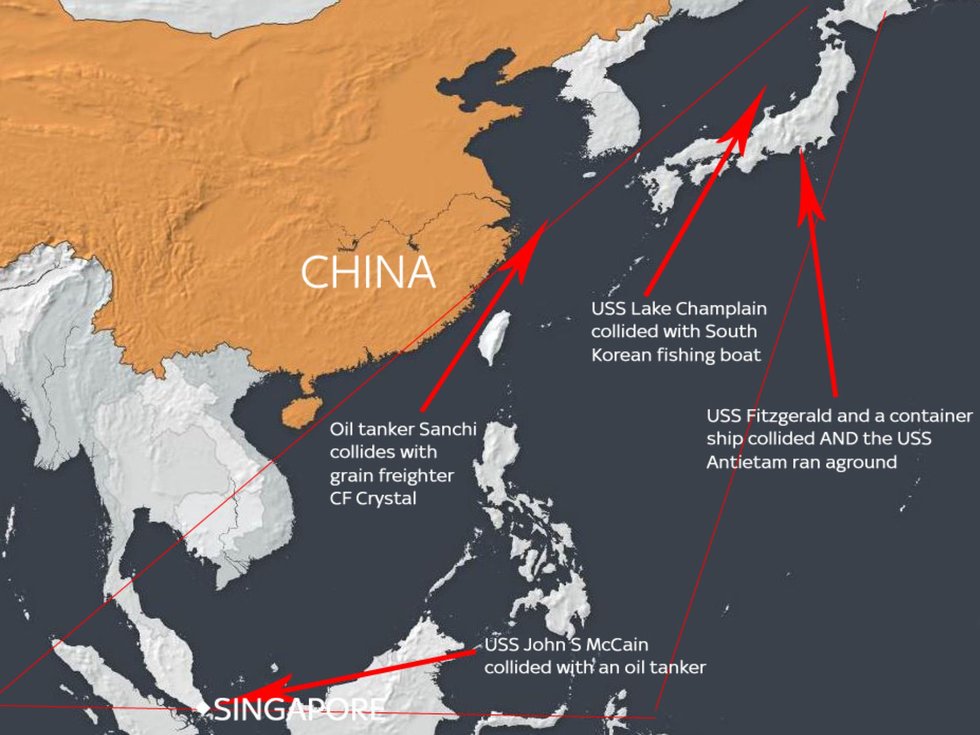 Credit: Sky News
The disasters that befall ships in the area include foundering (filling with water and sinking), wrecking, fires and explosions as well as collisions with other vessels. While nothing very mysterious may be going on if the incidents are considered individually, the sheer amount of them has led to the Bermuda Triangle comparisons. 
In the case of USS John McCain, the culprit was human error causing "steering confusion".
To brush up on a fascinating theory that may explain the enigma of the original Bermuda Triangle, check out this article.
Pfizer's partnerships strengthen their ability to deliver vaccines in developing countries.
Susan Silbermann, Global President of Pfizer Vaccines, looks on as a health care worker administers a vaccine in Rwanda. Photo: Courtesy of Pfizer.
Community healthcare workers face many challenges in their work, including often traveling far distances to see their clients
Pfizer is helping to drive the UN's sustainable development goals through partnerships.
Pfizer partnered with AMP and the World Health Organization to develop a training program for healthcare workers.
Sponsored
The famed author headed to the pond thanks to Indian philosophy.
Image: Public Domain / Shutterstock / Big Think
Personal Growth
The famed author was heavily influenced by Indian literature, informing his decision to self-exile on Walden Pond.
He was introduced to these texts by his good friend's father, William Emerson.
Yoga philosophy was in America a century before any physical practices were introduced.
Progressive America would be half as big, but twice as populated as its conservative twin.
Image: Dicken Schrader
Strange Maps
America's two political tribes have consolidated into 'red' and 'blue' nations, with seemingly irreconcilable differences.
Perhaps the best way to stop the infighting is to go for a divorce and give the two nations a country each
Based on the UN's partition plan for Israel/Palestine, this proposal provides territorial contiguity and sea access to both 'red' and 'blue' America
A little goes a long way.
Photo: Shutterstock / Big Think
Personal Growth
A recent study from the Department of Health and Human Services found that 80 percent of Americans don't exercise enough.
Small breaks from work add up, causing experts to recommend short doses of movement rather than waiting to do longer workouts.
Rethinking what exercise is can help you frame how you move throughout your day.
Big think's weekly newsletter.
Get smarter faster from the comfort of your inbox.
See our newsletter privacy policy
here
Most Popular
Most Recent
Big think's weekly newsletter.
Get smarter faster from the comfort of your inbox.
See our newsletter privacy policy
here
© Copyright 2007-2018 & BIG THINK, BIG THINK EDGE,
SMARTER FASTER trademarks owned by The Big Think, Inc. All rights reserved.