A 'new Bermuda Triangle' leads the world in sea disasters
A sea region has become the top place for maritime accidents, accounting for almost half the shipping disasters in the world.
04 February, 2018
On January 6th, 2018, the Panamanian oil tanker Sanchi crashed into CV Crystal, a massive freight ship from Hong Kong, in an area now dubbed the "new Bermuda Triangle." As a result of the collision, Sanchi, carrying nearly 1 million barrels of Iranian oil to South Korea, caught on fire and burned while drifting for over a week, with all 32 people who comprised the crew of the tanker dying in the disaster.
---
Why has the location of the tragic accident, about 160 nautical miles away from Shanghai, China in the East China Sea, been compared to the Bermuda Triangle? The area, which expands towards Indochina, Indonesia, the Malay Peninsula, the Korean Peninsula and Japan has become the leading spot of maritime accidents in the world. In 2016 alone, 34 ships met their demise in the region - that's 40% of global shipping losses of 85 ships, according to the marine insurer Allianz.
To get an overall picture, the 2017 Safety and Shipping Review, prepared by Allianz, looked at 25,898 shipping incidents which included 1,186 "total losses" in the period from January 2007 to December 2016. While the number of total losses dropped globally by 50 percent, this effect was much less pronounced in the East/South East Asian waters. The region continues to average 39 total ship losses per year, about a third of the worldwide sum, reports MarineLink.
Even the United States Navy has had its share of problems in the region, with recent collisions involving USS Lake Champlain, USS Fitzgerald, USS Antietam and USS John McCain. 17 sailors lost their lives in the disasters involving the destroyers Fitzgerald and John S. McCain, says Navy Times.
Here's footage of the burning tanker Sanchi:
What makes this area so dangerous? The ex-tanker captain Rahul Khanna, who has over 14 years of experience at sea and is now the Global Head of Marine Risk Consulting at Allianz, blamed the accidents on the often-fatal combination of how many ships go through the area, bad weather and lacking safety concerns by the countries operating the shipping there.
"Some have dubbed this wide region as a 'new Bermuda Triangle'," said Khanna. "I wouldn't go that far but it is certainly the number one region worldwide for major shipping incidents. Not only are the seas here very busy, but they are also prone to bad weather and, although I can't speculate on this event, some safety standards in the region are not always as high as one would expect from established international standards."
Volker Dierks, who heads Allianz's ship insurance for central and eastern Europe, ascribed the incidents to the fact that the "ships are getting bigger," which increases the risk of collisions.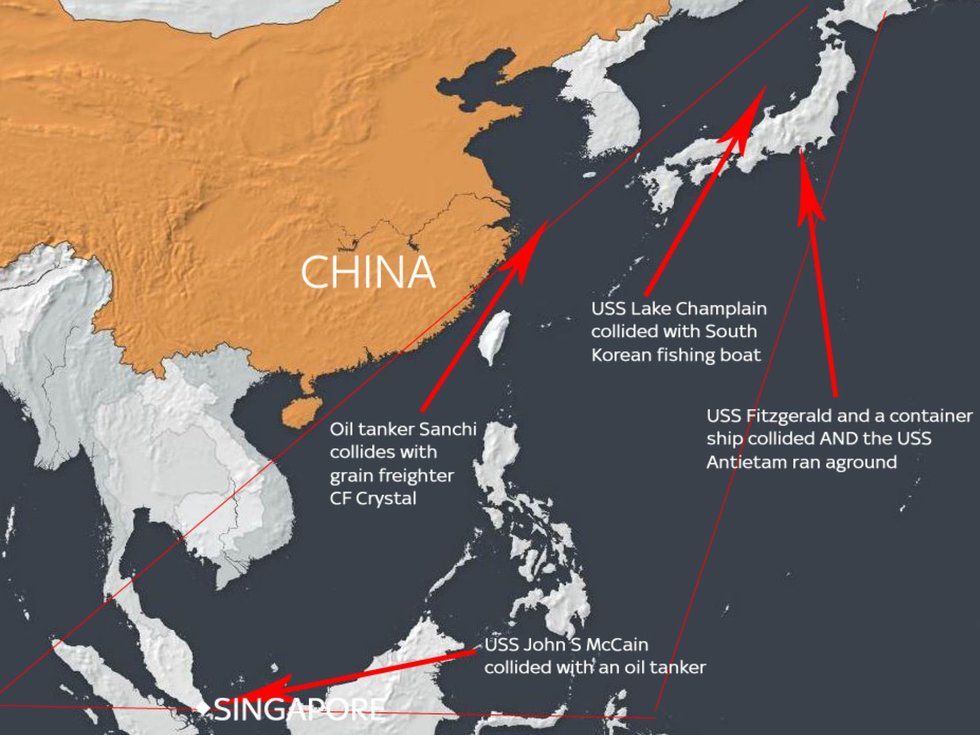 Credit: Sky News
The disasters that befall ships in the area include foundering (filling with water and sinking), wrecking, fires and explosions as well as collisions with other vessels. While nothing very mysterious may be going on if the incidents are considered individually, the sheer amount of them has led to the Bermuda Triangle comparisons.
In the case of USS John McCain, the culprit was human error causing "steering confusion".
To brush up on a fascinating theory that may explain the enigma of the original Bermuda Triangle, check out this article.
Step inside the unlikely friendship of a former ACLU president and an ultra-conservative Supreme Court Justice.

Sponsored by Charles Koch Foundation
Former president of the ACLU Nadine Strossen and Supreme Court Justice Antonin Scalia were unlikely friends. They debated each other at events all over the world, and because of that developed a deep and rewarding friendship – despite their immense differences.
Scalia, a famous conservative, was invited to circles that were not his "home territory", such as the ACLU, to debate his views. Here, Strossen expresses her gratitude and respect for his commitment to the exchange of ideas.
"It's really sad that people seem to think that if you disagree with somebody on some issues you can't be mutually respectful, you can't enjoy each other's company, you can't learn from each other and grow in yourself," says Strossen.
The opinions expressed in this video do not necessarily reflect the views of the Charles Koch Foundation, which encourages the expression of diverse viewpoints within a culture of civil discourse and mutual respect.
Learn how to redesign your job for maximum reward.
Videos
Broaching the question "What is my purpose?" is daunting – it's a grandiose idea, but research can make it a little more approachable if work is where you find your meaning. It turns out you can redesign your job to have maximum purpose.
There are 3 ways people find meaning at work, what Aaron Hurst calls the three elevations of impact. About a third of the population finds meaning at an individual level, from seeing the direct impact of their work on other people. Another third of people find their purpose at an organizational level. And the last third of people find meaning at a social level.
"What's interesting about these three elevations of impact is they enable us to find meaning in any job if we approach it the right way. And it shows how accessible purpose can be when we take responsibility for it in our work," says Hurst.
Erik Verlinde has been compared to Einstein for completely rethinking the nature of gravity.
Photo by Willeke Duijvekam
Surprising Science
The Dutch physicist Erik Verlinde's hypothesis describes gravity as an "emergent" force not fundamental.
The scientist thinks his ideas describe the universe better than existing models, without resorting to "dark matter".
While some question his previous papers, Verlinde is reworking his ideas as a full-fledged theory.
TuSimple, an autonomous trucking company, has also engaged in test programs with the United States Postal Service and Amazon.
Technology & Innovation
This week, UPS announced that it's working with autonomous trucking startup TuSimple on a pilot project to deliver cargo in Arizona using self-driving trucks.
UPS has also acquired a minority stake in TuSimple.
TuSimple hopes its trucks will be fully autonomous — without a human driver — by late 2020, though regulatory questions remain.