A "new Bermuda Triangle" that leads the world in sea disasters found
A sea region has become the top place for maritime accidents, accounting for almost half the shipping disasters in the world.
04 February, 2018
On January 6th, 2018, the Panamanian oil tanker Sanchi crashed into CV Crystal, a massive freight ship from Hong Kong, in an area now dubbed the "new Bermuda Triangle." As a result of the collision, Sanchi, carrying nearly 1 million barrels of Iranian oil to South Korea, caught on fire and burned while drifting for over a week, with all 32 people who comprised the crew of the tanker dying in the disaster. 
---
Why has the location of the tragic accident, about 160 nautical miles away from Shanghai, China in the East China Sea, been compared to the Bermuda Triangle? The area, which expands towards Indochina, Indonesia, the Malay Peninsula, the Korean Peninsula and Japan has become the leading spot of maritime accidents in the world. In 2016 alone, 34 ships met their demise in the region - that's 40% of global shipping losses of 85 ships, according to the marine insurer Allianz.
To get an overall picture, the 2017 Safety and Shipping Review, prepared by Allianz, looked at 25,898 shipping incidents which included 1,186 "total losses" in the period from January 2007 to December 2016. While the number of total losses dropped globally by 50 percent, this effect was much less pronounced in the East/South East Asian waters. The region continues to average 39 total ship losses per year, about a third of the worldwide sum, reports MarineLink. 
Even the United States Navy has had its share of problems in the region, with recent collisions involving USS Lake Champlain, USS Fitzgerald, USS Antietam and  USS John McCain. 17 sailors lost their lives in the disasters involving the destroyers Fitzgerald and John S. McCain, says Navy Times. 
Here's footage of the burning tanker Sanchi: 
What makes this area so dangerous? The ex-tanker captain Rahul Khanna, who has over 14 years of experience at sea and is now the Global Head of Marine Risk Consulting at Allianz, blamed the accidents on the often-fatal combination of how many ships go through the area, bad weather and lacking safety concerns by the countries operating the shipping there.
"Some have dubbed this wide region as a 'new Bermuda Triangle'," said Khanna. "I wouldn't go that far but it is certainly the number one region worldwide for major shipping incidents. Not only are the seas here very busy, but they are also prone to bad weather and, although I can't speculate on this event, some safety standards in the region are not always as high as one would expect from established international standards."
Volker Dierks, who heads Allianz's ship insurance for central and eastern Europe, ascribed the incidents to the fact that the "ships are getting bigger," which increases the risk of collisions.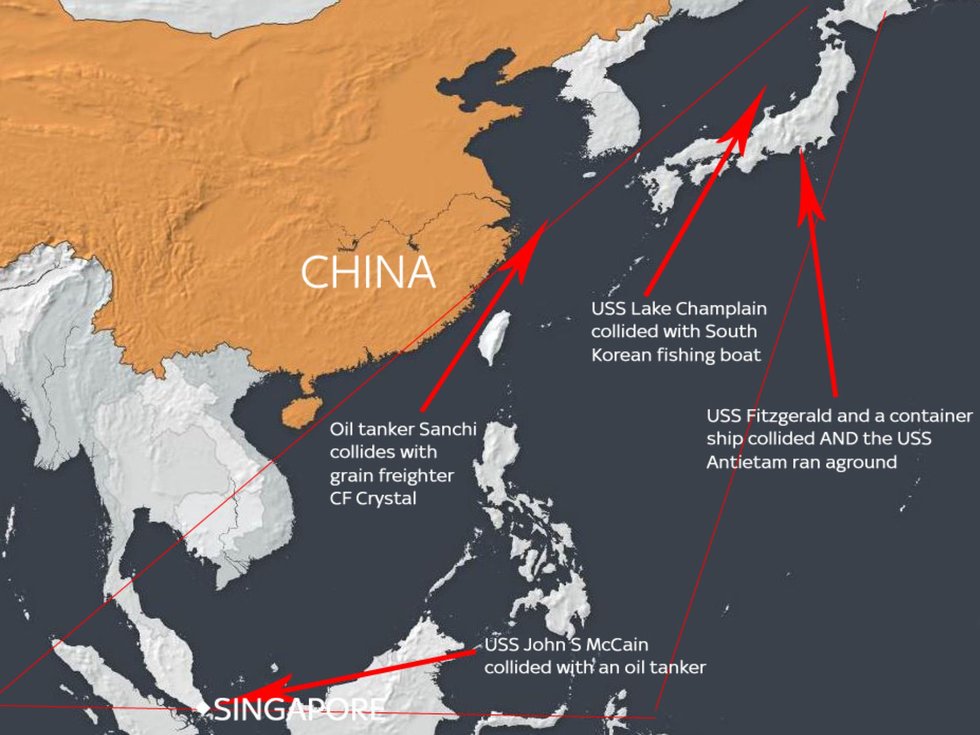 Credit: Sky News
The disasters that befall ships in the area include foundering (filling with water and sinking), wrecking, fires and explosions as well as collisions with other vessels. While nothing very mysterious may be going on if the incidents are considered individually, the sheer amount of them has led to the Bermuda Triangle comparisons. 
In the case of USS John McCain, the culprit was human error causing "steering confusion".
To brush up on a fascinating theory that may explain the enigma of the original Bermuda Triangle, check out this article.
Related Articles
Both schizophrenics and people with a common personality type share similar brain patterns.
(shutterstock)
Mind & Brain
A new study shows that people with a common personality type share brain activity with patients diagnosed with schizophrenia.
The study gives insight into how the brain activity associated with mental illnesses relates to brain activity in healthy individuals.
This finding not only improves our understanding of how the brain works but may one day be applied to treatments.
It's a development that could one day lead to much better treatments for osteoporosis, joint damage, and bone fractures.
Image: Nissim Benvenisty
Surprising Science
Scientists have isolated skeletal stem cells in adult and fetal bones for the first time.
These cells could one day help treat damaged bone and cartilage.
The team was able to grow skeletal stem cells from cells found within liposuctioned fat.
Gut bacteria play an important role in how you feel and think and how well your body fights off disease. New research shows that exercise can give your gut bacteria a boost.
National Institutes of Health
Surprising Science
Two studies from the University of Illinois show that gut bacteria can be changed by exercise alone.
Our understanding of how gut bacteria impacts our overall health is an emerging field, and this research sheds light on the many different ways exercise affects your body.
Exercising to improve your gut bacteria will prevent diseases and encourage brain health.
Big think's weekly newsletter.
Get smarter faster from the comfort of your inbox.
See our newsletter privacy policy
here
Most Popular
Most Recent
Big think's weekly newsletter.
Get smarter faster from the comfort of your inbox.
See our newsletter privacy policy
here
© Copyright 2007-2018 & BIG THINK, BIG THINK EDGE,
SMARTER FASTER trademarks owned by The Big Think, Inc. All rights reserved.