A British Teenager Finds an Error in NASA's Space Station Data
A 17-year-old British schoolboy spots an error in the data from International Space Station's radiation sensors.
27 March, 2017
The International Space Station (ISS) is seen from NASA space shuttle Endeavour after the station and shuttle began their post-undocking relative separation May 29, 2011 in space. (Photo by NASA via Getty Images)
---
A 17-year-old British student, Miles Solomon, spotted an error in NASA's data while working on a school physics project. What's more, the teenager figured out that radiation sensors on the International Space Station (ISS) were not working properly. The sensors were actually capturing "false data".  
Once he found the error, Solomon emailed NASA, which said it "appreciated" the feedback and even invited him to help fix the problem. 
Solomon's Tapton Secondary School in Sheffield was taking part in a project from Institute for Research in Schools (IRIS) which provided the students with real scientific data from NASA's radiation readings. The measurements were of radiation levels from British astronaut Tim Peak's stint on the ISS in December 2015, taken every 4 seconds. The students were encouraged to look for anomalies and promising patterns.
When he first got the readings, Miles right away had a plan. 
'What we got given was a lot of spreadsheets, which is a lot more interesting than it sounds,' he told BBC Radio 4. "I went straight to the bottom of the list and I went for the lowest bits of energy there were."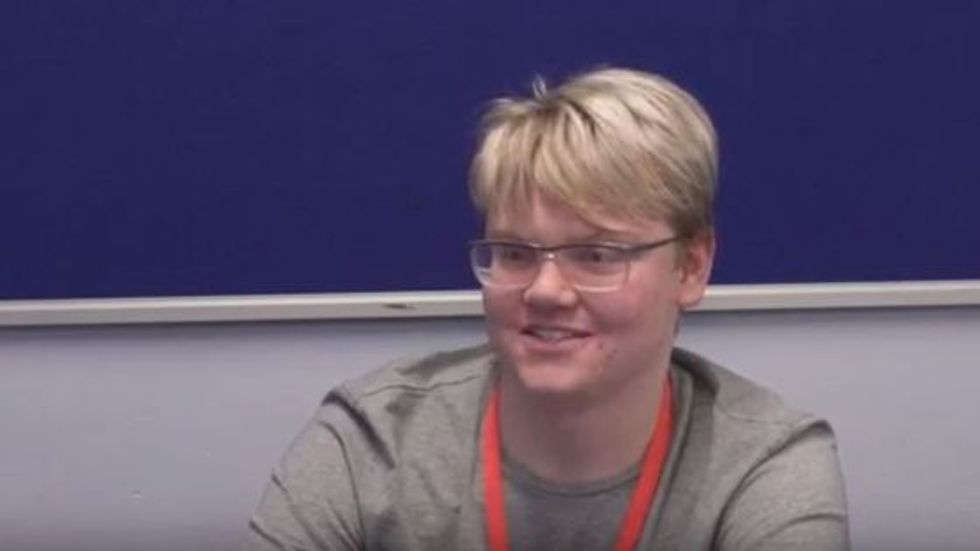 Miles Solomon. Credit: BBC
What he spotted is that on occasions when the sensors didn't detect any radiation, they instead recorded a negative reading of -1. As you cannot have a negative for energy, Solomon and his teacher got in touch with NASA. 
"It's pretty cool", said Miles. "You can tell your friends, I just emailed Nasa and they're looking at the graphs that I've made."
It turned out the teen noticed an error that NASA didn't fully see for 15 months. The space scientists said they did actually know of the error's existence but thought it happened once or twice a year rather than many times a day.
The discovery of the error was welcomed by NASA and IRIS, which created the opportunity to get "real science in the classroom". They hope this kind of cooperation can inspire students to become scientists.  
Miles is very excited, although his friends might be less enthused.
"They obviously think I'm a nerd," shared the self-deprecating student. "It's really a mixture of jealousy and boredom when I tell them all the details."
He also doesn't see the situation as a case of embarrassment for the world's premiere space program.
"I'm not trying to prove Nasa wrong. I want to work with them and learn from them," Solomon added.
The pandemic reminds us that our higher education system, with all its flaws, remains a key part of our strategic reserve.
Sponsored by Charles Koch Foundation
America's higher education system is under great scrutiny as it adapts to a remote-learning world. These criticisms will only make higher ed more innovative.
While there are flaws in the system and great challenges ahead, higher education has adapted quickly to allow students to continue learning. John Katzman, CEO of online learning organization Noodle Partners, believes this is cause for optimism not negativity.
Universities are pillars of scientific research on the COVID-19 frontlines, they bring facts in times of uncertainty and fake news, and, in a bad economy, education is a personal floatation device.
Meteorologists propose a stunning new explanation for the mysterious events in the Bermuda Triangle.
Surprising Science
One of life's great mysteries, the Bermuda Triangle might have finally found an explanation. This strange region, that lies in the North Atlantic Ocean between Bermuda, Miami and San Juan, Puerto Rico, has been the presumed cause of dozens and dozens of mind-boggling disappearances of ships and planes.
A debate is raging inside and outside of churches.
Photo by Sandy Huffaker / AFP via Getty Images
Culture & Religion
Over 1,200 pastors in California claim they're opening their churches this week against state orders.
While church leaders demand independence from governmental oversight, 9,000 Catholic churches have received small business loans.
A number of re-opened churches shut back down after members and clergy became infected with the novel coronavirus.
An MIT system uses wireless signals to measure in-home appliance usage to better understand health tendencies.
John Moore/Getty Images
Technology & Innovation
For many of us, our microwaves and dishwashers aren't the first thing that come to mind when trying to glean health information, beyond that we should (maybe) lay off the Hot Pockets and empty the dishes in a timely way.
Scroll down to load more…