52 Common Myths, Rumors and Falsehoods Debunked
A list debunking commonly believed falsehoods, misconceptions and just bad ideas.
03 July, 2016
There is so much information thrown at us at any given moment that it's often hard to separate the worthwhile from the superfluous. Some of it we know to be true or false based on our own knowledge base, cultural background or the trust we have in the source. But the rest of the info? It requires searching and cross-checking which most of us do not do. As a result, as much useful stuff that we hope inhabits our brain, some of it is likely full of half-truths or worse.  
---
Thanks to the gods of the internet, a helpful soul has arisen and created for us a comprehensive chart of some of the frequently encountered "facts" and what they are in reality. Put together by the data journalist and information designer David McChandress, the chart chronicles research into the most common misconceptions or "myth conceptions" as he calls it.
For instance, maybe you didn't wonder recently if Napoleon was really as short as they say. But this bit of info is probably ingrained in your head as a result of the cultural conditioning that has maintained Napoleon's short stature for centuries. Well, it's not true! Turns out he was 5'7" - an above average height for a French man of his time. 
Something else that I'd not even think of questioning - do bulls hate red? Surely they must, judging by the millions of cartoons, movies and paintings that have reinforced that idea. Turns out it's not true! They just react to the motion created by the bullfighter, waving the cloth in their face.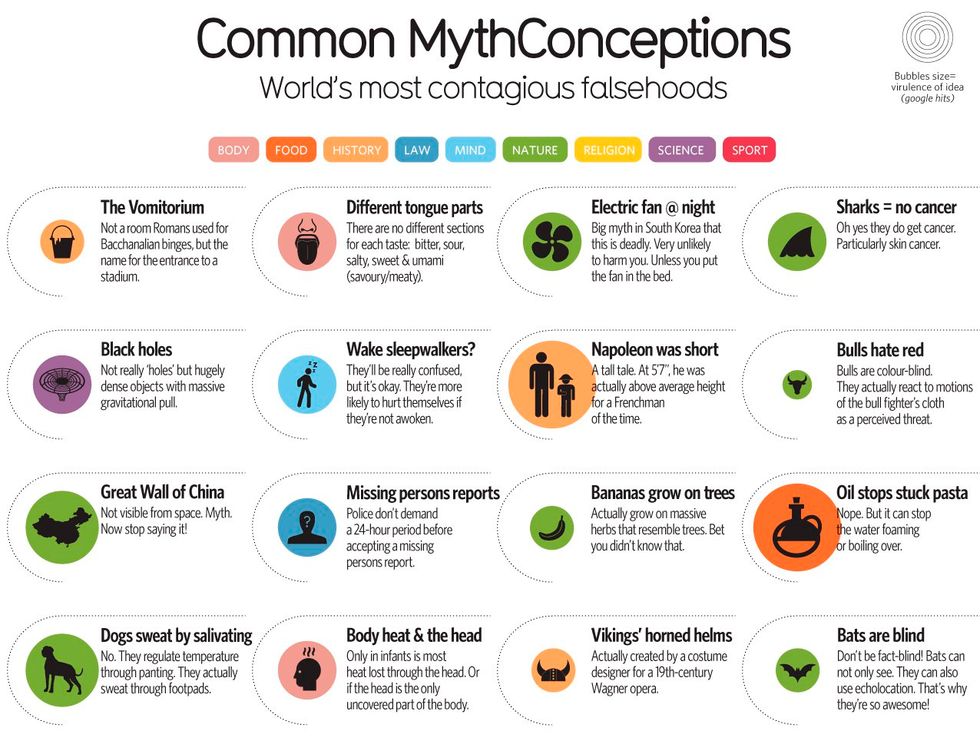 Of the next set of misconceptions, watch out for some key ideas - we didn't directly evolve from chimps, and you can actually swim after eating!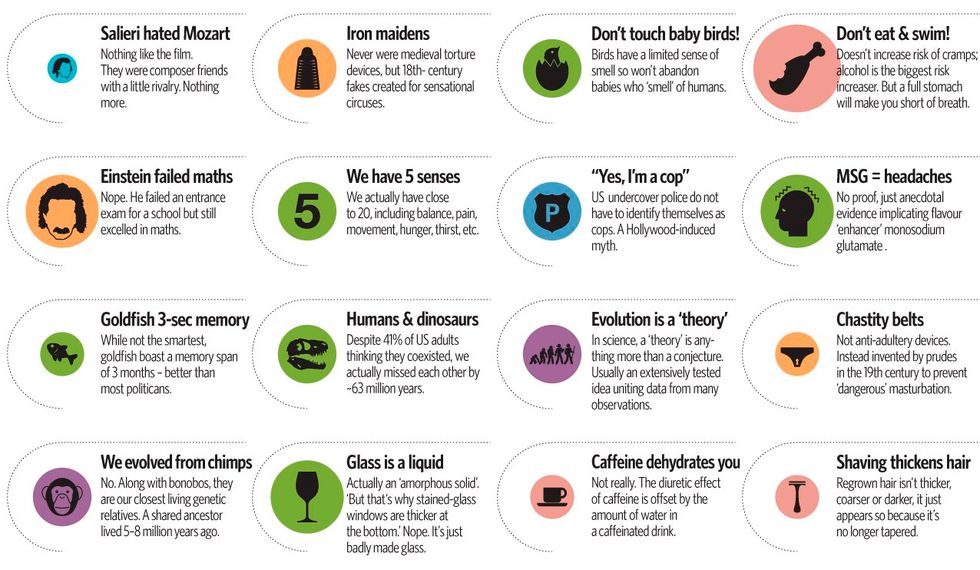 Coming up we have the tearing down of the classic "we only use 10% of our brains" and the fact that however many of the brain cells you use, they are not likely to be killed off by alcohol: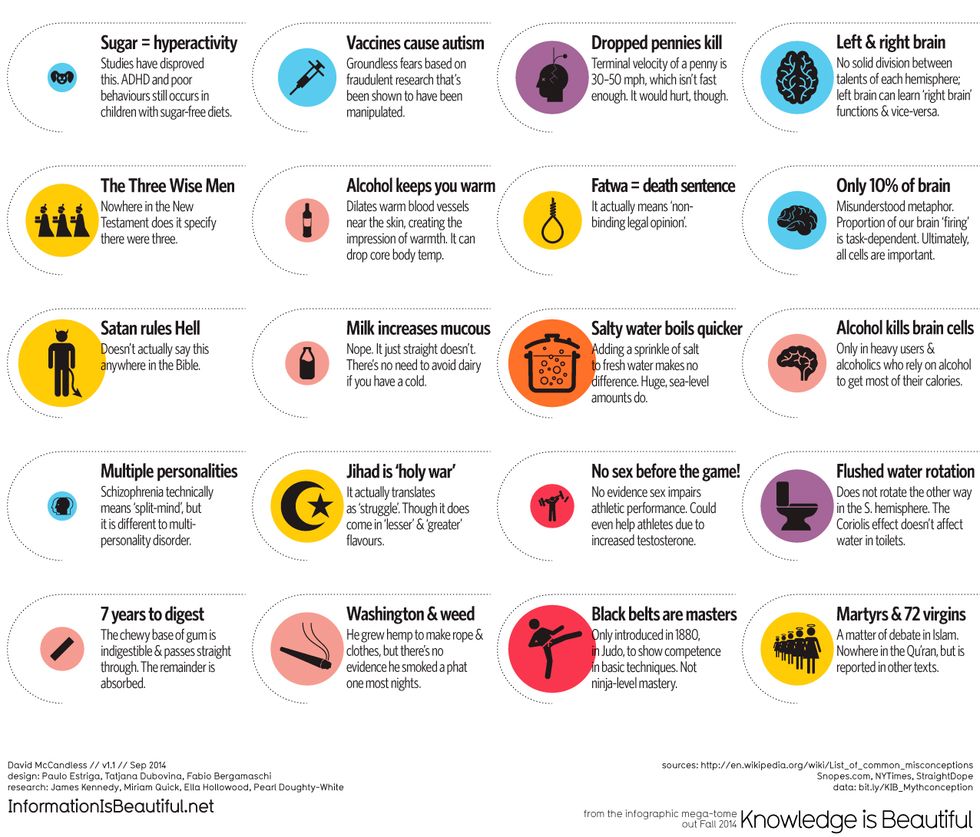 To create wiser adults, add empathy to the school curriculum.
Sponsored by Charles Koch Foundation
Stories are at the heart of learning, writes Cleary Vaughan-Lee, Executive Director for the Global Oneness Project. They have always challenged us to think beyond ourselves, expanding our experience and revealing deep truths.
Vaughan-Lee explains 6 ways that storytelling can foster empathy and deliver powerful learning experiences.
Global Oneness Project is a free library of stories—containing short documentaries, photo essays, and essays—that each contain a companion lesson plan and learning activities for students so they can expand their experience of the world.
BASE particle physicists have discovered a very precise way to examine antimatter.
The Veil Nebula. Credit: By Jschulman555 - Own work, Wikipedia Commons.
Surprising Science
Thank your lucky stars you're alive. It's truly a miracle of nature. This has nothing to do with spirituality or religion and everything to do with science. Life itself may not be the miracle. Although we haven't found it elsewhere yet, our galaxy alone is so replete with Earth-like planets that, mathematically speaking, one of them must hold life, even if it's just the microbial variety. Intelligent life may be another matter.
Just before I turned 60, I discovered that sharing my story by drawing could be an effective way to both alleviate my symptoms and combat that stigma.
Photo by JJ Ying on Unsplash
Mind & Brain
I've lived much of my life with anxiety and depression, including the negative feelings – shame and self-doubt – that seduced me into believing the stigma around mental illness: that people knew I wasn't good enough; that they would avoid me because I was different or unstable; and that I had to find a way to make them like me.
A joint study by two England universities explores the link between sex and cognitive function with some surprising differences in male and female outcomes in old age.
Mind & Brain
A joint study by the universities of Coventry and Oxford in England has linked sexual activity with higher cognitive abilities in older age.
The results of this study suggest there are significant associations between sexual activity and number sequencing/word recall in men. In women, however, there was a significant association between sexual activity in word recall alone - number sequencing was not impacted.
The differences in testosterone (the male sex hormone) and oxytocin (a predominantly female hormone) may factor into why the male cognitive level changes much more during sexual activity in older age.
Technology & Innovation
Mathematicians studied 100 billion tweets to help computer algorithms better understand our colloquial digital communication.
Scroll down to load more…