52 Common Myths, Rumors and Falsehoods Debunked
A list debunking commonly believed falsehoods, misconceptions and just bad ideas.
03 July, 2016
There is so much information thrown at us at any given moment that it's often hard to separate the worthwhile from the superfluous. Some of it we know to be true or false based on our own knowledge base, cultural background or the trust we have in the source. But the rest of the info? It requires searching and cross-checking which most of us do not do. As a result, as much useful stuff that we hope inhabits our brain, some of it is likely full of half-truths or worse.  
---
Thanks to the gods of the internet, a helpful soul has arisen and created for us a comprehensive chart of some of the frequently encountered "facts" and what they are in reality. Put together by the data journalist and information designer David McChandress, the chart chronicles research into the most common misconceptions or "myth conceptions" as he calls it.
For instance, maybe you didn't wonder recently if Napoleon was really as short as they say. But this bit of info is probably ingrained in your head as a result of the cultural conditioning that has maintained Napoleon's short stature for centuries. Well, it's not true! Turns out he was 5'7" - an above average height for a French man of his time. 
Something else that I'd not even think of questioning - do bulls hate red? Surely they must, judging by the millions of cartoons, movies and paintings that have reinforced that idea. Turns out it's not true! They just react to the motion created by the bullfighter, waving the cloth in their face.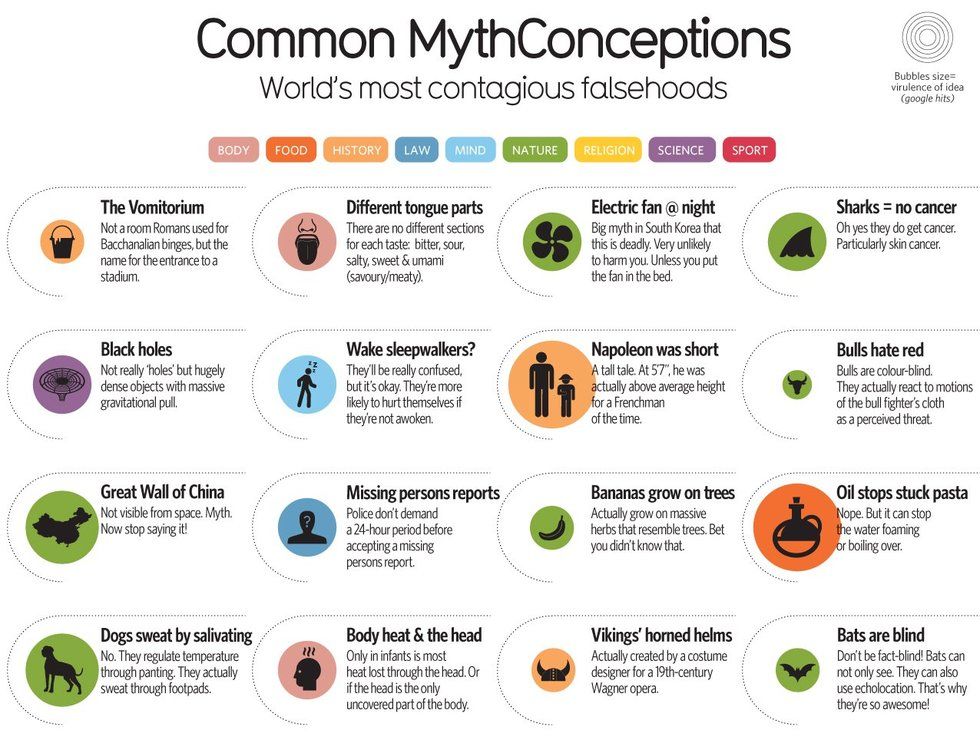 Of the next set of misconceptions, watch out for some key ideas - we didn't directly evolve from chimps, and you can actually swim after eating!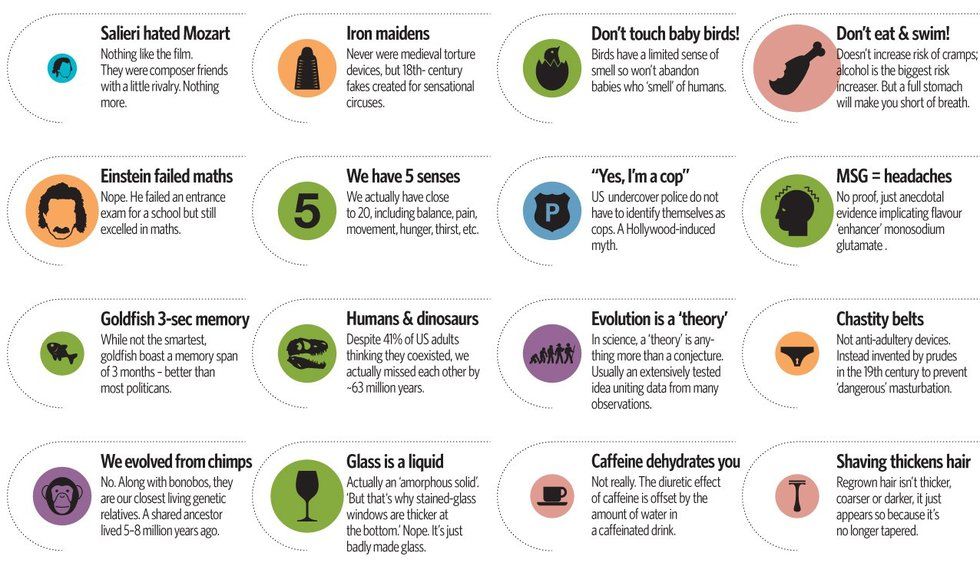 Coming up we have the tearing down of the classic "we only use 10% of our brains" and the fact that however many of the brain cells you use, they are not likely to be killed off by alcohol: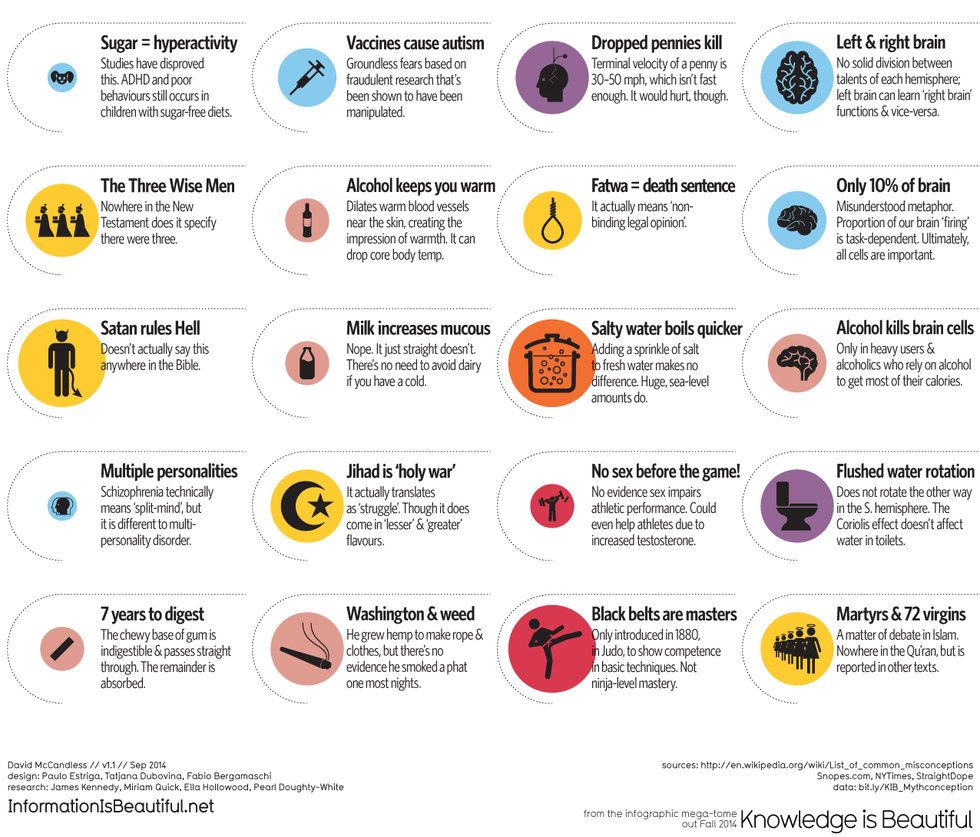 What can 3D printing do for medicine? The "sky is the limit," says Northwell Health researcher Dr. Todd Goldstein.
Northwell Health
Sponsored by Northwell Health
Medical professionals are currently using 3D printers to create prosthetics and patient-specific organ models that doctors can use to prepare for surgery.
Eventually, scientists hope to print patient-specific organs that can be transplanted safely into the human body.
Northwell Health, New York State's largest health care provider, is pioneering 3D printing in medicine in three key ways.
The tactics that work now won't work for long.
Politics & Current Affairs
Arms races happen when two sides of a conflict escalate in a series of ever-changing moves intended to outwit the opponent.
Great ideas in philosophy often come in dense packages. Then there is where the work of Marcus Aurelius.
(Getty Images)
Personal Growth
Meditations is a collection of the philosophical ideas of the Roman Emperor Marcus Aurelius.
Written as a series of notes to himself, the book is much more readable than the dry philosophy most people are used to.
The advice he gave to himself 2,000 years ago is increasingly applicable in our hectic, stressed-out lives.
By working together, and learning from one another, we can build better systems.
Videos
Many of the things that we experience, are our imagination manifesting into this physical realm, avers artist Dustin Yellin.
People need to completely rethink the way they work together, and learn from one another, that they they can build better systems. If not, things may get "really dark" soon.
The first step to enabling cooperation is figuring out where the common ground is. Through this method, despite contrary beliefs, we may be able to find some degree of peace.
Big think's weekly newsletter.
Get smarter faster from the comfort of your inbox.
See our newsletter privacy policy
here
Most Popular
Most Recent
Big think's weekly newsletter.
Get smarter faster from the comfort of your inbox.
See our newsletter privacy policy
here
© Copyright 2007-2019 & BIG THINK, BIG THINK EDGE,
SMARTER FASTER trademarks owned by The Big Think, Inc. All rights reserved.