34 years ago, a KGB defector chillingly predicted modern America
A disturbing interview given by a KGB defector in 1984 describes America of today and outlines four stages of mass brainwashing used by the KGB.
18 July, 2018
Bezmenov described this process as "a great brainwashing" which has four basic stages.
The first stage is called "demoralization" which takes from 15 to 20 years to achieve.
According to the former KGB agent, that is the minimum number of years it takes to re-educate one generation of students that is normally exposed to the ideology of its country.
---
For anyone who is still wondering, the Mueller Report makes it clear that Russian operatives played a role in the American elections of 2016 that resulted in the Presidency of Donald Trump. The true impact of that role is certainly open to debate. Since then, Trump has on occasion been quite nice to the Russian President Putin, occasionally seen as capitulating on important matters. Whether you believe Putin really has some kind of compromising material to make Trump do his bidding or if Trump is simply being nice to people who partially helped get him elected, or if you somehow believe, despite ample evidence to the contrary, that all this is much ado about nothing, the fact is President Putin is a very experienced former KGB officer.
He has both the know-how and the intelligence to carry out very far-sighted and ingenious operations. We don't know his endgame and neither do we know how much of his KGB training he still employs, but in light of current events, there may be a way for us to get a deeper understanding by studying the words of Yuri Alexandrovich Bezmenov, a former KGB agent who defected to Canada in 1970.
In 1984, Bezmenov gave an interview to G. Edward Griffin from which much can be learned today. His most chilling point was that there's a long-term plan put in play by Russia to defeat America through psychological warfare and "demoralization". It's a long game that takes decades to achieve but it may already be bearing fruit.
Bezmenov made the point that the work of the KGB mainly does not involve espionage, despite what our popular culture may tell us. Most of the work, 85% of it, was "a slow process which we call either ideological subversion, active measures, or psychological warfare."
What does that mean? Bezmenov explained that the most striking thing about ideological subversion is that it happens in the open as a legitimate process. "You can see it with your own eyes," he said. The American media would be able to see it, if it just focused on it.
Here's how he further defined ideological subversion:
"What it basically means is: to change the perception of reality of every American to such an extent that despite of the abundance of information no one is able to come to sensible conclusions in the interest of defending themselves, their families, their community, and their country."
Bezmenov described this process as "a great brainwashing" which has four basic stages. The first stage is called "demoralization" which takes from 15 to 20 years to achieve. According to the former KGB agent, that is the minimum number of years it takes to re-educate one generation of students that is normally exposed to the ideology of its country. In other words, the time it takes to change what the people are thinking.
He used the examples of 1960s hippies coming to positions of power in the '80s in the government and businesses of America. Bezmenov claimed this generation was already "contaminated" by Marxist-Leninist values. Of course, this claim that many baby boomers are somehow espousing KGB-tainted ideas is hard to believe but Bezmenov's larger point addressed why people who have been gradually "demoralized" are unable to understand that this has happened to them.
Referring to such people, Bezmenov said:
"They are programmed to think and react to certain stimuli in a certain pattern [alluding to Pavlov]. You can not change their mind even if you expose them to authentic information. Even if you prove that white is white and black is black, you still can not change the basic perception and the logic of behavior."
Demoralization is a process that is "irreversible". Bezmenov actually thought (back in 1984) that the process of demoralizing America was already completed. It would take another generation and another couple of decades to get the people to think differently and return to their patriotic American values, claimed the agent.
.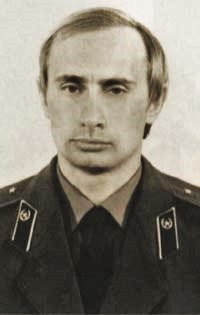 Vladimir Putin in a KGB uniform around 1980
In what is perhaps a most striking passage in the interview, here's how Bezmenov described the state of a "demoralized" person:

"As I mentioned before, exposure to true information does not matter anymore," said Bezmenov. "A person who was demoralized is unable to assess true information. The facts tell nothing to him. Even if I shower him with information, with authentic proof, with documents, with pictures; even if I take him by force to the Soviet Union and show him [a] concentration camp, he will refuse to believe it, until he [receives] a kick in his fan-bottom. When a military boot crashes his balls then he will understand. But not before that. That's the [tragedy] of the situation of demoralization."
It's hard not to see in that the state of many modern Americans. We have become a society of polarized tribes, with some people flat out rejecting facts in favor of narratives and opinions.
Once demoralization is completed, the second stage of ideological brainwashing is "destabilization". During this two-to-five-year period, asserted Bezmenov, what matters is the targeting of essential structural elements of a nation: economy, foreign relations, and defense systems. Basically, the subverter (Russia) would look to destabilize every one of those areas in the United States, considerably weakening it.
The third stage would be "crisis". It would take only up to six weeks to send a country into crisis, explained Bezmenov. The crisis would bring "a violent change of power, structure, and economy" and will be followed by the last stage, "normalization." That's when your country is basically taken over, living under a new ideology and reality.
This will happen to America unless it gets rid of people who will bring it to a crisis, warned Bezmenov. What's more "if people will fail to grasp the impending danger of that development, nothing ever can help [the] United States," adding, "You may kiss goodbye to your freedom."
It bears saying that when he made this statement, he was warning about baby boomers and Democrats of the time.
In another, somewhat terrifying excerpt, here's what Bezmenov had to say about what is really happening in the United States. It may think it is living in peace, but it has been actively at war with Russia. And for some time:
"Most of the American politicians, media, and educational system trains another generation of people who think they are living at the peacetime," said the former KGB agent. "False. United States is in a state of war: undeclared, total war against the basic principles and foundations of this system."
Whether you think that is true may depend on your politics, but the reality of Russian active measures, as has been outlined in the recent indictments by the special counselor Robert Mueller, give Bezmenov's words new urgency.
You can watch the full interview here:
To create wiser adults, add empathy to the school curriculum.
Sponsored by Charles Koch Foundation
Stories are at the heart of learning, writes Cleary Vaughan-Lee, Executive Director for the Global Oneness Project. They have always challenged us to think beyond ourselves, expanding our experience and revealing deep truths.
Vaughan-Lee explains 6 ways that storytelling can foster empathy and deliver powerful learning experiences.
Global Oneness Project is a free library of stories—containing short documentaries, photo essays, and essays—that each contain a companion lesson plan and learning activities for students so they can expand their experience of the world.
Philosophers like to present their works as if everything before it was wrong. Sometimes, they even say they have ended the need for more philosophy. So, what happens when somebody realizes they were mistaken?
Researchers from Japan add a new wrinkle to a popular theory and set the stage for the formation of monstrous black holes.
Image source: Sunmyon Chon/National Institutes Of Natural Sciences, Japan
Surprising Science
A new theory takes the direct-collapse theory explaining the creation of supermassive black holes around which galaxies turn ones step further.
The advance is made possible by a super-powerful computer, ATERUI II.
The new theory is the first that accounts for the likely assortment of heavy elements in early-universe gas clouds.
It seems that pretty much every galaxy we see is spinning around a supermassive black hole. When we say "supermassive," we mean BIG: Each is about 100,000 to tens of billions times the mass of our Sun. Serving as the loci around which our galaxies twirl, they're clearly important to maintaining the universal structures we see. It would be nice to know how they form. We have a pretty good idea how normally-huge-but-not-massive black holes form, but as for the supermassive larger versions, not so much. It's a supermassive missing piece of the universe puzzle.
Now, in research published in Monthly Notices of the Astronomical Society, astrophysicists at Tohoku University in Japan reveal that they may have solved the riddle, supported by new computer simulations that show how supermassive black holes come to be.
The direct collapse theories
Glowing gas and dark dust within the Large Magellanic Cloud
Image source: ESA/Hubble and NASA
The favored theory about the birth of supermassive black holes up to now has been the "direct-collapse" theory. The theory proposes a solution to a cosmic riddle: Supermassive black holes seem to have been born a mere 690 million years after the Big Bang, not nearly long enough for the standard normal black hole genesis scenario to have played out, and on such a large scale. There are two versions of the direct-collapse theory.
One version proposes that if enough gas comes together in a supermassive gravitationally bound cloud, it can eventually collapse into a black hole, which, thanks the cosmic background-radiation-free nature of the very early universe, could then quickly pull in enough matter to go supermassive in a relatively short period of time.
According to astrophysicist Shantanu Basu of Western University in London, Ontario, this would only have been possible in the first 800 million years or so of the universe. "The black holes are formed over a duration of only about 150 million years and grow rapidly during this time," Basu told Live Science in the summer of 2019. "The ones that form in the early part of the 150-million-year time window can increase their mass by a factor of 10 thousand." Basu was lead author of research published last summer in Astrophysical Journal Letters that presented computer models showing this version of direct-collapse is possible.
Another version of the theory suggests that the giant gas cloud collapses into a supermassive star first, which then collapses into a black hole, which then — presumably again thanks to the state of the early universe — sucks up enough matter to go supermassive quickly.
There's a problem with either direct-collapse theory, however, beyond its relatively narrow time window. Previous models show it working only with pristine gas clouds comprised of hydrogen and helium. Other, heavier elements — carbon and oxygen, for example — break the models, causing the giant gas cloud to break up into smaller gas clouds that eventually form separate stars, end of story. No supermassive black hole, and not even a supermassive star for the second flavor of the direct-collapse theory.
A new model
ATERUI II
Image source: NAOJ
Japan's National Astronomical Observatory has a supercomputer named "ATERUI II" that was commissioned in 2018. The Tohoku University research team, led by postdoctoral fellow Sunmyon Chon, used ATERUI II to run high-resolution, 3D, long-term simulations to verify a new version of the direct-collapse idea that makes sense even with gas clouds containing heavy elements.
Chon and his team propose that, yes, supermassive gas clouds with heavy elements do break up into smaller gas clouds that wind up forming smaller stars. However, they assert that's not the end of the story.
The scientists say that post-explosion, there remains a tremendous inward pull toward the center of the ex-cloud that drags in all those smaller stars, eventually causing them to grow into a single supermassive star, 10,000 times larger than the Sun. This is a star big enough to produce the supermassive black holes we see when it finally collapses in on itself.
"This is the first time that we have shown the formation of such a large black hole precursor in clouds enriched in heavy-elements," says Chon, adding, "We believe that the giant star thus formed will continue to grow and evolve into a giant black hole."
Modeling the behavior of an expanded number of elements within the cloud while faithfully carrying forward those models through the violent breakup of the cloud and its aftermath requires such high computational overhead that only a computer as advanced as ATERUI II could pull off.
Being able to develop a theory that takes into account, for the first time, the likely complexity of early-universe gas clouds makes the Tohoku University idea the most complete, plausible explanation of the universe's mysterious supermassive black holes. Kazuyuki Omukai, also of Tohoku University says, "Our new model is able to explain the origin of more black holes than the previous studies, and this result leads to a unified understanding of the origin of supermassive black holes."
The inequalities impact everything from education to health.
ANGELA WEISS/AFP via Getty Images
Politics & Current Affairs
America is experiencing some of its most widespread civil unrest in years following the death of George Floyd.
Videos
Astrophysicist Michelle Thaller talks ISS and why NICER is so important.
Scroll down to load more…