Part 3 - Curriculum 2.0 - Building buy-in and shared understanding
28 February, 2011
In our last post, we (Justin Medved and Dennis Harter) shared with you our 5 essential questions for the 21st Century Learner as well as our thinking behind how and why we felt the need to re-shape the way "technology" curriculum is embedded into classroom learning. We built our work on our new literacy wiki - as a collaborative environment for us, but also in anticipation of wanting needing to share our work with a greater audience for feedback and ultimately contribution at a later date.  The wiki was the perfect environment for this. By documenting the evolution of this curricular journey in a public venue we hope to garner feedback and critical friending that will hopefully lead to a better and stronger framework.
---
Besides isn't this "shift" all about the power of sharing and networks?
While it's focus is on making "technology integration" more accessible to teachers and more meaningful to students, it actually attempts to articulate an approach and create a through line that run beside all other subject curricula.  Finally an answer to the question "who is going to teach these skills?"........... Everyone is.
We called it Curriculum 2.0.
Once we finished the initial framework it was time to get some feedback.
Involving our Curriculum coordinators, Technology Director and our new colleague, Kim Cofino
(how lucky were we?!), the conversations that emerged were awesome. We felt it important to shop the concept around to as many different people as possible in order to get a balanced perspective. Teachers
ultimately want to know "what will this look like?" and "how will be it be supported?" and we had to have some answers ready.  Through conversation, challenging questions, and true collaboration, we were able to fine tune our original 5 questions into three focused roles of technology in 21st century learning.  More on this and the on the philosophy behind our structure in our next post, but until then you can ruminate on the diagram below.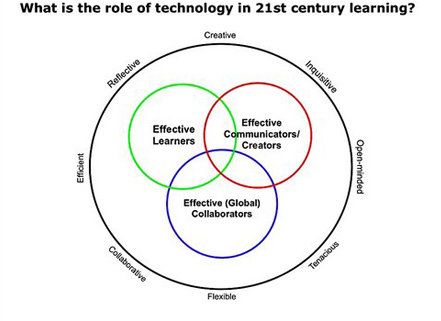 In this post, we wanted to focus on the conversations that got us here.
In addition to working with key people at ISB, we presented our work at the Learning 2.0 Conference in Shanghai in mid September.  The feedback was very positive.  It was validating
to see that other technology coordinators were experiencing the same sort of difficulties with past IT integration scope and sequences.  And it was energizing to see that our work was striking a chord.   [side note: Dennis will present the work further at the EARCOS Teachers' Conference in Kuala Lumpur in March.  If you are there, it'd be great to see you at the session.]
With positive vibes flowing all around, the next step was to include our school leadership.  As we mentioned in an earlier post, we work closely with our school Leadership Team in a distributed leadership
model with them often looking to us for guidance - leadership in a different direction.  Over the past year, we have been presenting various technology tools and ideas to the LT to give them a better sense of what to look for in classrooms and what to expect in educational change in the coming years.
Here in the edublogosphere, we often preach to the converted.  In general, there is a lot of agreement on how education needs to change and technology's role in that change. We recognize the shift that is happening and the impact that will have on our students and should have on their learning.  We commiserate on how administration or faculty just don't get it and celebrate together when they do.
We seldom talk about how important the process to bring them along is - that is a conversation that matters.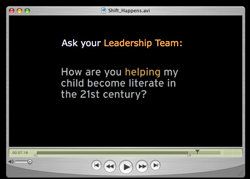 Our work with the LT brought this to light for us.  To a large degree, they trust us.  And that's a great start, but to enact major curricular change, we had to first convince them of the need.  We had to describe an inevitable world that required innovators, thinkers, collaborators, and communicators.  One in which knowing something was less important than creating something and in which working in a group meant talking to people around the world and being able to communicate in more than one way.
We had to create a shared understanding of what 21st century learning is and why it's important.  We had to allow them to help frame the context in which this could work at ISB.  With that individual, personal input, you can achieve buy-in.  Then you can challenge them by asking, what are we going to do about it?
Our point:  you can't skip these conversations.
As other schools or technology folks begin to use our framework to develop their own integration plans, we remind them, make sure you have the conversations.  Use our work as a starting point for conversations that encourage questioning and challenge thinking.  If we can't defend our rationale for a curricular model like this, then it isn't worth doing.  Give stake holders a chance to process, question, and understand. (sounds like good teaching!)
Whether it comes via top leadership or from another direction, in order for school change to happen, buy-in has to come from shared understanding.  And that only comes from conversations that matter.
For us, the next steps are to flesh out our framework and bring it more formally to teachers, where again, conversation will lead to shared understanding.  It's what didn't happen at T.C. Williams and why all the tech in the world isn't improving student learning there.
No matter how "right" we know we are, you must get buy-in and shared understanding.
You can't skip the conversations.
Justin Medved, Dennis Harter, Guest Bloggers
Cross Posted at: Medagogy  and Thinking Allowed
Tomorrow's Post:  Refining The Idea
Big Think
Sponsored by Lumina Foundation
Upvote/downvote each of the videos below!

As you vote, keep in mind that we are looking for a winner with the most engaging social venture pitch - an idea you would want to invest in.
A new method promises to capture an elusive dark world particle.
Surprising Science
Scientists working on the Large Hadron Collider (LHC) devised a method for trapping dark matter particles.
Dark matter is estimated to take up 26.8% of all matter in the Universe.
The researchers will be able to try their approach in 2021, when the LHC goes back online.
Researchers hope the technology will further our understanding of the brain, but lawmakers may not be ready for the ethical challenges.
Still from John Stephenson's 1999 rendition of Animal Farm.
Surprising Science
Researchers at the Yale School of Medicine successfully restored some functions to pig brains that had been dead for hours.
They hope the technology will advance our understanding of the brain, potentially developing new treatments for debilitating diseases and disorders.
The research raises many ethical questions and puts to the test our current understanding of death.
The image of an undead brain coming back to live again is the stuff of science fiction. Not just any science fiction, specifically B-grade sci fi. What instantly springs to mind is the black-and-white horrors of films like Fiend Without a Face. Bad acting. Plastic monstrosities. Visible strings. And a spinal cord that, for some reason, is also a tentacle?
But like any good science fiction, it's only a matter of time before some manner of it seeps into our reality. This week's Nature published the findings of researchers who managed to restore function to pigs' brains that were clinically dead. At least, what we once thought of as dead.
What's dead may never die, it seems
The researchers did not hail from House Greyjoy — "What is dead may never die" — but came largely from the Yale School of Medicine. They connected 32 pig brains to a system called BrainEx. BrainEx is an artificial perfusion system — that is, a system that takes over the functions normally regulated by the organ. The pigs had been killed four hours earlier at a U.S. Department of Agriculture slaughterhouse; their brains completely removed from the skulls.
BrainEx pumped an experiment solution into the brain that essentially mimic blood flow. It brought oxygen and nutrients to the tissues, giving brain cells the resources to begin many normal functions. The cells began consuming and metabolizing sugars. The brains' immune systems kicked in. Neuron samples could carry an electrical signal. Some brain cells even responded to drugs.
The researchers have managed to keep some brains alive for up to 36 hours, and currently do not know if BrainEx can have sustained the brains longer. "It is conceivable we are just preventing the inevitable, and the brain won't be able to recover," said Nenad Sestan, Yale neuroscientist and the lead researcher.
As a control, other brains received either a fake solution or no solution at all. None revived brain activity and deteriorated as normal.
The researchers hope the technology can enhance our ability to study the brain and its cellular functions. One of the main avenues of such studies would be brain disorders and diseases. This could point the way to developing new of treatments for the likes of brain injuries, Alzheimer's, Huntington's, and neurodegenerative conditions.
"This is an extraordinary and very promising breakthrough for neuroscience. It immediately offers a much better model for studying the human brain, which is extraordinarily important, given the vast amount of human suffering from diseases of the mind [and] brain," Nita Farahany, the bioethicists at the Duke University School of Law who wrote the study's commentary, told National Geographic.
An ethical gray matter
Before anyone gets an Island of Dr. Moreau vibe, it's worth noting that the brains did not approach neural activity anywhere near consciousness.
The BrainEx solution contained chemicals that prevented neurons from firing. To be extra cautious, the researchers also monitored the brains for any such activity and were prepared to administer an anesthetic should they have seen signs of consciousness.
Even so, the research signals a massive debate to come regarding medical ethics and our definition of death.
Most countries define death, clinically speaking, as the irreversible loss of brain or circulatory function. This definition was already at odds with some folk- and value-centric understandings, but where do we go if it becomes possible to reverse clinical death with artificial perfusion?
"This is wild," Jonathan Moreno, a bioethicist at the University of Pennsylvania, told the New York Times. "If ever there was an issue that merited big public deliberation on the ethics of science and medicine, this is one."
One possible consequence involves organ donations. Some European countries require emergency responders to use a process that preserves organs when they cannot resuscitate a person. They continue to pump blood throughout the body, but use a "thoracic aortic occlusion balloon" to prevent that blood from reaching the brain.
The system is already controversial because it raises concerns about what caused the patient's death. But what happens when brain death becomes readily reversible? Stuart Younger, a bioethicist at Case Western Reserve University, told Nature that if BrainEx were to become widely available, it could shrink the pool of eligible donors.
"There's a potential conflict here between the interests of potential donors — who might not even be donors — and people who are waiting for organs," he said.
It will be a while before such experiments go anywhere near human subjects. A more immediate ethical question relates to how such experiments harm animal subjects.
Ethical review boards evaluate research protocols and can reject any that causes undue pain, suffering, or distress. Since dead animals feel no pain, suffer no trauma, they are typically approved as subjects. But how do such boards make a judgement regarding the suffering of a "cellularly active" brain? The distress of a partially alive brain?
The dilemma is unprecedented.
Setting new boundaries
Another science fiction story that comes to mind when discussing this story is, of course, Frankenstein. As Farahany told National Geographic: "It is definitely has [sic] a good science-fiction element to it, and it is restoring cellular function where we previously thought impossible. But to have Frankenstein, you need some degree of consciousness, some 'there' there. [The researchers] did not recover any form of consciousness in this study, and it is still unclear if we ever could. But we are one step closer to that possibility."
She's right. The researchers undertook their research for the betterment of humanity, and we may one day reap some unimaginable medical benefits from it. The ethical questions, however, remain as unsettling as the stories they remind us of.
Big think's weekly newsletter.
Get smarter faster from the comfort of your inbox.
See our newsletter privacy policy
here
Most Popular
Most Recent
Big think's weekly newsletter.
Get smarter faster from the comfort of your inbox.
See our newsletter privacy policy
here
© Copyright 2007-2019 & BIG THINK, BIG THINK EDGE,
SMARTER FASTER trademarks owned by The Big Think, Inc. All rights reserved.