Part 3 - Curriculum 2.0 - Building buy-in and shared understanding
Scott McLeod
Scott McLeod, J.D., Ph.D., is an Associate Professor of Educational Leadership at the University of Kentucky. He also is the Founding Director of the UCEA Center for the Advanced Study of Technology Leadership in Education (CASTLE), the nation's only academic center dedicated to the technology needs of school administrators, and was a co-creator of the wildly popular video series, Did You Know? (Shift Happens). He has received numerous national awards for his technology leadership work, including recognitions from the cable industry, Phi Delta Kappa, and the National School Boards Association. In Spring 2011 he was a Visiting Canterbury Fellow at the University of Canterbury in New Zealand. Dr. McLeod blogs regularly about technology leadership issues at Dangerously Irrelevant and Mind Dump, and occasionally at The Huffington Post. He can be reached at scottmcleod.net.
28 February, 2011
In our last post, we (Justin Medved and Dennis Harter) shared with you our 5 essential questions for the 21st Century Learner as well as our thinking behind how and why we felt the need to re-shape the way "technology" curriculum is embedded into classroom learning. We built our work on our new literacy wiki - as a collaborative environment for us, but also in anticipation of wanting needing to share our work with a greater audience for feedback and ultimately contribution at a later date.  The wiki was the perfect environment for this. By documenting the evolution of this curricular journey in a public venue we hope to garner feedback and critical friending that will hopefully lead to a better and stronger framework.
---
Besides isn't this "shift" all about the power of sharing and networks?
While it's focus is on making "technology integration" more accessible to teachers and more meaningful to students, it actually attempts to articulate an approach and create a through line that run beside all other subject curricula.  Finally an answer to the question "who is going to teach these skills?"........... Everyone is.
We called it Curriculum 2.0.
Once we finished the initial framework it was time to get some feedback.
Involving our Curriculum coordinators, Technology Director and our new colleague, Kim Cofino
(how lucky were we?!), the conversations that emerged were awesome. We felt it important to shop the concept around to as many different people as possible in order to get a balanced perspective. Teachers
ultimately want to know "what will this look like?" and "how will be it be supported?" and we had to have some answers ready.  Through conversation, challenging questions, and true collaboration, we were able to fine tune our original 5 questions into three focused roles of technology in 21st century learning.  More on this and the on the philosophy behind our structure in our next post, but until then you can ruminate on the diagram below.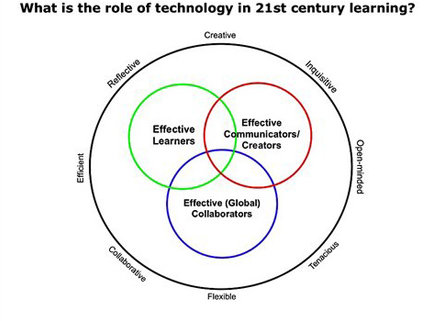 In this post, we wanted to focus on the conversations that got us here.
In addition to working with key people at ISB, we presented our work at the Learning 2.0 Conference in Shanghai in mid September.  The feedback was very positive.  It was validating
to see that other technology coordinators were experiencing the same sort of difficulties with past IT integration scope and sequences.  And it was energizing to see that our work was striking a chord.   [side note: Dennis will present the work further at the EARCOS Teachers' Conference in Kuala Lumpur in March.  If you are there, it'd be great to see you at the session.]
With positive vibes flowing all around, the next step was to include our school leadership.  As we mentioned in an earlier post, we work closely with our school Leadership Team in a distributed leadership
model with them often looking to us for guidance - leadership in a different direction.  Over the past year, we have been presenting various technology tools and ideas to the LT to give them a better sense of what to look for in classrooms and what to expect in educational change in the coming years.
Here in the edublogosphere, we often preach to the converted.  In general, there is a lot of agreement on how education needs to change and technology's role in that change. We recognize the shift that is happening and the impact that will have on our students and should have on their learning.  We commiserate on how administration or faculty just don't get it and celebrate together when they do.
We seldom talk about how important the process to bring them along is - that is a conversation that matters.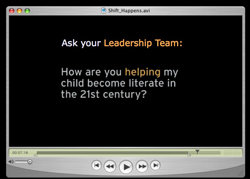 Our work with the LT brought this to light for us.  To a large degree, they trust us.  And that's a great start, but to enact major curricular change, we had to first convince them of the need.  We had to describe an inevitable world that required innovators, thinkers, collaborators, and communicators.  One in which knowing something was less important than creating something and in which working in a group meant talking to people around the world and being able to communicate in more than one way.
We had to create a shared understanding of what 21st century learning is and why it's important.  We had to allow them to help frame the context in which this could work at ISB.  With that individual, personal input, you can achieve buy-in.  Then you can challenge them by asking, what are we going to do about it?
Our point:  you can't skip these conversations.
As other schools or technology folks begin to use our framework to develop their own integration plans, we remind them, make sure you have the conversations.  Use our work as a starting point for conversations that encourage questioning and challenge thinking.  If we can't defend our rationale for a curricular model like this, then it isn't worth doing.  Give stake holders a chance to process, question, and understand. (sounds like good teaching!)
Whether it comes via top leadership or from another direction, in order for school change to happen, buy-in has to come from shared understanding.  And that only comes from conversations that matter.
For us, the next steps are to flesh out our framework and bring it more formally to teachers, where again, conversation will lead to shared understanding.  It's what didn't happen at T.C. Williams and why all the tech in the world isn't improving student learning there.
No matter how "right" we know we are, you must get buy-in and shared understanding.
You can't skip the conversations.
Justin Medved, Dennis Harter, Guest Bloggers
Cross Posted at: Medagogy  and Thinking Allowed
Tomorrow's Post:  Refining The Idea
Are we trying to solve too many problem with technological solutions?
With his collected letters recently being published, it's time to revisit this extraordinary thinker.
Wikimedia
Personal Growth
Though the British philosopher died in 1973, his work continues to make an impact.
A recently published collection, The Collected Letters Alan Watts, is a deep dive into his personal correspondences.
Watts was an early proponent for spreading Eastern philosophy to Western culture.
Long hidden under trees, it's utterly massive
(Roy Funch)
Surprising Science
This 4,000-year-old structure can be seen from space and wasn't built by humans
It's made up of 200 million mounds of earth
It's still under construction today
Big think's weekly newsletter.
Get smarter faster from the comfort of your inbox.
See our newsletter privacy policy
here
Most Popular
Most Recent
Big think's weekly newsletter.
Get smarter faster from the comfort of your inbox.
See our newsletter privacy policy
here
© Copyright 2007-2018 & BIG THINK, BIG THINK EDGE,
SMARTER FASTER trademarks owned by The Big Think, Inc. All rights reserved.