Scott McLeod
Scott McLeod, J.D., Ph.D., is an Associate Professor of Educational Leadership at the University of Kentucky. He also is the Founding Director of the UCEA Center for the Advanced Study of Technology Leadership in Education (CASTLE), the nation's only academic center dedicated to the technology needs of school administrators, and was a co-creator of the wildly popular video series, Did You Know? (Shift Happens). He has received numerous national awards for his technology leadership work, including recognitions from the cable industry, Phi Delta Kappa, and the National School Boards Association. In Spring 2011 he was a Visiting Canterbury Fellow at the University of Canterbury in New Zealand. Dr. McLeod blogs regularly about technology leadership issues at Dangerously Irrelevant and Mind Dump, and occasionally at The Huffington Post. He can be reached at scottmcleod.net.
16 February, 2011
In the past, I've labeled my random thoughts and captures from the Web on this blog as Half-finished or half-baked?. As of today, I'm re-labeling those as Not so irrelevant and have made a new category on my blog for these...
---
\n
YouTube Insight
\n
YouTube has released YouTube Insight, an analytical tool that allows users to view detailed statistics about the videos they have uploaded. I pulled up my list of videos and clicked on the About this video button for my video on The Resilience of Teacher Culture (featuring Richard Elmore). Here's what I got:
\n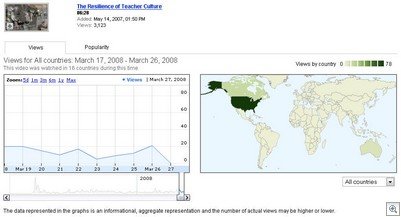 \n
Nathan Lowell quote
\n
Here's my favorite quote (from Nathan Lowell) from all of the comments at Will Richardson's post regarding 21st century skills for educators:
\n
\n

We've spent millions of dollars to equip and wire schools and now that we're discovering just how much we can learn with them, we're spending millions more to prevent the intellectual capitalization that our investment represents.
\n
Classroom examples
\n
Colette Cassinelli has set up a VoiceThread 4 Education wiki where educators can post examples of how they're using VoiceThread in their classrooms. Very cool idea. Similarly, Liz Kolb is blogging about how to use cellphones as K-12 learning tools. I've added these to the Moving Forward wiki since I think they'll be helpful examples for presenters. [Anyone know of similar sites – 'how to use these tools in education and here are lots of examples' – for online video, podcasting, Twitter, etc.? I particularly like the idea of the wiki where everyone can post their examples for all to see...]
\n
Rightload
\n
Courtesy of LifeHacker, I discovered a nifty little Windows tool called Rightload that allows me to right-click on a file and instantly upload it to my web site.
\n
Music education bloggers
\n
Joseph Pisano and Owen Bradley are trying to get 100 new music education bloggers by January 2009. So far they're up to 36. If you know of any music educators who are blogging who aren't on the list, encourage them to sign up! [It would be great if the massive list of teacher bloggers at Support Blogging was divided up by subject areas!]
\n
Leaders in Learning 2008
\n
Kudos to Dan Meyer, Vicki Davis, Jason Ohler, Liz Pape, and the other finalists for the 2008 Leaders in Learning Awards. As a General Excellence awardee last year, I can emphatically state that the winners will have a great experience!
\n
New research links urban planning and political polarization.
Pixabay
Politics & Current Affairs
Canadian researchers find that excessive reliance on cars changes political views.
Decades of car-centric urban planning normalized unsustainable lifestyles.
People who prefer personal comfort elect politicians who represent such views.
Progressive America would be half as big, but twice as populated as its conservative twin.
Image: Dicken Schrader
Strange Maps
America's two political tribes have consolidated into 'red' and 'blue' nations, with seemingly irreconcilable differences.
Perhaps the best way to stop the infighting is to go for a divorce and give the two nations a country each
Based on the UN's partition plan for Israel/Palestine, this proposal provides territorial contiguity and sea access to both 'red' and 'blue' America
Science and the squishiness of the human mind. The joys of wearing whatever the hell you want, and so much more.
Flickr / 13winds
Think Again Podcasts
Why can't we have a human-sized cat tree?
What would happen if you got a spoonful of a neutron star?
Why do we insist on dividing our wonderfully complex selves into boring little boxes
Big think's weekly newsletter.
Get smarter faster from the comfort of your inbox.
See our newsletter privacy policy
here
Most Popular
Most Recent
Big think's weekly newsletter.
Get smarter faster from the comfort of your inbox.
See our newsletter privacy policy
here
© Copyright 2007-2018 & BIG THINK, BIG THINK EDGE,
SMARTER FASTER trademarks owned by The Big Think, Inc. All rights reserved.