Why this government shutdown was unlike any other
The U.S. government has shut down 18 times in the past four decades, but this most recent instance has proven unique.
22 January, 2018
---
The Senate voted to end the three-day government shutdown on Monday after Democrats agreed to extend government funding by three weeks in exchange for a pledge by Republicans to allow an immigration bill to reach the floor in February.
The agreement marks the first time Democrats have received a hard deadline for a vote on an immigration bill. Senate Majority Leader Mitch McConnell also promised to allow debate on the floor and an open amendment process.
But the vows of the majority leader fall short of what Democrats had initially demanded: an immediate vote on protections for Dreamers — undocumented immigrants brought to the U.S. as children. Some lawmakers seemed to express frustration at the compromise.
"Well I think the first thing he needs to do is strengthen his statement from last night," said Senator Angus King of Maine, an independent who typically votes with Democrats. "'I intend.' I would much rather he say, 'I commit' or 'I will move.'"
Among the Democratic senators who voted against extending government funding were potential 2020 presidential candidates like Cory Booker, Bernie Sanders, Elizabeth Warren, Kirsten Gillibrand, and Kamala Harris. 
The shutdown is the country's 18th since the modern budget era began with the passing of the Budget Act of 1974, and it's unique for a couple reasons.
For one, it's the first time we've seen a shutdown where one party has controlled the House, the Senate, and the White House, and federal employees were furloughed — sent home without pay.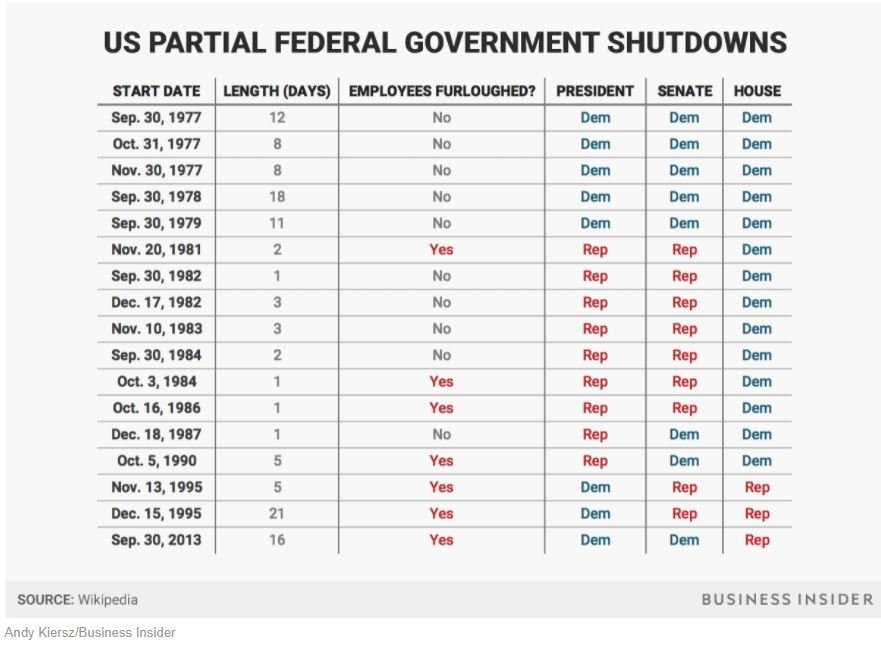 But more remarkable about the shutdown was the lack of involvement and clear direction from the White House. Prior to the shutdown, Republican leaders had attempted to force Democrats to choose between negotiating solutions for either DACA or CHIP, a health insurance program that provides services to 8.9 million children.
#Senate Democrats have a choice to make. This should be a no-brainer... pic.twitter.com/zdUFXxclZ9
— Leader McConnell (@SenateMajLdr) January 19, 2018
But the Republicans' plan was criticized by none other than their party leader, President Trump.
CHIP should be part of a long term solution, not a 30 Day, or short term, extension!
— Donald J. Trump (@realDonaldTrump) January 18, 2018
As The Conversation notes, "the president's tweets made many Republicans nervous that the president might not support the deal that congressional leaders had fashioned to fund the government and CHIP."
"You probably think it's the same old story, but its not. We've never seen anything like this in modern times."

We're live from Russell Rotunda tonight - tune in @MSNBC pic.twitter.com/6RFp84vJTB
— Kasie DC (@KasieDC) January 22, 2018
Speaking about the president's role during negotiations, Senate Minority Leader Chuck Schumer said:
"Since our meeting in the Oval Office on Friday, the president and I have not spoken, and the White House refused to engage in negotiations over the weekend. The great deal-making president sat on the sidelines. Despite and because of this frustration, I've been having conversations with the Republican leader over the weekend about a path forward."
It wasn't just democrats who expressed frustration over the absence of President Trump in the negotiations. Last week, Senate Majority Leader Mitch McConnell said "I'm looking for something that President Trump supports, and he's not yet indicated what measure he's willing to sign."
Other Republicans also commented on the president's absence.
"I just don't think it helps for him to be involved at all," Arizona Republican Sen. Jeff Flake said of Trump on Sunday night. "The White House really hasn't been involved from what I've seen."
The White House has said President Trump's stance on immigration has been clear from the start. But others feel his cabinet is influencing his decision-making or lack thereof.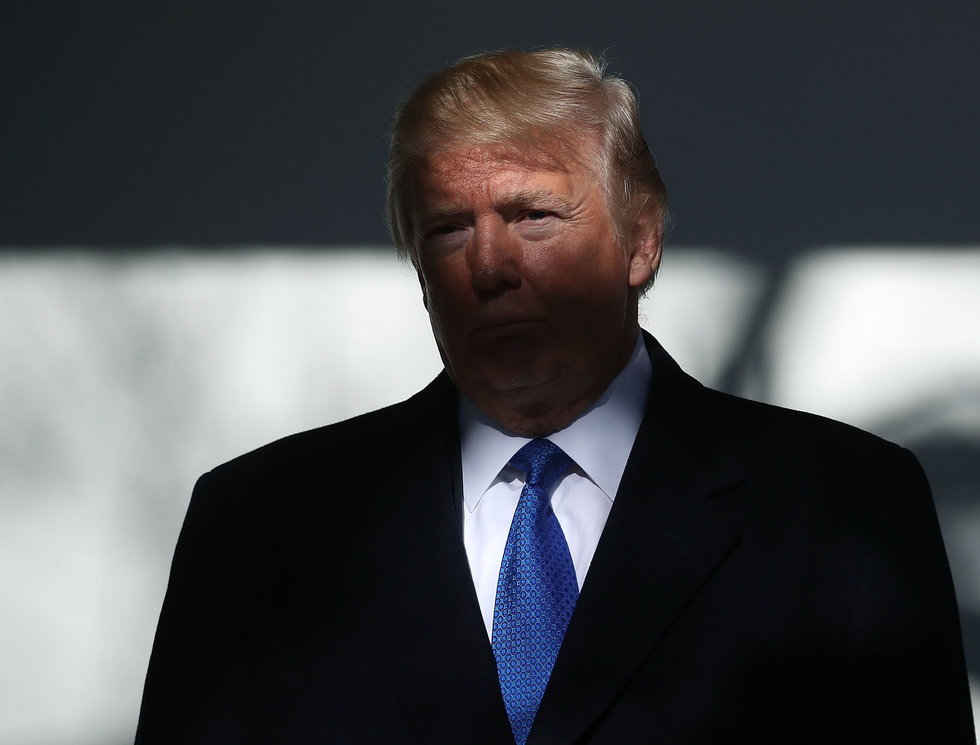 Getty Images/Mark Wilson
Speaking to reporters on Capitol Hill, Sen. Lindsey Graham said:
"The White House staff I think is making it very difficult. I've talked with the President, his heart is right on this issue. I think he's got a good understanding of what will sell, and every time we have a proposal it's only yanked back by staff members."
Republican strategist Alex Conant elaborated upon a similar idea in an interview with The New York Times:
"There's a real sense that there's a disconnect between the president and his staff on immigration issues, and people on all sides are seeking to exploit that disconnect. This is what happens when you have a president who is not clear and consistent on what he will accept: It emboldens all parties to take positions that they won't compromise."
Related Articles
These five main food groups are important for your brain's health and likely to boost the production of feel-good chemicals.
Infographics show the classes and anxieties in the supposedly classless U.S. economy.
What is the middle class now, anyway? (JEWEL SAMAD/AFP/Getty Images)
Politics & Current Affairs
For those of us who follow politics, we're used to commentators referring to the President's low approval rating as a surprise given the U.S.'s "booming" economy. This seeming disconnect, however, should really prompt us to reconsider the measurements by which we assess the health of an economy. With a robust U.S. stock market and GDP and low unemployment figures, it's easy to see why some think all is well. But looking at real U.S. wages, which have remained stagnant—and have, thus, in effect gone down given rising costs from inflation—a very different picture emerges. For the 1%, the economy is booming. For the rest of us, it's hard to even know where we stand. A recent study by Porch (a home-improvement company) of blue-collar vs. white-collar workers shows how traditional categories are becoming less distinct—the study references "new-collar" workers, who require technical certifications but not college degrees. And a set of recent infographics from CreditLoan capturing the thoughts of America's middle class as defined by the Pew Research Center shows how confused we are.
Big think's weekly newsletter.
Get smarter faster from the comfort of your inbox.
See our newsletter privacy policy
here
Most Popular
Most Recent
Big think's weekly newsletter.
Get smarter faster from the comfort of your inbox.
See our newsletter privacy policy
here
© Copyright 2007-2018 & BIG THINK, BIG THINK EDGE,
SMARTER FASTER trademarks owned by The Big Think, Inc. All rights reserved.