Why this government shutdown was unlike any other
The U.S. government has shut down 18 times in the past four decades, but this most recent instance has proven unique.
22 January, 2018
Trump at the White House via Mark Wilson/Getty
---
The Senate voted to end the three-day government shutdown on Monday after Democrats agreed to extend government funding by three weeks in exchange for a pledge by Republicans to allow an immigration bill to reach the floor in February.
The agreement marks the first time Democrats have received a hard deadline for a vote on an immigration bill. Senate Majority Leader Mitch McConnell also promised to allow debate on the floor and an open amendment process.
But the vows of the majority leader fall short of what Democrats had initially demanded: an immediate vote on protections for Dreamers — undocumented immigrants brought to the U.S. as children. Some lawmakers seemed to express frustration at the compromise.
"Well I think the first thing he needs to do is strengthen his statement from last night," said Senator Angus King of Maine, an independent who typically votes with Democrats. "'I intend.' I would much rather he say, 'I commit' or 'I will move.'"
Among the Democratic senators who voted against extending government funding were potential 2020 presidential candidates like Cory Booker, Bernie Sanders, Elizabeth Warren, Kirsten Gillibrand, and Kamala Harris. 
The shutdown is the country's 18th since the modern budget era began with the passing of the Budget Act of 1974, and it's unique for a couple reasons.
For one, it's the first time we've seen a shutdown where one party has controlled the House, the Senate, and the White House, and federal employees were furloughed — sent home without pay.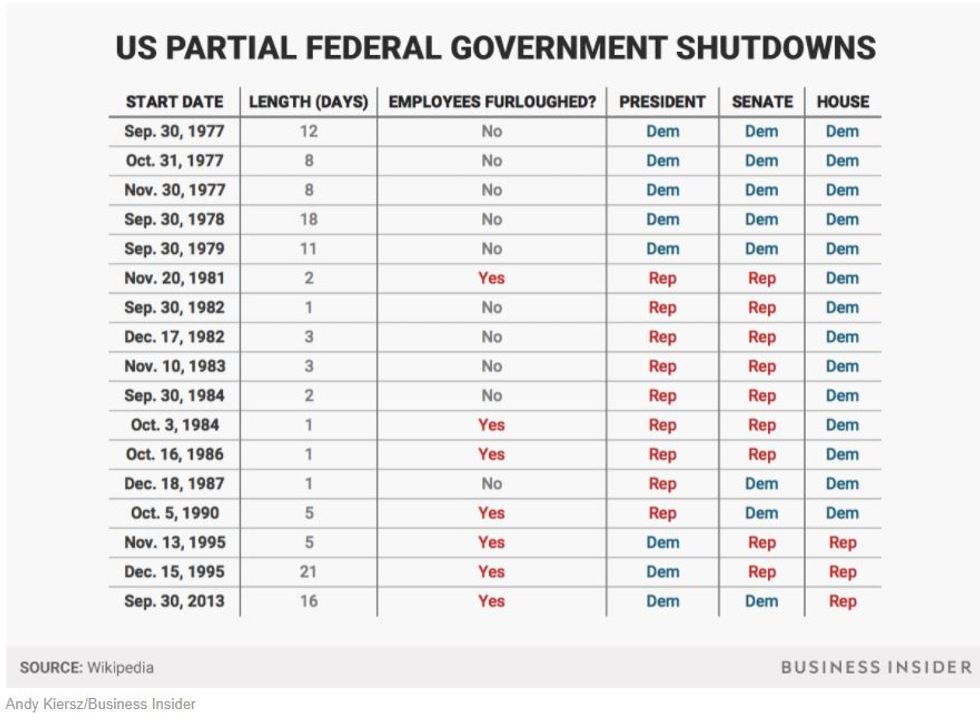 But more remarkable about the shutdown was the lack of involvement and clear direction from the White House. Prior to the shutdown, Republican leaders had attempted to force Democrats to choose between negotiating solutions for either DACA or CHIP, a health insurance program that provides services to 8.9 million children.
#Senate Democrats have a choice to make. This should be a no-brainer... pic.twitter.com/zdUFXxclZ9
— Leader McConnell (@SenateMajLdr) January 19, 2018
Scroll down to load more…