Science calls bullshit on China's 'AK-47 laser gun'
China has allegedly developed a 'laser gun' that can burn you to death. It probably doesn't exist.
02 July, 2018
Forgive me for beginning this with a personal anecdote but (grabs chair, spins it around, sits on it backwards like a "cool pastor") I remember when I was a kid pretending that I had a laser gun. I ran around the backyard yelling PEW PEW PEW and pointing a stick at squirrels. I'm not alone in this fascination with lasers: they have long been in the public realm of consciousness as a futuristic weapon. But, much like flying cars, they have yet to come to pass. 
---
Until (drum roll, please) now. 
According to the South China Morning Post, the Chinese army has developed the ZKZM-500, a laser so powerful that it (allegedly) can "instantly carbonize" your skin from a kilometer away. It is (they say) capable of a thousand two-second shots in one charge of its lithium-ion battery (not dissimilar, although one can imagine bigger, to the battery that charges your iPhone).
Sound scary? It should. And there's a reason for that: the weapon most likely doesn't exist. The physics are practically impossible. Realistically, the battery alone would have to weigh several hundred pounds to provide the energy needed to fire a hot laser beam a kilometer. Not only that, the beam itself would have a hard time once it left the gun. As the beam passes through the air—and more importantly, the water molecules in the air—the 'heat' of the beam would disseminate, rendering it little more than uncomfortably warm if fired anywhere further than the width of an average living room. A far cry from the "instant carbonization" threat that is, curiously, all over Twitter. As TechCrunch puts it: 
There's just no way that a laser powered by a lithium-ion battery that a person could carry would be capable of producing the kind of heat described at point blank range, let alone at 800 meters.

That's because of attenuation. Lasers, unlike bullets, scatter as they progress, making them weaker and weaker. Attenuation is non-trivial at anything beyond, say, a few dozen meters. By the time you get out to 800, the air and water the beam has traveled through enough to reduce it a fraction of its original power.

Of course there are lasers that can fire from Earth to space and vice versa—but they're not trying to fry protestors; all that matters is that a few photons arrive at the destination and are intelligible as a signal.
The most the laser could do is harm your eyes, as your eyes can fail from an overload of light, which a handheld laser could provide. But, again, this is a very, very long stretch from hilarious lines like this, from Business Insider Australia (of all places):
Because the laser has been tuned to an invisible frequency, and it produces absolutely no sound, "nobody will know where the attack came from. It will look like an accident," another researcher said. The scientists requested not to be named due to the sensitivity of the project.
And then there's this doozy, from the same article:
For instance... law enforcement could counter "illegal protests" by setting fire to banners from a long distance.

It also says protest leaders could be targeted by setting fire to their clothing or hair which, the document says, would mean they lose "the rhythms of their speech and powers of persuasion".

But one Beijing police officer said he would prefer to stick to more traditional crowd-control methods such as tear gas, rubber bullets or electrical stun guns, such as tasers.

"The laser burn will leave a permanent scar," he said. He said it would be a "horrid sight" that risked causing panic or transforming a peaceful protest into a riot.
The verdict? It's probably a press release designed to instill fear in opponents of the Chinese government (right down to the mention of 'illegal protests'). The very idea of an invisible laser that can set you on fire is much more effective than the actual implementation of the weapon itself, because the only thing scarier than this gun is the idea of getting shot by it. In the wise words of my old English professor: "If you heard a rumor that your landlord had a shotgun, you'd sure as shit pay your rent on time." 
As Xi Jinping clings on to power by any means necessary, it should surprise nobody that dubiously worded claims about futuristic weapons are being bandied about like drunken boasts at a frat-party. Consider the timing of this news, just a week or two after President Trump began rambling publically about his proposed 'Space Force'. 
Besides, the prototype looks almost exactly like the laser gun from Akira: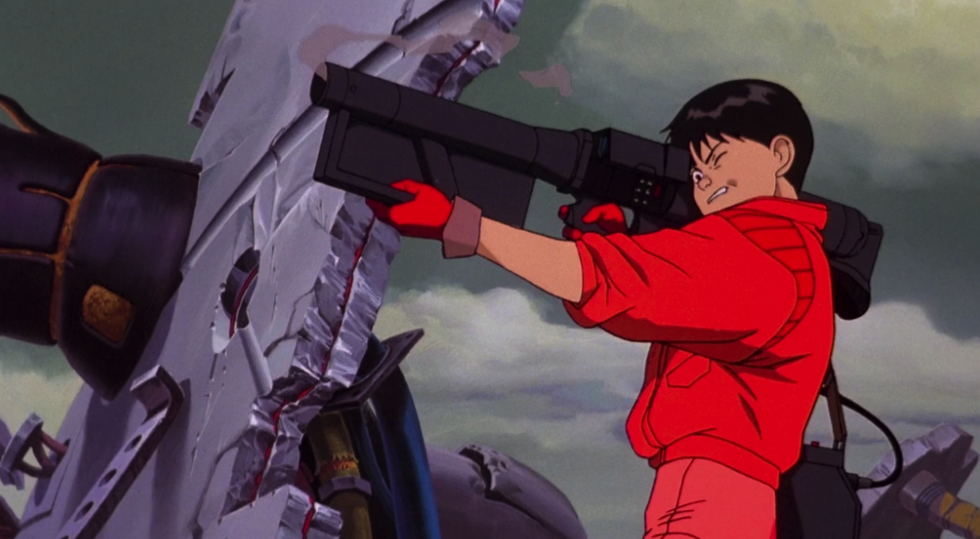 As religious diversity increases in the United States, we must learn to channel religious identity into interfaith cooperation.
Sponsored by Charles Koch Foundation
Religious diversity is the norm in American life, and that diversity is only increasing, says Eboo Patel.
Using the most painful moment of his life as a lesson, Eboo Patel explains why it's crucial to be positive and proactive about engaging religious identity towards interfaith cooperation.
The opinions expressed in this video do not necessarily reflect the views of the Charles Koch Foundation, which encourages the expression of diverse viewpoints within a culture of civil discourse and mutual respect.
Two Apollo 11 astronauts question NASA's planetary safety procedures.
Credit: Bettmann, Getty Images.
Surprising Science
Buzz Aldrin and Michael Collins revealed that there were deficiencies in NASA's safety procedures following the Apollo 11 mission.
Moon landing astronauts were quarantined for 21 days.
Earth could be contaminated with lunar bacteria.
Here's why you might eat greenhouse gases in the future.
Technology & Innovation
The company's protein powder, "Solein," is similar in form and taste to wheat flour.
Based on a concept developed by NASA, the product has wide potential as a carbon-neutral source of protein.
The man-made "meat" industry just got even more interesting.
When it comes to sniffing out whether a source is credible or not, even journalists can sometimes take the wrong approach.
Sponsored by Charles Koch Foundation
We all think that we're competent consumers of news media, but the research shows that even journalists struggle with identifying fact from fiction.
When judging whether a piece of media is true or not, most of us focus too much on the source itself. Knowledge has a context, and it's important to look at that context when trying to validate a source.
The opinions expressed in this video do not necessarily reflect the views of the Charles Koch Foundation, which encourages the expression of diverse viewpoints within a culture of civil discourse and mutual respect.