An 8-ton Chinese space lab will crash into Europe or the U.S. Don't panic yet.
Experts can't agree on exactly when or where, however.
06 March, 2018
Experts are warning that an eight-ton Chinese space laboratory that has a deteriorating orbit path will likely crash into Europe in early April—but there's a bit of disagreement on exactly when and, indeed, where. 
---
Tiangong-1 is a satellite laboratory that contains large amounts of hydrazine, which is a toxic and flammable chemical that can wreak all kinds of havoc on the human body, including poisoning the blood, kidneys, lungs, the central nervous system, and damage to eyes, nose, mouth, and respiration. It can also produce severe burns on the skin. 
America's Aerospace Corporation (AAC) predicts the first week of April for re-entry and the crash landing of some of the pieces, while the European Space Agency (ESA) has a much larger window of March 24 to April 19. 
While it's not clear just how much of the craft will incinerate on the way to Earth's surface, AAC is predicting some of the chunks will survive—and if they do, they will scatter over the span of a few hundred kilometers.  
The ESA is predicting that "Reentry will take place anywhere between 43ºN and 43ºS (e.g. Spain, France, Portugal, Greece, etc.). Areas outside of these latitudes can be excluded. At no time will a precise time/location prediction from ESA be possible. This forecast will be updated approximately every week in January and February." However, a fresh report on this story is saying it could even end up in Northern U.S. states.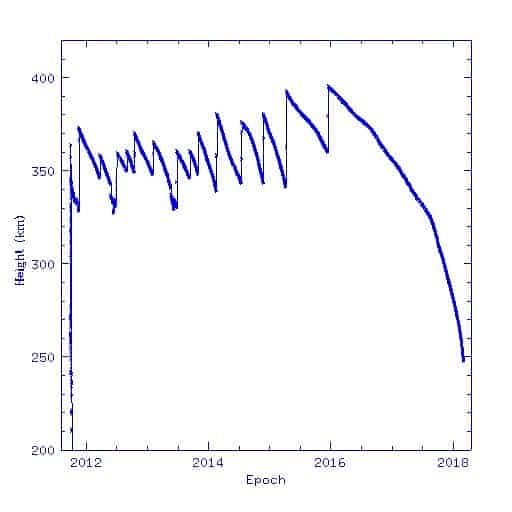 After the craft lost radio connection with China's Space Agency after being launched in 2011, it began to slip into a lower and lower orbit, and it just started dipping into Earth's atmosphere. 
A somewhat alarming warning from Aerospace Corporation's Center for Orbital and Reentry Debris Studies (CORDS) states: "Potentially, there may be a highly toxic and corrosive substance called hydrazine on board the spacecraft that could survive reentry. For your safety, do not touch any debris you may find on the ground nor inhale vapors it may emit."

While craft like this frequently pass through Earth's atmosphere, the concern is that this one is particularly large. 

Jonathan McDowell, an astrophysicist from Harvard University, seems a bit less worried about the satellite than some, but he still has a note of caution, as he told The Guardian. "Every couple of years something like this happens, but Tiangong-1 is big and dense so we need to keep an eye on it." 
Journaling can help you materialize your ambitions.
Videos
Organizing your thoughts can help you plan and achieve goals that might otherwise seen unobtainable.
The Bullet Journal method, in particular, can reduce clutter in your life by helping you visualize your future.
One way to view your journal might be less of a narrative and more of a timeline of decisions.
Progressive America would be half as big, but twice as populated as its conservative twin.
Image: Dicken Schrader
Strange Maps
America's two political tribes have consolidated into 'red' and 'blue' nations, with seemingly irreconcilable differences.
Perhaps the best way to stop the infighting is to go for a divorce and give the two nations a country each
Based on the UN's partition plan for Israel/Palestine, this proposal provides territorial contiguity and sea access to both 'red' and 'blue' America
New research links urban planning and political polarization.
Pixabay
Politics & Current Affairs
Canadian researchers find that excessive reliance on cars changes political views.
Decades of car-centric urban planning normalized unsustainable lifestyles.
People who prefer personal comfort elect politicians who represent such views.
Big think's weekly newsletter.
Get smarter faster from the comfort of your inbox.
See our newsletter privacy policy
here
Most Popular
Most Recent
Big think's weekly newsletter.
Get smarter faster from the comfort of your inbox.
See our newsletter privacy policy
here
© Copyright 2007-2018 & BIG THINK, BIG THINK EDGE,
SMARTER FASTER trademarks owned by The Big Think, Inc. All rights reserved.