An 8-ton Chinese space lab will crash into Europe or the U.S. Don't panic yet.
Experts can't agree on exactly when or where, however.
06 March, 2018
Experts are warning that an eight-ton Chinese space laboratory that has a deteriorating orbit path will likely crash into Europe in early April—but there's a bit of disagreement on exactly when and, indeed, where. 
---
Tiangong-1 is a satellite laboratory that contains large amounts of hydrazine, which is a toxic and flammable chemical that can wreak all kinds of havoc on the human body, including poisoning the blood, kidneys, lungs, the central nervous system, and damage to eyes, nose, mouth, and respiration. It can also produce severe burns on the skin. 
America's Aerospace Corporation (AAC) predicts the first week of April for re-entry and the crash landing of some of the pieces, while the European Space Agency (ESA) has a much larger window of March 24 to April 19. 
While it's not clear just how much of the craft will incinerate on the way to Earth's surface, AAC is predicting some of the chunks will survive—and if they do, they will scatter over the span of a few hundred kilometers.  
The ESA is predicting that "Reentry will take place anywhere between 43ºN and 43ºS (e.g. Spain, France, Portugal, Greece, etc.). Areas outside of these latitudes can be excluded. At no time will a precise time/location prediction from ESA be possible. This forecast will be updated approximately every week in January and February." However, a fresh report on this story is saying it could even end up in Northern U.S. states.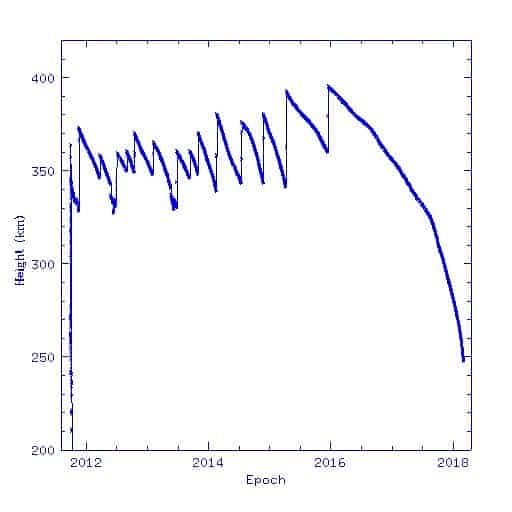 After the craft lost radio connection with China's Space Agency after being launched in 2011, it began to slip into a lower and lower orbit, and it just started dipping into Earth's atmosphere. 
A somewhat alarming warning from Aerospace Corporation's Center for Orbital and Reentry Debris Studies (CORDS) states: "Potentially, there may be a highly toxic and corrosive substance called hydrazine on board the spacecraft that could survive reentry. For your safety, do not touch any debris you may find on the ground nor inhale vapors it may emit."

While craft like this frequently pass through Earth's atmosphere, the concern is that this one is particularly large. 

Jonathan McDowell, an astrophysicist from Harvard University, seems a bit less worried about the satellite than some, but he still has a note of caution, as he told The Guardian. "Every couple of years something like this happens, but Tiangong-1 is big and dense so we need to keep an eye on it." 
The way that you think about stress can actually transform the effect that it has on you – and others.
Big Think Edge
Stress is contagious, and the higher up in an organization you are the more your stress will be noticed and felt by others.
Kelly McGonigal teaches "Reset your mindset to reduce stress" for Big Think Edge.

Subscribe to Big Think Edge before we launch on March 30 to get 20% off monthly and annual memberships.
These quick bursts of inspiration will brighten your day in 10 minutes or less.

Explore a legendary philosopher's take on how society fails to prepare us for education and progress.
Alan Watts.
Personal Growth
Alan Watts was an instrumental figure in the 1960s counterculture revolution.
He believed that we put too much of a focus on intangible goals for our educational and professional careers.
Watts believed that the whole educational enterprise is a farce compared to how we should be truly living our lives.
How can we use the resources that are already on the Moon to make human exploration of the satellite as economical as possible?
The All-Terrain Hex-Limbed Extra-Terrestrial Explorer (ATHLETE), a prototype heavy-lift utility vehicle to support future human exploration of extraterrestrial surfaces, at right, is parked beside the Habitat Demonstration Unit - Pressurized Excursion Module (HDU-PEM), at left, a concept off-Earth living and work quarters for astronauts stationed on asteroids, the moon or Mars, 15 September 2010. Photo by: ROBYN BECK/AFP/Getty Images
Technology & Innovation
If you were transported to the Moon this very instant, you would surely and rapidly die. That's because there's no atmosphere, the surface temperature varies from a roasting 130 degrees Celsius (266 F) to a bone-chilling minus 170 C (minus 274 F). If the lack of air or horrific heat or cold don't kill you then micrometeorite bombardment or solar radiation will. By all accounts, the Moon is not a hospitable place to be.

Big think's weekly newsletter.
Get smarter faster from the comfort of your inbox.
See our newsletter privacy policy
here
Most Popular
Most Recent
Big think's weekly newsletter.
Get smarter faster from the comfort of your inbox.
See our newsletter privacy policy
here
© Copyright 2007-2018 & BIG THINK, BIG THINK EDGE,
SMARTER FASTER trademarks owned by The Big Think, Inc. All rights reserved.