Study: Men significantly more likely to overestimate their own intelligence
A new study echoes a key finding in a growing body of research on self-estimated intelligence: men tend to overestimate how smart they are.
06 April, 2018
---
A new study echoes a key finding in a growing body of research on self-estimated intelligence: men tend to overestimate how smart they are.
In an paper published in the journal Advances in Physiology Education, researchers explore how students in a biology course at Arizona State University rated their own intelligence relative to the class and to individual classmates.
The results showed that, after controlling for prior academic ability and other variables, the average male student thought he was smarter than 66 percent of the class, while the average female student reported being smarter than 54 percent of the class.
But the numbers told a different story when students compared themselves with individuals: The average male student had a 61 percent chance of thinking he was smarter than a classmate, while the average female only had a 33 percent chance—meaning many women in the class significantly underestimated their own intelligence.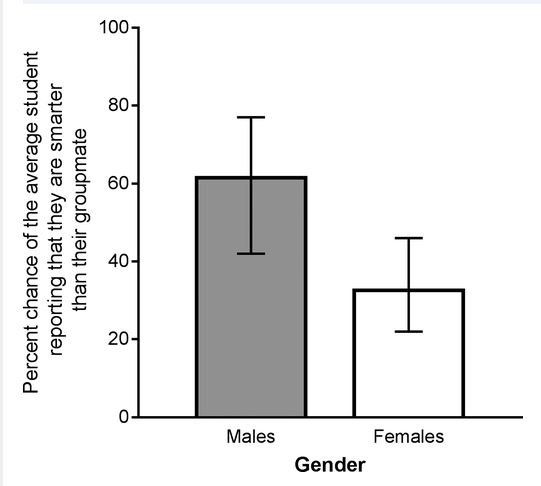 Interestingly, the results also showed that native English speakers—male and female—were more likely to have a higher academic self-concept, or "one's perception of his or her ability in an academic domain," than their second-language counterparts.
Why does academic self-concept matter? The researchers cited a handful of prior studies showing that students with high academic self-concept are more likely to be confident about their performance in class, and also more motivated to study and complete homework.
Also, the researchers suggested that students with higher academic self-concept will participate more in class, leading them to learn more because they're "constructing their own knowledge rather than listening passively." The disparities in academic self-concept along gender lines might explain, in part, why women are underrepresented in STEM fields.
"Females are not participating as much in science class," study co-author Sara Brownell told NBC News. "They are not raising their hands and answering questions."
The personality types of men in STEM fields might also partly explain why women have a harder time fitting in.
"Boys who are drawn to STEM fields often are not the humanities-focused, artistic boys who might have a higher social IQ," Ilana Seidel Horn, a professor of mathematics education at Vanderbilt University, told NBC News. "Often you have a concentration of socially awkward people who do socially inept things."
Brownell suggested teachers and professors could be more mindful about who's participating in class and who's not.
"We encourage them to be explicit about the importance of hearing from every student," she said. "Even the quietest students can have the best ideas."
Don't underestimate the power of play when it comes to problem-solving.
Videos
As we get older, the work we consistently do builds "rivers of thinking." These give us a rich knowledge of a certain kind of area.
The problem with this, however, is that as those patterns get deeper, we get locked into them. When this happens it becomes a challenge to think differently — to break from the past and generate new ideas.
How do we get out of this rut? One way is to bring play and game mechanics into workshops. When we approach problem-solving from a perspective of fun, we lose our fear of failure, allowing us to think boldly and overcome built patterns.
Controversial map names CEOs of 100 companies producing 71 percent of the world's greenhouse gas emissions.
Image: Jordan Engel, reused via Decolonial Media License 0.1
Strange Maps
Just 100 companies produce 71 percent of the world's greenhouse gases.
This map lists their names and locations, and their CEOs.
The climate crisis may be too complex for these 100 people to solve, but naming and shaming them is a good start.
The surprising results come from a new GLAAD survey.
Culture & Religion
The survey found that 18- to 34-year-old non-LGBTQ Americans reported feeling less comfortable around LGBTQ people in a variety of hypothetical situations.
The attitudes of older non-LGBTQ Americans have remained basically constant over the past few years.
Overall, about 80 percent of Americans support equal rights for LGBTQ people.
Big think's weekly newsletter.
Get smarter faster from the comfort of your inbox.
See our newsletter privacy policy
here
Most Popular
Most Recent
Big think's weekly newsletter.
Get smarter faster from the comfort of your inbox.
See our newsletter privacy policy
here
© Copyright 2007-2019 & BIG THINK, BIG THINK EDGE,
SMARTER FASTER trademarks owned by The Big Think, Inc. All rights reserved.