Russian submarines are lurking near the underwater cables that power the internet
In recent months, Russian ships have been spotted near the underwater cables that enable telecommunications service between North America and overseas nations.
02 April, 2018
Russian submarines have been lurking thousands of meters deep in the North Atlantic near the communications cables that connect phone calls, texts, and internet service from North America to overseas nations.
---
The motive for the increased submarine activity is unclear, though it's possible Russia is researching ways it could disrupt, destroy, or tap into the data lines in the future.
"We are now seeing Russian underwater activity in the vicinity of undersea cables that I don't believe we have ever seen," said U.S. Navy Rear Adm. Andrew Lennon, the commander of NATO's submarine forces. "Russia is clearly taking an interest in NATO and NATO nations' undersea infrastructure."
There's estimated to be more than 400 garden hose-sized fiber-optic cables running a total of 620,000 miles under the sea. Most of the cables are owned by private telecommunications companies like Microsoft and Google, and together they carry the bulk of the world's calls, emails, and $10 trillion in daily financial transactions.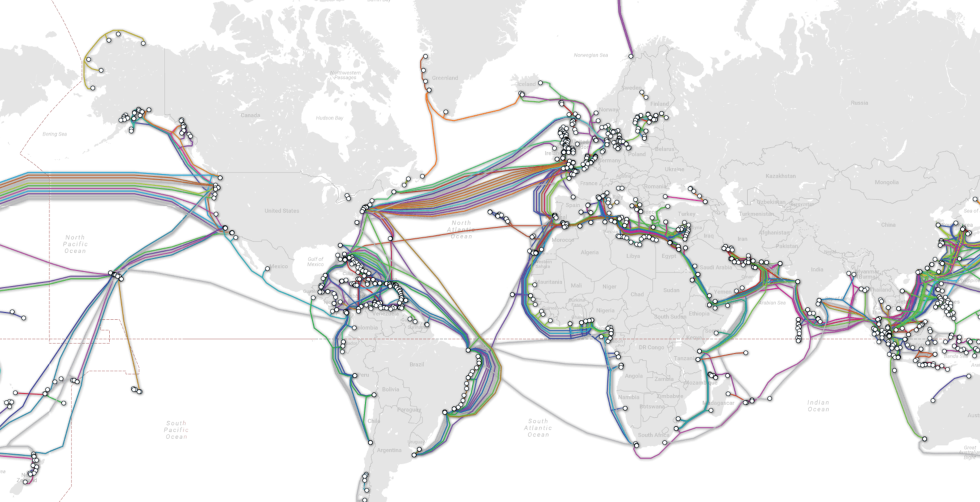 The Russians "are doing their homework and, in the event of a crisis or conflict with them, they might do rotten things to us," Michael Kofman, a Russian military expert at nonprofit research group CNA Corp., told the Associated Press.
The 354-foot Russian ship Yantar, part of the Main Directorate of Deep Sea Research, a government organization that conducts reconnaissance, underwater salvage, and other tasks, is one ship that's been spotted over the underwater cables.
A Russian state TV network has said the ship can "jam underwater sensors with a special system" and connect to top-secret cables.
Steffan Watkins, an information technology security consultant in Canada tracking the ship, told the Associated Press there's no evidence the Yantar is doing anything nefarious, though he wonders what it's up to when floating over the cables or when its Automatic Identification System tracking transponder is off.
"I don't think these are the actual guys who are doing any sabotage," he said of the ship's crew. "I think they're laying the groundwork for future operations."
But telecommunications activity in the U.S. wouldn't completely shut down even if a Russian vessel did snip a few cables in the Atlantic, partly because traffic could simply be rerouted to cables under the Pacific.
"[Internet service] wouldn't work very well or be the highest quality, but it's not like there wouldn't be any communication happening," Alan Mauldin, research director at TeleGeography, a market research firm that specializes in telecommunications, told Wired.
In fact, underwater data cables are frequently damaged, almost always unintentionally by underwater earthquakes, rock slides, anchors, or boats. It would take a massive, coordinated attack on the cables to devastate international telecommunications capabilities. And even in that event, you would still be able to email people in the U.S., but "people in Europe wouldn't see your silly cat video you posted on your Facebook profile," Mauldin told Wired.
There's another reason why Russia's apparent interest in intercontinental data cables shouldn't be overly alarming.
"Arguably, the Russians wouldn't be doing their jobs if they couldn't threaten underwater cables. Certainly, NATO allies would not be doing theirs if they were unable to counter that," Adam Thomson, a former British ambassador to NATO, told The Washington Post.
Still, NATO has plans to reestablish a command post in the North Atlantic to bolster defenses in response to the increased submarine activity that some have likened to that of the Cold War.
Many governments do not report, or misreport, the numbers of refugees who enter their country.
David McNew/Getty Images
Politics & Current Affairs
Conflict, violence, persecution and human rights violations led to a record high of 70.8 million people being displaced by the end of 2018.
Controversial map names CEOs of 100 companies producing 71 percent of the world's greenhouse gas emissions.
Image: Jordan Engel, reused via Decolonial Media License 0.1
Strange Maps
Just 100 companies produce 71 percent of the world's greenhouse gases.
This map lists their names and locations, and their CEOs.
The climate crisis may be too complex for these 100 people to solve, but naming and shaming them is a good start.
Bernie Sanders reveals an even bigger plan than Elizabeth Warren, but does it go too far?
SAUL LOEB/AFP/Getty Images
Politics & Current Affairs
Bernie Sanders has released a plan to forgive all the student debt in the country.
It is even larger than the plan Elizabeth Warren put forward two months ago.
The plan has drawn criticism for forgiving the debt of both the poor and those well off enough to pay their own debt.
Big think's weekly newsletter.
Get smarter faster from the comfort of your inbox.
See our newsletter privacy policy
here
Most Popular
Most Recent
Big think's weekly newsletter.
Get smarter faster from the comfort of your inbox.
See our newsletter privacy policy
here
© Copyright 2007-2019 & BIG THINK, BIG THINK EDGE,
SMARTER FASTER trademarks owned by The Big Think, Inc. All rights reserved.