Elon Musk gets permit to build a hyperloop between New York and D.C. Next up, Chicagoland!
The construction, if and when it happens, could take five or more years.
20 February, 2018
The Boring Company, a venture by Elon Musk, has received the green light to build a hyperloop from Washington, D.C. to New York City that will cut transportation time to about an hour, with possible Baltimore and Philadelphia stops as well. The construction, if and when it happens, could take five or more years. 
---
So what is a hyperloop? It's a patented magnetically levitated vehicle, similar to a train, that basically runs within a vacuum, almost free of air resistance and friction. 
It's a bold idea to offer a much, much faster and more efficient system than the stodgy United States rail system that is currently in place. How fast? Theoretically, 4,000-5,000 mph (or 6,400-8,000 km/h).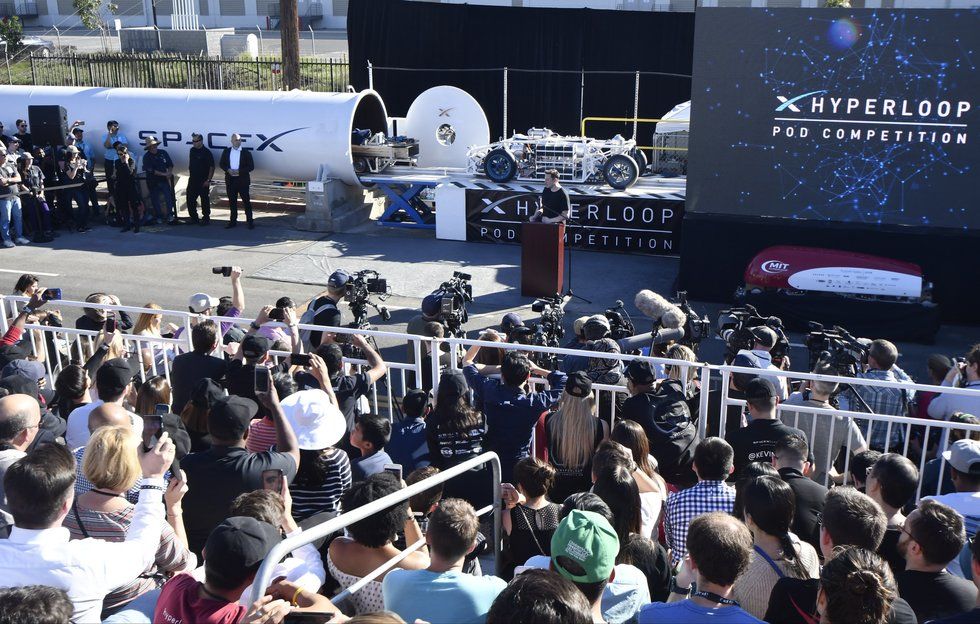 SpaceX CEO Elon Musk(C) speaks during the SpaceX Hyperloop pod competition in Hawthorne, California on January 29, 2017. Students from 30 colleges and universities from the US and around the world are taking part in testing their pods on a 1.25 kilometer-long Hyperloop track at the SpaceX headquarters. (Photo: GENE BLEVINS/AFP/Getty Images)
The concept was first published in August, 2013, for a possible route from San Francisco to Los Angeles. It never actually got off the ground, but in the meantime, some design concepts have come out and are being worked on by students, and some "pod" competitions have developed their own innovations. The entire idea of a hyperloop was created with the plan to keep it "open source" so that innovators could step up and come up with new ideas. 
In fact, on January 29, 2017, one prototype was demonstrated by MIT researchers. Here was that run, looking for all the world like a scene from THX-1138. 
Watch around 0:18, the wheel stops spinning; this means the prototype achieved magnetic levitation. Huzzah!
The permit filed will allow the Musk-owned Boring Company to start excavating a site at 53 New York Avenue NE. Another possible construction being debated right now is for a hyperloop craft to shuttle people from downtown Chicago to Chicago's O'Hare Airport, which would save hours of travel time in heavy traffic.
Also announced this week was a planned hyperloop between Pune and Mumbai in the Indian State of Maharashtra by the company known as Virgin Hyperloop One, owned by Richard Branson. Chief Minister of Maharashtra Devendra Fadnavis describes what it could do for the region:
"With Virgin Hyperloop One, we can create a sustainable infrastructure that will enhance the State of Maharashtra's competitiveness and attract new investment and businesses," says Fadnavis. "The Pune-Mumbai hyperloop route will be an economic catalyst for the region and create tens of thousands of jobs for India's world-class manufacturing, construction, service, and IT sectors and aligns with Make in India initiatives."
Remarkably forward-looking, eh?
Many believe that the internet has made it easier for us to participate in political activism. But is that really true?
Videos
Protesting in person is costly in terms of money and resources; some people have children to take care of, jobs that can't be away from, or may not have time to attend a planning event.
The internet was supposed to be a way to sidestep this barrier to political activism. But this doesn't consider the other barriers preventing poor and working-class folks from participating in digital activism.
In particular, these people lack ASETs: access to computers, the skills to use them, the empowerment necessary to feel that using Twitter or other social media is for them, and the time to make use of digital platforms in an effective way.
Some games are just for fun, others are for thought provoking statements on life, the universe, and everything.
(Photo from Flickr)
Culture & Religion
Video games are often dismissed as fun distractions, but some of them dive into deep issues.
Through their interactive play elements, these games approach big issues intelligently and leave you both entertained and enlightened.
These five games are certainly not the only games that cover these topics or do so well, but are a great starting point for somebody who wants to play something thought provoking.
The bid to buy Greenland is unlikely to become seriously considered.
Politics & Current Affairs
Greenland and Danish officials alike think the idea is ridiculous.
The island is an autonomous state, and it's unlikely the Danish would sell it because of yearly subsidies costs.
After hearing the Danish Prime Minister call the idea absurd, Trump cancelled their forthcoming meeting.