Putin claims Russia has "invincible" nuclear weapons that can bypass U.S. defenses
In a state-of-the-nation speech just weeks before Russia's presidential election, President Vladimir Putin claimed his country had two new nuclear-powered weapons systems.
01 March, 2018
Image from a Russian video displaying the new weaponry.
---
President Vladimir Putin claimed in an annual state of the nation speech Thursday that the Russian military had developed new weaponry that renders missile defenses "completely useless."
Addressing the Russian parliament for nearly two hours in a venue just outside the Kremlin, Putin outlined several new weapons: cruise missiles, underwater drones, and a hypersonic missile that can travel several times the speed of sound.
All of the weapons are reportedly nuclear-powered, a feature that would significantly extend the range of the missiles. The new hypersonic cruise missile would be able to carry a nuclear warhead and fly "with a practically unlimited range and an unpredictable flight path, which can bypass lines of interception and is invincible in the face of all existing and future systems of both missile defense and air defense," Putin said.
The underwater drones could also launch a nuclear warhead from anywhere in the world.
"Means to resist them simply don't exist in the world today," Putin said of the underwater drones.
His speech was accompanied by graphics that showed how the weapons could theoretically bypass U.S. naval defense systems.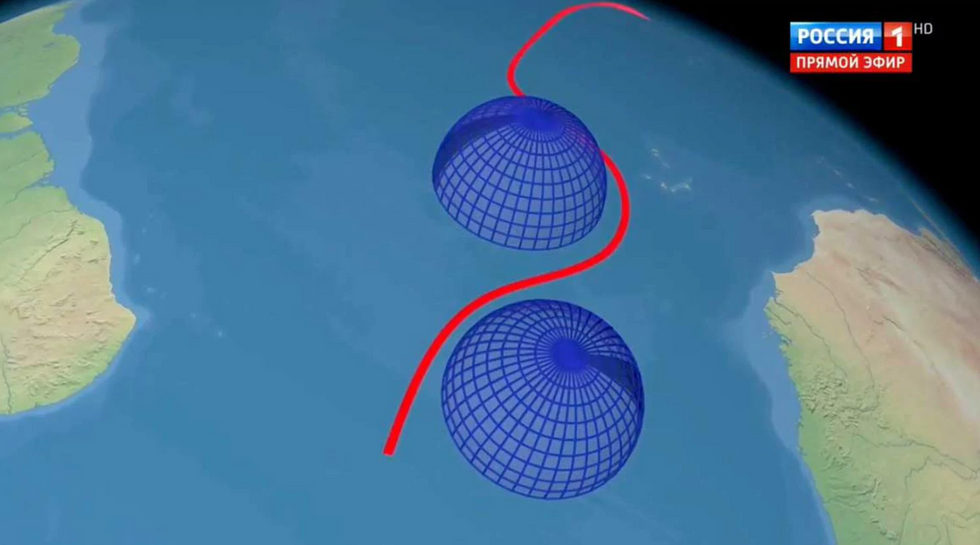 Graphic displayed during Putin's speech.
Russian lawmakers applauded after being shown videos of the weapons. 
Putin's claims are hard to verify. But if Russia had been testing nuclear-powered weapons, there should theoretically be evidence of it, as Reuter's Gerry Doyle noted on Twitter.
it strikes me that if russia really did test a nuclear-powered cruise missile, and they have not figured out a way to keep it from spraying radioactive particles, there should be some atmospheric traces

— Gerry Doyle (@mgerrydoyle) March 1, 2018
Putin's speech could also be viewed in the context of President Trump's recent unveiling of the Nuclear Posture Review, a document that outlines plans to bolster and expand the U.S. nuclear arsenal. In his State of the Union speech, Trump said he intends to build an arsenal "so strong and powerful that it will deter any acts of aggression."
This likely made it easy for Putin to frame his country's move as a response to U.S. weapons development. But experts say Russia has been expanding its nuclear capabilities for years.
In 2001, President George W. Bush withdrew from the 1972 Anti-Ballistic Missile Treaty that the U.S. had signed with the then-U.S.S.R. Putin said the withdrawal was a "mistake," and, some claim, he's been fuming about the decision ever since.
"This is more about Bush's decision to withdraw from the ABM treaty and the failure of either Bush or Obama to address Russian concerns about missile defense than it is about [the Nuclear Posture Review]," said Jeffrey Lewis of the Middlebury Institute to the Washington Post.
Still, it's easy to interpret parts of Putin's speech on Thursday as being marked with resentment toward the West, which he said had been "ignoring us. Nobody listened to us. Well listen to us now."
It remains unclear how much of Putin's tough talk is true.
"Nobody knows how much is bluster," Richard Aboulafia, vice president of analysis at Teal Group, an aerospace and defense consultancy, told CNN.
Videos
Does the President get to decide when to ignore the law?
Scroll down to load more…