New study: It's not quackery—antidepressants work. Period.
Antidepressants actually do work for a majority of people who try them, a new study asserts.
22 February, 2018
Ever since medications for depression have been introduced, there has been debate about their effectiveness. The media, as well as social media, has weighed in on this, repeatedly—for decades.  
---
There's a new study out, however, that is beginning to put some of those debates to bed. 
It's a fairly large-scale sampling: 21 different types of antidepressants, involved in 522 randomized controlled trials, including just over 115,000 men and women ages 18 and older who had clinical depression and were treated for at least eight weeks. 
The results?
Across the board, antidepressants performed better for controlling depression than placebos did. In order to be considered "effective", the drugs had to reduce depression symptoms by at least 50 percent.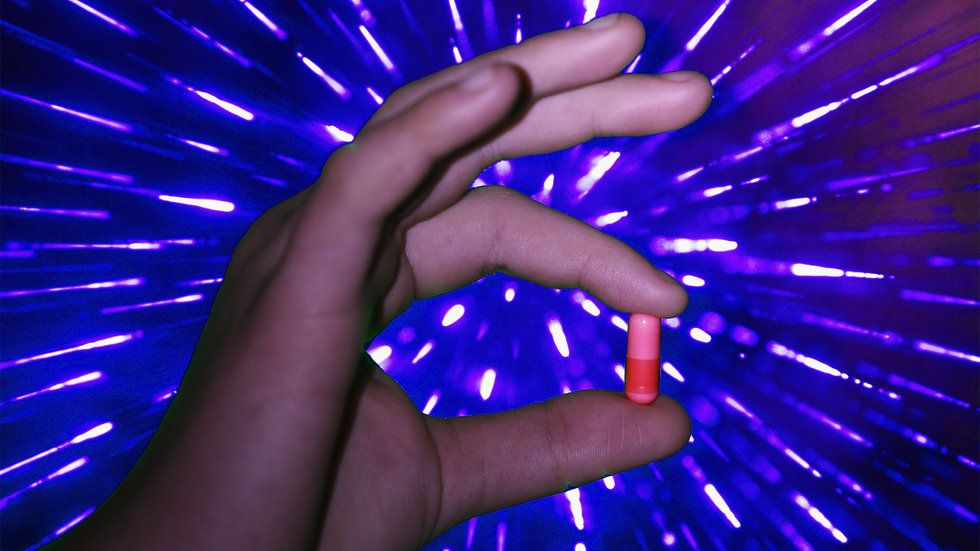 Photo Illustration by Christopher Furlong/Getty Images.
The team expected that some of the antidepressants would be superior to placebos, but not all of them. Lead researcher and study author Dr. Andrea Cipriano of the University of Oxford, UK put it this way in The Lancet: "We were open to any result. This is why we can say this is the final answer to the controversy."
A study involving some of the primary members of this team was done in 2009; it compared 12 antidepressants to each other, finding some worked better than others.  
Now, in addition to finding benefits versus a placebo, this study also concluded that some pharmaceuticals worked better than others, notably Agomelatine, amitriptyline (brand name Elavil), escitalopram (Lexapro), mirtazapine (Remeron), paroxetine (Paxil), venlafaxine (Effexor XR), and vortioxetine (Trintellix). Included in the least effective is fluoxetine (Prozac). 
Still, there are challenges for those who suffer from depression. Fully one-third of patients do not respond to any of these drugs. Considering that—at a minimum—16 million people suffer from depression in the U.S. alone, that's a lot of untreatable patients. Traditional psychotherapy can help some of those folks, however. 
Depression is the leading cause of disability in the world, which makes these findings even more significant; any progress in the field of treating it can make a difference for millions of people. 
E-cigarettes may be safer than traditional cigarettes, but they come with their own risks.
Surprising Science
A new study used an MRI machine to examine how vaping e-cigarettes affects users' cardiovascular systems immediately after inhalation.
The results showed that vaping causes impaired circulation, stiffer arteries and less oxygen in their blood.
The new study adds to a growing body of research showing that e-cigarettes – while likely safer than traditional cigarettes – are far from harmless.
French newspapers report that the trial hasn't lived up to expectations.
Image source: Charly Triballeau / AFP / Getty Images
Technology & Innovation
The French government initially invested in a rural solar roadway in 2016.
French newspapers report that the trial hasn't lived up to expectations.
Solar panel "paved" roadways are proving to be inefficient and too expensive.
The Lumina Foundation lays out steps for increasing access to quality post-secondary education credentials.
Sponsored by Lumina Foundation
America's post-high school education landscape was not created with the modern student in mind. Today, clear and flexible pathways are necessary to help individuals access education that can help them lead a better life.
Elizabeth Garlow explains the Lumina Foundation's strategy to create a post-secondary education system that works for all students. This includes credential recognition, affordability, a more competency-based system, and quality assurance.
Systemic historic factors have contributed to inequality in the education system. Lumina aims to close those gaps in educational attainment.
In 2019, Lumina Foundation and Big Think teamed up to create the Lumina Prize, a search to find the most innovative and scalable ideas in post-secondary education. You can see the winners of the Lumina Prize here – congratulations to PeerForward and Greater Commons!