Measles has made a four-fold comeback in Europe. Guess why...
A report from the World Health Organization shows that the European region experienced about 16,000 measles cases in 2017, representing a four-fold increase from the previous year.
21 February, 2018
---
Measles is making a comeback in some European nations, partly thanks to the anti-vaccination movement.
In February, the World Health Organization released a report that showed the European region experienced 16,000 measles cases in 2017, representing a four-fold increase compared to the previous year. About one in four European countries were affected by large measles outbreaks, but hit especially hard were Ukraine, Romania, and Italy.
"Every new person affected by measles in Europe reminds us that unvaccinated children and adults, regardless of where they live, remain at risk of catching the disease and spreading it to others who may not be able to get vaccinated," says Dr. Zsuzsanna Jakab, WHO Regional Director for Europe, to UN News. "Over 20,000 cases of measles, and 35 lives lost in 2017 alone, are a tragedy we simply cannot accept."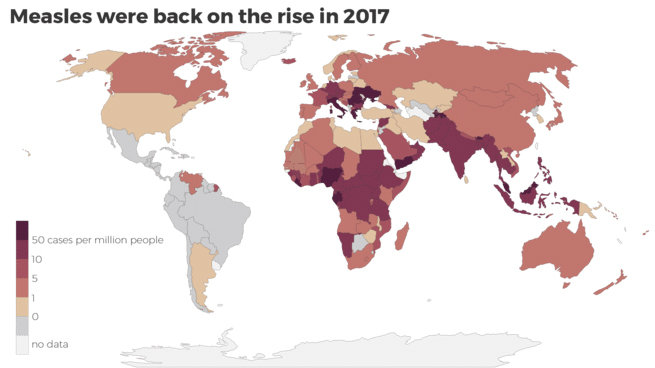 Data: WHO, World Bank. Infographic: Sara Chodosh for Popular Science.
Italy's situation is alarming. The developed country reported 5,000 cases of measles in 2017, which was about 200 times more than the U.S. In total, four people in Italy died last year from measles: one adult and three children under age 10, all unvaccinated.
Anti-science sentiment in the country is largely to blame. The Five Star Movement, a populist political party, has been one organization to raise doubts over the efficacy of vaccinations in recent years. In 2014, the party proposed a law that called for "better information and possible denial of administering vaccinations." The proposal cited multiple debunked studies.
Although much of the European measles resurgence was caused by anti-vaccination sentiments, a smaller portion was likely the result of unvaccinated migrants. A 2015 study found that across 13 European nations, migrants accounted for about 7 percent of measles cases.
Here are the total reported measles cases in Europe for 2017.
Romania - 5,562 cases
Italy - 5,006 cases
Ukraine - 4,767 cases
Greece - 967 cases
Germany - 927 cases
Serbia - 702 cases
Tajikistan - 649 cases
France - 520
Russian Federation - 408
Belgium - 369
UK - 282
Bulgaria - 167
Spain - 152
Czech Republic - 146
Switzerland - 105
Globally, measles is considerably more prevalent in less developed regions. In 2017, the World Health Organization reported a total of 115,117 measles cases worldwide. The vast majority came from the Southeast Asia region, where about 4.8 million children go unvaccinated each year.
Measles and herd immunity
Measles is a disease caused by an extremely contagious virus. Anyone can develop measles, but it's more likely to affect young children, especially those who are poorly nourished. The measles vaccine can protect children against the disease with an efficacy rate of 97 percent after two doses. The vaccine became widespread in the early 1960s, but before that measles killed more than 2 million people each year, and made thousands blind.
Vaccination doesn't just protect the person being immunized. It protects the entire population. That's because of an epidemiological concept called herd immunity, which is the protective level of resistance to a disease that occurs when a sufficient amount of a population is immunized. Simply put, you become safer as less of your neighbors have the disease.
The herd immunity rate necessary to eliminate measles in a population is about 90 to 95 percent.
"I urge all endemic countries to take urgent measures to stop transmission of measles within their borders, and all countries that have already achieved this to keep up their guard and sustain high immunization coverage," said Dr. Jakab to UN News. "Together we must make sure that the hard-earned progress made towards regional elimination is not lost."
Related Articles
We're more dependent on them than we realize.
(Photo Lily on Unsplash)
Surprising Science
Scientists says our survival depends on biodiversity.
A natural climate strategy we often forget.
Seeing our place among the Earth's living creatures.
There's a high social cost that comes with lighting up.
(Porch)
Sex & Relationships
The home improvement company Porch recently polled 1,009 people on their feelings about smoking.
The company recently published the results as infographics.
In terms of dating, 80 percent of nonsmokers find the habit a turnoff
While short-term results are positive, there is mounting evidence against staying in ketosis for too long.
Surprising Science
Recent studies showed volunteers lost equal or more weight on high-carb, calorie-restricted diets than low-carb, calorie restricted diets.
There might be positive benefits to short-term usage of a ketogenic diet.
One dietician warns that the ketogenic diet could put diabetics at risk for diabetic ketoacidosis.
Big think's weekly newsletter.
Get smarter faster from the comfort of your inbox.
See our newsletter privacy policy
here
Most Popular
Most Recent
Big think's weekly newsletter.
Get smarter faster from the comfort of your inbox.
See our newsletter privacy policy
here
© Copyright 2007-2018 & BIG THINK, BIG THINK EDGE,
SMARTER FASTER trademarks owned by The Big Think, Inc. All rights reserved.