Cambridge Analytica whistleblower says company helped swing Brexit vote
Former Cambridge Analytica employee Christopher Wylie made a series of surprising assertions about the data mining company to British lawmakers on March 27.
28 March, 2018
The tumultuous scandal over Cambridge Analytica and its role in manipulating democracies seems far from unraveled.

---
In hours-long testimony before a House of Commons committee on March 27, former Cambridge Analytica employee Christopher Wylie made a series of surprising claims about the inner workings of the firm and its parent company Strategic Communication Laboratories (SCL).
The 28-year-old whistleblower said that Cambridge Analytica played a role in swinging the Brexit vote in favor of withdrawal, claimed that the company had collected data on "substantially" more than 50 million Facebook users, and even suggested that his predecessor at the company had been murdered.
"They don't care whether or not what they do is legal as long as it gets the job done," he said, addressing lawmakers. "Broadly, this is a company that goes around the world and undermines civil institutions of countries that are struggling to develop those institutions. ... They are an example of what modern-day colonialism looks like."

Implicating a new actor in the ongoing scandal, Wylie said that a Canadian analytics company called Aggregate IQ acted as a "proxy money-laundering vehicle" for funneling illegal funds into pro-Brexit campaigns and that SCL provided this company with Facebook user data so it could build software to target voters online.
"I think it is completely reasonable to say that there could have been a different outcome of the referendum had there not been, in my view, cheating," he said.
Wylie said he believes the number of Facebook users whose data was harvested is higher than current estimates.
"The 50 million number is what the media has felt safest to report—because of the documentation that they can rely on—but my recollection is that it was substantially higher than that. So my own view is it was much more than 50 million."
Wylie also suggested that the Facebook data collected by Kogan could have been obtained by Russian parties, considering the psychologist was known to have made multiple trips to Russia.
"Put a key logger in Kogan's computer in Russia and you've got everything," Wylie said, adding: "It would make it incredibly easy for them to get access to this data. For me, that's concerning and I think it should be looked into."
But he spent much of his testimony explaining to lawmakers how data mining works, like "a patient grandson trying to set up a Skype call with his gran," as one journalist wrote.
"The way I like to think of it, data is the electricity of our new economy, and electricity can be quite dangerous," he said. "We enjoy the benefits of electricity, despite the fact that it can literally kill you."
Cambridge Analytica downplayed its past association with Wylie, writing in a statement that the whistleblower's testimony amounted to "false information, speculation, and completely unfounded conspiracy theories." The company wrote that it didn't use any data from Global Science Research (GSR), Aleksandr Kogan's company that harvested data from millions of Facebook users, in its work for Donald J. Trump's 2016 presidential campaign, and asserted that it "played no role in the UK referendum on EU membership."
Cambridge Analytica also wrote it was "disgusted" that Wylie would suggest his predecessor at Cambridge Analytica was murdered.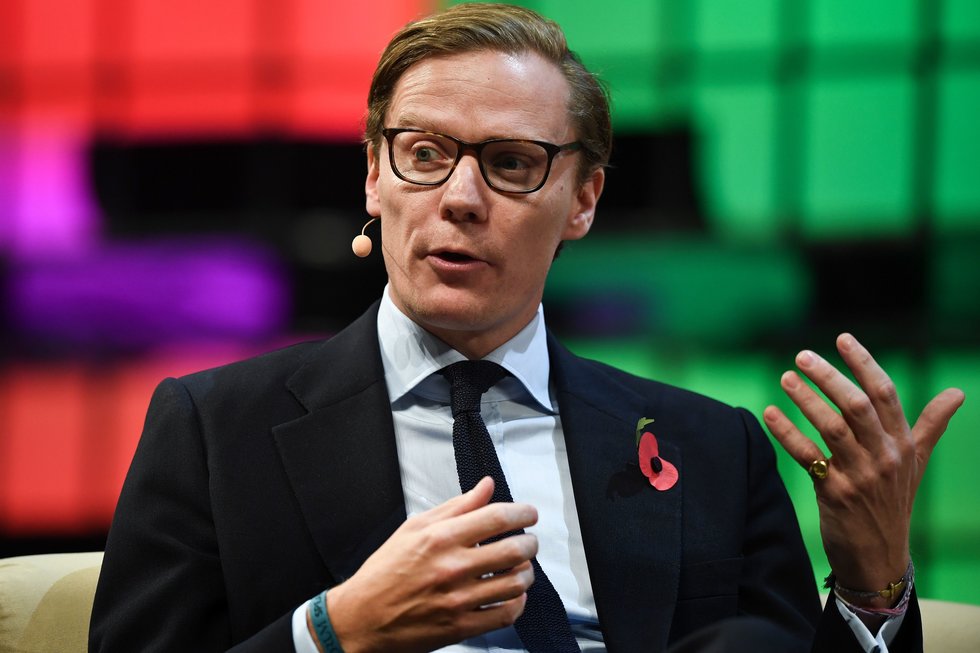 Alexander Nix, former chief executive of Cambridge Analytica, speaks at the 2017 Web Summit in Lisbon. (Photo: Getty)
The Digital, Culture, Media and Sport committee has requested that Alexander Nix, the suspended chief executive of Cambridge Analytica, appear in front of lawmakers again to answer about "a number of inconsistencies" in evidence he provided during a February 27 hearing, namely the claim that Cambridge Analytica never received Facebook data from GSR. Nix is scheduled to appear on April 17.
In the broad context of public concern over data mining, there's one recurring problem that's causing a lot of confusion: most people don't have the technical knowledge to understand what's happening.
"I have had to explain and re-explain and re-explain and re-explain, you know, how relational databases work, what is an eigenvector, what is dimensionality reduction," Wylie said.
"They have been working really, really hard. But as a point of observation, one of the weak points that I've seen—again, this is an empathetic criticism—is the lack of technical people... They have had to ask me a lot of questions that a database engineer would not ask."
Wylie said he was sorry for helping to build the company.
"I am incredibly remorseful for my role in setting it up. I'm the first person to say that I should have known better. But what's done is done."
The ability to speak clearly, succinctly, and powerfully is easier than you think
Former U.S. President Barack Obama speaks during a Democratic Congressional Campaign Committee rally at the Anaheim Convention Center on September 8, 2018 in Anaheim, California. (Photo by Barbara Davidson/Getty Images)
Personal Growth
The ability to communicate effectively can make or break a person's assessment of your intelligence, competence, and authenticity.
The results come from a 15-year study that used ultrasound scans to track blood vessels in middle-aged adults starting in 2002.
Mind & Brain
The study measured the stiffness of blood vessels in middle-aged patients over time.
Stiff blood vessels can lead to the destruction of delicate blood vessels in the brain, which can contribute to cognitive decline.
The scans could someday become a widely used tool to identify people at high risk of developing dementia and Alzheimer's.
What defines a dark horse? The all-important decision to pursue fulfillment and excellence.
Big Think Books
When we first set the Dark Horse Project in motion, fulfillment was the last thing on our minds. We were hoping to uncover specific and possibly idiosyncratic study methods, learning techniques, and rehearsal regimes that dark horses used to attain excellence. Our training made us resistant to ambiguous variables that were difficult to quantify, and personal fulfillment seemed downright foggy. But our training also taught us never to ignore the evidence, no matter how much it violated our expectations.
Big think's weekly newsletter.
Get smarter faster from the comfort of your inbox.
See our newsletter privacy policy
here
Most Popular
Most Recent
Big think's weekly newsletter.
Get smarter faster from the comfort of your inbox.
See our newsletter privacy policy
here
© Copyright 2007-2018 & BIG THINK, BIG THINK EDGE,
SMARTER FASTER trademarks owned by The Big Think, Inc. All rights reserved.