The world's first blockchain-powered election just happened in a war-torn, poor country
There's a new, highly secure way to vote and count ballots, and it's just been tested in a real-world election.
13 March, 2018
Sierra Leone, on the coast of West Africa and with a population of about five million people, has had a number of problems across the country, including a 2014 Ebola outbreak that killed thousands, flooding and mudslides that left at least 1000 dead, as well as pretty severe poverty, violence at polling places, and much more. 
---
The country just had an election to replace outgoing president Ernest Bai Koroma, who'd served 10 years, the upper term limit for that office. 
The voting was done manually on paper ballots and recorded via Blockchain, a relative newcomer to the scene that is being dubbed Web 3.0. Developed to sell Bitcoin currency, its uses are broadening all the time to conduct secure transactions (much more secure than the regular Web) that can be verified as genuine.
How?
Three basic tenets make up this technology for elections:
1) The vote tally is stored via a distributed computing network, which means even if hackers managed to take out one or a dozen machines updating vote totals, the rest of the network just routes around them and keeps the real tallies going. In Sierra Leone, a permissioned blockchain was used, which means the ledger is visible to all but entries can only be made by authorized people—in this case, members of Agora, a Swiss digital voting foundation, entered the paper ballots into the ledger.
2) Biometric data combined with personal cryptographic keys ensure that voting is legitimate and not compromised. Agora hopes to introduce this function in future blockchain elections.
3) Hackable voting machines are eliminated, and eventually, paper ballots would be too—although they were used in the 2018 Sierra Leone presidential election. 
You can view the election tally from the West District blockchain trial here, although the final result from other districts has not yet been announced.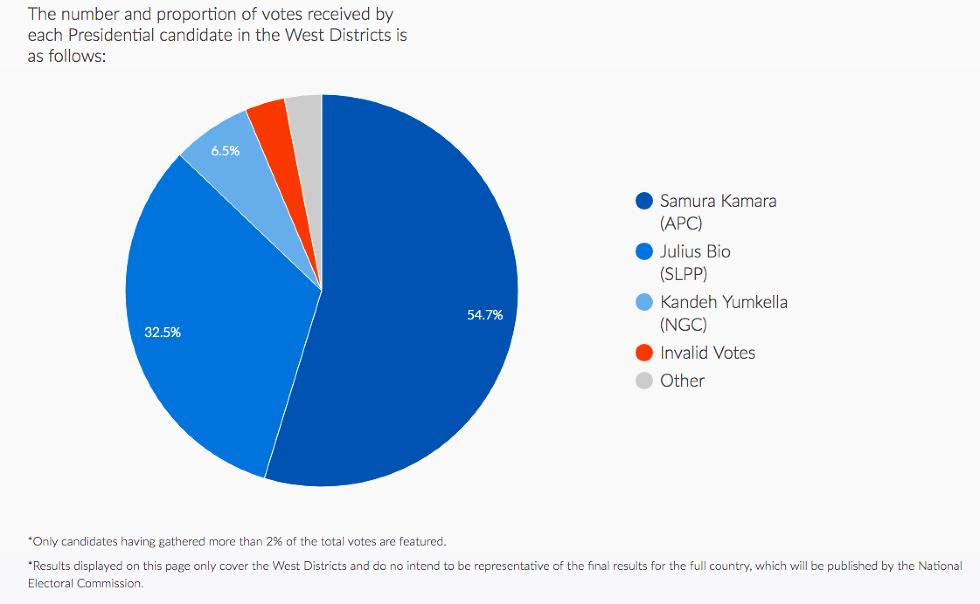 The Swiss company that made this blockchain election happen, Agora, explained in a statement: "Results of the West Districts were recorded on an unforgeable ledger and are displayed here publicly. Safe storage of election data and public accessibility is opening a new age for voter confidence and democracy itself in Sierra Leone and in the rest of world."
With the possibility in the Western world (as well as just about everywhere else) that voting machines from companies like Diebold can be hacked, this opens up not just a more secure balloting process, but it will also mean voting from home or via mobile device is that much closer to reality.
Here's the science of black holes, from supermassive monsters to ones the size of ping-pong balls.
Videos
There's more than one way to make a black hole, says NASA's Michelle Thaller. They're not always formed from dead stars. For example, there are teeny tiny black holes all around us, the result of high-energy cosmic rays slamming into our atmosphere with enough force to cram matter together so densely that no light can escape.
CERN is trying to create artificial black holes right now, but don't worry, it's not dangerous. Scientists there are attempting to smash two particles together with such intensity that it creates a black hole that would live for just a millionth of a second.
Thaller uses a brilliant analogy involving a rubber sheet, a marble, and an elephant to explain why different black holes have varying densities. Watch and learn!
Bonus fact: If the Earth became a black hole, it would be crushed to the size of a ping-pong ball.
Protected animals are feared to be headed for the black market.
(VL.ru)
Politics & Current Affairs
Russian news network discovers 101 black-market whales.
Orcas and belugas are seen crammed into tiny pens.
Marine parks continue to create a high-price demand for illegal captures.
In a breakthrough for nuclear fusion research, scientists at China's Experimental Advanced Superconducting Tokamak (EAST) reactor have produced temperatures necessary for nuclear fusion on Earth.
Credit: EAST Team
Surprising Science
The EAST reactor was able to heat hydrogen to temperatures exceeding 100 million degrees Celsius.
Nuclear fusion could someday provide the planet with a virtually limitless supply of clean energy.
Still, scientists have many other obstacles to pass before fusion technology becomes a viable energy source.
Big think's weekly newsletter.
Get smarter faster from the comfort of your inbox.
See our newsletter privacy policy
here
Most Popular
Most Recent
Big think's weekly newsletter.
Get smarter faster from the comfort of your inbox.
See our newsletter privacy policy
here
© Copyright 2007-2018 & BIG THINK, BIG THINK EDGE,
SMARTER FASTER trademarks owned by The Big Think, Inc. All rights reserved.