The world's first blockchain-powered election just happened in a war-torn, poor country
There's a new, highly secure way to vote and count ballots, and it's just been tested in a real-world election.
13 March, 2018
Voters in Sierra Leone cast their votes on paper ballots, which were recorded onto a digital blockchain by Agora, a Swiss foundation specializing in digital voting.
Sierra Leone, on the coast of West Africa and with a population of about five million people, has had a number of problems across the country, including a 2014 Ebola outbreak that killed thousands, flooding and mudslides that left at least 1000 dead, as well as pretty severe poverty, violence at polling places, and much more. 
---
The country just had an election to replace outgoing president Ernest Bai Koroma, who'd served 10 years, the upper term limit for that office. 
The voting was done manually on paper ballots and recorded via Blockchain, a relative newcomer to the scene that is being dubbed Web 3.0. Developed to sell Bitcoin currency, its uses are broadening all the time to conduct secure transactions (much more secure than the regular Web) that can be verified as genuine.
How?
Three basic tenets make up this technology for elections:
1) The vote tally is stored via a distributed computing network, which means even if hackers managed to take out one or a dozen machines updating vote totals, the rest of the network just routes around them and keeps the real tallies going. In Sierra Leone, a permissioned blockchain was used, which means the ledger is visible to all but entries can only be made by authorized people—in this case, members of Agora, a Swiss digital voting foundation, entered the paper ballots into the ledger.
2) Biometric data combined with personal cryptographic keys ensure that voting is legitimate and not compromised. Agora hopes to introduce this function in future blockchain elections.
3) Hackable voting machines are eliminated, and eventually, paper ballots would be too—although they were used in the 2018 Sierra Leone presidential election. 
You can view the election tally from the West District blockchain trial here, although the final result from other districts has not yet been announced.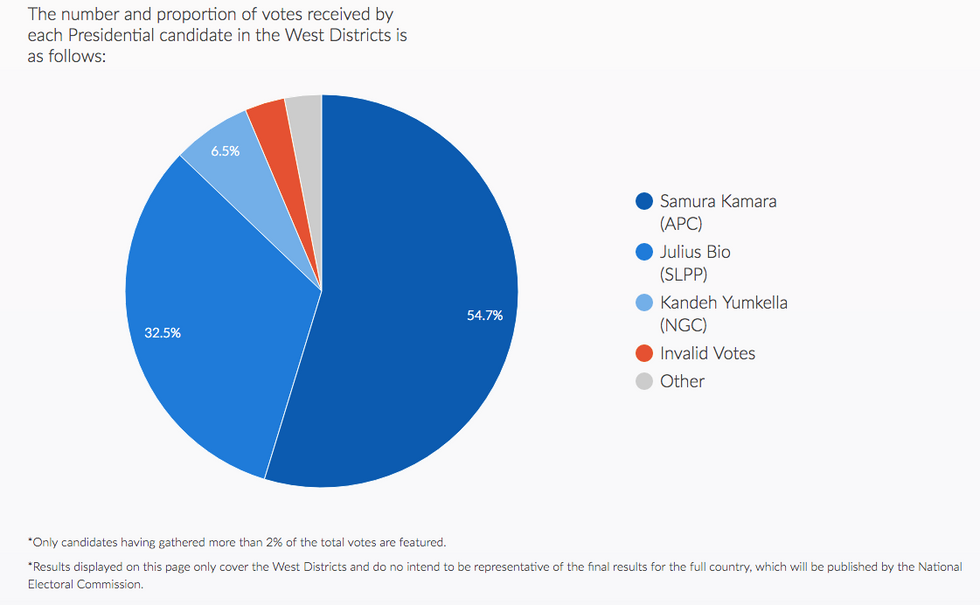 The Swiss company that made this blockchain election happen, Agora, explained in a statement: "Results of the West Districts were recorded on an unforgeable ledger and are displayed here publicly. Safe storage of election data and public accessibility is opening a new age for voter confidence and democracy itself in Sierra Leone and in the rest of world."
With the possibility in the Western world (as well as just about everywhere else) that voting machines from companies like Diebold can be hacked, this opens up not just a more secure balloting process, but it will also mean voting from home or via mobile device is that much closer to reality.
To create wiser adults, add empathy to the school curriculum.
Sponsored by Charles Koch Foundation
Stories are at the heart of learning, writes Cleary Vaughan-Lee, Executive Director for the Global Oneness Project. They have always challenged us to think beyond ourselves, expanding our experience and revealing deep truths.
Vaughan-Lee explains 6 ways that storytelling can foster empathy and deliver powerful learning experiences.
Global Oneness Project is a free library of stories—containing short documentaries, photo essays, and essays—that each contain a companion lesson plan and learning activities for students so they can expand their experience of the world.
An extinction events expert sounds a dire warning.
Getty Images
Surprising Science
The supervolcano in Yellowstone National Park could cause an "ultra-catastrophe," warns an extinction events writer.
The full eruption of the volcano last happened 640,000 years ago.
The blast could kill billions and make United States uninhabitable.
Just before I turned 60, I discovered that sharing my story by drawing could be an effective way to both alleviate my symptoms and combat that stigma.
Photo by JJ Ying on Unsplash
Mind & Brain
I've lived much of my life with anxiety and depression, including the negative feelings – shame and self-doubt – that seduced me into believing the stigma around mental illness: that people knew I wasn't good enough; that they would avoid me because I was different or unstable; and that I had to find a way to make them like me.
A joint study by two England universities explores the link between sex and cognitive function with some surprising differences in male and female outcomes in old age.
Mind & Brain
A joint study by the universities of Coventry and Oxford in England has linked sexual activity with higher cognitive abilities in older age.
The results of this study suggest there are significant associations between sexual activity and number sequencing/word recall in men. In women, however, there was a significant association between sexual activity in word recall alone - number sequencing was not impacted.
The differences in testosterone (the male sex hormone) and oxytocin (a predominantly female hormone) may factor into why the male cognitive level changes much more during sexual activity in older age.
Technology & Innovation
Mathematicians studied 100 billion tweets to help computer algorithms better understand our colloquial digital communication.
Scroll down to load more…