Amazon's stock falls after Trump tweets the company doesn't pay enough taxes
President Donald Trump attacked Amazon on Twitter Thursday morning, arguing that the online retailer doesn't pay enough taxes and the USPS is its "delivery boy."
29 March, 2018
---
President Trump attacked Amazon in a tweet published Thursday morning.
"I have stated my concerns with Amazon long before the Election," the tweet reads. "Unlike others, they pay little or no taxes to state & local governments, use our Postal System as their Delivery Boy (causing tremendous loss to the U.S.), and are putting many thousands of retailers out of business!"
The tweet came one day after Axios reported that sources close to Trump said he's "obsessed with Amazon." Amazon shares dipped after the report, and after Thursday's tweet.
Trump, according to the Axios report, has been talking about "changing Amazon's tax treatment because he's worried about mom-and-pop retailers being put out of business." The president thinks Amazon gets a "free ride" from taxpayers, and his wealthy real estate friends tell him that the online retailer is killing their shopping malls and other brick-and-mortar businesses, which affronts Trump's "old-school businessman" ethos that "sees the world in terms of tangible assets: real estate, physical mail delivery, Main Street, grocery stores."
What the president is most likely criticizing is how Amazon often doesn't have to collect sales tax when customers buy products from third-party sellers that operate on its website. Some think this gives Amazon an unfair advantage. What's more, states and municipalities stand to gain between $8 and $13 billion in annual revenue if they required online retailers to collect sales tax, regardless of whether they have a physical presence in the state of sale, according to the Government Accountability Office.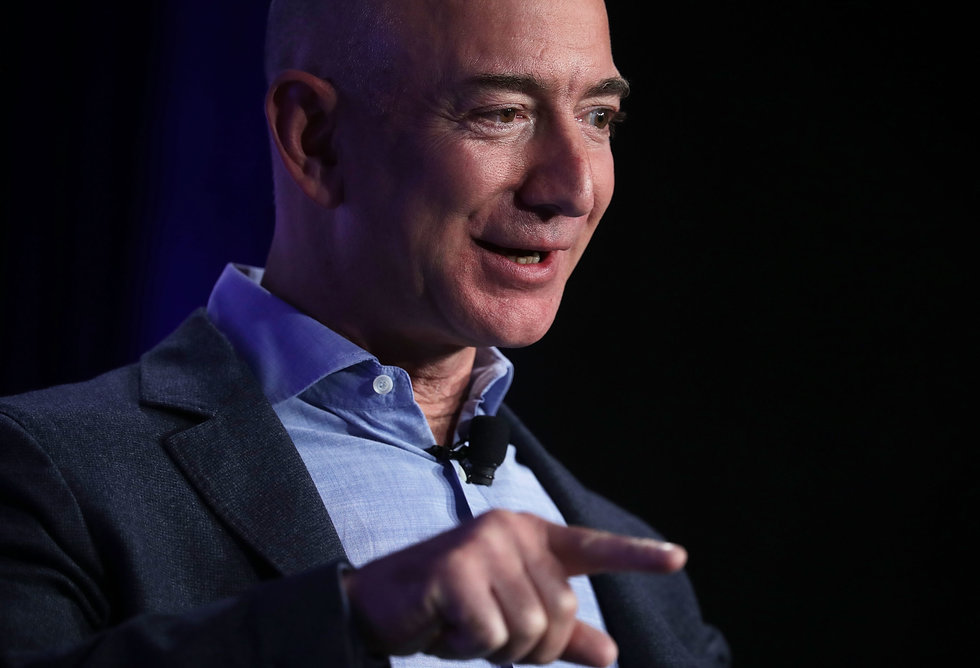 Amazon CEO Jeff Bezos speaking at the 'Transformers: Pushing the Boundaries of Knowledge,' event May 18, 2016 in Washington, DC. (Photo: Alex Wong/Getty)
The U.S. Supreme Court is set to hear arguments on April 17 in a case that could reverse a 1992 decision which states that retailers not based in the state of sale don't have to collect that state's sales tax.
The president also thinks Amazon gets "cushy treatment" from the U.S. Postal Service. It's a view he expressed in a tweet last December.
Why is the United States Post Office, which is losing many billions of dollars a year, while charging Amazon and others so little to deliver their packages, making Amazon richer and the Post Office dumber and poorer? Should be charging MUCH MORE!

— Donald J. Trump (@realDonaldTrump) December 29, 2017
Vox published a piece in response to the tweet outlining how the USPS's parcel services, the part of the agency that ships Amazon packages, are "doing okay"and that the USPS loses billions of dollars each year mainly because of declining revenue from first-class mail and high labor costs.
"The whole post office thing, that's very much a perception he has," a source told Axios. "It's been explained to him in multiple meetings that his perception is inaccurate and that the post office actually makes a ton of money from Amazon."
Trump and Jeff Bezos, who owns The Washington Post, have locked horns several times in recent years. In 2015, Trump tweeted "The @washingtonpost, which loses a fortune, is owned by  @JeffBezos for purposes of keeping taxes down at his no profit company, @amazon."
Bezos responded: "Finally trashed by @realDonaldTrump. Will still reserve him a seat on the Blue Origin rocket. #sendDonaldtospace"
Antimicrobial resistance is growing worldwide, rendering many "work horse" medicines ineffective. Without intervention, drug-resistant pathogens could lead to millions of deaths by 2050. Thankfully, companies like Pfizer are taking action.
Image courtesy of Pfizer.
Antimicrobial-resistant pathogens are one of the largest threats to global health today.
As we get older, our immune systems age, increasing our risk of life threatening infections. Without reliable antibiotics, life expectancy could decline for the first time in modern history.
If antibiotics become ineffective, common infections could result in hospitalization or even death. Life-saving interventions like cancer treatments and organ transplantation would become more difficult, more often resulting in death. Routine procedures would become hard to perform.
Without intervention, resistant pathogens could result in 10 million annual deaths by 2050.
By taking a multi-faceted approach—inclusive of adherence to good stewardship, surveillance and responsible manufacturing practices, as well as an emphasis on prevention and treatment—companies like Pfizer are fighting to help curb the spread.
Sponsored
No, the Syrian civil war is not over. But it might be soon. Time for a recap
Strange Maps
The War in Syria has dropped off the radar, but it's not over (yet)
This 1-minute video shows how the fronts have moved – and stabilised – over the past 22 months
Watching this video may leave you both better informed, and slightly queasy: does war need a generic rock soundtrack?
Sarco assisted suicide pods come in three different styles, and allow you to die quickly and painlessly. They're even quite beautiful to look at.
The Sarco assisted suicide pod
Technology & Innovation
Death: it happens to everyone (except, apparently, Keanu Reeves). But while the impoverished and lower-class people of the world die in the same ol' ways—cancer, heart disease, and so forth—the upper classes can choose hip and cool new ways to die. Now, there's an assisted-suicide pod so chic and so stylin' that peeps (young people still say peeps, right?) are calling it the "Tesla" of death... it's called... the Sarco! 
Entrepreneur and author Andrew Horn shares his rules for becoming an assured conversationalist.
content.jwplatform.com
Videos
To avoid basing action on external validation, you need to find your "authentic voice" and use it.
Finding your voice requires asking the right questions of yourself.
There are 3-5 questions that you would generally want to ask people you are talking to.
Big think's weekly newsletter.
Get smarter faster from the comfort of your inbox.
See our newsletter privacy policy
here
Most Popular
Most Recent
Big think's weekly newsletter.
Get smarter faster from the comfort of your inbox.
See our newsletter privacy policy
here
© Copyright 2007-2018 & BIG THINK, BIG THINK EDGE,
SMARTER FASTER trademarks owned by The Big Think, Inc. All rights reserved.