The Police Fighting To End The War On Drugs
Police chiefs are banding together to end the war on drugs.
14 March, 2016
It is widely accepted amongst scientists and public health officials that the war on drugs has been a failure, but arguments from science have had little effect in changing international public policy. Could figures from law enforcement, the military and intelligence services, who have firsthand experience of enacting the war on drugs, have more success in changing the minds of politicians?
---
That's the hope of a group of law enforcement professionals I joined earlier this month to visit the British Houses of Parliament. Below are some of the most compelling quotes from their arguments.
PCC Ron Hogg: serving police and crime commissioner for the English county of Durham spoke alongside Mike Barton, the chief constable of Durham police force. The pair made headlines last year after effectively decriminalising cannabis in the county.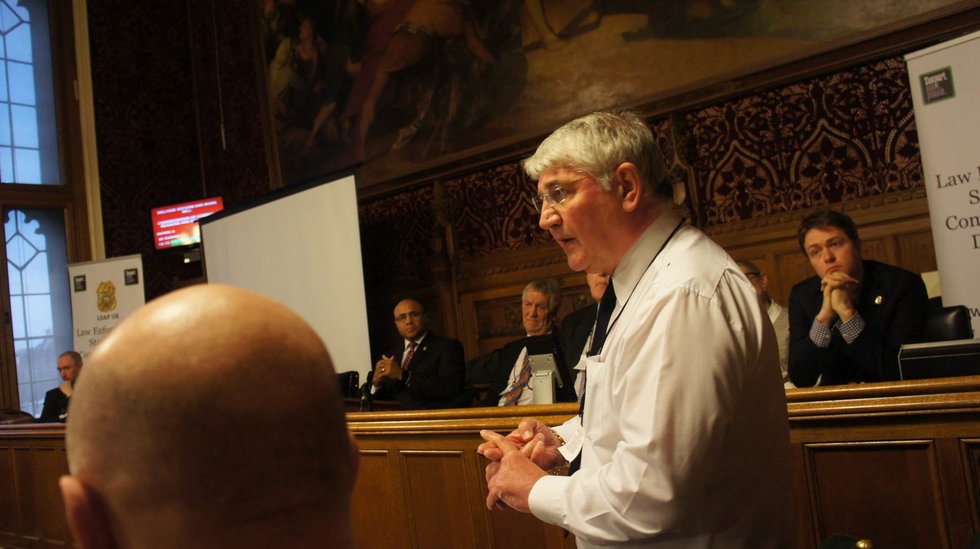 "We are very clear in our view in Durham constabulary that the war has failed, that it won't succeed and it never will succeed and we have to change our views and the way we approach things. The whole purpose of a drugs policy must be to minimise the harms that drugs cause to individuals and to our communities and optimise the benefits that drugs can bring."
Suzanne Sharkey: Former Constable and Undercover Officer at Northumbria Constabulary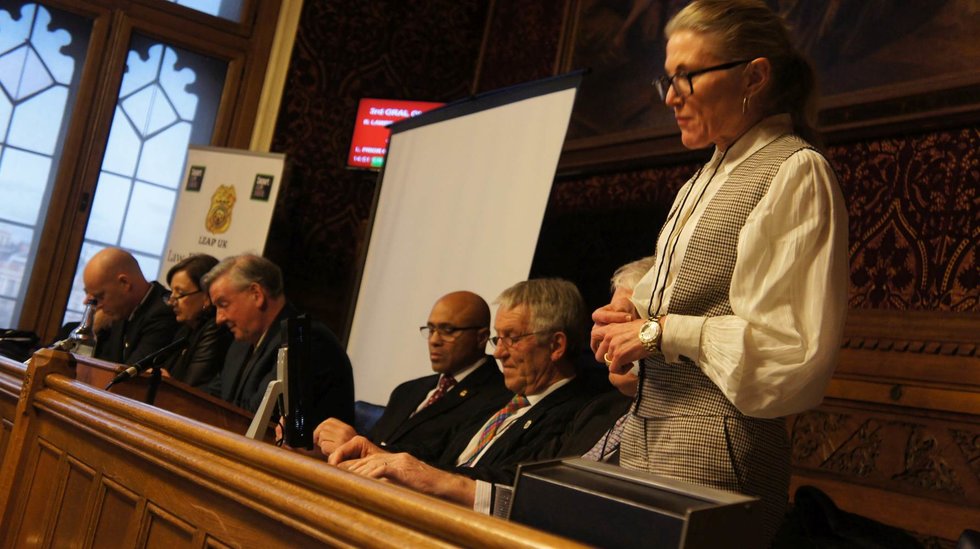 "When I look back at my time in the police I feel ashamed, I feel a sense of failure. I feel ashamed that I wasn't arresting career criminals; I was arresting people from poor socially deprived areas with little or no hope whose crime was non-violent drug possession, a complete failure of the war on drugs. I believe that one of the biggest barriers for people with problematic substance misuse to seeking help and treatment is the current drug policy. It does nothing; it achieves nothing except creating more harm for individuals, families and society as a whole. All of us know the problems and what we need to do but rather than be united by the problems let's be united by the solutions. Solutions based in health, education and compassion rather than criminalisation."
Annie Machon: Former Mi5 Officer tasked with investigating terrorist logistics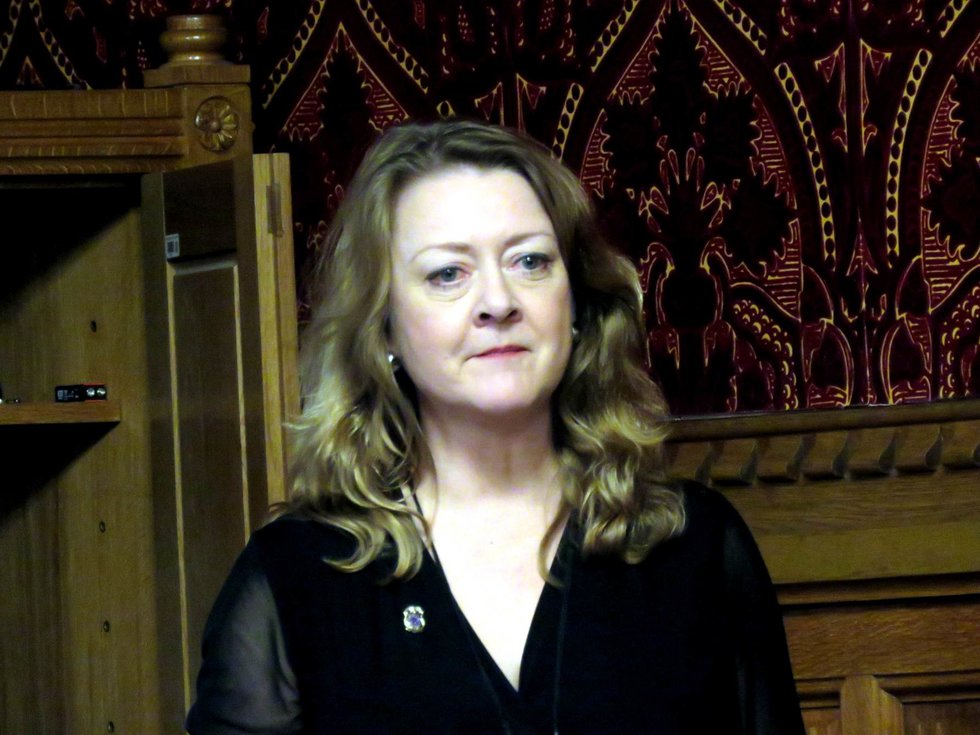 "On the one hand we have prohibition that pushes the war on drugs underground and creates huge conflicts globally. On the other hand we are fighting the war on terror which is largely funded by this war on drugs. So it strikes me as illogical unless it's a very clever circular business model that has been only too successful."
"By ensuring prohibition ends we would be able to end the biggest crime wave our world has ever seen." - Annie Machon
Patrick Hennessy – Served as a grenadier guard officer in Iraq and Afghanistan and is now a practicing barrister.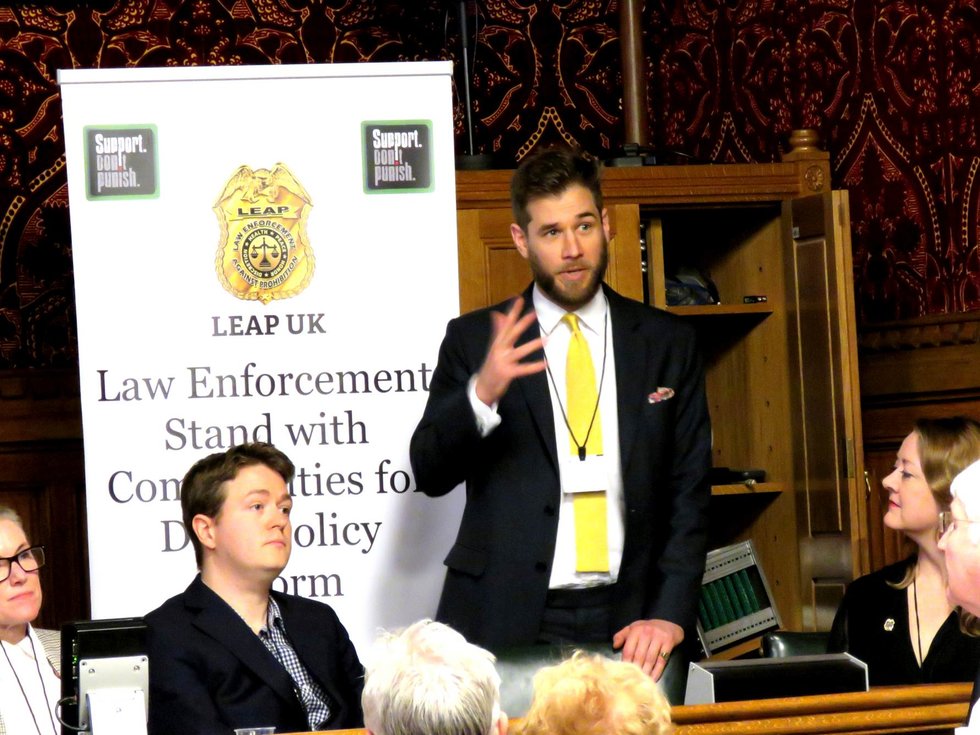 "It is so blindingly obvious you have to question that there are grown up people with important jobs who don't see this themselves — you can't fight a war on a thing! As someone who has fought two or three wars against people and states, you can't fight a war on a thing."
Paul Whitehouse: Former Chief Constable for 8 years at Sussex Police, with 30 years experience in policing.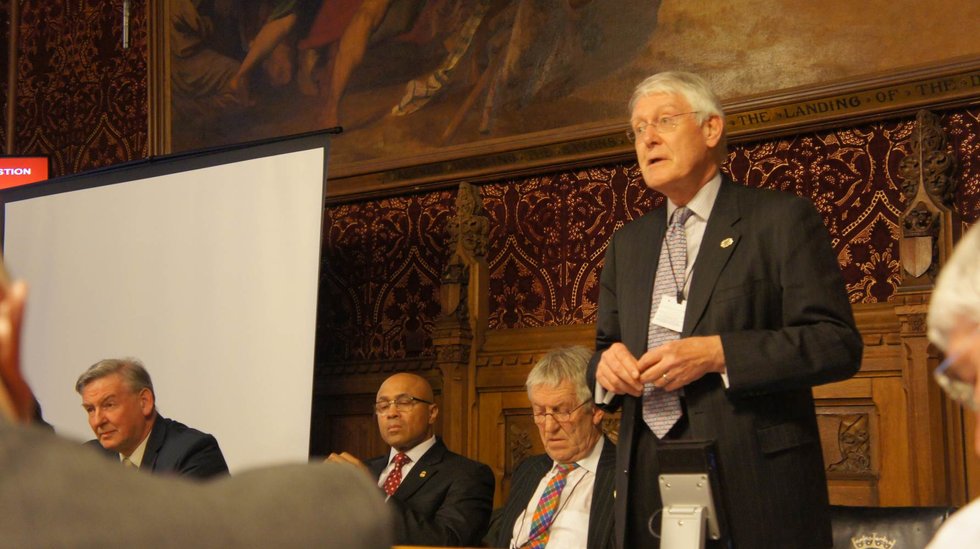 "Prohibition has failed in alcohol and because it failed with alcohol it isn't going to work with drugs.  It cannot possibly work while we spend money on criminalising people who are doing probably less harm to themselves than some of the people who go binge drinking."
James Duffy: Former Head of Strathclyde Police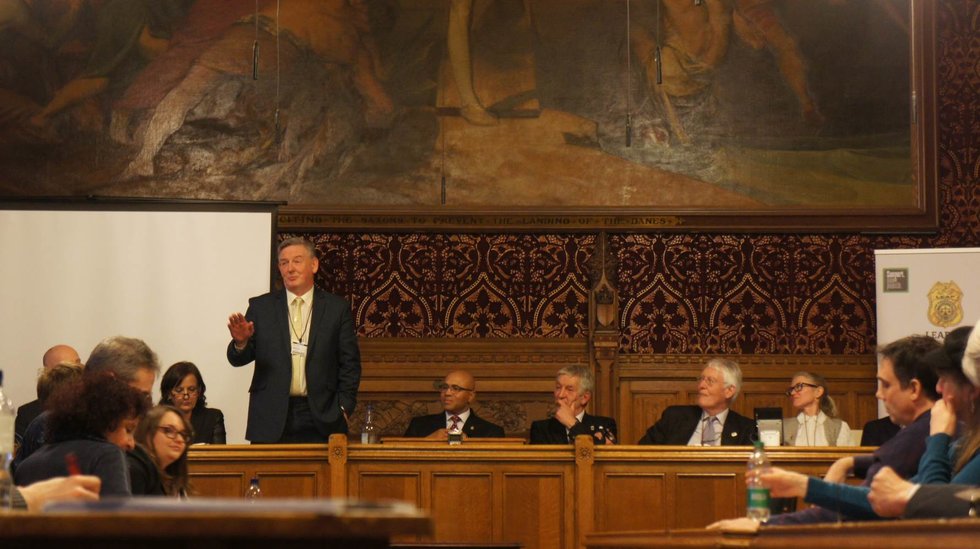 "Prohibition has been an out and out failure. It hasn't worked anywhere in the world. Anywhere at all. I joined the police in 1975. In 1975 we talked about tenner bags. I left 32 years later. We still talk tenner bags.... The government are always telling us that the use of drugs is going down, but it's going down marginally. To the extent that in the next 70 years it will be back at where the 1970's levels were. We don't have 70 years to wait, it needs to be addressed now."
To read a complete copy of my notes from the day check out my report at Politics.co.uk. Photography: Russell Bloor and Sam Seal. Cover image: Poppy fields in Khanaga, Afghanistan by Paula Bronstein/Getty. Follow Simon Oxenham @Neurobonkers on Twitter, Facebook, RSS or join the mailing list, for weekly analysis of science and psychology news. 
Malcolm Gladwell teaches "Get over yourself and get to work" for Big Think Edge.
Big Think Edge
Learn to recognize failure and know the big difference between panicking and choking.

At Big Think Edge, Malcolm Gladwell teaches how to check your inner critic and get clear on what failure is.

Subscribe to Big Think Edge before we launch on March 30 to get 20% off monthly and annual memberships.
You can say 'no' to things, and you should. Do it like this.
Videos
Give yourself permission to say "no" to things. Saying yes to everything is a fast way to burn out.
Learn to say no in a way that keeps the door of opportunity open: No should never be a one-word answer. Say "No, but I could do this instead," or, "No, but let me connect you to someone who can help."
If you really want to say yes but can't manage another commitment, try qualifiers like "yes, if," or "yes, after."
"I was so moved when I saw the cells stir," said 90-year-old study co-author Akira Iritani. "I'd been hoping for this for 20 years."
Yamagata et al.
Surprising Science
The team managed to stimulate nucleus-like structures to perform some biological processes, but not cell division.
Unless better technology and DNA samples emerge in the future, it's unlikely that scientists will be able to clone a woolly mammoth.
Still, studying the DNA of woolly mammoths provides valuable insights into the genetic adaptations that allowed them to survive in unique environments.
Neuroscience research suggests it might be time to rethink our ideas about when exactly a child becomes an adult.
Mind & Brain
Research suggests that most human brains take about 25 years to develop, though these rates can vary among men and women, and among individuals.
Although the human brain matures in size during adolescence, important developments within the prefrontal cortex and other regions still take pace well into one's 20s.
The findings raise complex ethical questions about the way our criminal justice systems punishes criminals in their late teens and early 20s.
Big think's weekly newsletter.
Get smarter faster from the comfort of your inbox.
See our newsletter privacy policy
here
Most Popular
Most Recent
Big think's weekly newsletter.
Get smarter faster from the comfort of your inbox.
See our newsletter privacy policy
here
© Copyright 2007-2018 & BIG THINK, BIG THINK EDGE,
SMARTER FASTER trademarks owned by The Big Think, Inc. All rights reserved.