The New Project Set to Make EEG, Brain Computer Interfacing and 3D Printing History
Simon Oxenham
Simon Oxenham covers the best and the worst from the world of psychology and neuroscience. Formerly writing with the pseudonym "Neurobonkers", Simon has a history of debunking dodgy scientific research and tearing apart questionable science journalism in an irreverent style. Simon has written and blogged for publishers including: The Psychologist, Nature, Scientific American and The Guardian. His work has been praised in the New York Times and The Guardian and described in Pearson's Textbook of Psychology as "excoriating reviews of bad science/studies".
Follow Simon on Twitter
Like Simon on Facebook
Follow Simon on Google+
Subscribe via Email
Subscribe via RSS
Contact Simon directly by Email
27 December, 2013
It's an impressive project that can push the frontiers in one field, a new crowdfunded project looks set to make a splash in three. 
---
Until now, the research grade EEG equipment that sophisticated brain computer interfaces depend on have costed thousands if not tens of thousands of dollars. Over recent years we've seen a range of consumer brain computer interface products come on to the market amid massive fanfare. The devices aim to allow the user to control or communicate through a computer using their brain waves recorded through electrodes placed on the scalp. The devices that have so far appeared on the consumer market have a few things in common. Proprietary software places restrictions on developers and limits access to raw data for researchers. Even when data is accessible, such systems have proved unhelpful to researchers due to the fixed and limited electrode locations that don't match up with the internationally recognised system researchers use to record electrode placement. 
A group based in New York is trying to change that with an open sourced EEG unit which is already nearly funded on Kickstarter that will be able to be used with existing open sourced BCI applications like BrainBay or OpenVibe. The project probably isn't suitable for amateurs just yet, but if you've got some background in EEG, coding or ideally both then this project could be a lot of fun!
In a new development, adding the cherry on the cake only at the last minute, the group have updated the Kickstarter to announce that they will also be developing the first open source 3D printed EEG headset. As if the project wasn't ambitious enough already, the plan is to allow users to drag and drop the electrode locations they wish to use on a user interface and then print a minimalist headset light enough for the EEG unit and a bluetooth transmitter to be strapped to the back.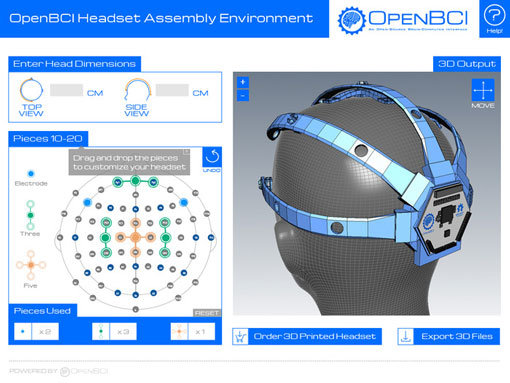 The beauty of this project is that, in the spirit of open science, no matter if the initial iteration soars or crashes, researchers, developers and anyone else for that matter can take the designs, change them and make them better. 
Open sourced systems are also a major bonus for skeptics. Without access to the data underpinning the workings of a BCI system, it can be difficult to say for sure that a primitive BCI device is anything more than a glorified divining rod. Providing access to the data will allow users to really be sure it is their brain - and not the subtle twitches of their eyebrows for example, that are controlling what is happening on their screen. 
I for one welcome our new BCI overlords!
To keep up to date with this blog follow Neurobonkers on Twitter, Facebook, RSS or join the mailing list.
Related Articles
It turns out the human scalp has an olfactory receptor that seems to play a crucial role in regulating hair follicle growth and death.
Surprising Science
Scientists treated scalp tissue with a chemical that mimics the odor of sandalwood.
This chemical bound to an olfactory receptor in the scalp and stimulated hair growth.
The treatment could soon be available to the public.
The best self-directed learners use these seven habits to improve their knowledge and skills in any subject.
(Photo by Peter Cade/Getty Images)
Personal Growth
Bill Gates, Mark Zuckerberg, and Ellen DeGeneres all dropped out of college, yet they became leaders in their fields. Their secret? Self-directed learning.
Self-directed learning can help people expand their knowledge, gain new skills, and improve upon their liberal education.
Following habits like Benjamin Franklin's five-hour rule, the 80/20 rule, and SMART goals can help self-directed learners succeed in their pursuits.
It happens every few years. Not just in Greece, but also parts of the United States.
Photo credit: Giannis Giannakopoulos
Surprising Science
Aitoliko, in Western Greece is the town these images are from.
Tetragnatha is the genus — known as "stretch spiders" because of their elongated bodies.
They can run faster on water than on land. Don't panic, though: they will be gone in days.
Big think's weekly newsletter.
Get smarter faster from the comfort of your inbox.
See our newsletter privacy policy
here
Most Popular
Most Recent
Big think's weekly newsletter.
Get smarter faster from the comfort of your inbox.
See our newsletter privacy policy
here
© Copyright 2007-2018 & BIG THINK, BIG THINK EDGE,
SMARTER FASTER trademarks owned by The Big Think, Inc. All rights reserved.