Researchers at MIT create "psychopathic" AI
They fed it data from "the darkest corners of Reddit forums."
11 June, 2018
You know the saying "let's not and say we did"? Artificial intelligence researchers at MIT decided to follow through on a particularly bad idea by creating an AI that is purposefully psychopathic. The AI is named Norman, after Norman Bates from Alfred Hitchcock's Psycho. 
---
They did it to prove that AI itself isn't inherently bad and evil, more-so that AI can be bad if fed bad and evil data. So they went to "the darkest corners of Reddit" (their words!), particularly a long thread dedicated to gruesome deaths, and fed it the data from there. 
"Data matters more than the algorithm," says Professor Iyad Rahwan of MIT's Media Lab. "It highlights the idea that the data we use to train AI is reflected in the way the AI perceives the world and how it behaves."
This largely speaks to a very common theory called GIGO, or 'Garbage In, Garbage Out,' which is as true in AI as it is for the human diet. To the truth of if you eat only junk food and candy you'll get fat, the same holds for feeding AI disturbing data. Nevertheless, the idea that there's an AI that was born psychopathic is obviously quite juicy. So long as the code never makes it out of the box in MIT that it's kept in (presuming that it's kept in a box), we should all be OK. 
Fortunately for us, the AI is only designed to caption Rorsach tests. Here's an example: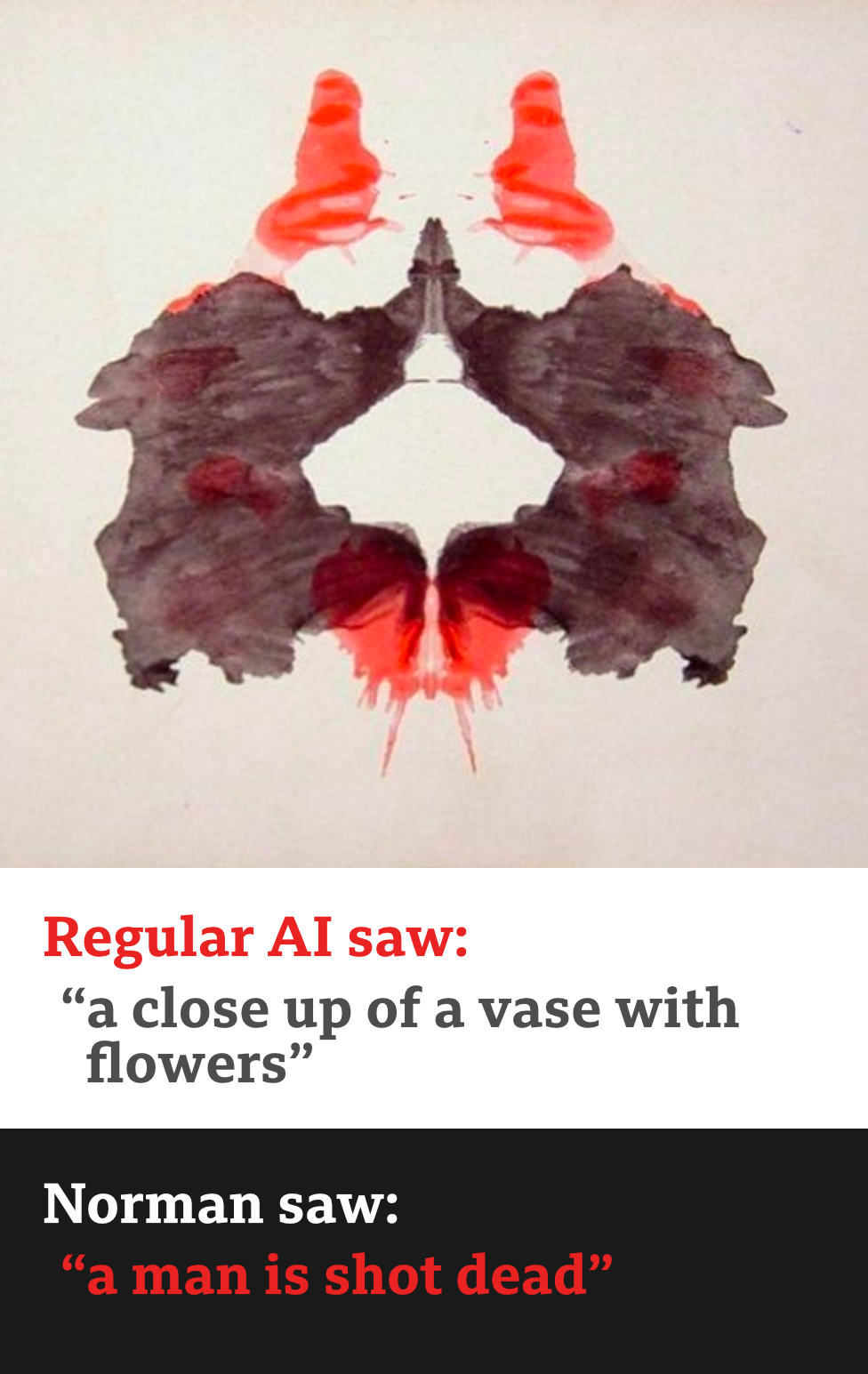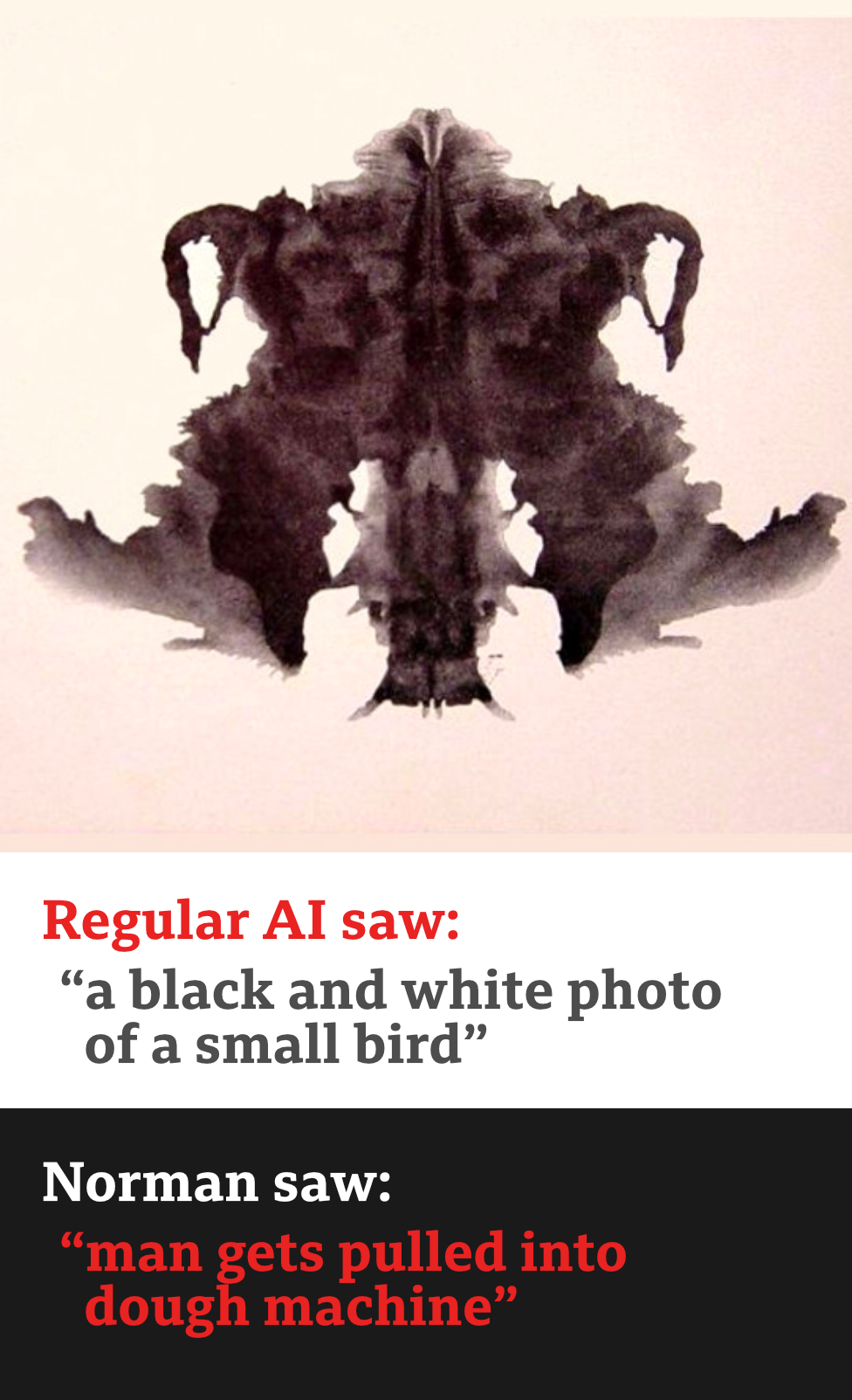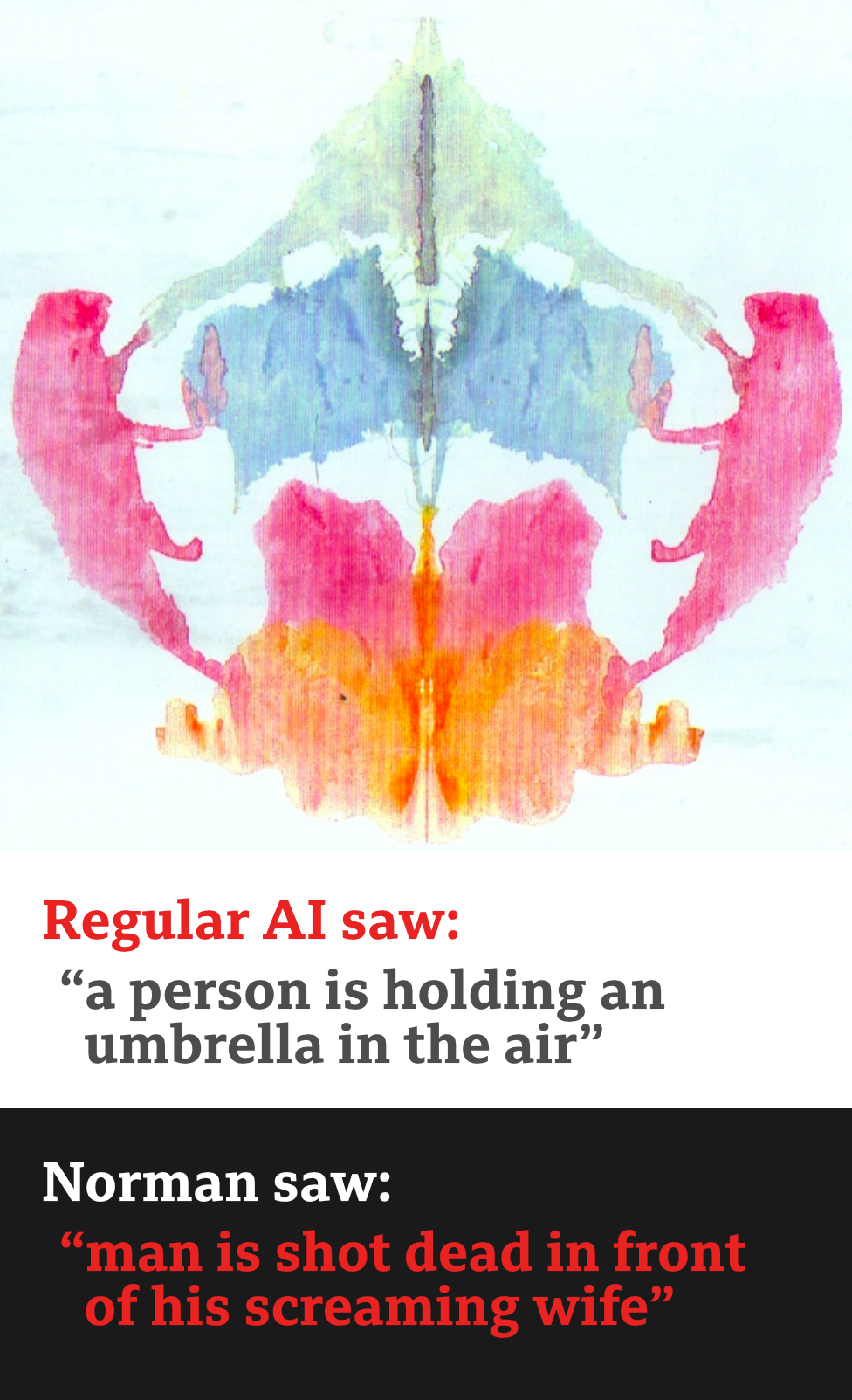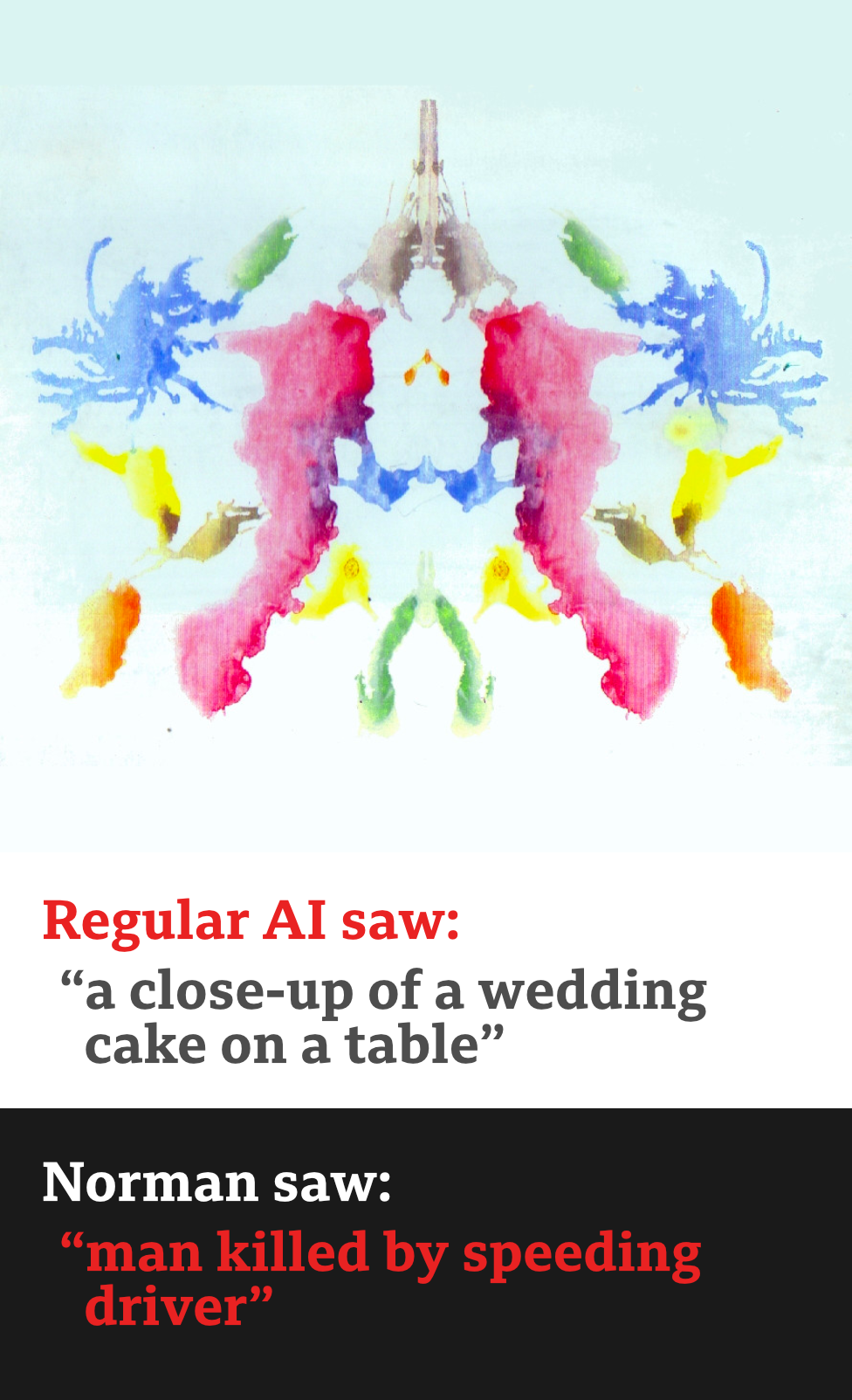 Lovely! I'm sure MIT will be putting these up on the refrigerator. 
What can 3D printing do for medicine? The "sky is the limit," says Northwell Health researcher Dr. Todd Goldstein.
Northwell Health
Sponsored by Northwell Health
Medical professionals are currently using 3D printers to create prosthetics and patient-specific organ models that doctors can use to prepare for surgery.
Eventually, scientists hope to print patient-specific organs that can be transplanted safely into the human body.
Northwell Health, New York State's largest health care provider, is pioneering 3D printing in medicine in three key ways.
By working together, and learning from one another, we can build better systems.
Videos
Many of the things that we experience, are our imagination manifesting into this physical realm, avers artist Dustin Yellin.
People need to completely rethink the way they work together, and learn from one another, that they they can build better systems. If not, things may get "really dark" soon.
The first step to enabling cooperation is figuring out where the common ground is. Through this method, despite contrary beliefs, we may be able to find some degree of peace.
Great ideas in philosophy often come in dense packages. Then there is where the work of Marcus Aurelius.
(Getty Images)
Personal Growth
Meditations is a collection of the philosophical ideas of the Roman Emperor Marcus Aurelius.
Written as a series of notes to himself, the book is much more readable than the dry philosophy most people are used to.
The advice he gave to himself 2,000 years ago is increasingly applicable in our hectic, stressed-out lives.
The periodic table was a lot simpler at the beginning of the universe.
Videos
Michelle Thaller's "absolute favorite fact in the universe" is that we are made of dead stars.
The Big Bang, when it went off, produced basically three elements: hydrogen, helium, and lithium. Every atom more complex had to be formed inside a star. Over time, stars such as the sun produce things like carbon and oxygen.
They don't really get much more far off the periodic table than that. If you want to go any farther than the element iron, then you actually need a very violent explosion, a supernova explosion.
Big think's weekly newsletter.
Get smarter faster from the comfort of your inbox.
See our newsletter privacy policy
here
Most Popular
Most Recent
Big think's weekly newsletter.
Get smarter faster from the comfort of your inbox.
See our newsletter privacy policy
here
© Copyright 2007-2019 & BIG THINK, BIG THINK EDGE,
SMARTER FASTER trademarks owned by The Big Think, Inc. All rights reserved.