Nitrates in beef jerky, hot dogs, and cured meats linked to manic episodes
A 10-year, 1,000 person study, has linked eating cured meats like beef jerky, hot dogs, and pepperoni to hospitalization for a specific mental illness: bipolar mania.
19 July, 2018
A new Johns Hopkins Medicine study show that nitrates—a preservative used to stop the growth of bacteria as meat cures—found in foods like jerky, hot dogs, and other cured meats have been linked mania.
---
What is mania? Simply put, it's a serious neuropsychiatric condition commonly identified as the "wild" part of a bipolar mood swing marked by euphoria, insomnia, hyperactivity, risk-taking behavior and detachment from reality (as opposed to the lethargy of the depression side). The study was conducted on both humans and rats and the researchers found that the rats exhibited hyperactivity, similar to the mania in humans. 
Before any meat-lovers (self-included!) fly off the handle and decry the study as "fake chews" (look, the joke was right there), it's not just some fly-by-night study done on a select group. It was conducted over 10 years with over 1,000 participants with a near-equal ratio of men to women, split between people with a history of mental illness and without. 36% of the study group were African American. Johns Hopkins reports (emphasis mine) that:
A study of their records between 2007 and 2017 showed that, unexpectedly, among people who had been hospitalized for mania, a history of eating cured meat before hospitalization were approximately 3.5 times higher than the group of people without a psychiatric disorder. Cured meats were not associated with a diagnosis of schizoaffective disorder, bipolar disorder in people not hospitalized for mania or in major depressive disorder. No other foods about which participants were queried had a significant association with any of the disorders, or with mania.
The study authors found further specific insights: Recently consuming meat sticks like Slim Jims, beef jerky, or turkey jerky increased the odds of being in the mania group. "In contrast, consuming prosciutto or salami, cured meats prepared through dehydration, did not influence the odds of being in the mania group," they write.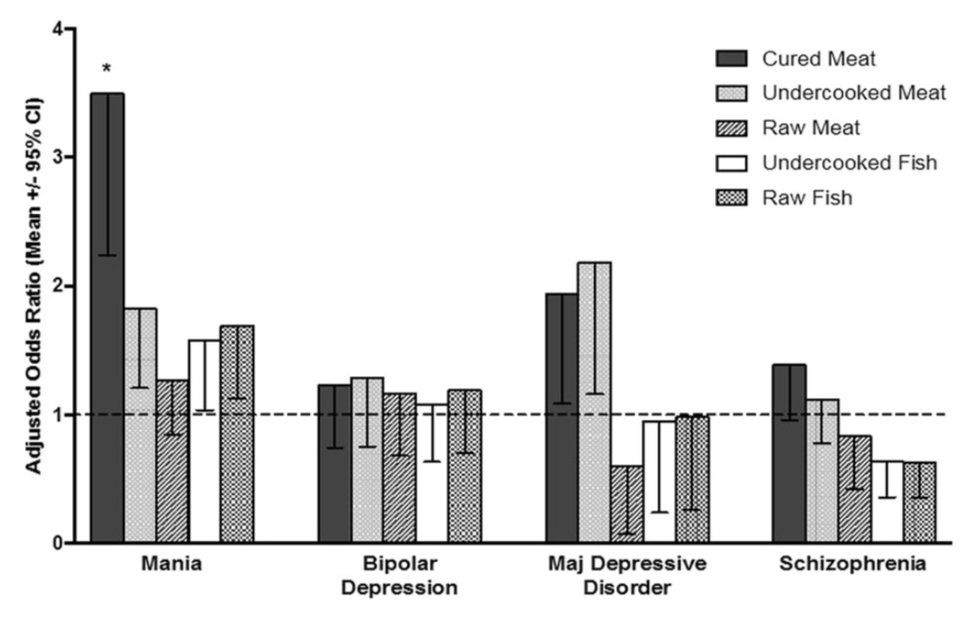 Fig. 1 Adjusted odds ratios associated with a food exposure and having the indicated psychiatric diagnosis as compared to controls. Adjusted odds ratios are calculated by multiple logistic regression and adjusted for age, sex, race, socioeconomic status, body mass index, current cigarette smoking, and multiple comparisons. (Source: R.H. Yolken et. al.)
Lead author Dr. Robert Yolken M.D., said: "We looked at a number of different dietary exposures and cured meat really stood out. It wasn't just that people with mania have an abnormal diet."
This comes on the heels of other recent findings saying that these cured meats also cause cancer since they're packed with carcinogens according to the World Health Organization. 
Eating one stick of beef jerky isn't likely to send you to a psychiatric ward. The study authors insist that further research is needed to sort cause and effect.
That's a sharp increase from the 1960s when it took the same share of scientists an average of 35 years to drop out of academia.
Pixabay
Surprising Science
The study tracked the careers of more than 100,000 scientists over 50 years.
The results showed career lifespans are shrinking, and fewer scientists are getting credited as the lead author on scientific papers.
Scientists are still pursuing careers in the private sector, however there are key differences between research conducted in academia and industry.
China's rise has necessitated a global PR push. It includes influencing how the movies you watch depict China.
President Xi Jinping and Brad Pitt in World War Z. (Image: Big Think/Getty)
Politics & Current Affairs
China will soon overtake the U.S. as the world's largest market for films, and it is using that fact to influence how it is depicted by Hollywood.
While Chinese investors have been interested in buying shares of studios for a while, the real power lies in deciding which movies get into China at all.
The influence is often subtle, but may have already derailed a few careers in the name of politics.
The bold technique involves surgically implanting a so-called microneedle patch directly onto the heart.
Red human heart against a yellow background (Getty Images)
Surprising Science
Heart attacks leave scar tissue on the heart, which can reduce the organ's ability to pump blood throughout the body.
The microneedle patch aims to deliver therapeutic cells directly to the damaged tissue.
It hasn't been tested on humans yet, but the method has shown promising signs in research on animals.
Big think's weekly newsletter.
Get smarter faster from the comfort of your inbox.
See our newsletter privacy policy
here
Most Popular
Most Recent
Big think's weekly newsletter.
Get smarter faster from the comfort of your inbox.
See our newsletter privacy policy
here
© Copyright 2007-2018 & BIG THINK, BIG THINK EDGE,
SMARTER FASTER trademarks owned by The Big Think, Inc. All rights reserved.