Nitrates in beef jerky, hot dogs, and cured meats linked to manic episodes
A 10-year, 1,000 person study, has linked eating cured meats like beef jerky, hot dogs, and pepperoni to hospitalization for a specific mental illness: bipolar mania.
19 July, 2018
Beef Jerky for sale roadside Route 395, California. (Photo by: Visions of America/UIG via Getty Images)
A new Johns Hopkins Medicine study show that nitrates—a preservative used to stop the growth of bacteria as meat cures—found in foods like jerky, hot dogs, and other cured meats have been linked mania.
---
What is mania? Simply put, it's a serious neuropsychiatric condition commonly identified as the "wild" part of a bipolar mood swing marked by euphoria, insomnia, hyperactivity, risk-taking behavior and detachment from reality (as opposed to the lethargy of the depression side). The study was conducted on both humans and rats and the researchers found that the rats exhibited hyperactivity, similar to the mania in humans. 
Before any meat-lovers (self-included!) fly off the handle and decry the study as "fake chews" (look, the joke was right there), it's not just some fly-by-night study done on a select group. It was conducted over 10 years with over 1,000 participants with a near-equal ratio of men to women, split between people with a history of mental illness and without. 36% of the study group were African American. Johns Hopkins reports (emphasis mine) that:
A study of their records between 2007 and 2017 showed that, unexpectedly, among people who had been hospitalized for mania, a history of eating cured meat before hospitalization were approximately 3.5 times higher than the group of people without a psychiatric disorder. Cured meats were not associated with a diagnosis of schizoaffective disorder, bipolar disorder in people not hospitalized for mania or in major depressive disorder. No other foods about which participants were queried had a significant association with any of the disorders, or with mania.
The study authors found further specific insights: Recently consuming meat sticks like Slim Jims, beef jerky, or turkey jerky increased the odds of being in the mania group. "In contrast, consuming prosciutto or salami, cured meats prepared through dehydration, did not influence the odds of being in the mania group," they write.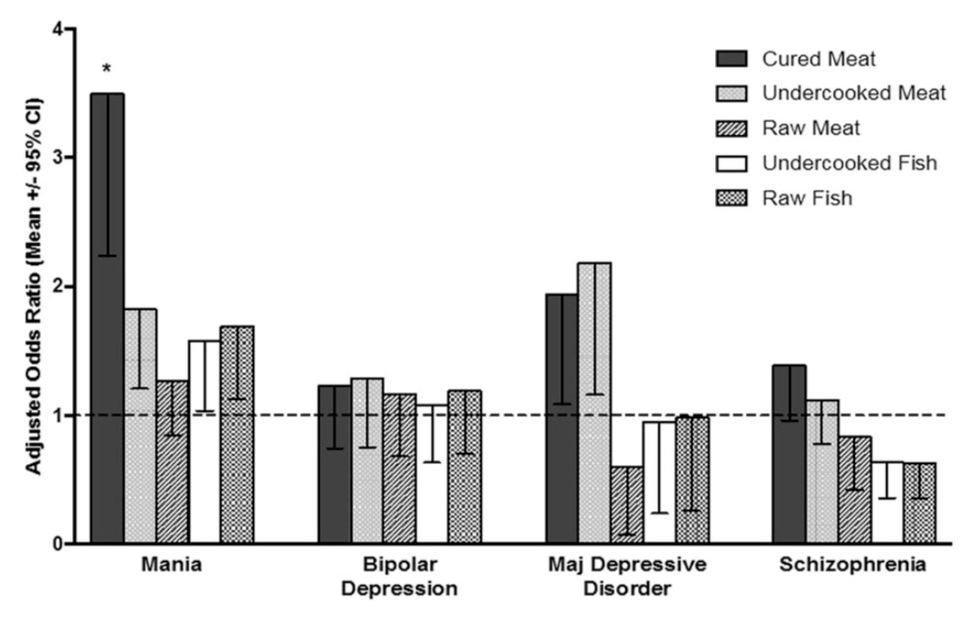 Fig. 1 Adjusted odds ratios associated with a food exposure and having the indicated psychiatric diagnosis as compared to controls. Adjusted odds ratios are calculated by multiple logistic regression and adjusted for age, sex, race, socioeconomic status, body mass index, current cigarette smoking, and multiple comparisons. (Source: R.H. Yolken et. al.)
Lead author Dr. Robert Yolken M.D., said: "We looked at a number of different dietary exposures and cured meat really stood out. It wasn't just that people with mania have an abnormal diet."
This comes on the heels of other recent findings saying that these cured meats also cause cancer since they're packed with carcinogens according to the World Health Organization. 
Eating one stick of beef jerky isn't likely to send you to a psychiatric ward. The study authors insist that further research is needed to sort cause and effect.
To create wiser adults, add empathy to the school curriculum.
Sponsored by Charles Koch Foundation
Stories are at the heart of learning, writes Cleary Vaughan-Lee, Executive Director for the Global Oneness Project. They have always challenged us to think beyond ourselves, expanding our experience and revealing deep truths.
Vaughan-Lee explains 6 ways that storytelling can foster empathy and deliver powerful learning experiences.
Global Oneness Project is a free library of stories—containing short documentaries, photo essays, and essays—that each contain a companion lesson plan and learning activities for students so they can expand their experience of the world.
This is what the world will look like, 250 million years from now
On Pangaea Proxima, Lagos will be north of New York, and Cape Town close to Mexico City
Surprising Science
To us humans, the shape and location of oceans and continents seems fixed. But that's only because our lives are so short.
The future of education and work will rely on teaching students deeper problem-solving skills.
Future of Learning
Asking kids 'What do you want to be when you grow up?' is a question that used to make sense, says Jaime Casap. But it not longer does; the nature of automation and artificial intelligence means future jobs are likely to shift and reform many times over.
Instead, educators should foster a culture of problem solving. Ask children: What problem do you want to solve? And what talents or passions do you have that can be the avenues by which you solve it?
"[T]he future of education starts on Monday and then Tuesday and then Wednesday and it's constant and consistent and it's always growing, always improving, and if we create that culture I think that would bring us a long way," Casap says.
These Jurassic predators resorted to cannibalism when hit with hard times, according to a deliciously rare discovery.
Stephanie K. Drumheller et.al
Surprising Science
Rare fossil evidence of dinosaur cannibalism among the Allosaurus has been discovered.
Scientists analyzed dinosaur bones found in the Mygatt-Moore Quarry in western Colorado, paying special attention to bite marks that were present on 2,368 of the bones.
It's likely that the predatory carnivore only ate their already-dead peers during times when resources were scarce.
Personal Growth
As a doctor, I am reminded every day of the fragility of the human body, how closely mortality lurks just around the corner.
Scroll down to load more…