NECC 2008 - From digital divide to digital opportunities
Scott McLeod
Scott McLeod, J.D., Ph.D., is an Associate Professor of Educational Leadership at the University of Kentucky. He also is the Founding Director of the UCEA Center for the Advanced Study of Technology Leadership in Education (CASTLE), the nation's only academic center dedicated to the technology needs of school administrators, and was a co-creator of the wildly popular video series, Did You Know? (Shift Happens). He has received numerous national awards for his technology leadership work, including recognitions from the cable industry, Phi Delta Kappa, and the National School Boards Association. In Spring 2011 he was a Visiting Canterbury Fellow at the University of Canterbury in New Zealand. Dr. McLeod blogs regularly about technology leadership issues at Dangerously Irrelevant and Mind Dump, and occasionally at The Huffington Post. He can be reached at scottmcleod.net.
16 February, 2011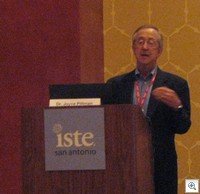 Here are my notes from ISTE's annual digital equity summit at NECC. There is too much information to fit in one post so I'm breaking it up...
---
\n
From Digital Divide to Digital Opportunities
Dr. Paul Resta, U. Texas-Austin
\n
\n
Current estimate of world repository of pictures/words/movies = 7 exabytes (Library of Congress is largest in world = 20 terabytes)
\n
It's not just more information. More is now different.
\n
UNESCO Digital Opportunity Index allows the tracking and comparison of countries in different aspects of the information society
\n
Essential conditions – access to...
\n

\n
Basic literacy skills
\n

\n
26% of world adult population (1 billion people) is non-literate (2/3 are women)

\n
ICT devices, software, and sufficient bandwidth for Internet connectivity
\n

\n
Most of Latin America, Africa, Asia, and the Middle East has less than 10% of the population with personal computers
\n
High-income economies are far ahead (International Telecommunications Union, World Information Society 2007 Report)
\n
The top 1,000 companies in the world have over 70 million computers to dispose of
\n
Low-cost laptops: OLPC (600,000 orders from Birmingham (AL), Peru, Haiti, Afghanistan, Rwanda, Mexico, Uruguay, Mongolia), EeePC, Intel Classmate (150,000 orders from Nigeria, Libya)
\n
Cloud computing (virtual servers) means not much power has to reside on the computers themselves
\n
Asia and Europe both have more Internet users than North America; a near-perfect relationship between Internet use and income
\n
Broadband access takes up 2.1% of high-income (and 909% of low-income) yearly wages
\n
USA is now 15th in broadband penetration (see www.itif.org)
\n
Wireless access is increasing exponentially in many developing countries

\n
Meaningful, high-quality, culturally-relevant content in local languages
\n

\n
68% of Internet content is in English; next highest is Japanese (6%)
\n
4Directions project is an indigenous model of education to create culturally-relevant curriculum resources
\n
Virtual museum partnerships

\n
Creating, sharing, and exchanging digital content
\n

\n
The majority of the 7 billion videos streamed on the Internet each month are user-generated
\n
The number of blogs has roughly doubled every 6 months
\n
We need to enable indigenous voices and to use the Internat to foster cross-cultural understandings and share knowledge

\n
Educators who know how to use digital tools and resources in pedagogically-sound, culturally-responsible ways
\n

\n
Development of National Plans for ICT in Teacher Education
\n
Teacher Learning in E-Learning Age (UNESCO, forthcoming)

\n
Effective leadership in policy and planning
\n

\n
Removing policy barriers and formulating new policy frameworks
\n
Broadband challenges require new thinking

\n
There is a need for ICTs customized to the needs of the poor in the developing world
\n
How do we ensure that the USA stays competitive?
\n
What is our role as educators to help address the global digital divide?
\n
\n
No, the Syrian civil war is not over. But it might be soon. Time for a recap
Strange Maps
The War in Syria has dropped off the radar, but it's not over (yet)
This 1-minute video shows how the fronts have moved – and stabilised – over the past 22 months
Watching this video may leave you both better informed, and slightly queasy: does war need a generic rock soundtrack?
Sarco assisted suicide pods come in three different styles, and allow you to die quickly and painlessly. They're even quite beautiful to look at.
The Sarco assisted suicide pod
Technology & Innovation
Death: it happens to everyone (except, apparently, Keanu Reeves). But while the impoverished and lower-class people of the world die in the same ol' ways—cancer, heart disease, and so forth—the upper classes can choose hip and cool new ways to die. Now, there's an assisted-suicide pod so chic and so stylin' that peeps (young people still say peeps, right?) are calling it the "Tesla" of death... it's called... the Sarco! 
Entrepreneur and author Andrew Horn shares his rules for becoming an assured conversationalist.
content.jwplatform.com
Videos
To avoid basing action on external validation, you need to find your "authentic voice" and use it.
Finding your voice requires asking the right questions of yourself.
There are 3-5 questions that you would generally want to ask people you are talking to.
Big think's weekly newsletter.
Get smarter faster from the comfort of your inbox.
See our newsletter privacy policy
here
Most Popular
Most Recent
Big think's weekly newsletter.
Get smarter faster from the comfort of your inbox.
See our newsletter privacy policy
here
© Copyright 2007-2018 & BIG THINK, BIG THINK EDGE,
SMARTER FASTER trademarks owned by The Big Think, Inc. All rights reserved.