Equatorial Virus Goes from Obscure to Pandemic. Thanks, Climate Change.
Climate change has brought a disease out of obscurity and into new regions of America, causing a pandemic.
25 January, 2016
---
Climate change has brought a disease out of obscurity and into new regions of America, causing a pandemic. Reports have prompted some to urge that women avoid getting pregnant in affected areas.
The Zika virus has migrated. Once confined to the narrow equatorial belt, the virus has moved north. Cases of the disease have been documented in Puerto Rico, as well as Mexico, Central America, South America, and the Caribbean. The concern has grown so much that the CDC has issued a warning to United States citizens traveling to affected areas, and advising pregnant women to stay away from these regions.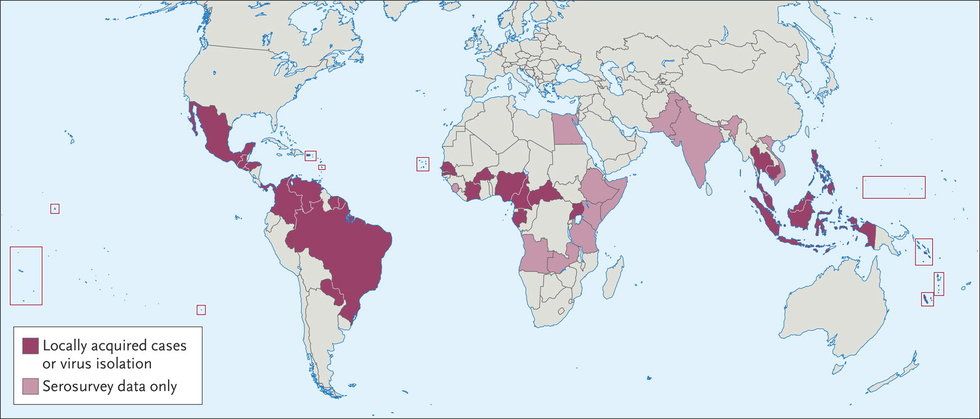 The Zika virus, in most cases, is a mild disease with symptoms showing in one out of five people, and death being a rare occurrence. However, researchers believe the Zika virus may cause complications during pregnancy. There has been an epidemic of microcephaly, a disease that causes infants' brains to develop abnormally, and can cause fetal death. In Brazil, cases of microcephaly have increased 20-fold from 2014 to 2015 with the arrival of the Zika virus.
The CDC reports:
"During the current outbreak in Brazil, Zika virus RNA has been identified in tissues from several infants with microcephaly and from fetal losses in women infected during pregnancy. However, it is not known how many of the microcephaly cases are associated with Zika virus infection and what factors increase risk to the fetus."
The worry is the disease will spread through mosquito-to-human-to-mosquito transmission farther into the United States. This hasn't happened, yet, but the risk is there. Zika virus infections from travelers returning to the United States have been reported. There's no vaccine for the Zika virus.
But think of the pregnant mothers in these affected regions, waiting in silent panic. Imagine the fear that would set in after waking one morning to a mosquito bite. It's a horrifying reality many expectant mothers are facing — some in regions where abortion is illegal and where sexual education is lacking.
A report in The New England Journal of Medicine written by Anthony Fauci and David Morens, from the National Institute for Allergy and Infectious Diseases, say this disease is the fourth in a parade of mosquito-borne disease to creep up the Western Hemisphere in the last 20 years (the others being dengue fever, West Nile virus, and chikungunya). They point to climate change caused by human activity as the reason for the resurgence and spread of these illnesses.
They wrote that the Zika virus, "has already reinforced one important lesson: In our human-dominated world, urban crowding, constant international travel, and other human behaviors combined with human-caused microperturbations in ecologic balance can cause innumerable slumbering infectious agents to emerge unexpectedly."
***
Photo Credit:
Cover: MARVIN RECINOS / Staff / Getty
In article: CDC
Natalie has been writing professionally for about 6 years. After graduating from Ithaca College with a degree in Feature Writing, she snagged a job at PCMag.com where she had the opportunity to review all the latest consumer gadgets. Since then she has become a writer for hire, freelancing for various websites. In her spare time, you may find her riding her motorcycle, reading YA novels, hiking, or playing video games. Follow her on Twitter: @nat_schumaker
Step inside the unlikely friendship of a former ACLU president and an ultra-conservative Supreme Court Justice.

Sponsored by Charles Koch Foundation
Former president of the ACLU Nadine Strossen and Supreme Court Justice Antonin Scalia were unlikely friends. They debated each other at events all over the world, and because of that developed a deep and rewarding friendship – despite their immense differences.
Scalia, a famous conservative, was invited to circles that were not his "home territory", such as the ACLU, to debate his views. Here, Strossen expresses her gratitude and respect for his commitment to the exchange of ideas.
"It's really sad that people seem to think that if you disagree with somebody on some issues you can't be mutually respectful, you can't enjoy each other's company, you can't learn from each other and grow in yourself," says Strossen.
The opinions expressed in this video do not necessarily reflect the views of the Charles Koch Foundation, which encourages the expression of diverse viewpoints within a culture of civil discourse and mutual respect.
Learn how to redesign your job for maximum reward.
Videos
Broaching the question "What is my purpose?" is daunting – it's a grandiose idea, but research can make it a little more approachable if work is where you find your meaning. It turns out you can redesign your job to have maximum purpose.
There are 3 ways people find meaning at work, what Aaron Hurst calls the three elevations of impact. About a third of the population finds meaning at an individual level, from seeing the direct impact of their work on other people. Another third of people find their purpose at an organizational level. And the last third of people find meaning at a social level.
"What's interesting about these three elevations of impact is they enable us to find meaning in any job if we approach it the right way. And it shows how accessible purpose can be when we take responsibility for it in our work," says Hurst.
Erik Verlinde has been compared to Einstein for completely rethinking the nature of gravity.
Photo by Willeke Duijvekam
Surprising Science
The Dutch physicist Erik Verlinde's hypothesis describes gravity as an "emergent" force not fundamental.
The scientist thinks his ideas describe the universe better than existing models, without resorting to "dark matter".
While some question his previous papers, Verlinde is reworking his ideas as a full-fledged theory.
TuSimple, an autonomous trucking company, has also engaged in test programs with the United States Postal Service and Amazon.
Technology & Innovation
This week, UPS announced that it's working with autonomous trucking startup TuSimple on a pilot project to deliver cargo in Arizona using self-driving trucks.
UPS has also acquired a minority stake in TuSimple.
TuSimple hopes its trucks will be fully autonomous — without a human driver — by late 2020, though regulatory questions remain.