Equatorial Virus Goes from Obscure to Pandemic. Thanks, Climate Change.
Climate change has brought a disease out of obscurity and into new regions of America, causing a pandemic.
25 January, 2016
---
Climate change has brought a disease out of obscurity and into new regions of America, causing a pandemic. Reports have prompted some to urge that women avoid getting pregnant in affected areas.
The Zika virus has migrated. Once confined to the narrow equatorial belt, the virus has moved north. Cases of the disease have been documented in Puerto Rico, as well as Mexico, Central America, South America, and the Caribbean. The concern has grown so much that the CDC has issued a warning to United States citizens traveling to affected areas, and advising pregnant women to stay away from these regions.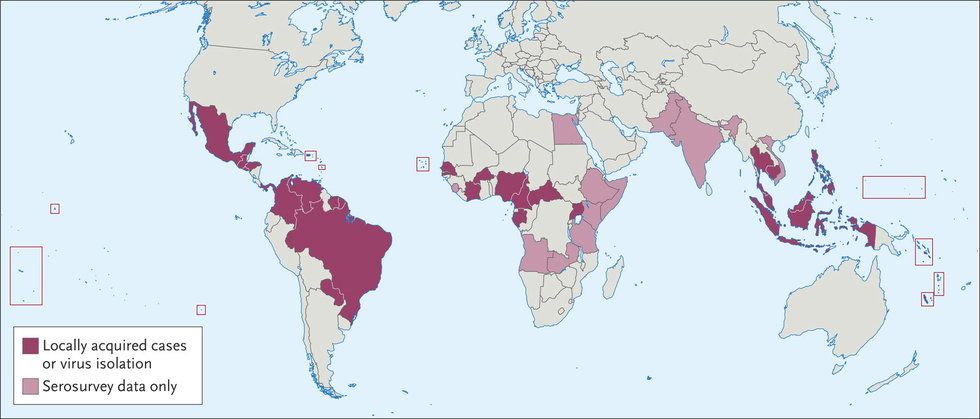 The Zika virus, in most cases, is a mild disease with symptoms showing in one out of five people, and death being a rare occurrence. However, researchers believe the Zika virus may cause complications during pregnancy. There has been an epidemic of microcephaly, a disease that causes infants' brains to develop abnormally, and can cause fetal death. In Brazil, cases of microcephaly have increased 20-fold from 2014 to 2015 with the arrival of the Zika virus.
The CDC reports:
"During the current outbreak in Brazil, Zika virus RNA has been identified in tissues from several infants with microcephaly and from fetal losses in women infected during pregnancy. However, it is not known how many of the microcephaly cases are associated with Zika virus infection and what factors increase risk to the fetus."
The worry is the disease will spread through mosquito-to-human-to-mosquito transmission farther into the United States. This hasn't happened, yet, but the risk is there. Zika virus infections from travelers returning to the United States have been reported. There's no vaccine for the Zika virus.
But think of the pregnant mothers in these affected regions, waiting in silent panic. Imagine the fear that would set in after waking one morning to a mosquito bite. It's a horrifying reality many expectant mothers are facing — some in regions where abortion is illegal and where sexual education is lacking.
A report in The New England Journal of Medicine written by Anthony Fauci and David Morens, from the National Institute for Allergy and Infectious Diseases, say this disease is the fourth in a parade of mosquito-borne disease to creep up the Western Hemisphere in the last 20 years (the others being dengue fever, West Nile virus, and chikungunya). They point to climate change caused by human activity as the reason for the resurgence and spread of these illnesses.
They wrote that the Zika virus, "has already reinforced one important lesson: In our human-dominated world, urban crowding, constant international travel, and other human behaviors combined with human-caused microperturbations in ecologic balance can cause innumerable slumbering infectious agents to emerge unexpectedly."
***
Photo Credit:
Cover: MARVIN RECINOS / Staff / Getty
In article: CDC
Natalie has been writing professionally for about 6 years. After graduating from Ithaca College with a degree in Feature Writing, she snagged a job at PCMag.com where she had the opportunity to review all the latest consumer gadgets. Since then she has become a writer for hire, freelancing for various websites. In her spare time, you may find her riding her motorcycle, reading YA novels, hiking, or playing video games. Follow her on Twitter: @nat_schumaker
Big Think Edge
The meaning of the word 'confidence' seems obvious. But it's not the same as self-esteem.
Confidence isn't just a feeling on your inside. It comes from taking action in the world.
Join Big Think Edge today and learn how to achieve more confidence when and where it really matters.
The controversial herbicide is everywhere, apparently.
Surprising Science
U.S. PIRG tested 20 beers and wines, including organics, and found Roundup's active ingredient in almost all of them.
A jury on August 2018 awarded a non-Hodgkin's lymphoma victim $289 million in Roundup damages.
Bayer/Monsanto says Roundup is totally safe. Others disagree.
The team caught a glimpse of a process that takes 18,000,000,000,000,000,000,000 years.
Image source: Pixabay
Surprising Science
In Italy, a team of scientists is using a highly sophisticated detector to hunt for dark matter.
The team observed an ultra-rare particle interaction that reveals the half-life of a xenon-124 atom to be 18 sextillion years.
The half-life of a process is how long it takes for half of the radioactive nuclei present in a sample to decay.
Big think's weekly newsletter.
Get smarter faster from the comfort of your inbox.
See our newsletter privacy policy
here
Most Popular
Most Recent
Big think's weekly newsletter.
Get smarter faster from the comfort of your inbox.
See our newsletter privacy policy
here
© Copyright 2007-2019 & BIG THINK, BIG THINK EDGE,
SMARTER FASTER trademarks owned by The Big Think, Inc. All rights reserved.