Why the Pokemon Go Mania May Be Settling, Game Loses 10 Million Daily Active Users
The Pokemon Go craze is finally reaching an equilibrium. The game had a stellar run while it lasted, but over the last few weeks Pokemon Go has seen a steady drop-off in daily active users (DAUs).
25 August, 2016
The Pokemon Go craze is finally reaching an equilibrium. The game had a stellar run while it lasted, but over the last few weeks Pokemon Go has seen a steady drop-off in daily active users (DAUs).

As of August 18th, Axiom Capital Management reports the app had a little over 30 million DAUs, down significantly from its July 19th peak of slightly under 45 million DAUs. At one point, this app had overtaken Twitter in the United States, but the popular game seems to be settling after the summer hype.
---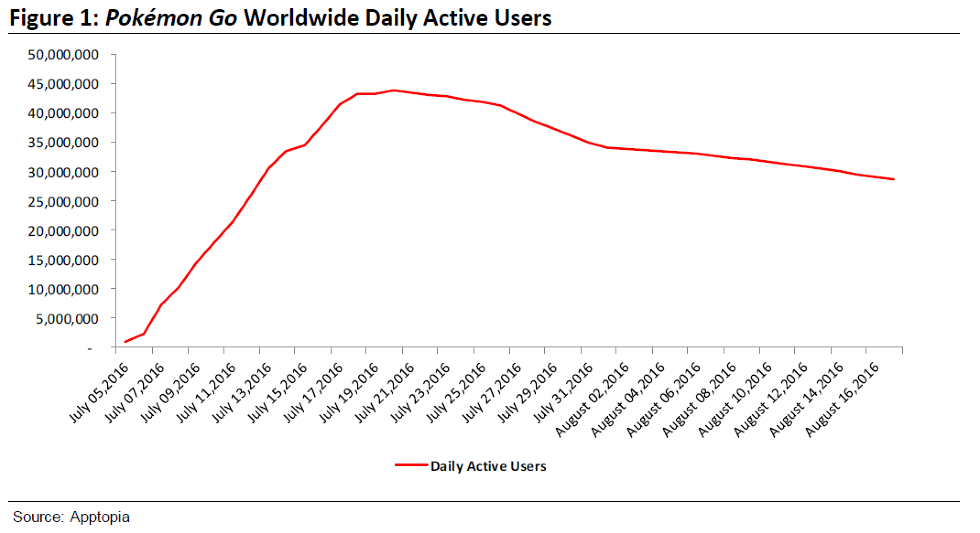 This decline was predicted by many media outlets.

Craig Chapple, editor of mobile games trade publication PocketGamer.Biz, is one of many game journalists who saw the inevitable fall. "It's rare for games to explode in popularity like Pokemon Go has, but a drop in users was always expected after a big launch," he told the BBC.

It should be noted, however, that Pokemon Go still sits on the list of top grossing games within iOS and Android app stores. But Chapple warns the drop-off could continue.

"Pokemon Go is unique," he told the BBC. "At the moment it relies on people in your local area playing with you, not someone on the other side of the world. If the numbers continued to drop so dramatically, who will be left to play you in your small, local town?"
Because of this unique aspect of the game, Niantic may see its greatest losses among smaller communities.

Since day one, those who live in smaller towns have voiced their frustrations that the game has somehow left them behind. Rural areas are Poke-deserts with no PokeStops or Gyms for gamers to congregate. It has barred many people from feeling that crucial social aspect of the game. This issue is where the game may be seeing its most dramatic drop-offs begin. Pokemon Go may remain more of an urbanite's game until Niantic is able to find a balance.
Niantic may be able to bring players back when it adds new features, like trading and hunt for Legendary Pokemon, but it's difficult to say if these will be enough to lure users in more remote locations back.
Many believe that the internet has made it easier for us to participate in political activism. But is that really true?
Videos
Protesting in person is costly in terms of money and resources; some people have children to take care of, jobs that can't be away from, or may not have time to attend a planning event.
The internet was supposed to be a way to sidestep this barrier to political activism. But this doesn't consider the other barriers preventing poor and working-class folks from participating in digital activism.
In particular, these people lack ASETs: access to computers, the skills to use them, the empowerment necessary to feel that using Twitter or other social media is for them, and the time to make use of digital platforms in an effective way.
Some games are just for fun, others are for thought provoking statements on life, the universe, and everything.
(Photo from Flickr)
Culture & Religion
Video games are often dismissed as fun distractions, but some of them dive into deep issues.
Through their interactive play elements, these games approach big issues intelligently and leave you both entertained and enlightened.
These five games are certainly not the only games that cover these topics or do so well, but are a great starting point for somebody who wants to play something thought provoking.
The bid to buy Greenland is unlikely to become seriously considered.
Politics & Current Affairs
Greenland and Danish officials alike think the idea is ridiculous.
The island is an autonomous state, and it's unlikely the Danish would sell it because of yearly subsidies costs.
After hearing the Danish Prime Minister call the idea absurd, Trump cancelled their forthcoming meeting.