Which State Is Leading the Charge in Solar?
What does solar energy adoption look like across America? The cost of solar panels have gone down significantly, but state incentives maybe what's most helping to drive this solar surge.
Natalie Shoemaker
Natalie has been writing professionally for about 6 years. After graduating from Ithaca College with a degree in Feature Writing, she snagged a job at PCMag.com where she had the opportunity to review all the latest consumer gadgets. Since then she has become a writer for hire, freelancing for various websites. In her spare time, you may find her riding her motorcycle, reading YA novels, hiking, or playing video games. Follow her on Twitter: @nat_schumaker
06 May, 2016
---
What does solar energy adoption look like across America? The company Modernize has published a piece, called The Solar Surge, which beautifully illustrates the adoption of solar across America and which states are leading the charge.
The top 10 states with the most solar installations* dating back to as far as 1995, include California, Arizona, New Jersey, Massachusetts, New York, Connecticut, Pennsylvania, Texas, Maryland, and New Mexico.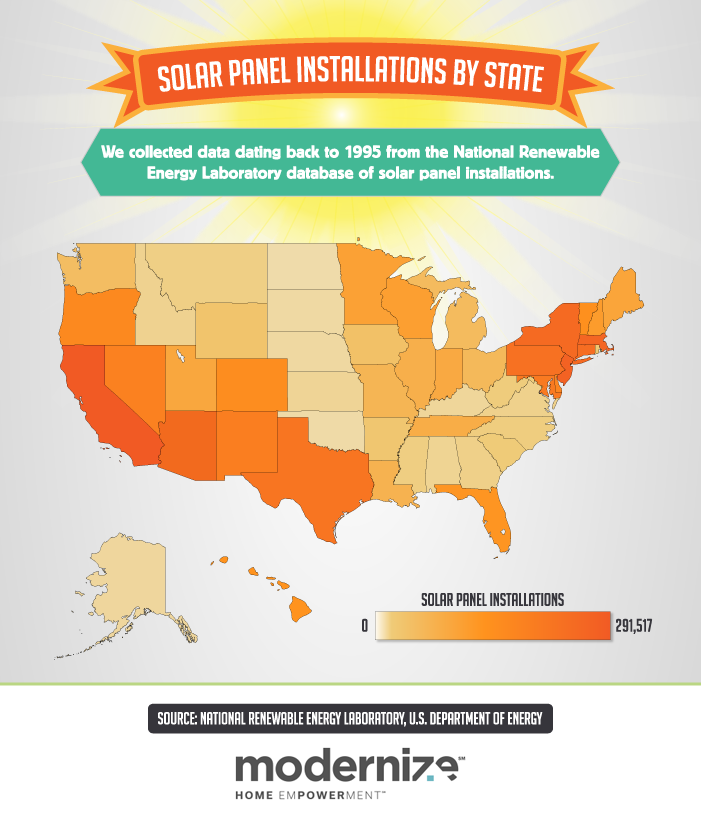 The adoption of renewable energy has been growing significantly over the past decade (up around 139,000 percent), due in part to the drop in the cost. Back in 1998, installing solar panels would have cost somewhere around $90,000—hardly a consumer-grade piece of technology. But today, homeowners can expect to pay somewhere below $30,000.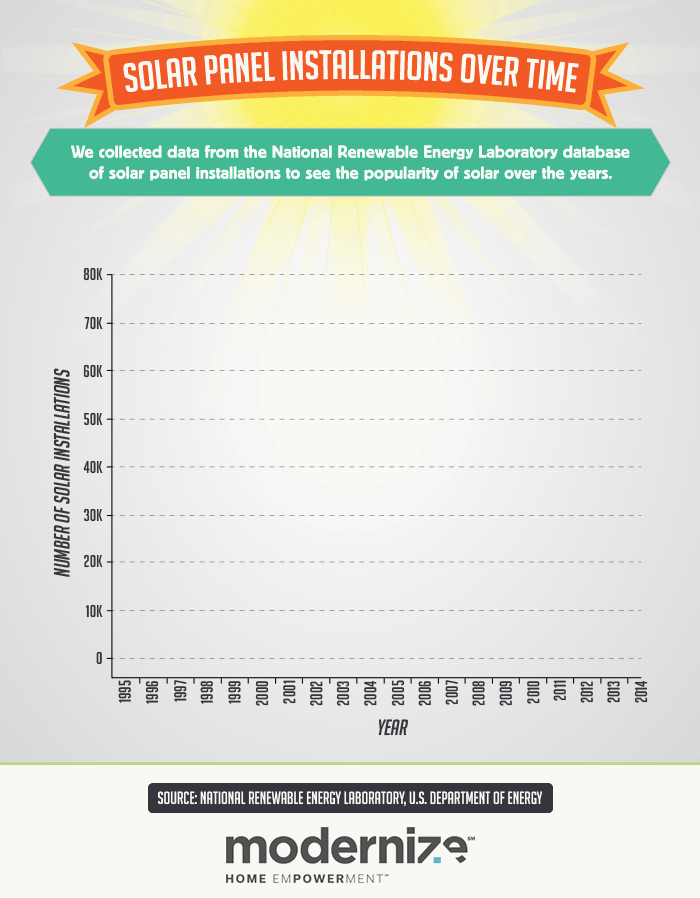 Investments to improve battery and photovoltaic technology continues to drive the price down. Some researchers are even quite optimistic about the adoption of renewable technology—not just in America, but worldwide—they predict fossil fuels could be eliminated in 10 years. But, the researchers say two things needed to happen in order for this prediction to come true:
1) Strong government support 2) coupled with a shift in consumer preferences driven by incentives.
Studies have shown there's a strong correlation between solar adoption and incentives. One study, which examined the effects of financial incentives as a way to encourage solar adoption between 1986 and 2008. They found "cash incentives and the presence of state renewable energy mandates influence grid-tied PV installations the most, and that property and sales tax incentives were also associated with higher PV installations across states."
As you can see from the graphs below, California has some of the most robust incentives in place, which, in part, explains its residents widespread adoption. Recently, the city of San Francisco passed a city ordinance, which requires all new buildings to come equipped with solar panels. This ordinance builds upon a state law, requiring new buildings to make 15 percent of roofs "solar ready."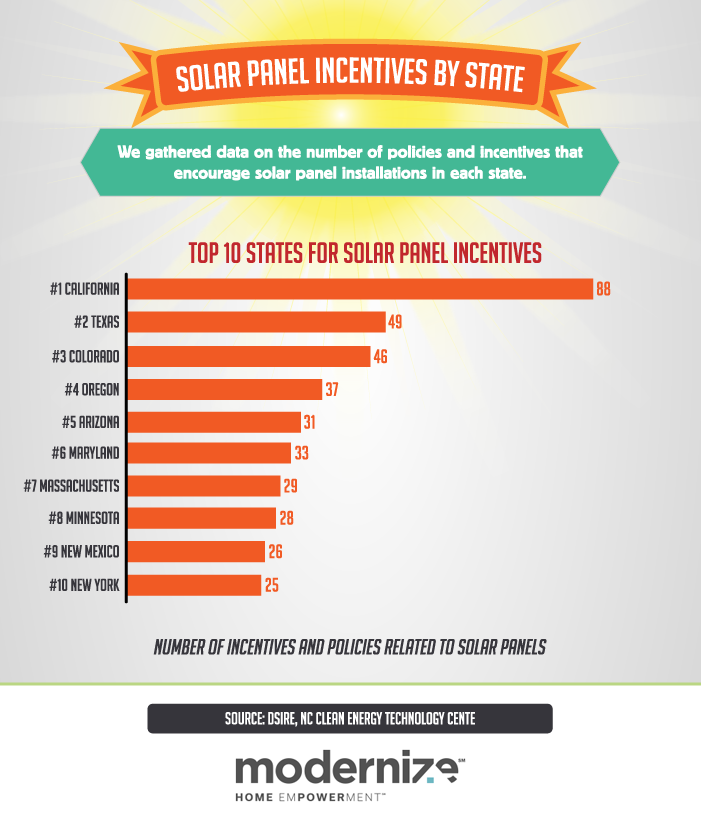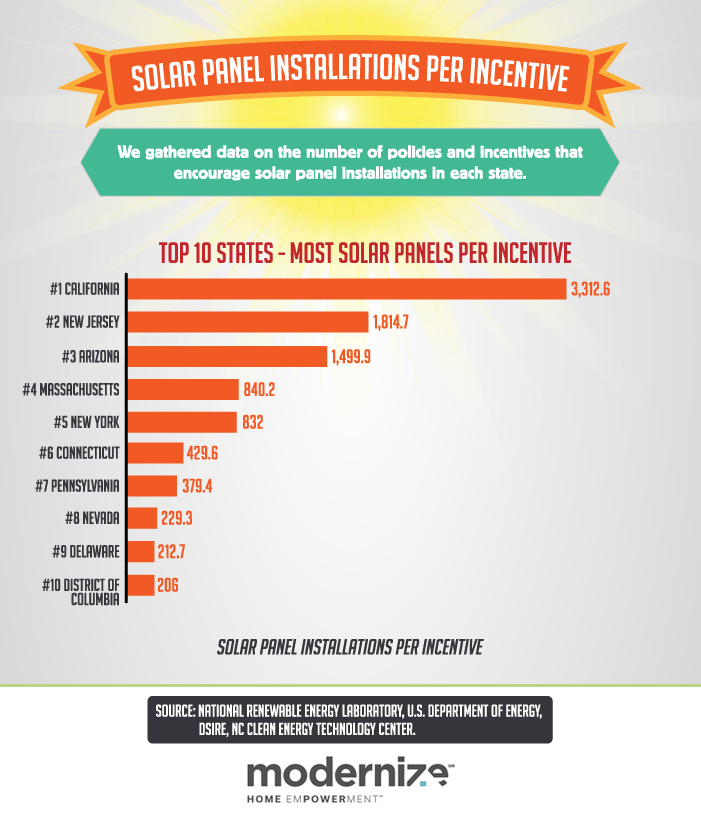 Climate change is a good motivating factor, but nothing moves the masses quite like a good deal. Adoption of renewables will rely on government action and the advancement of solar technology. Government action will dictate whether solar becomes a slow or rapid success in the United States and across the world. In Florida, one of the sunnier states in America, we're seeing just how much funding from utility companies can impact the adoption of solar.
"We have renewables when three times as much as when this president came into office," says Gina McCarthy, the Administrator of the U.S. Environmental Protection Agency. "Ten times more solar than we've ever had. And these are becoming competitive technologies."
*"Data was voluntarily contributed from a variety of sources including solar incentive programs, utilities, installers, and the general public."
Graphs provide by Modernize. Data was obtained from the National Renewable Energy Laboratory, an official laboratory of the U.S. Department of Energy, to show us.
Related Articles
Our experience of time may be blinding us to its true nature, say scientists.
Back to the Future.
Surprising Science
Time may not be passing at all, says the Block Universe Theory.
Time travel may be possible.
Your perception of time is likely relative to you and limited.
From questionable shipwrecks to outright attacks, they clearly don't want to be bothered.
Culture & Religion
Many have tried to contact the Sentinelese, to write about them, or otherwise.
But the inhabitants of the 23 square mile island in the Bay of Bengal don't want anything to do with the outside world.
Their numbers are unknown, but either 40 or 500 remain.
At least he wasn't burned at the stake, right?
The original letter in which Galileo argued against the doctrine of the Roman Catholic Church has been rediscovered in London. Image credit: The Royal Society
Surprising Science
The letter suggests Galileo censored himself a bit in order to fly more under the radar. It didn't work, though.
The Royal Society Journal will publish the variants of the letters shortly, and scholars will begin to analyze the results.
The letter was in obscurity for hundreds of years in Royal Society Library in London.
Big think's weekly newsletter.
Get smarter faster from the comfort of your inbox.
See our newsletter privacy policy
here
Most Popular
Most Recent
Big think's weekly newsletter.
Get smarter faster from the comfort of your inbox.
See our newsletter privacy policy
here
© Copyright 2007-2018 & BIG THINK, BIG THINK EDGE,
SMARTER FASTER trademarks owned by The Big Think, Inc. All rights reserved.