What Shape Is the Universe?
Our universe is flat, geometrically. But what exactly does "flat" mean?
12 December, 2016
---
The universe is flat, according to scientists. But to say our universe is flat and leave it there would be irresponsible – it's not quite that simple. So, we must first delve into what scientist mean by "flat" and how they came to such a conclusion.
The Baryon Oscillation Spectroscopic Survey (BOSS) telescope gave astrophysicists a new view of the universe, and a pretty accurate one, too. The telescope down in New Mexico mapped out 1.2 million galaxies in the universe, plotting their locations to an accuracy of one percent. This map represents a tiny sliver of the universe and it was still able to tells us a lot about how it functions on a large scale. With this accurate measurement, cosmologists were able to determine the universe is "extraordinarily flat" and infinite, extending forever throughout space and time.
What does a "flat" universe mean?
When scientists say the universe is flat, they are speaking in geometric terms. At this point, I'm going to ask you to go back to math class, when you learned about parallel lines. So, let's scale down how cosmologists might rule out that the universe is round, by asking how do we know the Earth is not flat?
Well, one way would be to draw two lines from the equator, going directly north. These lines may start out parallel, but eventually they will intersect. The distance between them does not remain constant.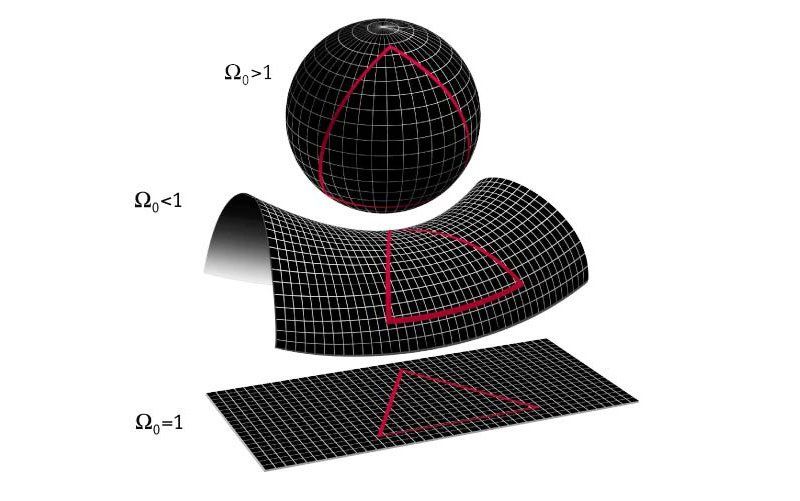 Diagrams of three possible geometries of the universe: closed, open and flat from top to bottom. The closed universe is of finite size and, due to its curvature, traveling far enough in one direction will lead back to one's starting point. The open and flat universes are infinite and traveling in a constant direction will never lead to the same point. Image and caption text permission of NASA Official: Gary Hinshaw
By using this as the basis for our knowledge, we then must observe how light from a few of these 1.2 million observable galaxies behaves. Scientists noted the light from several galaxies from the observable universe remained parallel to one another; these two lines will stay parallel forever.
"One of the reasons we care is that a flat universe has implications for whether the universe is infinite," said David Schlegel, a member of the Physics Division of the U.S. Department of Energy's Lawrence Berkeley National Laboratory. "That means – while we can't say with certainty that it will never come to an end – it's likely the universe extends forever in space and will go on forever in time. Our results are consistent with an infinite universe."
Geometry vs. Topology
Geometrically, the universe is flat. Parallel lines stay parallel, but it doesn't tell us about the topology of the universe. Scientists believe the universe could have one of 18 different shapes. It could be a Möbius strip for all we know—a shape where space bends and distorts, but lines stay parallel, ultimately connecting one end of space to another. That is to say, you could start from one point in the universe and drive in a straight line, you would end up back where you came.
But we cannot yet determine what shape the universe has taken because of our small view.
As religious diversity increases in the United States, we must learn to channel religious identity into interfaith cooperation.
Sponsored by Charles Koch Foundation
Religious diversity is the norm in American life, and that diversity is only increasing, says Eboo Patel.
Using the most painful moment of his life as a lesson, Eboo Patel explains why it's crucial to be positive and proactive about engaging religious identity towards interfaith cooperation.
The opinions expressed in this video do not necessarily reflect the views of the Charles Koch Foundation, which encourages the expression of diverse viewpoints within a culture of civil discourse and mutual respect.
Ask very silly questions to spur very serious innovation.
Videos
To get really innovative solutions to complex problems, you need to abandon logic, says Dan Seewald.
Asking provocative and ridiculous 'what if?' questions pushes us down lateral paths of thinking versus the vertical or logical path. The latter approach is practical but it doesn't break new ground.
Breaking with tradition through lateral thinking allows us to solve really serious problems, from climate change to political turmoil. Or, as Dan Seewald explains, it could just help you solve all your laundry headaches.
If you don't want to know anything about your death, consider this your spoiler warning.
Culture & Religion
For centuries cultures have personified death to give this terrifying mystery a familiar face.
Modern science has demystified death by divulging its biological processes, yet many questions remain.
Studying death is not meant to be a morbid reminder of a cruel fate, but a way to improve the lives of the living.
When it comes to sniffing out whether a source is credible or not, even journalists can sometimes take the wrong approach.
Sponsored by Charles Koch Foundation
We all think that we're competent consumers of news media, but the research shows that even journalists struggle with identifying fact from fiction.
When judging whether a piece of media is true or not, most of us focus too much on the source itself. Knowledge has a context, and it's important to look at that context when trying to validate a source.
The opinions expressed in this video do not necessarily reflect the views of the Charles Koch Foundation, which encourages the expression of diverse viewpoints within a culture of civil discourse and mutual respect.