Do the Paralyzed Have a Medical Right to This $70K Exoskeleton?
ReWalk announced a commercial health program that will provide coverage for a personal exoskeleton system. The beneficiary of this ReWalk exoskeleton is a surgeon who has been bound to a manual wheelchair for 11 hours a day at work.
22 February, 2016
---
American insurance providers are being faced with an interesting health care debate: Should walking be considered a need?
At the center of this debate are exoskeletons — motorized devices that allows those with spinal cord injuries to stand upright and walk. So far, the ReWalk system is the only exoskeleton in the United States that has been approved by the FDA. However, it costs close to $70,000. 
ReWalk announced that a commercial health plan will provide coverage for a personal exoskeleton system. The beneficiary of this ReWalk is a surgeon who has been bound to a manual wheelchair for 11 hours a day at work. The patient's insurance provider initially denied his/her claim, but it was overturned by an independent medical review board.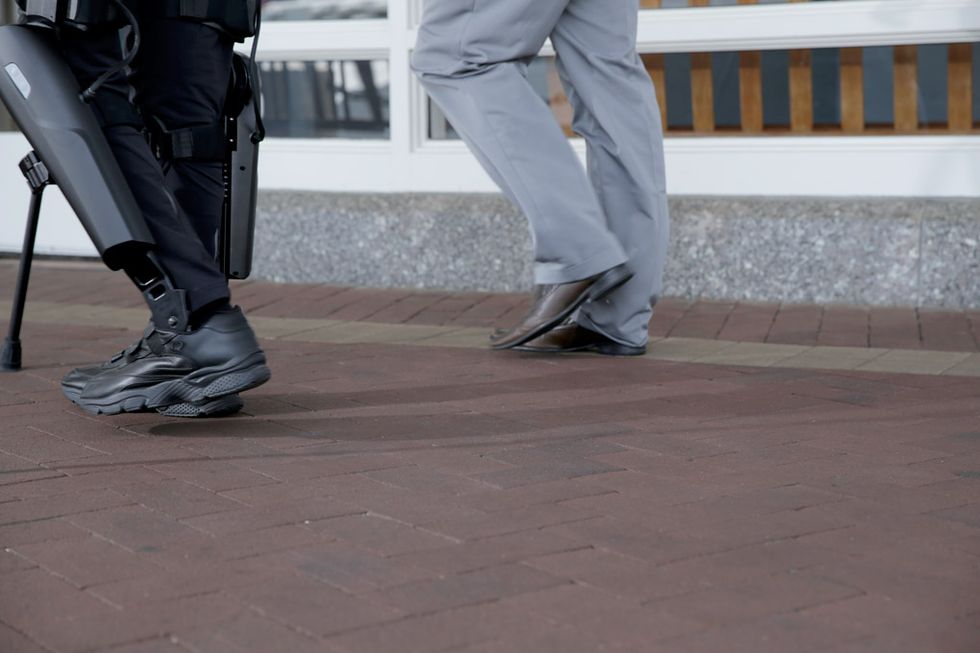 "The ruling by the independent medical organization marks an important moment for exoskeletons being accepted as protocol technology for those with spinal cord injury," said Larry Jasinski, ReWalk CEO. "Health benefit providers have historically been hesitant to acknowledge the clinical benefits in their case assessments. This ruling, and subsequent coverage and reimbursement, will help ReWalk in our efforts to facilitate greater patient access to the device."
The decision could help set a new precedent for claims in the future from other patients that suffer from spinal cord injuries. With any new technology, it will take time before corporate institutions categorize it properly.
The board cited that there was "sufficient evidence found in current peer-reviewed medical literature to support the use of the ReWalk device in patients with spinal cord injury." The benefits of exoskeletons have been documented. One case study in a peer-reviewed journal demonstrated how the use of the ReWalk system could help improve the quality of life for those with spinal cord injuries. The six-month study saw improvements in the patient's heart function, motor skills, pain management, and control of bladder and bowel functions.
Other developers are working on improving exoskeleton designs to help bring better quality of life and reduce the secondary injuries that come with sitting. The costs for production will go down as researchers continue to advance the field of robotics for the purpose of going a step beyond the wheelchair. But until the costs come down, the right to walk will be determined by health providers. Let's hope the decision made by this independent review board has set the right precedent.
***
Photo Credit: LONDON, ENGLAND - MAY 08: Claire Lomas shouts with joy as she passes Buckingham Palace as she walks the last mile of the Virgin London Marathon on May 8, 2012 in London, England. Ms. Lomas, who is paralysed from the waist down after a riding accident in 2007, has taken 16 days to complete the 26.2-mile route. Starting out with 36,000 other runners she has averaged 2 miles a day with the help of a bionic ReWalk suit. (Photo by Peter Macdiarmid/Getty Images)
In article: ReWalk
Natalie has been writing professionally for about 6 years. After graduating from Ithaca College with a degree in Feature Writing, she snagged a job at PCMag.com where she had the opportunity to review all the latest consumer gadgets. Since then she has become a writer for hire, freelancing for various websites. In her spare time, you may find her riding her motorcycle, reading YA novels, hiking, or playing video games. Follow her on Twitter: @nat_schumaker
To create wiser adults, add empathy to the school curriculum.
Sponsored by Charles Koch Foundation
Stories are at the heart of learning, writes Cleary Vaughan-Lee, Executive Director for the Global Oneness Project. They have always challenged us to think beyond ourselves, expanding our experience and revealing deep truths.
Vaughan-Lee explains 6 ways that storytelling can foster empathy and deliver powerful learning experiences.
Global Oneness Project is a free library of stories—containing short documentaries, photo essays, and essays—that each contain a companion lesson plan and learning activities for students so they can expand their experience of the world.
Philosophers like to present their works as if everything before it was wrong. Sometimes, they even say they have ended the need for more philosophy. So, what happens when somebody realizes they were mistaken?
The inequalities impact everything from education to health.
ANGELA WEISS/AFP via Getty Images
Politics & Current Affairs
America is experiencing some of its most widespread civil unrest in years following the death of George Floyd.
Astrophysicist Michelle Thaller talks ISS and why NICER is so important.
Videos
Being outside of Earth's atmosphere while also being able to look down on the planet is both a challenge and a unique benefit for astronauts conducting important and innovative experiments aboard the International Space Station.
NASA astrophysicist Michelle Thaller explains why one such project, known as NICER (Neutron star Interior Composition Explorer), is "one of the most amazing discoveries of the last year."
Researchers used x-ray light data from NICER to map the surface of neutrons (the spinning remnants of dead stars 10-50 times the mass of our sun). Thaller explains how this data can be used to create a clock more accurate than any on Earth, as well as a GPS device that can be used anywhere in the galaxy.
Mind & Brain
Just before I turned 60, I discovered that sharing my story by drawing could be an effective way to both alleviate my symptoms and combat that stigma.
Scroll down to load more…