Big ideas.
Once a week.
Subscribe to our weekly newsletter.
What Happens When You Give Basic Income to the Poor? Canada Is About to Find Out
Canada puts its money where its mouth is and prepares for a 'no strings attached' basic income trial that it hopes will break the cycle of poverty.
13 November, 2016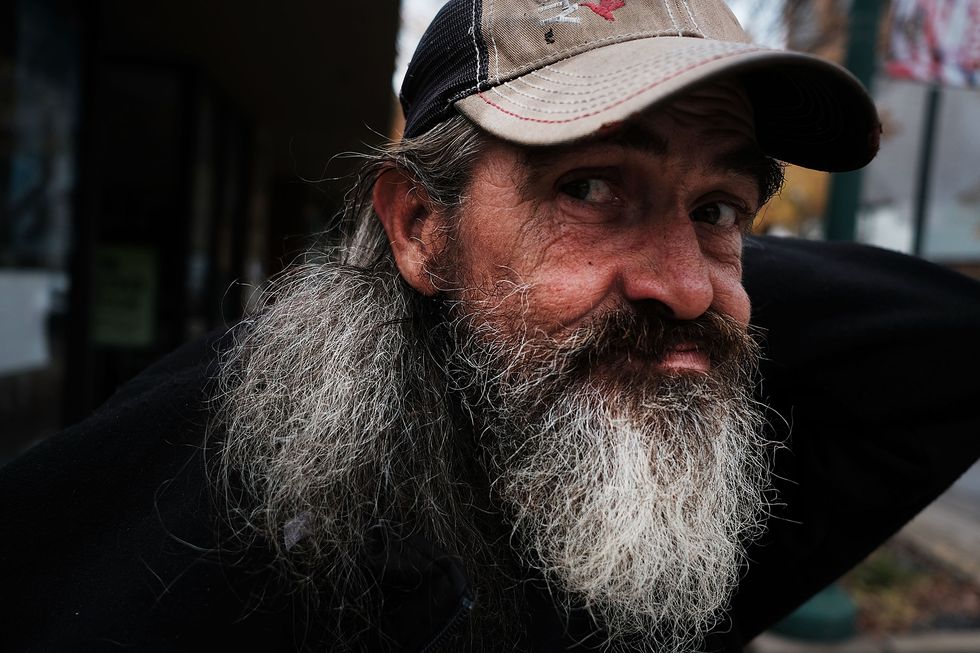 Photo by Spencer Platt/Getty Images
---
Ontario is poised to become a testing ground for basic income in 2017 as part of a pilot program. Hugh Segal is the special advisor to the Canadian province and a former senator. He believes a supplemental income of $1,320 a month could provide a viable path to poverty abatement—effectively replacing welfare programs and a system he described as "seriously demeaning" in a paper discussing this basic income pilot project.
Segal suggests this pilot project would provide real evidence to whether basic income is the solution to poverty many governments have been seeking. It would answer many of the burning questions and concerns regarding such a system:
Can basic income policies provide a more efficient, less intrusive, and less stigmatizing way of delivering income support for those now living in poverty?
Can those policies also encourage work, relieve financial and time poverty, and reduce economic marginalization?
Can a basic income reduce cost pressures in other areas of government spending, such as healthcare?
Can a basic income strengthen the incentive to work, by responsibly helping those who are working but still living below the poverty line?
In the United States, welfare programs are the staple of big government—a Republican nightmare. Paul Ryan has indicated he wants to phase-out these entitlement programs, however, he's also concerned about solving the poverty issue in America. If Ontario's proposed three-year project provides compelling evidence that basic income could do both, we may have a bi-partisan solution.
Segal is a conservative. In his view, welfare programs help alleviate some of the symptoms of poverty, but provide no long-term program to get people out.
"Testing a basic income is a humane and useful way to measure how so many of the costs of poverty (in terms of productivity, health, policing, and other community costs, to name only a few) might be diminished, while poverty itself is reduced and work is encouraged," Segal says in the report.
A guaranteed income would provide a floor no one would fall beneath and citizens would receive it regardless of employment status. Conservatives like it because it provides an elegant solution that could replace the welfare state and the left love it because it provides a greater social architecture.
However, many question how giving people free money could fix many of our socio-economic issues. But we won't know if we don't try—if we don't do the research to find a solution, which is what Segal suggests.
"There cannot be, nor should there be, any guarantees about what results a pilot might generate," Segal writes. "The objective behind this endeavor should be to generate an evidence-base for policy development, without bias or pre-determined conclusion."
This test of basic income won't be the first. Researchers and governments across the globe have started implementing similar tests to see what happens when you give people no-strings-attached cash. Finland, the Dutch city of Utricht, and Kenya all have plans to create programs to test this system. Segal believes a program in Ontario could add to this growing body of research.
"This Ontario initiative takes place at a time when other jurisdictions, in Canada and abroad, are working in different ways toward a Basic Income approach to better reduce poverty," he wrote. "The opportunity to learn from and engage with these other initiatives should not be overlooked, nor should approaches being tested elsewhere be necessarily re-tested here."
A study in Manitoba, Canada done back in the 1970s provides us with an idea of what a community receiving basic income would look like. Many believe people would stop working, and become lazy. They would be half right, some people did stop working in Manitoba. But when you look at the data a little closer, we begin to see how poverty starts at an early age and how basic income could help them get out.
Allow me to explain: People in the town received a set income of $9,000 a year (by today's standards) from the government. Evelyn Forget, an economist and professor at the University of Manitoba, who looked over the data from the study says there was a 9% reduction in working hours among two main groups of citizens.
Here's the kicker: New mothers were using their additional income to extend their maternity leaves and spend more time with their infants, and teenage boys were using that income to stay in school.
"When we interviewed people, we discovered that prior to the experiment, a lot of people from low-income families, a lot of boys in particular, were under a fair amount of family pressure to become self-supporting when they turned 16 and leave school. When Mincome came along, those families decided that they could afford to keep their sons in high school just a little bit longer," Forget told PRI in an interview.
Poverty affects all of us in some way (at some point 3 in 5 Americans experience it personally in their lifetime). All of us pay for its upkeep through taxes and can see how it wears down the institutions within our local communities. Basic income could be the solution. We have some data; we need more in order to make the proper call.
Ontario's experiment will show what would happen if people between the age of 18 to 65, living below the poverty line, received a monthly income of $1,320 ($1,820 if they are disabled). Would they be better able to save and find work?
"There's no magic bullet," said Jennefer Laidley of the Income Security Advocacy Centre. "So it's key that government is now exploring various solutions — reforming existing social assistance programs, improving the quality of work, and considering basic income."
All this from a wad of gum?
Tom Björklund
Surprising Science
Researchers recently uncovered a piece of chewed-on birch pitch in an archaeological dig in Denmark.
Conducting a genetic analysis of the material left in the birch pitch offered a plethora of insights into the individual who last chewed it.
The gum-chewer has been dubbed Lola. She lived 5,700 years ago; and she had dark skin, dark hair, and blue eyes.
Five thousand and seven hundred years ago, "Lola" — a blue-eyed woman with dark skin and hair — was chewing on a piece of pitch derived from heating birch bark. Then, this women spit her chewing gum out into the mud on an island in Denmark that we call Syltholm today, where it was unearthed by archaeologists thousands of years later. A genetic analysis of the chewing gum has provided us with a wealth of information on this nearly six-thousand-year-old Violet Beauregarde.
This represents the first time that the human genome has been extracted from material such as this. "It is amazing to have gotten a complete ancient human genome from anything other than bone," said lead researcher Hannes Schroeder in a statement.
"What is more," he added, "we also retrieved DNA from oral microbes and several important human pathogens, which makes this a very valuable source of ancient DNA, especially for time periods where we have no human remains."
In the pitch, researchers identified the DNA of the Epstein-Barr virus, which infects about 90 percent of adults. They also found DNA belonging to hazelnuts and mallards, which were likely the most recent meal that Lola had eaten before spitting out her chewing gum.
Insights into ancient peoples
The birch pitch was found on the island of Lolland (the inspiration for Lola's name) at a site called Syltholm. "Syltholm is completely unique," said Theis Jensen, who worked on the study for his PhD. "Almost everything is sealed in mud, which means that the preservation of organic remains is absolutely phenomenal.
"It is the biggest Stone Age site in Denmark and the archaeological finds suggest that the people who occupied the site were heavily exploiting wild resources well into the Neolithic, which is the period when farming and domesticated animals were first introduced into southern Scandinavia."
Since Lola's genome doesn't show any of the markers associated with the agricultural populations that had begun to appear in this region around her time, she provides evidence for a growing idea that hunter-gatherers persisted alongside agricultural communities in northern Europe longer than previously thought.
Her genome supports additional theories on northern European peoples. For example, her dark skin bolsters the idea that northern populations only recently acquired their light-skinned adaptation to the low sunlight in the winter months. She was also lactose intolerant, which researchers believe was the norm for most humans prior to the agricultural revolution. Most mammals lose their tolerance for lactose once they've weaned off of their mother's milk, but once humans began keeping cows, goats, and other dairy animals, their tolerance for lactose persisted into adulthood. As a descendent of hunter-gatherers, Lola wouldn't have needed this adaptation.
A hardworking piece of gum
A photo of the birch pitch used as chewing gum.
Theis Jensen
These findings are encouraging for researchers focusing on ancient peoples from this part of the world. Before this study, ancient genomes were really only ever recovered from human remains, but now, scientists have another tool in their kit. Birch pitch is commonly found in archaeological sites, often with tooth imprints.
Ancient peoples used and chewed on birch pitch for a variety of reasons. It was commonly heated up to make it pliable, enabling it to be molded as an adhesive or hafting agent before it settled. Chewing the pitch may have kept it pliable as it cooled down. It also contains a natural antiseptic, and so chewing birch pitch may have been a folk medicine for dental issues. And, considering that we chew gum today for no other reason than to pass the time, it may be that ancient peoples chewed pitch for fun.
Whatever their reasons, chewed and discarded pieces of birch pitch offer us the mind-boggling option of learning what someone several thousands of years ago ate for lunch, or what the color of their hair was, their health, where their ancestors came from, and more. It's an unlikely treasure trove of information to be found in a mere piece of gum.
A study finds that baby mammals dream about the world they are about to experience to prepare their senses.
Michael C. Crair et al, Science, 2021.
Surprising Science
Researchers find that babies of mammals dream about the world they are entering.
The study focused on neonatal waves in mice before they first opened their eyes.
Scientists believe human babies also prime their visual motion detection before birth.
Imagine opening your eyes for the first time as a brand new baby. The world is so mysterious, full of obstacles and strange shapes. And yet it does not take babies all that long to get their bearings, to latch on to their parents, and to start interacting. How do they do this so quickly? A new study published in Science proposes that babies of mammals dream about the world they are about to enter before being born, developing important skills.
The team, led by professor Michael Crair, who specializes in neuroscience, ophthalmology, and visual science, wanted to understand why when mammals are born, they are already somewhat prepared to interact with the world.
"At eye opening, mammals are capable of pretty sophisticated behavior," said Craig, "But how do the circuits form that allow us to perceive motion and navigate the world? It turns out we are born capable of many of these behaviors, at least in rudimentary form."
Unusual retinal activity
The scientists observed waves of activity radiating from the retinas of newborn mice before their eyes first open. Imaging shows that soon after birth, this activity disappears. In its place matures a network of neural transmissions that carries visual stimuli to the brain, as explained by a Yale press release. Once it reaches the brain, the information is encoded for storage.
What's particularly unusual about this neonatal activity is that it demonstrates a pattern that would happen if the animal was moving forward in its environment. As the researchers write in the study, "Spontaneous waves of retinal activity flow in the same pattern as would be produced days later by actual movement through the environment."
VIDEO: RETINAL WAVES IN NEONATAL MICE
Crair explained that this "dream-like activity" makes sense from an evolutionary standpoint, as it helps the mouse get ready for what will happen to it after it opens its eyes. It allows the animal to "respond immediately to environmental threats," Crair shared.
What is creating the waves?
The scientists also probed what is responsible for creating the retinal waves that mimic forward motion. They turned on and off the functionality of starburst amacrine cells — retinal cells that release neurotransmitters — and discovered that blocking them stopped the retinal waves from flowing, which hindered the mouse from developing the ability to react to visual motion upon birth. These cells are also important to an adult mouse, affecting how it reacts to environmental stimuli.
Graphic showing the origin and functionality of directional retinal waves.Michael C. Crair et al, Science, 2021.
What about human babies?

While the study focused on mice, human babies also seem to be able to identify objects and motion right after birth. This suggests the presence of a similar phenomenon in babies before they are born.
"These brain circuits are self-organized at birth and some of the early teaching is already done," Crair stated. "It's like dreaming about what you are going to see before you even open your eyes."
The non-contact technique could someday be used to lift much heavier objects — maybe even humans.
Kondo and Okubo, Jpn. J. Appl. Phys., 2021.
Surprising Science
Since the 1980s, researchers have been using sound waves to move matter through a technique called acoustic trapping.
Acoustic trapping devices move bits of matter by emitting strategically designed sound waves, which interact in such a way that the matter becomes "trapped" in areas of particular velocity and pressure.
Acoustic and optical trapping devices are already used in various fields, including medicine, nanotechnology, and biological research.
Sound can have powerful effects on matter. After all, sound strikes our world in waves — vibrations of air molecules that bounce off of, get absorbed by, or pass through matter around us. Sound waves from a trained opera singer can shatter a wine glass. From a jet, they can collapse a stone wall. But sound can also be harnessed for delicate interactions with matter.

Since the 1980s, researchers have been using sound to move matter through a phenomenon called acoustic trapping. The method is based on the fact that sound waves produce an acoustic radiation force.
"When an acoustic wave interacts with a particle, it exerts both an oscillatory force and a much smaller steady-state 'radiation' force," wrote the American Physical Society. "This latter force is the one used for trapping and manipulation. Radiation forces are generated by the scattering of a traveling sound wave, or by energy gradients within the sound field."
When tiny particles encounter this radiation, they tend to be drawn toward regions of certain pressure and velocity within the sound field. Researchers can exploit this tendency by engineering sound waves that "trap" — or suspend — tiny particles in the air. Devices that do this are often called "acoustic tweezers."
Building a better tweezer
A study recently published in the Japanese Journal of Applied Physics describes how researchers created a new type of acoustic tweezer that was able to lift a small polystyrene ball into the air.
Tweezers of Sound: Acoustic Manipulation off a Reflective Surface youtu.be
It is not the first example of a successful "acoustic tweezer" device, but the new method is likely the first to overcome a common problem in acoustic trapping: sound waves bouncing off reflective surfaces, which disrupts acoustic traps.

To minimize the problems of reflectivity, the team behind the recent study configured ultrasonic transducers such that the sound waves that they produce overlap in a strategic way that is able to lift a small bit of polystyrene from a reflective surface. By changing how the transducers emit sound waves, the team can move the acoustic trap through space, which moves the bit of matter.
Move, but don't touch
So far, the device is only able to move millimeter-sized pieces of matter with varying degrees of success. "When we move a particle, it sometimes scatters away," the team noted. Still, improved acoustic trapping and other no-contact lifting technologies — like optical tweezers, commonly used in medicine — could prove useful in many future applications, including cell separation, nanotechnologies, and biological research.
Could future acoustic-trapping devices lift large and heavy objects, maybe even humans? It seems possible. In 2018, researchers from the University of Bristol managed to acoustically trap particles whose diameters were larger than the sound wavelength, which was a breakthrough because it surpassed "the classical Rayleigh scattering limit that has previously restricted stable acoustic particle trapping," the researchers wrote in their study.
In other words, the technique — which involved suspending matter in tornado-like acoustic traps — showed that it is possible to scale up acoustic trapping.
"Acoustic tractor beams have huge potential in many applications," Bruce Drinkwater, co-author of the 2018 study, said in a statement. "I'm particularly excited by the idea of contactless production lines where delicate objects are assembled without touching them."
Surprising Science
Australian parrots have worked out how to open trash bins, and the trick is spreading across Sydney.
Scroll down to load more…