Scott McLeod
Scott McLeod, J.D., Ph.D., is an Associate Professor of Educational Leadership at the University of Kentucky. He also is the Founding Director of the UCEA Center for the Advanced Study of Technology Leadership in Education (CASTLE), the nation's only academic center dedicated to the technology needs of school administrators, and was a co-creator of the wildly popular video series, Did You Know? (Shift Happens). He has received numerous national awards for his technology leadership work, including recognitions from the cable industry, Phi Delta Kappa, and the National School Boards Association. In Spring 2011 he was a Visiting Canterbury Fellow at the University of Canterbury in New Zealand. Dr. McLeod blogs regularly about technology leadership issues at Dangerously Irrelevant and Mind Dump, and occasionally at The Huffington Post. He can be reached at scottmcleod.net.
16 February, 2011
I'm enjoying blogging. It allows me to connect with others, get ideas out that are bouncing around inside my head, and get some positive affirmation that the ideas that I hold are held by others too.
---
Just like some people watch the Amazon ranking of their published book or the Digg ranking of their online article / post, I've been watching my Technorati rating slowly climb since I started blogging six weeks ago. It looks like I'm about to break into the top 100,000, which doesn't sound too exciting until you realize that a brand new blog starts with a rank of 1 million something. Here is my Technorati ranking compared to some other, more well-known K-12 ed tech blogs (statistics as of Sep. 30):
Although I'm making progress, I obviously have a long way to go before I catch up to some of my blogging colleagues!
The reason I'm discussing all of this is because I ran across a quote in The Big Moo that got me thinking: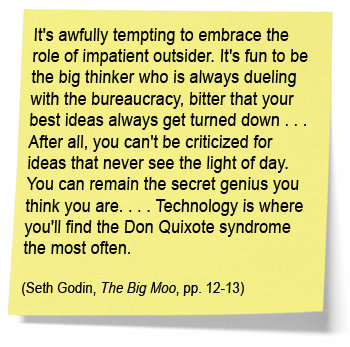 All of this online buzz and hoopla by and between us bloggers is wonderful. I learn a ton from my blogging colleagues and I have seen the way I think about some topics shift dramatically as I read and interact with others. I wonder, though, how much difference we're actually making with our intended audience of K-12 educators. Are most teachers and administrators reading even the most popular ed tech bloggers such as Will, David, Vicki, and Wesley? Probably not. Although Technorati only shows links from blogs, not the number of page views, I'm guessing that collectively we ed tech bloggers still are reaching only a tiny fraction of teachers and administrators. If there are 90,000 public schools in this country, that's a lot of educators.
I think it's important that we bloggers remember to go beyond providing thought leadership, witty critiques, and insightful commentary and actually provide something tangible now and then that our readers can take back to their school organizations. Whether it's something small like my Why Blog as an Administrator? packet or something bigger like School Data Tutorials or Class Blogmeister, the more we give our readers concrete resources that they can use with other staff, the more we further our cause of effectuating change. I don't think that merely posting about various topics is enough.
We don't have to create new tools, necessarily, although of course those are always needed. I think my Why Blog as an Administrator? packet and my list of Digital kids. Analog Schools. quotes show that repackaged blog content can have a lot of value to others. I encourage anyone and everyone who's reading this blog to think about how your own content, whether it's short pieces that you've written or blog posts or whatever, can be packaged and disseminated to effectively reach teachers and/or administrators. Because we're primarily working through our readers (unless we present at a workshop or conference), when we do this we need to be cognizant that our material should be packaged so that it can be used by others. If we do this right, we become secondary change agents, working through those educators who like our stuff and want to use it to make a difference in their organizations. Between us there is a lot of good stuff out there - we need to somehow make it more available and more public.
As Godin notes in Small is the New Big: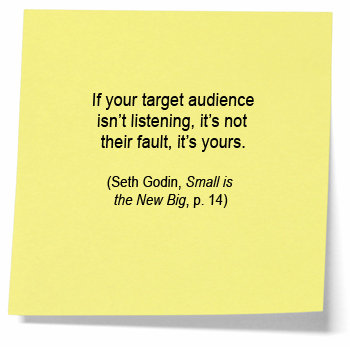 We can't be worried about bragging. If we have something worth sharing, we need to get it out there in formats that educators can use. I don't share my data-driven decision-making white papers and my administrator blogging packet because I think they're the best thing since sliced bread. I share them because they're a resource that some educators have found valuable. Since this is the case, the more broadly they're disseminated and publicized, the more likely that others will find them, and find them valuable, too. Let's work on ways to get our content and tools and commentary into the hands of the educators who really need them, the folks who still aren't sold on the value of technology.
Let's also try and remember to highlight specific examples of changes that we're enabling. If something successful happens because of our work, either directly or indirectly, let's be sure to make those examples as public as possible. Most of us can probably identify several examples of successful change that we have facilitated but that few folks know about. Get the word out. Again, it's not about bragging but about providing concrete examples that others can tap into.
Few of us want to be modern-day Cassandras, railing at the ignorance and intransigence of educators and policymakers. I think that most of us feel that we have something worth saying, and information and resources worth sharing. One of our critical tasks is to extend our reach beyond our small community of bloggers and blog readers and find ways to reach the rest of the K-12 world. We can only reach so many people through our blogs, workshops, and conferences. We need to tap into the larger pool of educational technology advocates and feed them resources they can use to move things forward.
It's the first time the association hasn't hired a comedian in 16 years.
(Photo by Anna Webber/Getty Images for Vulture Festival)
Culture & Religion
The 2018 WHCA ended in controversy after comedian Michelle Wolf made jokes some considered to be offensive.
The WHCA apologized for Wolf's jokes, though some journalists and many comedians backed the comedian and decried arguments in favor of limiting the types of speech permitted at the event.
Ron Chernow, who penned a bestselling biography of Alexander Hamilton, will speak at next year's dinner.
Progressive America would be half as big, but twice as populated as its conservative twin.
Image: Dicken Schrader
Strange Maps
America's two political tribes have consolidated into 'red' and 'blue' nations, with seemingly irreconcilable differences.
Perhaps the best way to stop the infighting is to go for a divorce and give the two nations a country each
Based on the UN's partition plan for Israel/Palestine, this proposal provides territorial contiguity and sea access to both 'red' and 'blue' America
A study on flies may hold the key to future addiction treatments.
Scott Barbour/Getty Images
Mind & Brain
A new study suggests that drinking alcohol can affect how memories are stored away as good or bad.
This may have drastic implications for how addiction is caused and how people recall intoxication.
The findings may one day lead to a new form of treatment for those suffering from addiction.
Big think's weekly newsletter.
Get smarter faster from the comfort of your inbox.
See our newsletter privacy policy
here
Most Popular
Most Recent
Big think's weekly newsletter.
Get smarter faster from the comfort of your inbox.
See our newsletter privacy policy
here
© Copyright 2007-2018 & BIG THINK, BIG THINK EDGE,
SMARTER FASTER trademarks owned by The Big Think, Inc. All rights reserved.