Big ideas.
Once a week.
Subscribe to our weekly newsletter.
Mindfulness may cause the human brain to transcend racial biases
The present-moment awareness that stems from mindfulness practices may be the cost-effective tool that our society needs.
09 March, 2021
Credit: David Ryder/Getty Images
Mindfulness practices may lead to the human brain's transcendence of previously established associations that lead to racial biases.
A mindfulness-based program, which has a myriad of benefits, may be more effective than a specific racial bias training program and may benefit BIPOC youth and police officers alike.
Professionally known as Director X, Julien Christian Lutz of the Toronto-based mindfulness organization Operation Prefrontal Cortex believes that many young people that identify as BIPOC lash out violently due to past traumas, the hopelessness that they experience in the face of systemic racism, and other stressors that mindfulness can alleviate.
---
Researchers at Ball State University and Michigan State University have found that mindfulness practices, including but not limited to mindfulness meditation, may lead to the human brain's transcendence of previously established associations that lead to racial biases.
Like other cognitive biases, racial biases typically lie beyond our conscious attention, informing our conscious thoughts and decisions in ways that science does not fully understand.
Famed psychiatrist and psychoanalyst Carl Jung once wrote that "[t]he psyche is still a foreign, almost unexplored country of which we have only indirect knowledge; it is mediated by conscious functions that are subject to almost endless possibilities of deception."

Historical factors have contributed to racial biases. In the book "Sapiens: A Brief History of Humankind," author Yuval Noah Harari discusses the origins of anti-Black racism as it presently exists in North America.
Because African slaves were resilient to the diseases that wiped out many of the indigenous slaves before them in North America and South America, Harari theorizes that "genetic superiority (in terms of immunity) translated into social inferiority: precisely because Africans were fitter in tropical climates than Europeans, they ended up as the slaves of European masters! Due to these circumstantial factors, the burgeoning new societies of America were to be divided into a ruling caste of white Europeans and a subjugated caste of black Africans."
An evolutionary adaptation that once kept my ancestors alive may have ironically contributed to the suffering and death of millions of people around the world.
Racial biases, racism, and systemic racism are interrelated and have been essential conversation topics globally, throughout 2020 and 2021.
Such topics have been incredibly polarizing in the United States, given the residual effects of the trans-Atlantic slave trade and the shocking death of George Floyd in May 2020 due to former police officer Derek Chauvin kneeling on Floyd's neck for nine minutes and 30 seconds.
The racism at the center of Floyd's highly publicized death and the deaths of many other Black people throughout the last two centuries has led to outrage across the globe, culminating in the largest civil rights movement in human history last summer.
In Toronto, Canada, this past summer, the Toronto Board of Health voted unanimously in June of 2020 to declare anti-Black racism a public health crisis.
Gun violence has been on the rise in Toronto for the last five years. Police violence is a significant problem in Canada's largest city, often involving young Black men and other minority groups.
As police violence relates to Black people, less than 9 percent of Toronto's population is Black, and yet, Black people are significantly more likely than other ethnic groups to be arrested, charged, and killed by Toronto police, according to a 2018 Ontario Human Rights Commission report.
The same report states that between 2013 and 2017, a Black person in Toronto was nearly 20 times more likely than a white person to be involved in a fatal shooting by the Toronto Police Service.
Julien Christian Lutz, Professionally Known As Director X, Design Exchange, Toronto, Ontario, Canada, 2019.
Credit: Ajani Charles
Such statistics are troubling to me for many reasons, including the fact that I am the art director for Operation Prefrontal Cortex, a Toronto-based program harnessing the power of mindfulness and meditation to help reduce incidences of gun, mass, and police violence in Toronto.
Operation Prefrontal Cortex was co-founded by Julien Christian Lutz, professionally known as Director X, and his longtime friend Danell Adams, after Lutz became a victim of gun violence in Toronto.
Lutz is known for directing high-budget, visually distinctive videos for famous artists, including but not limited to Drake, Kendrick Lamar, Rihanna, Jay-Z, and Kanye West.
When I spoke to Lutz about what Operation Prefrontal Cortex is doing to prevent incidents like George Floyd's death, he said that "we're talking to police about it, really implementing mindfulness. And then spreading a message of what mindfulness and meditation can do for everybody.
"We also need to see the research. From what I've seen, meditation does help reduce racial bias. So, we need to do the proper science and test it and test it again to see if these results are consistent, and if they are, well then again, it feeds right back into what we're talking about."
I also spoke to him about the hopelessness that numerous BIPOC youth experience, especially in low-income communities in Toronto and elsewhere, due to receiving the short end of the stick that is systemic racism.
To Lutz, "it's an impossibility to reach some kind of meaningful existence someplace where you can achieve goals and be happy if you can't see that in your world. Then you become self-destructive. And you lash outwards."
Frequent solidarity marches throughout 2020 on behalf of Black people and other marginalized groups were a by-product of many forces, including but not limited to hundreds of years of oppression, the stressors associated with the COVID-19 pandemic, and the global mental health epidemic. These marches illuminated the quiet and overt suffering of millions of people, and the ruthless violence that can grow from the seeds of racial biases.
All human beings, regardless of socio-economic status or intellectual prowess, can experience and perpetuate racial biases. The unconscious nature of biases causes them to be elusive, which is a phenomenon that American writer and filmmaker Ben Hecht once eloquently described in the following way, through his "Guide For The Bedevilled": "Prejudice is our method of transferring our own sickness to others. It is our ruse for disliking others rather than ourselves. We find absolution in our prejudices. We find also in them an enemy made to order rather than inimical forces out of our control."
Mindfulness is non-judgmental awareness of the present moment. Since racial biases are essentially judgments, mindfulness may be a tool that can lead the human brain to transcend such judgments, both consciously and unconsciously.
There is conflicting evidence of whether [racial bias training] actually does any good or potentially makes people defensive and reactive, and potentially do bad things in response. Doing a program like mindfulness, which has a myriad of benefits, can be better and make people less reactive.
In a report entitled "Mindfulness Meditation Reduces Implicit Age and Race Bias," Bryan Gibson of Central Michigan University and his research partner Adam Lueke of Ball State University found that "mindfulness can positively affect peoples' lives in a number of ways, including relying less on previously established associations."
Participants in the study listened to either a mindfulness or control audio. They then completed Implicit Association Tests (IATs), which are commonly used by researchers to measure the strength of associations between concepts like race and evaluations like "good" or "bad."
Lueke and Gibson's research showed that mindfulness meditation led to a decrease in implicit age and race bias.
I spoke to Lueke about his research, and he had this to say: "I think it's really interesting and potentially very valuable that mindfulness has been shown to help de-automatize our engagement with the environment, which can help us interact with people in a much more objective way, rather than allowing our previous histories or experiences or bugaboos of whatever, change or alter the way that we interact with new people that we don't know anything about, and we shouldn't necessarily make assumptions about."
Lueke explained that mandatory and optional racial bias training within organizations often results in resistance from those that have strong racial biases.
"There is conflicting evidence of whether [racial bias training] actually does any good or potentially makes people defensive and reactive, and potentially do bad things in response. Doing a program like mindfulness, which has a myriad of benefits, can be better and make people less reactive."
Capt. Latisha Fox centers herself while learning about basic meditation techniques during an Operation Army Ready: Ready and Resilient seminar at Enduring Faith Chapel on Bagram Airfield.
Credit: Photo Credit: U.S. Army
In Gibson and Lueke's research, the participants were 72 white college students from a midwestern university town, 71% of whom were female. Would the study differ with a more diverse group of participants?
According to Lueke, most people tend to view their group members more positively than those outside of their in-group. So, positive associations will need to be considered in future studies with diverse participants.
"If we were to get a more diverse group of people, we would probably have to switch the measures a bit in order to most accurately figure out whether mindfulness was doing anything on an unconscious or automaticity type of level."
When I asked Lueke about his thoughts on racial biases in general, he had this to say: "It's shortcut thinking, to just automatically label somebody. And pretty much all human beings do it; it's a way of attempting to predict your environment without a lot of information. So if you don't have a lot of information, your brain will attempt to label that individual in order to try to get as much information as possible about them."
"The problem with that is, oftentimes, those inferences can be incorrect and wrong. So it does take those extra resources to disengage from all of those automatic types of evaluations and try to actually do the work to interact with that person and get to know them a little bit better."
Because I wanted to understand how research like Leuke and Gibson's could be enhanced from another researcher's perspective, I spoke to Benjamin Diplock, a Clinical Developmental Psychology Ph.D. Student at York University in Toronto.
Diplock believes that using psychometrically validated measures could be beneficial. "Individuals evaluating psychological measurement (psychometrics) consider the reliability of the respondents' answers when they are filling out a questionnaire."
He also recommended using an MRI and other machines to evaluate biological response markers. For example, "are there particular areas of the brain that light up or that are activated, based off of self-reported feelings of fear related to a Black person?"
The present-moment awareness that stems from mindfulness practices may be the cost-effective tool that humanity needs to access the present while significantly reducing the proliferation of systemic racism and race-based violence throughout communities, organizations, and nations.
More research on the topic is needed, as such research can potentially save some of the most marginalized people's lives on a global scale.
From Your Site Articles
Related Articles Around the Web
A team of archaeologists has discovered 3,200-year-old cheese after analyzing artifacts found in an ancient Egyptian tomb. It could be the oldest known cheese sample in the world.
The broken jar in which the white mass of cheese was found. (Photo: University of Catania and Cairo University)
Culture & Religion
A team of archaeologists has discovered 3,200-year-old cheese after analyzing artifacts found in an ancient Egyptian tomb. It could be the oldest known cheese sample in the world.
The tomb that held the cheese lies in the desert sands south of Cairo. It was first discovered in the 19th century by treasure hunters, who eventually lost the knowledge of its location, leaving the Saharan sands to once again conceal the tomb.
"Since 1885 the tomb has been covered in sand and no-one knew about it," Professor Ola el-Aguizy of Cairo University told the BBC. "It is important because this tomb was the lost tomb."
In 2010, a team of archaeologists rediscovered the tomb, which belonged to Ptahmes, a mayor and military chief of staff of the Egyptian city of Memphis in the 13th century B.C. In the tomb, the team found a jar containing a "solidified whitish mass," among other artifacts.
"The archaeologists suspected [the mass] was food, according to the conservation method and the position of the finding inside the tomb, but we discovered it was cheese after the first tests," Enrico Greco, the lead author of the paper and a research assistant at Peking University in Beijing, told the The New York Times.
To find out what the substance was, the team had to develop a novel way to analyze the proteins and identify the peptide markers in the samples. They first dissolved parts of the substance and then used mass spectrometry and chromatography to analyze its proteins.
Despite more than 3,000 years spent in the desert, the researchers were able to identify hundreds of peptides (chains of amino acids) in the sample. They found some that were associated with milk from goat, sheep and, interestingly, the African buffalo, a species not usually kept as a domestic animal in modern Africa, as Gizmodo reports.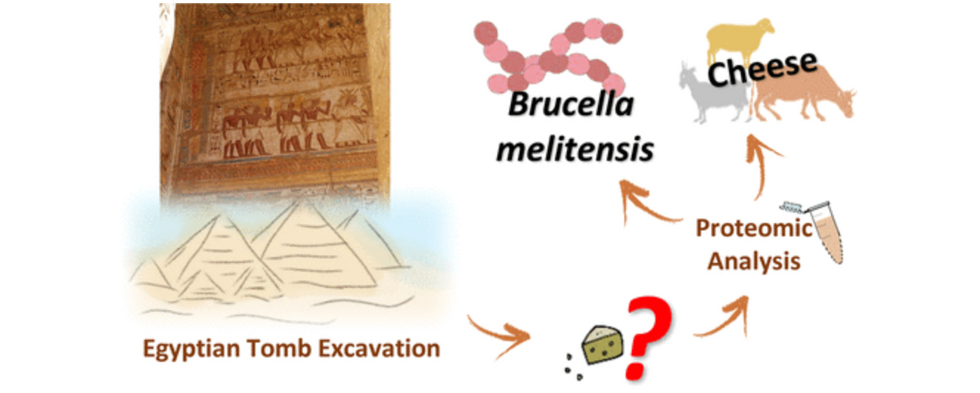 Those results suggested that the substance was cheese, specifically one that was probably similar in consistency to chevre but with a "really, really acidy" taste, as Dr. Paul Kindstedt, a professor at the University of Vermont who studies the chemistry and history of cheese, told the The New York Times.
"It would be high in moisture; it would be spreadable," he said. "It would not last long; it would spoil very quickly."
The researchers also found traces of the bacterium Brucella melitensis, which causes brucellosis, a debilitating disease that can cause endocarditis, arthritis, chronic fatigue, malaise, muscle pain and other conditions. It's a disease usually contracted by consuming raw dairy products.
"The most common way to be infected [with Brucella melitensis] is by eating or drinking unpasteurized/raw dairy products. When sheep, goats, cows, or camels are infected, their milk becomes contaminated with the bacteria," the U.S. Centers for Disease Control wrote on its website. "If the milk from infected animals is not pasteurized, the infection will be transmitted to people who consume the milk and/or cheese products."
Dr. Kindstedt said one reason the study is significant is for its novel use of proteomic analysis, which is the systematic identification and quantification of the complete complement of proteins (the proteome) of a biological system.
"As I say to my students every year when I get to Egypt, someone has to go ahead and analyze these residues with modern capabilities," he told the The New York Times. "This is a logical next step and I think you're going to see a lot more of this."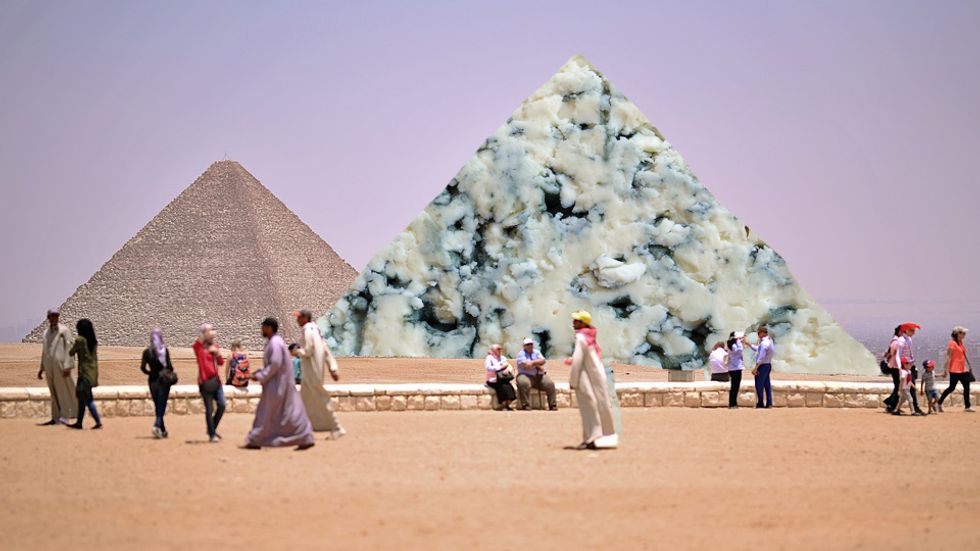 'The Great Pyramid of Chee-za'. An artist's interpretation of a very ripe, slightly deadly Egyptian tomb cheese. (Credit: Creative commons/Big Think)
However, Dr. Kindstedt did offer a bit of caution on the conclusions the researchers drew from the findings.
"The authors of this new study did some nice work," he told Gizmodo in a statement. "But in my view, on multiple grounds (I suspect in their zeal to be "the first"), they inferred considerably beyond what their data is capable of supporting within reasonable certainty, and almost certainly they are not the first to have found solid cheese residues in Egyptian tombs, just the first to apply proteomic analyses (which is worthy achievement on its own)."
As bad as this sounds, a new essay suggests that we live in a surprisingly egalitarian age.
Getty Open Content
Politics & Current Affairs
A new essay depicts 700 years of economic inequality in Europe.
The only stretch of time more egalitarian than today was the period between 1350 to approximately the year 1700.
Data suggest that, without intervention, inequality does not decrease on its own.
Economic inequality is a constant topic. No matter the cycle — boom or bust — somebody is making a lot of money, and the question of fairness is never far behind.
A recently published essay in the Journal of Economic Literature by Professor Guido Alfani adds an intriguing perspective to the discussion by showing the evolution of income inequality in Europe over the last several hundred years. As it turns out, we currently live in a comparatively egalitarian epoch.
Seven centuries of economic history
Figure 8 from Guido Alfani, Journal of Economic Literature, 2021.
This graph shows the amount of wealth controlled by the top ten percent in certain parts of Europe over the last seven hundred years. Archival documentation similar to — and often of a similar quality as — modern economic data allows researchers to get a glimpse of what economic conditions were like centuries ago. Sources like property tax records and documents listing the rental value of homes can be used to determine how much a person's estate was worth. (While these methods leave out those without property, the data is not particularly distorted.)
The first part of the line, shown in black, represents work by Prof. Alfani and represents the average inequality level of the Sabaudian State in Northern Italy, The Florentine State, The Kingdom of Naples, and the Republic of Venice. The latter part, in gray, is based on the work of French economist Thomas Piketty and represents an average of inequality in France, the United Kingdom, and Sweden during that time period.
Despite the shift in location, the level of inequality and rate of increase are very similar between the two data sets.
Apocalyptic events cause decreases in inequality
Note that there are two substantial declines in inequality. Both are tied to truly apocalyptic events. The first is the Black Death, the common name for the bubonic plague pandemic in the 14th century, which killed off anywhere between 30 and 50 percent of Europe. The second, at the dawn of the 20th century, was the result of World War I and the many major events in its aftermath.
The 20th century as a whole was a time of tremendous economic change, and the periods not featuring major wars are notable for having large experiments in distributive economic policies, particularly in the countries Piketty considers.
The slight stall in the rise of inequality during the 17th century is the result of the Thirty Years' War, a terrible religious conflict that ravaged Europe and left eight million people dead, and of major plagues that affected South Europe. However, the recurrent outbreaks of the plague after the Black Death no longer had much effect on inequality. This was due to a number of factors, not the least of which was the adaptation of European institutions to handle pandemics without causing such a shift in wealth.
In 2010, the last year covered by the essay, inequality levels were similar to those of 1340, with 66 percent of the wealth of society being held by the top ten percent. Also, inequality levels were continuing to rise, and the trends have not ended since. As Prof. Alfani explained in an email to BigThink:
"During the decade preceding the Covid pandemic, economic inequality has shown a slow tendency towards further inequality growth. The Great Recession that began in 2008 possibly contributed to slow down inequality growth, especially in Europe, but it did not stop it. However, the expectation is that Covid-19 will tend to increase inequality and poverty. This, because it tends to create a relatively greater economic damage to those having unstable occupations, or who need physical strength to work (think of the effects of the so-called "long-Covid," which can prove physically invalidating for a long time). Additionally, and thankfully, Covid is not lethal enough to force major leveling dynamics upon society."
Can only disasters change inequality?
That is the subject of some debate. While inequality can occur in any economy, even one that doesn't grow all that much, some things appear to make it more likely to rise or fall.
Thomas Piketty suggested that the cause of changes in inequality levels is the difference in the rate of return on capital and the overall growth rate of the economy. Since the return on capital is typically higher than the overall growth rate, this means that those who have capital to invest tend to get richer faster than everybody else.
While this does explain a great deal of the graph after 1800, his model fails to explain why inequality fell after the Black Death. Indeed, since the plague destroyed human capital and left material goods alone, we would expect the ratio of wealth over income to increase and for inequality to rise. His model can provide explanations for the decline in inequality in the decades after the pandemic, however- it is possible that the abundance of capital could have lowered returns over a longer time span.
The catastrophe theory put forth by Walter Scheidel suggests that the only force strong enough to wrest economic power from those who have it is a world-shattering event like the Black Death, the fall of the Roman Empire, or World War I. While each event changed the world in a different way, they all had a tremendous leveling effect on society.
But not even this explains everything in the above graph. Pandemics subsequent to the Black Death had little effect on inequality, and inequality continued to fall for decades after World War II ended. Prof. Alfani suggests that we remember the importance of human agency through institutional change. He attributes much of the post-WWII decline in inequality to "the redistributive policies and the development of the welfare states from the 1950s to the early 1970s."
What does this mean for us now?
As Professor Alfani put it in his email:
"[H]istory does not necessarily teach us whether we should consider the current trend toward growth in economic inequality as an undesirable outcome or a problem per se (although I personally believe that there is some ground to argue for that). Nor does it teach us that high inequality is destiny. What it does teach us, is that if we do not act, we have no reason whatsoever to expect that inequality will, one day, decline on its own. History also offers abundant evidence that past trends in inequality have been deeply influenced by our collective decisions, as they shaped the institutional framework across time. So, it is really up to us to decide whether we want to live in a more, or a less unequal society."
Our love-hate relationship with browser tabs drives all of us crazy. There is a solution.
Technology & Innovation
A new study suggests that tabs can cause people to be flustered as they try to keep track of every website.
The reason is that tabs are unable to properly organize information.
The researchers are plugging a browser extension that aims to fix the problem.
A lot of ideas that people had about the internet in the 1990s have fallen by the wayside as technology and our usage patterns evolved. Long gone are things like GeoCities, BowieNet, and the belief that letting anybody post whatever they are thinking whenever they want is a fundamentally good idea with no societal repercussions.
While these ideas have been abandoned and the tools that made them possible often replaced by new and improved ones, not every outdated part of our internet experience is gone. A new study by a team at Carnegie Mellon makes the case that the use of tabs in a web browser is one of these outdated concepts that we would do well to get rid of.
How many tabs do you have open right now?
We didn't always have tabs. Introduced in the early 2000s, tabs are now included on all major web browsers, and most users have had access to them for a little over a decade. They've been pretty much the same since they came out, despite the ever changing nature of the internet. So, in this new study, researchers interviewed and surveyed 113 people on their use of — and feelings toward — the ubiquitous tabs.
Most people use tabs for the short-term storage of information, particularly if it's information that is needed again soon. Some keep tabs that they know they'll never get around to reading. Others used them as a sort of external memory bank. One participant described this action to the researchers:
"It's like a manifestation of everything that's on my mind right now. Or the things that should be on my mind right now... So right now, in this browser window, I have a web project that I'm working on. I don't have time to work on it right now, but I know I need to work on it. So it's sitting there reminding me that I need to work on it."
You suffer from tab overload

Unfortunately, trying to use tabs this way can cause a number of problems. A quarter of the interview subjects reported having caused a computer or browser to crash because they had too many tabs open. Others reported feeling flustered by having so many tabs open — a situation called "tab overload" — or feeling ashamed that they appeared disorganized by having so many tabs up at once. More than half of participants reported having problems like this at least two or three times a week.
However, people can become emotionally invested in the tabs. One participant explained, "[E]ven when I'm not using those tabs, I don't want to close them. Maybe it's because it took efforts [sic] to open those tabs and organize them in that way."
So, we have a tool that inefficiently saves web pages that we might visit again while simultaneously reducing our productivity, increasing our anxiety, and crashing our machines. And yet we feel oddly attached to them.
Either the system is crazy or we are.
Skeema: The anti-tab revolution

The researchers concluded that at least part of the problem is caused by tabs not being an ideal way of organizing the work we now do online. They propose a new model that better compartmentalizes tabs by task and subtask, reflects users' mental models, and helps manage the users' attention on what is important right now rather than what might be important later.
To that end, the team also created Skeema, an extension for Google Chrome, that treats tabs as tasks and offers a variety of ways to organize them. Users of an early version reported having fewer tabs and windows open at one time and were better able to manage the information they contained.
Tabs were an improvement over having multiple windows open at the same time, but they may have outlived their usefulness. While it might take a paradigm shift to fully replace the concept, the study suggests that taking a different approach to tabs might be worth trying.
And now, excuse me, while I close some of the 87 tabs I currently have open.
Personal Growth
Seek pleasure and avoid pain. Why make it more complicated?
Scroll down to load more…