Big ideas.
Once a week.
Subscribe to our weekly newsletter.
The most undervalued skill? Lateral thinking.
Our society mostly emphasizes developing logical, procedural thinking skills, but this isn't the only way to come up with great ideas. Forgetting to develop our lateral thinking skills may mean missing out on unexpected innovations.
14 October, 2019
Lateral thinking is a way of approaching problems. It deliberately forgoes obvious approaches in favor of oblique or unexpected ones.
Deliberately ignoring perfectly good but straightforward solutions enables us to find hidden innovations we would otherwise miss.
Edward de Bono, who developed the concept of lateral thinking, lays out 4 specific lateral thinking techniques: awareness, random stimulation, alternatives, and alteration.
Here's a puzzle: A man walks into a bar and asks the bartender for a glass of water, who instead pulls out a gun, cocks it, and points it at the man. The man thanks the bartender and walks out. Why did the man thank the bartender?
There's no way to arrive at the answer (which appears at the end* of this article) without asking questions, testing the different elements of the story to see what missing information hasn't been provided. It's an example of a lateral thinking puzzle, a type of puzzle that requires creative, sometimes oblique thinking to arrive at the answer. In essence, lateral thinking is a method of approaching a problem by deliberately forgoing obvious methods of reasoning. It requires one to consider a given issue from unlikely angles, uncovering innovative solutions as a result.
Traditional thinking is vertical, moving step-by-step to a logical conclusion based off of the available data. Lateral thinking, however, is horizontal, putting the emphasis on generating many ideas while de-emphasizing the details of how those ideas could be implemented. Both vertical and lateral thinking are complementary: Without lateral thinking, vertical thinking would be too narrow-minded; without vertical thinking, lateral thinking would produce many possible solutions but no plans to implement them.
Despite their complementary nature, our society really values and focuses on improving vertical thinking. We believe that adequate training on specific techniques and systems will produce a talented engineer, lawyer, or doctor. But when it comes to professions that rely on creative, generative, lateral skills, we tend to assume that only those born with innate talent can excel in them. Even when it comes to the more vertically minded professions like engineering, creativity is seen as a desirable bonus that great engineers are born with.
Two stages of thinking
Psychologist Edward de Bono, who developed the concept of lateral thinking, argued that the brain thinks in two stages: The first is a perceiving stage, where the brain chooses to frame its environment in a certain way, identifying a particular pattern. The second stage uses that pattern, that particular way of looking at the environment, and builds upon it to reach a conclusion. No matter how effective we are at the vertical thinking of the second stage, better vertical thinking can never correct errors that have arisen in the first stage. In order to more accurately perceive patterns in our environment, we have to develop our lateral thinking skills.
In the video below, author David Epstein illustrates this principal through the case of Japanese repairman Gunpei Yokoi. Yokoi wasn't a particularly gifted engineer, but he perceived his environment in a way that his more talented and specialized peers were not able to. Because they had specialized so much, these more traditionally talented engineers could only frame their environment in terms of the specific technologies they specialized in. Yokoi, on the other hand, saw how various older — and therefore overlooked — pieces of technology could work together. The result was the Nintendo Game Boy.
Lateral thinking: The reason you've heard of Nintendo and Marvel
Learning to think laterally is, almost by definition, counterintuitive. Fortunately, de Bono developed some practical techniques for developing this overlooked capability. In his paper, "Information Processing and New Ideas — Lateral and Vertical Thinking," de Bono described four such techniques. Here they are:
Awareness: Being aware of the way the brain processes information is the first step to improving the lateral thinking process. It's important to recognize the brain's tendency to rely on established patterns of thinking before starting to work on a new problem.
Random stimulation: Often when we're trying to think about some issue, we shut out all outside stimuli so we can focus. However, allowing unplanned, outside stimuli can disrupt our reliance on imperfect frameworks. Paying attention to randomness can propel our thinking to new insights.
Alternatives: de Bono argued that even if there is an apparently suitable solution to a problem, it can be useful to set it aside and deliberately consider alternative approaches, regardless of how ridiculous they might seem. Doing so will help you to consider a problem from all possible angles.
Alteration: This technique consists of the deliberate alteration of available options, like doing the opposite of an implied direction or reversing any relationship between elements of the problem. This can include denying elements that are taken for granted, breaking large patterns down into tiny fragments, or translating a relationship to an analogy and then translating it back again just to see what changed. Arbitrarily altering elements of the problem space can produce novel tools to build a solution with.
--
*The man has the hiccups and was hoping to cure it with a glass of water. Seeing this, the bartender decided to scare the man to cure his hiccups. Realizing he no longer had the hiccups, the man thanked the bartender and left.
Unfortunately, humanity will never see it coming.
A computer image of a Higgs interaction. By Lucas Taylor / CERN, CC BY-SA 3.0, Wikipedia Commons.
Technology & Innovation
It sounds like a plot from a comic book or a sci-fi film, a theory that got a boost when one of the greatest discoveries in physics in the modern era, the discovery of the "God particle,"or the Higgs boson, the missing piece in the Standard Model of particle physics. In the preface to his book Starmus, Stephen Hawking warns that the Higgs Boson field could collapse, resulting in a chain reaction that would take in the whole universe with it.  
Theoretical physicist Joseph Lykken says it would probably take billions of years before we reach that point. Lykken hails from the Fermi National Accelerator Laboratory in Batavia, Illinois. If it did happen though, you wouldn't know it. One instant you are here, the next, you and everything else is swallowed up by an enormous vacuum bubble, traveling at light speed in every direction. Humanity would never see it coming.
Peter Higgs and colleagues first theorized the existence of the Higgs boson in 1964. The Large Hadron Collider (LHC) at CERN in Geneva, Switzerland finally discovered it in 2012. With this missing piece found, three of the four fundamental forces of nature become complete. The particle's measured value is 126 billion electron volts. That's 126 times a proton's mass. This is just enough to maintain a state teetering near the edge of stability.
Everything in the universe contains a certain amount of energy. Even so, everything also adheres to the principle of stability. All substances want to become stable. To do that, one must contain as little energy as it can. When something has a high energy level, it is unstable, and moves to rid itself of excess energy, in order to achieve stability.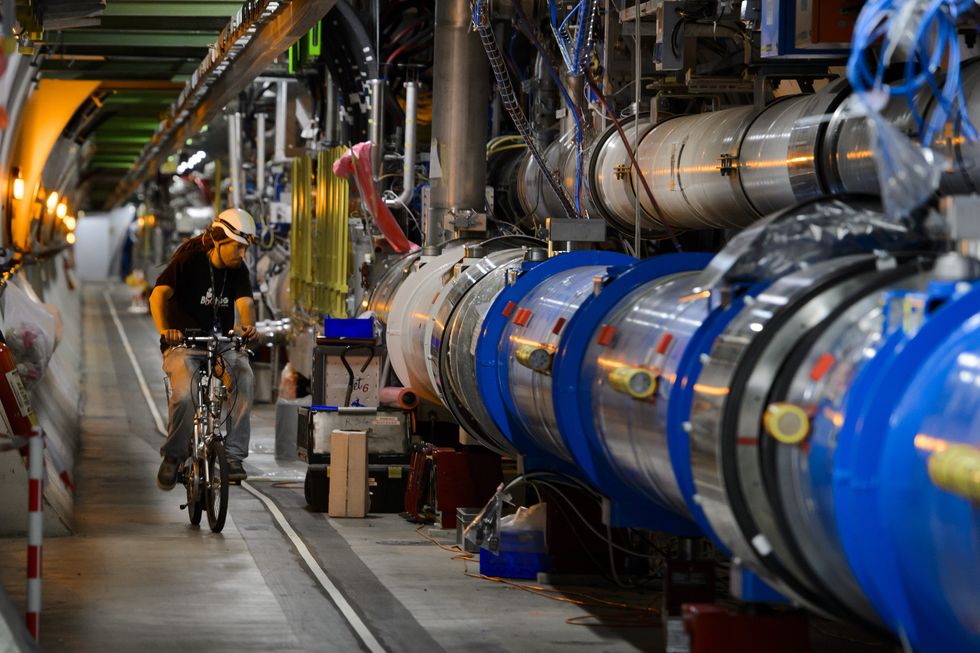 Part of the Large Hadron Collider (LHC) at CERN, where the Higgs boson was discovered.
Quantum fields imbue particles with various properties. They also want to move to a low energy state, here called a vacuum state. The Higgs Field may be the exception. It lends particles' mass. Rather than being a vacuum, the Higgs Field contains potential energy it cannot rid itself of, making it a false vacuum and by nature unstable. This instability could spark off, if the field was able to absorb more energy. A certain point it could absorb no more, teeter over the brink and end everything in existence.
The Higgs Field is maintaining a low energy state at the moment. But some believe it is slowly transitioning to a high energy state. When it does, it will kick off what is known as "vacuum decay." In Hawking's book, once the Higgs Field becomes metastable, the vacuum decay bubble will emerge. Being at a high energy state, it will quickly move to consume everything at a low energy state, or everything else around it. The vacuum bubble moves along destroying atoms, turning everything it encounters into hydrogen.
Prof. Lykken believes it will take billions of years. "There's no principle that we know of that would put us right on the edge," he said. University of Southern Denmark physicists strengthened the vacuum decay theory in a study published in the journal High Energy Physics. They found however that vacuum decay could occur at any moment.
Even so, there may be outside forces associated with the Higgs Field that influence it in unknown ways. Dark matter for example, that mysterious substance that could comprise up to 27% of the universe, may interact with the Higgs Field. Recently however, a team of prominent physicists brought into doubt whether or not dark matter actually exists. Another theory called "supersymmetry," states that every particle has its opposite. This helps keep the universe stable. Could the Higgs boson have a twin? Would that particle keep it from vacuum decay? No one is sure.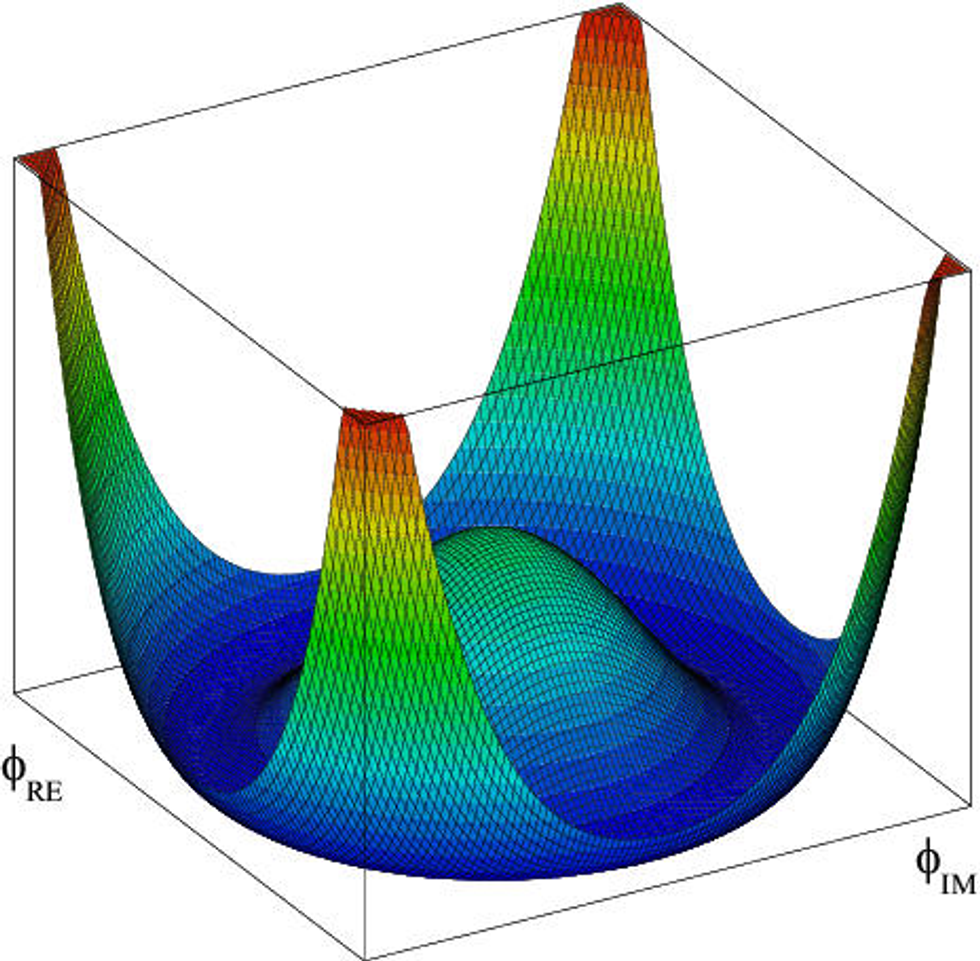 A representation of the Higgs Field. by Gonis from es, CC BY-SA 3.0, Wikipedia Commons. 
It is believed that when vacuum decay eventually takes place, what will be left is a superheated, hard, and extremely dense sphere. Some astrophysicists believe the universe, just before the Big Bang, may have looked like this. The Higgs Field is thought to have emerged shortly after the Big Bang. So it may be the driving force which deletes the universe and forces it to start over again.
This isn't the only conceptualization which predicts the destruction of everything everywhere. Another is the Big Crunch theory. This is the opposite of the Big Bang. With the first, a collection of super dense material exploded, heaving everything out in all directions. With the Big Crunch, it's thought that material eventually stops moving at some point, and begins traveling in the opposite direction, coming back together again.
So even if we are able to escape the planet and become an intergalactic species before the sun engulfs the earth, the universe itself may collapse. The only way to ensure longevity is if the multiverse actually exists, and we can become a multi-universal species. Whether it is the Big Crunch of Vacuum Decay that gets us, it's interesting to think that perhaps after that dense, hot state, it could in theory explode again, causing a second Big Bang.
If true, how many times has the cycle occurred? And does history repeat itself exactly, or is a totally new universe born? It is of course important to remember that this is all in the realm of theoretical physics. The universe may hide as of yet a treasure trove of unknown particles which could change these predictions and speculations completely.
To learn more about vacuum decay click here: 
Neuroplasticity is a major driver of learning and memory in humans.
Jack Dykinga, U.S. Department of Agriculture
Mind & Brain
Neuroplasticity – the ability of neurons to change their structure and function in response to experiences – can be turned off and on by the cells that surround neurons in the brain, according to a new study on fruit flies that I co-authored.
The big idea
As fruit fly larvae age, their neurons shift from a highly adaptable state to a stable state and lose their ability to change. During this process, support cells in the brain – called astrocytes – envelop the parts of the neurons that send and receive electrical information. When my team removed the astrocytes, the neurons in the fruit fly larvae remained plastic longer, hinting that somehow astrocytes suppress a neuron's ability to change. We then discovered two specific proteins that regulate neuroplasticity.
Sarah DeGenova Ackerman, CC BY-ND
Why it matters
The human brain is made up of billions of neurons that form complex connections with one another. Flexibility at these connections is a major driver of learning and memory, but things can go wrong if it isn't tightly regulated. For example, in people, too much plasticity at the wrong time is linked to brain disorders such as epilepsy and Alzheimer's disease. Additionally, reduced levels of the two neuroplasticity-controlling proteins we identified are linked to increased susceptibility to autism and schizophrenia.
Similarly, in our fruit flies, removing the cellular brakes on plasticity permanently impaired their crawling behavior. While fruit flies are of course different from humans, their brains work in very similar ways to the human brain and can offer valuable insight.
One obvious benefit of discovering the effect of these proteins is the potential to treat some neurological diseases. But since a neuron's flexibility is closely tied to learning and memory, in theory, researchers might be able to boost plasticity in a controlled way to enhance cognition in adults. This could, for example, allow people to more easily learn a new language or musical instrument.
In this image showing a developing fruit fly brain on the right and the attached nerve cord on the left, the astrocytes are labeled in different colors showing their wide distribution among neurons.Sarah DeGenova Ackerman, CC BY-ND
How we did the work
My colleagues and I focused our experiments on a specific type of neurons called motor neurons. These control movements like crawling and flying in fruit flies. To figure out how astrocytes controlled neuroplasticity, we used genetic tools to turn off specific proteins in the astrocytes one by one and then measured the effect on motor neuron structure. We found that astrocytes and motor neurons communicate with one another using a specific pair of proteins called neuroligins and neurexins. These proteins essentially function as an off button for motor neuron plasticity.
What still isn't known
My team discovered that two proteins can control neuroplasticity, but we don't know how these cues from astrocytes cause neurons to lose their ability to change.
Additionally, researchers still know very little about why neuroplasticity is so strong in younger animals and relatively weak in adulthood. In our study, we showed that prolonging plasticity beyond development can sometimes be harmful to behavior, but we don't yet know why that is, either.
What's next
I want to explore why longer periods of neuroplasticity can be harmful. Fruit flies are great study organisms for this research because it is very easy to modify the neural connections in their brains. In my team's next project, we hope to determine how changes in neuroplasticity during development can lead to long–term changes in behavior.
There is so much more work to be done, but our research is a first step toward treatments that use astrocytes to influence how neurons change in the mature brain. If researchers can understand the basic mechanisms that control neuroplasticity, they will be one step closer to developing therapies to treat a variety of neurological disorders.
Sarah DeGenova Ackerman, Postdoctoral Fellow, UO Institute of Neuroscience and Howard Hughes Medical Institute, University of Oregon
This article is republished from The Conversation under a Creative Commons license. Read the original article.
Oxygen is thought to be a biomarker for extraterrestrial life, but there are at least three different ways that a lifeless planet can produce it.
Surprising Science
If an exoplanet houses life, it almost certainly will have gaseous oxygen.
But a new study modeling the development of rocky planets identifies three scenarios in which oxygen can form abiotically.
The notion that oxygenated exoplanets are all candidates to host life should be treated with skepticism.
Research that aims to identify exoplanets that might contain life usually use oxygen as a biomarker. But a new study published in AGU Advances explains that this can be very misleading: Oxygen can easily accumulate in an exoplanet's atmosphere without any biological origin.
Oxygen is considered a biomarker because photosynthesis — the process by which plants use sunlight to fix carbon dioxide into sugar — produces oxygen as a waste product. Thus, a planet with oxygen in its atmosphere is considered a strong candidate to host some kind of lifeform.
The team, led by Joshua Krissansen‐Totton of UC Santa Cruz, developed a model of planetary formation that allowed them to tinker with variables that could affect how an Earth-like planet develops. Using their model, the researchers were consistently able to produce three scenarios in which an Earth-like planet has levels of oxygen in its atmosphere similar to ours, but life was not part of the formula.
Three oxygenated worlds with no life
The planetary evolution model. Arrows show the flow of certain substances and heat energy between different layers of the Earth and its atmosphere.Krissansen-Totton et al./ AGU Advances
In the first scenario, an exoplanet has very high levels of carbon dioxide and water in the atmosphere. Under these conditions, a strong greenhouse gas effect means there will be no water on the exoplanet's surface. When hit by ultraviolet (UV) light, water vapor in the upper atmosphere can occasionally split into hydrogen and oxygen. The lighter hydrogen gas escapes into space, leaving the heavier oxygen gas behind.
In the second scenario, an exoplanet "waterworld" contains anywhere from 10 to 230 times as much water as the Earth has today. Under these conditions, the oxygen cycle — which involves the circulation of oxygen through the atmosphere, lifeforms, and rocks — essentially doesn't exist. Pressure from the massive oceans on the crust would shut down the geological activity necessary to recycle oxygen, leaving it in the atmosphere.
In the third scenario, an exoplanet "desertworld" has conditions exactly the opposite of those in the "waterworld." This type of exoplanet has very little water, no more than a third of what Earth has in its oceans. Under these conditions, the molten surface of a young exoplanet can freeze while the limited water supply is still found only as steam (vapor) in the atmosphere. This prevents oxygen from being absorbed by the crust. Then, as with the first scenario, UV light breaks up water into hydrogen and oxygen.
Implications for the hunt for E.T.
An infographic illustratingthe three planets described above and how they might form.Illustration by J. Krissansen-Totton
None of the three scenarios assures an oxygen-rich atmosphere; they simply allow for oxygen to occur abiotically. Professor Krissansen‐Totton described the utility of the model in a press release:
"This is useful because it shows there are ways to get oxygen in the atmosphere without life, but there are other observations you can make to help distinguish these false positives from the real deal. For each scenario, we try to say what your telescope would need to be able to do to distinguish this from biological oxygen."
Such telescopes should be in orbit by 2030. Now the scientists using them know what to look for.
Mind & Brain
How can researchers map something as complex as the human brain?
Scroll down to load more…