Scott McLeod
Scott McLeod, J.D., Ph.D., is an Associate Professor of Educational Leadership at the University of Kentucky. He also is the Founding Director of the UCEA Center for the Advanced Study of Technology Leadership in Education (CASTLE), the nation's only academic center dedicated to the technology needs of school administrators, and was a co-creator of the wildly popular video series, Did You Know? (Shift Happens). He has received numerous national awards for his technology leadership work, including recognitions from the cable industry, Phi Delta Kappa, and the National School Boards Association. In Spring 2011 he was a Visiting Canterbury Fellow at the University of Canterbury in New Zealand. Dr. McLeod blogs regularly about technology leadership issues at Dangerously Irrelevant and Mind Dump, and occasionally at The Huffington Post. He can be reached at scottmcleod.net.
16 February, 2011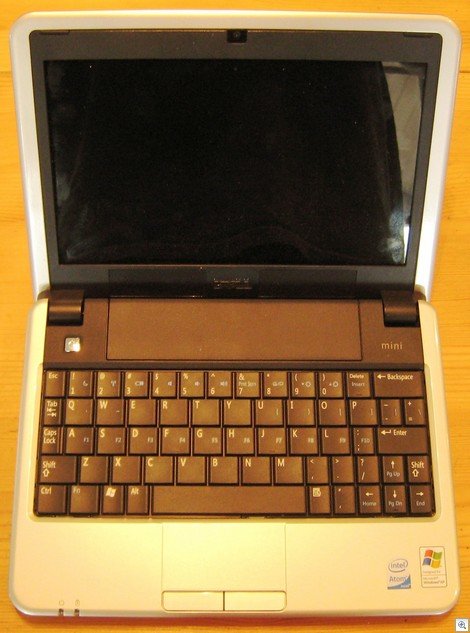 \n
This is Minnie, our Dell Inspiron 910 Mini "netbook" that's the newest addition to our computer family. As the pictures show, she's a lot smaller than my ThinkPad X61 Tablet. She shipped with 1 GB of RAM and a 16 GB Flash hard drive. She's running Windows XP Home, Microsoft Office 2007, Skype, a number of media players, and a few other programs. She's got a built-in webcam and a bunch of ports and jacks around the edges.
---
\n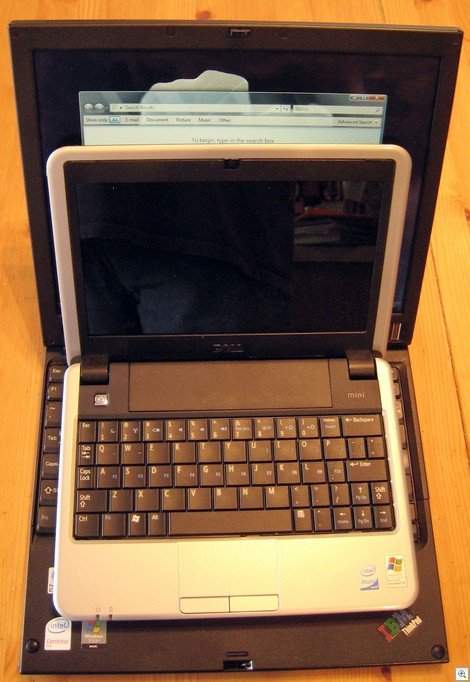 \n
Like any family member, she's not perfect. Her small keyboard's not the greatest. The function keys are the same keys as ASDFGHJKL; and the apostrophe's way down in the bottom row. Her speakers are a little anemic. Occasionally she's a little pokey, which is to be expected with a netbook.
\n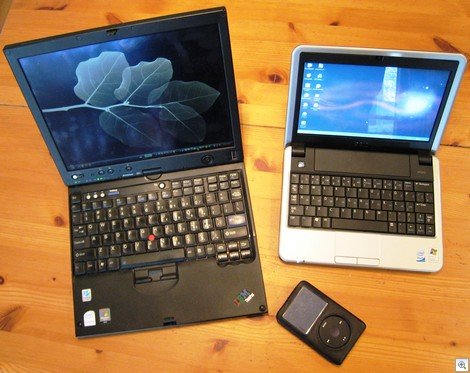 \n
All in all, however, my kids and I like her a lot. She weighs just over 2 pounds, measures about 9 in (23 cm) by 6.75 in (17 cm), and has at least a 3–hour battery life. She's light, extremely portable, and boots up very quickly. I've remapped the keyboard slightly and also did a BIOS upgrade that added F11 and F12 functionality. I upgraded her RAM to 2 GB, which was extremely easy to do and boosted her performance a bit. She's a sleek little machine, particularly for Internet browsing and cloud computing.
\n
Many people are touting netbooks as possibilities for 1:1 laptop initiatives in K-12 schools. Having now used Minnie for a few weeks, I think netbooks might work pretty well in that role, particularly as their functionality improves a bit over the next year or so.
\n
Gloria, our GPS unit, is happy to have a friend in the house...
\n
New research links urban planning and political polarization.
Pixabay
Politics & Current Affairs
Canadian researchers find that excessive reliance on cars changes political views.
Decades of car-centric urban planning normalized unsustainable lifestyles.
People who prefer personal comfort elect politicians who represent such views.
Progressive America would be half as big, but twice as populated as its conservative twin.
Image: Dicken Schrader
Strange Maps
America's two political tribes have consolidated into 'red' and 'blue' nations, with seemingly irreconcilable differences.
Perhaps the best way to stop the infighting is to go for a divorce and give the two nations a country each
Based on the UN's partition plan for Israel/Palestine, this proposal provides territorial contiguity and sea access to both 'red' and 'blue' America
Science and the squishiness of the human mind. The joys of wearing whatever the hell you want, and so much more.
Flickr / 13winds
Think Again Podcasts
Why can't we have a human-sized cat tree?
What would happen if you got a spoonful of a neutron star?
Why do we insist on dividing our wonderfully complex selves into boring little boxes
Big think's weekly newsletter.
Get smarter faster from the comfort of your inbox.
See our newsletter privacy policy
here
Most Popular
Most Recent
Big think's weekly newsletter.
Get smarter faster from the comfort of your inbox.
See our newsletter privacy policy
here
© Copyright 2007-2018 & BIG THINK, BIG THINK EDGE,
SMARTER FASTER trademarks owned by The Big Think, Inc. All rights reserved.