To make a smartphone, lose your ethics
How is a smartphone made? Nearly every stage in the smartphone life cycle involves something ethically questionable.
31 July, 2018
---
The fact that smartphones exist at all is nothing short of a miracle. Regardless of the considerable technical accomplishments they represent, the logistics involved in building a smartphone is complicated and widely distributed. On average, it takes 62 different metals to build a smartphone, including cobalt, gold, and rare-earth metals like yttrium and scandium. There are many hundreds of components involved, and the sourcing, processing, and assembly of these components takes place across the globe.
However, with a supply chain this large and complex, it is easy to either overlook or ignore the major ethical concerns related to how smartphones are built. For example, 60% of the world's cobalt supply comes from the Democratic Republic of Congo (DRC), much of it mined by the estimated 40,000 child laborers in that country. According to the U.S. Department of Labor, children in the DRC engage "in the forced mining of gold, tin ore (cassiterite), tantalum ore (coltan), and tungsten ore (wolframite)," and are used "in armed conflict, sometimes as a result of forcible recruitment or abduction by non-state armed groups." Many mines in the DRC are controlled by militias who use children as laborers to fund their activities in the region. The minerals sold by these groups find their way into the smartphones, batteries, and other electrical devices that most of us use on a daily basis.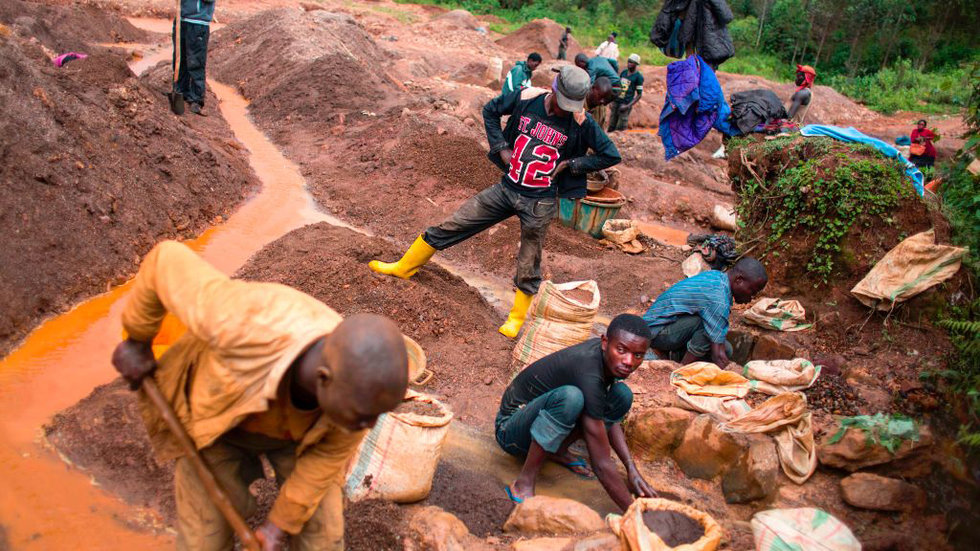 March 30, 2017: Miners at a Kalimbi cassiterite artisanal mining site in the DRC. This is an "artisanal" mine, where the mining is done by hand. (Photo by Griff Tapper/AFP/Getty Images)
Several years ago, a report by Amnesty International exposed the reliance of major smartphone manufacturers, like Apple and Samsung, on child labor in the DRC. As a result, smartphone companies made a variety of promises ranging from investigating their supply chains to ending the practice of sourcing material from "artisanal" mines—so called because the mining there takes place by hand. However, a follow-up report showed that the actions taken by industry leaders were mostly insufficient. Children are still mining cobalt in the DRC, and there is evidence that the product from artisanal mines and conflict-free mines are often mixed together, making it difficult to definitively say that child labor was not involved in any particular batch of minerals.
Once the minerals are out of the ground, they must be processed and assembled into smartphone components. In two factories in Vietnam, the mostly female workers reported working up to 12 hours a day, experiencing dizziness and fainting episodes, and anticipating miscarriages. In China, workers slice and blast phone casings, exposing themselves to particulate chemicals and the 80-decibel sounds of machinery without the protection of respirators, gloves, or earplugs.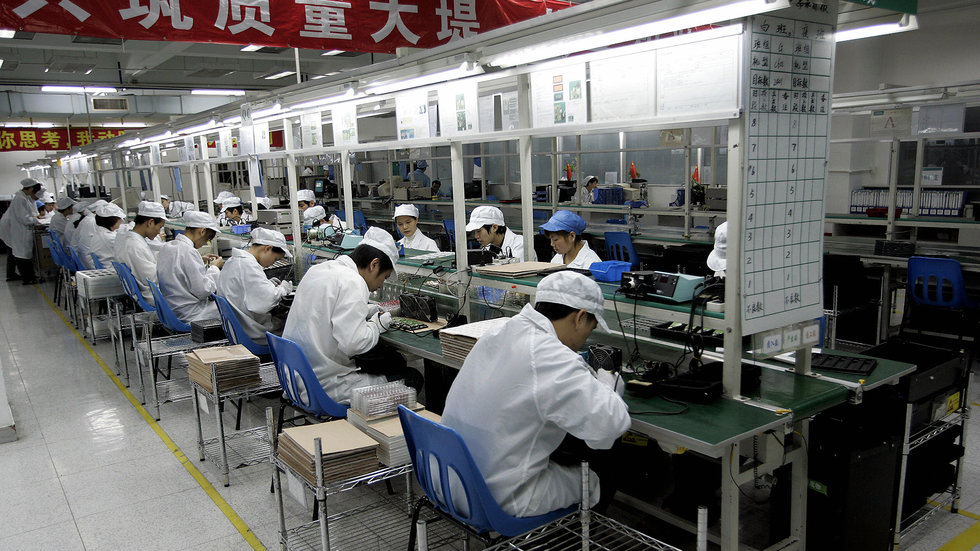 Chinese workers producing mobile phone handsets in Guangdong province. (Photo by STR/AFP/Getty Images)
This behavior isn't anything new. Nike, for example, made notorious use of sweatshops in Indonesia, China, and Vietnam. After a series of boycotts and consumer protests, Nike raised wages, implemented safety standards, and began publishing reports on the various contractors it used abroad.
Ideally, there would be a company that produces an ethically sourced smartphone as an alternative. It would be more expensive, certainly, but many consumers might value a phone that wasn't produced using child labor or sweatshops.
However, the existing supply chains for smartphones makes this literally impossible to do. Fairphone, a company founded in 2013 with the explicit goal of developing an ethical smartphone, has acknowledged that developing a 100% fair phone is not possible. In an interview on the Team Human podcast, Bas van Abel, the founder of Fairphone, said, "We already knew this was a strategically naïve exercise … We [were] going to look for conflict-free mines [in Congo]. That doesn't mean that we didn't have child labor. To be honest, I think the first expense we had when we started Fairphone was bribing the Minister of Communications of Congo to be able to film in the mines. And these are the dilemmas we run into."
Unfortunately, the impact of smartphones on human lives doesn't end at the point of sale. After they are thrown out or recycled, smartphones often find new life in e-waste dumps in China, Ghana, India, Pakistan, and other low-income countries. When a smartphone is recycled (and only around 10% are), most of its components end up in e-waste dumps where workers retrieve the phone's valuable metals. Storing and processing e-waste, which is often done through burning, causes pollutants like lead, tin, and brominated flame retardants to leach into the surrounding environment and, consequently, the bodies of workers.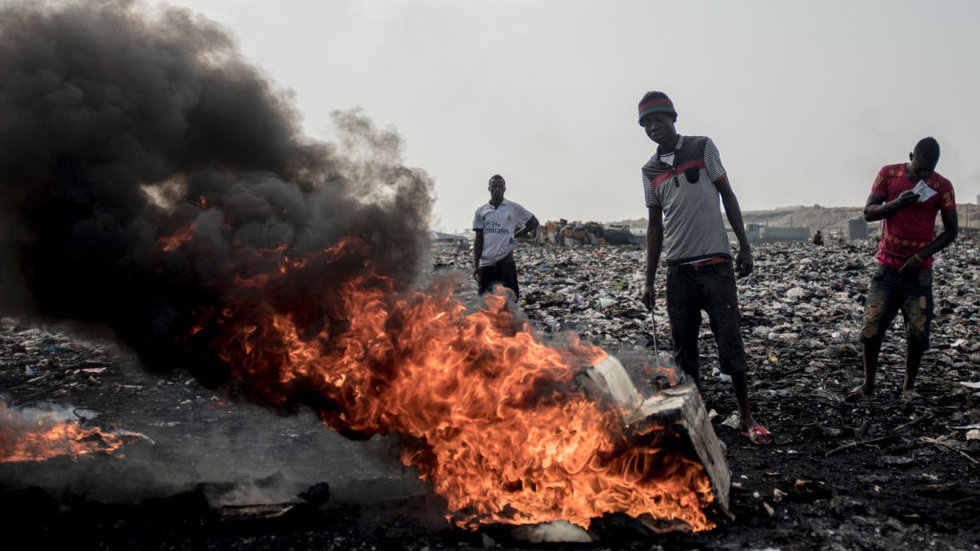 Workers burns electronic waste at Agbogboshie, an e-waste dump site in Ghana. (Photo by Cristina Aldehuela/AFP/Getty Images)
While this may be disheartening, it doesn't mean that it's pointless to be an ethical consumer when it comes to smartphones. Rather, it indicates that there is a significant amount of work to be done. One of the best things to do is to simply buy fewer smartphones. If taken care of, a smartphone can last up to 7 years. However, most people buy a new smartphone every 2.5 years. While it may not be possible to buy an entirely ethical smartphone, minimizing the use of child labor, sweatshops, and conflict minerals is still desirable and can be done by voting with our dollars and supporting ethical manufacturers.
Pfizer's partnerships strengthen their ability to deliver vaccines in developing countries.
Susan Silbermann, Global President of Pfizer Vaccines, looks on as a health care worker administers a vaccine in Rwanda. Photo: Courtesy of Pfizer.
Community healthcare workers face many challenges in their work, including often traveling far distances to see their clients
Pfizer is helping to drive the UN's sustainable development goals through partnerships.
Pfizer partnered with AMP and the World Health Organization to develop a training program for healthcare workers.
Sponsored
The famed author headed to the pond thanks to Indian philosophy.
Image: Public Domain / Shutterstock / Big Think
Personal Growth
The famed author was heavily influenced by Indian literature, informing his decision to self-exile on Walden Pond.
He was introduced to these texts by his good friend's father, William Emerson.
Yoga philosophy was in America a century before any physical practices were introduced.
Progressive America would be half as big, but twice as populated as its conservative twin.
Image: Dicken Schrader
Strange Maps
America's two political tribes have consolidated into 'red' and 'blue' nations, with seemingly irreconcilable differences.
Perhaps the best way to stop the infighting is to go for a divorce and give the two nations a country each
Based on the UN's partition plan for Israel/Palestine, this proposal provides territorial contiguity and sea access to both 'red' and 'blue' America
A little goes a long way.
Photo: Shutterstock / Big Think
Personal Growth
A recent study from the Department of Health and Human Services found that 80 percent of Americans don't exercise enough.
Small breaks from work add up, causing experts to recommend short doses of movement rather than waiting to do longer workouts.
Rethinking what exercise is can help you frame how you move throughout your day.
Big think's weekly newsletter.
Get smarter faster from the comfort of your inbox.
See our newsletter privacy policy
here
Most Popular
Most Recent
Big think's weekly newsletter.
Get smarter faster from the comfort of your inbox.
See our newsletter privacy policy
here
© Copyright 2007-2018 & BIG THINK, BIG THINK EDGE,
SMARTER FASTER trademarks owned by The Big Think, Inc. All rights reserved.