How drunk were the Founding Fathers? Revolutionary-era Americans could drink you under the table.
A historical look into the tipple that toppled the British Empire and kick-started America.
25 August, 2018
---
America's Founding Fathers liked a good, stiff drink. In fact, they liked to have a few good, stiff drinks over the course of the day starting first thing in the morning. The ancient Persians allegedly debated important decisions once when drunk and once when sober in order to see an issue from all angles. In a flash of inspiration, Revolutionary-era Americans figured out this process could go much more quickly if you just skipped the second part.
The most famous example of this decision-making process at work is probably the Boston Tea Party. Paul Revere, Sam Adams, and the other members of the Sons of Liberty had met at the Green Dragon Tavern in Boston to toss a few back and plan an act of civil unrest. The original plan had been to creep onto the tea ships in Boston harbor and simply block the ship workers from unloading their tea. However, bolstered by the few pints they had at the Green Dragon Tavern just moments before, suddenly a little wanton destruction of property seemed like a better idea.
Later, Paul Revere would make his famous ride on horseback to warn John Hancock and Sam Adams of encroaching British soldiers. This might have been a bit more of a leisurely affair than generally reported since he stopped in Medford to drink a couple of glasses of rum.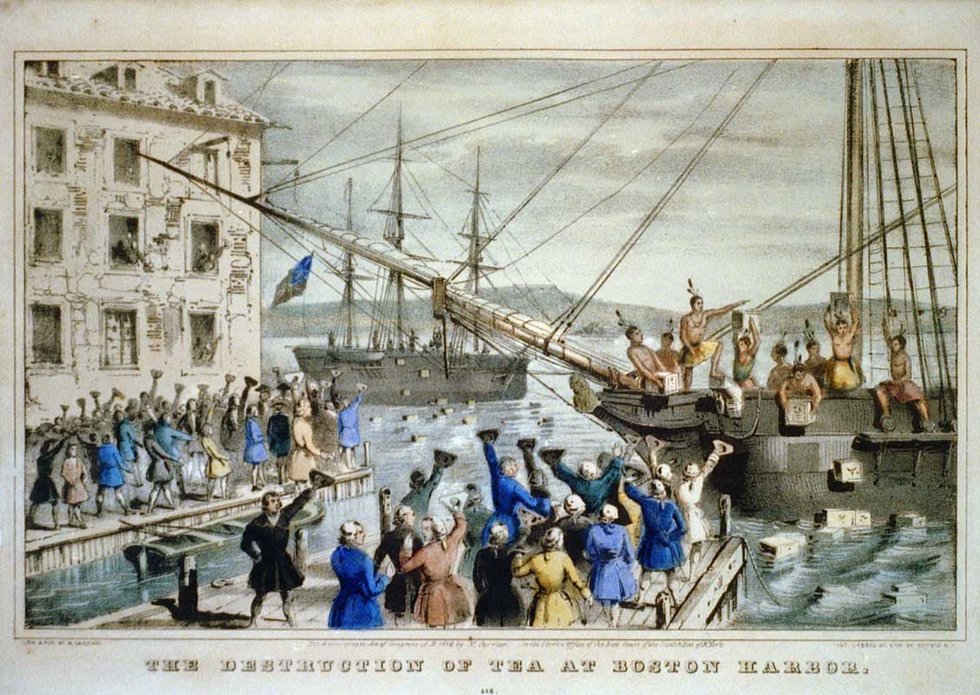 It's easy to understand how the Sons of Liberty thought destroying roughly $1 million worth of tea was a good idea when you acknowledge they were hammered. Photo via Wikipedia.
The truth is, it was just more common to be drunk than sober for Americans at this time. As of 2013, the average amount of alcohol consumed by Americans in a year is just 2.34 gallons per person. At its height in 1830 (allegedly the drunkest year in American history), that number was 7.1 gallons.
Having a drink was thought to cure illness, provide strength, and warm the body. A drink could take many forms: a blackstrap, a syllabub, a toddy, a flip, a rattle-skull, a stonewall, a whistle-whetter, a snort, and—for shots of rum had first thing in the morning—an antifogmatic. According to Benjamin Franklin's Drinker's Dictionary, a drunk could be described as being halfway to Concord, having a head full of bees, or being the recipient of a thump over the head with Sampson's jawbone. He could be jagg'd, jambled, or going to Jerusalem. In a delightfully Carolinian turn of phrase, Franklin asserted that drunkards may also have been too free with Sir John Strawberry
There was some concern over the young nation's burgeoning bad habits. Franklin himself (who certainly enjoyed a drink or two) thought that excessive drinking made men act like fools. Benjamin Rush, a physician and a signer of the Declaration of Independence, wrote one of the first books on alcoholism, stating that "spirituous liquors destroy more lives than the sword." He advised alcoholics to "taste not, handle not."
Most Americans, however, did not care. One Georgian famously wrote, "If I take a settler after my coffee, a cooler at nine, a bracer at ten, a whetter at eleven, and two or three stiffners during the forenoon, who has any right to complain?" There was a good reason for this. A good drink made it more bearable to labor in the fields, where the hard work would quickly burn through the calories and intoxication. Most importantly, clean water was rare, and drinking dirty water could mean a slow and painful death.
At first, rum was the American beverage of choice. One report suggested that some Americans might drink up to half a pint in the morning to get some pep in their step. While it might not be exactly a great way to start a productive day, five or six shots of rum will certainly wake you up. A slightly more conservative report suggested that during the 1770s, the average adult male drank around three pints of rum weekly or about four and a half shots of rum per day.
Rum, however, was mostly considered to be a British beverage. When the American Revolution broke out, Britain used its navy to restrict cane sugar imports to America. The resulting rise in prices and a burgeoning sense of national pride resulted in the switch to the more quintessential American beverage, bourbon whiskey. Washington, after leaving the presidency, opened his own distillery at Mount Vernon that pumped out 11,000 gallons of the stuff in 1799.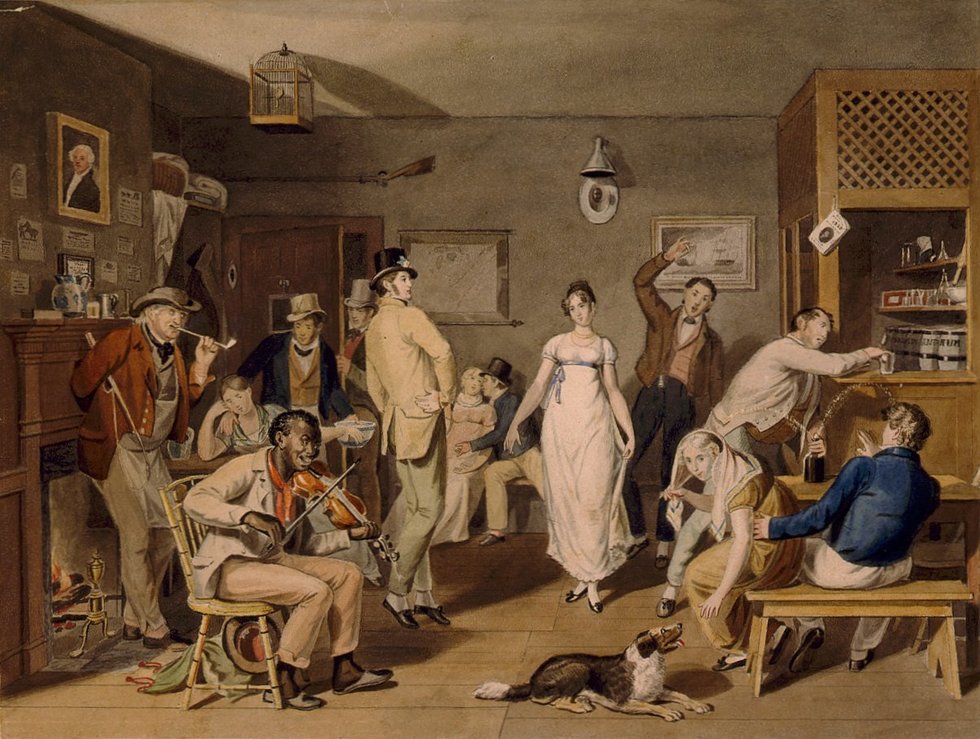 After a century of excess, America's hangover caught up with itself. In the face of increasing social pressure from a variety of temperance movements in the late 19th century, alcohol consumption slowly dropped until Prohibition. At the beginning of the Prohibition, alcohol use dropped sharply, but, with a characteristically rebellious reaction, Americans began drinking more as Prohibition went on.
Modern Americans may not have the same iron livers as their Revolutionary-era counterparts, but we have the benefit of easier lives and greater knowledge about alcohol's damaging effects. Our water is clean, many of us don't work in the fields, and our lives are far, far more pleasant. I'm probably not alone in thinking that life is quite nice enough without guzzling 5 shots of rum at breakfast—although I'm not opposed to two or three stiffners during the forenoon.


Malcolm Gladwell teaches "Get over yourself and get to work" for Big Think Edge.
Big Think Edge
Learn to recognize failure and know the big difference between panicking and choking.

At Big Think Edge, Malcolm Gladwell teaches how to check your inner critic and get clear on what failure is.

Subscribe to Big Think Edge before we launch on March 30 to get 20% off monthly and annual memberships.
It's one of the most consistent patterns in the unviverse. What causes it?
Videos
Spinning discs are everywhere – just look at our solar system, the rings of Saturn, and all the spiral galaxies in the universe.
Spinning discs are the result of two things: The force of gravity and a phenomenon in physics called the conservation of angular momentum.
Gravity brings matter together; the closer the matter gets, the more it accelerates – much like an ice skater who spins faster and faster the closer their arms get to their body. Then, this spinning cloud collapses due to up and down and diagonal collisions that cancel each other out until the only motion they have in common is the spin – and voila: A flat disc.
It turns out, that tattoo ink can travel throughout your body and settle in lymph nodes.
17th August 1973: An American tattoo artist working on a client's shoulder. (Photo by F. Roy Kemp/BIPs/Getty Images)
popular
In the slightly macabre experiment to find out where tattoo ink travels to in the body, French and German researchers recently used synchrotron X-ray fluorescence in four "inked" human cadavers — as well as one without. The results of their 2017 study? Some of the tattoo ink apparently settled in lymph nodes.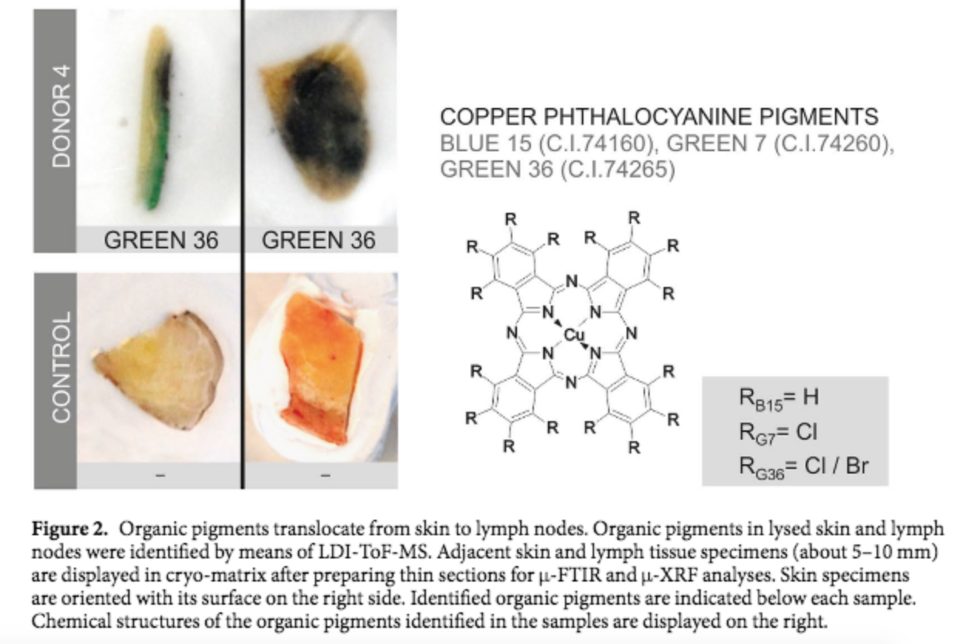 Image from the study.
As the authors explain in the study — they hail from Ludwig Maximilian University of Munich, the European Synchrotron Radiation Facility, and the German Federal Institute for Risk Assessment — it would have been unethical to test this on live animals since those creatures would not be able to give permission to be tattooed.
Because of the prevalence of tattoos these days, the researchers wanted to find out if the ink could be harmful in some way.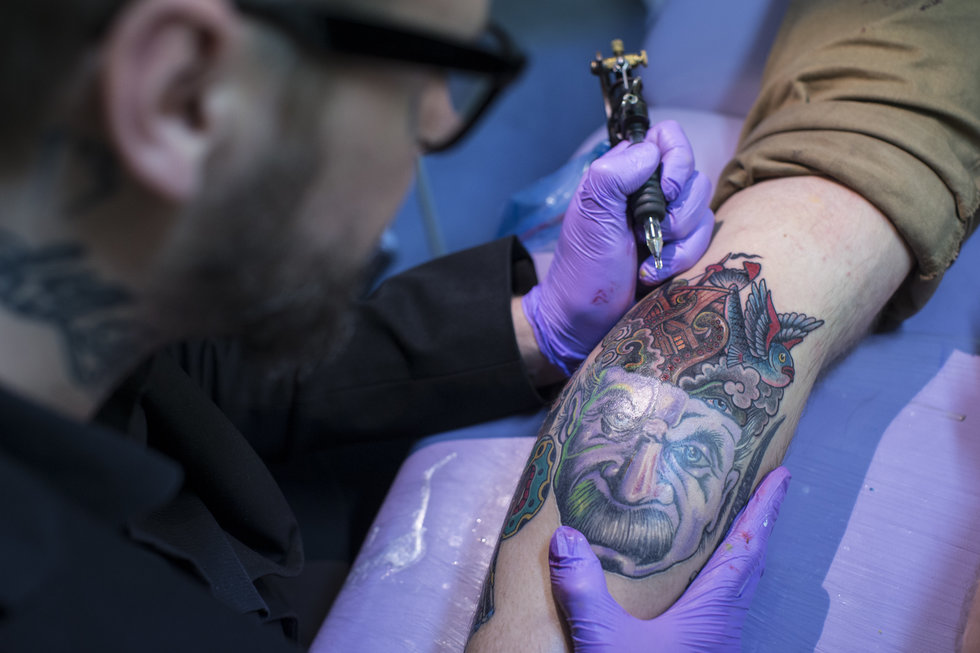 "The increasing prevalence of tattoos provoked safety concerns with respect to particle distribution and effects inside the human body," they write.
It works like this: Since lymph nodes filter lymph, which is the fluid that carries white blood cells throughout the body in an effort to fight infections that are encountered, that is where some of the ink particles collect.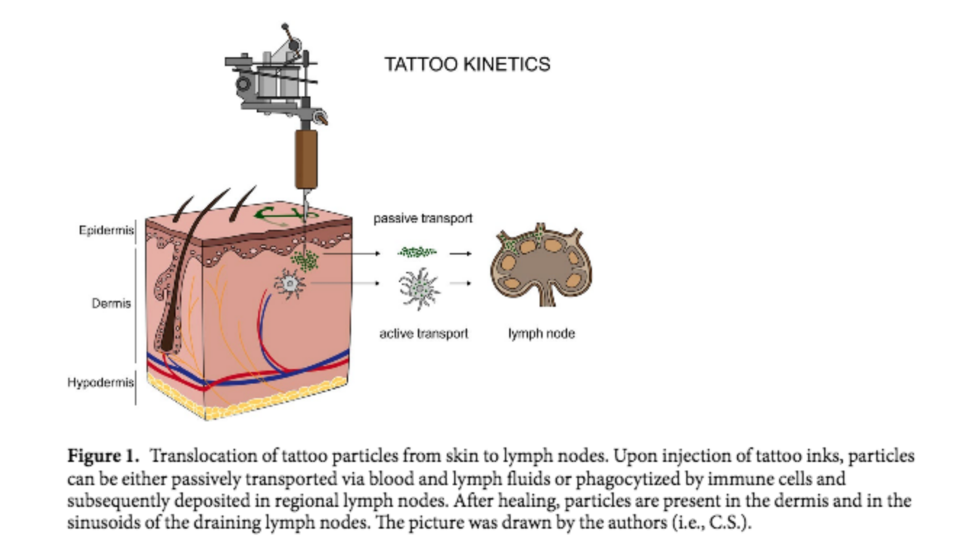 Image by authors of the study.
Titanium dioxide appears to be the thing that travels. It's a white tattoo ink pigment that's mixed with other colors all the time to control shades.
The study's authors will keep working on this in the meantime.
"In future experiments we will also look into the pigment and heavy metal burden of other, more distant internal organs and tissues in order to track any possible bio-distribution of tattoo ink ingredients throughout the body. The outcome of these investigations not only will be helpful in the assessment of the health risks associated with tattooing but also in the judgment of other exposures such as, e.g., the entrance of TiO2 nanoparticles present in cosmetics at the site of damaged skin."
Do you have a magnetic compass in your head?
Big think's weekly newsletter.
Get smarter faster from the comfort of your inbox.
See our newsletter privacy policy
here
Most Popular
Most Recent
Big think's weekly newsletter.
Get smarter faster from the comfort of your inbox.
See our newsletter privacy policy
here
© Copyright 2007-2018 & BIG THINK, BIG THINK EDGE,
SMARTER FASTER trademarks owned by The Big Think, Inc. All rights reserved.