How China is transforming Africa into the next 'factory of the world'
China is investing a gargantuan amount of money in Africa, but it's leaving many in the global community concerned as to why.
12 August, 2018
In the past few years, Chinese investment in Africa has exploded. While the US currently has $58 billion worth of investments in Africa and China has $40 billion, the US's investments in Africa have been dropping over time. Consider the fact that in 2014, the US pledged to invest $14 billion in Africa over the next decade. China pledged to invest $175 billion in the same time period, dwarfing the US's commitment.
---
Unlike the US, China's investments mainly take the form of loans for infrastructure development. In contrast, US investment is focused on aid programs—primarily healthcare and education. Many Africans welcome China's investment into much-needed infrastructure, but it's not clear how much of a benefit African nations are seeing. One major issue is that many countries are becoming excessively indebted to China. Kenya, for instance, has $50 billion of debt, 72% of which comes from China. In Senegal, highways, industrial parks, and other infrastructure projects are being funded by a $1.6 billion loan (source in French). Djibouti has received $1.1 billion in loans to upgrade its seaport and to build a railway to Addis Ababa, a water pipeline from Ethiopia, and a new airport.
Not only are these loans greater than what many countries can afford to repay, much of their value goes straight back to China. Tim Wegenast, the author of a report on Chinese mining in Africa by the German Institute of Global and Area Studies, stated that, "It's more or less safe to say that Chinese companies employ less local labor than other companies because they bring over many Chinese workers, and when they develop local infrastructure, they provide countries with loans which are being used to pay for it, which is then constructed by Chinese companies and Chinese labor."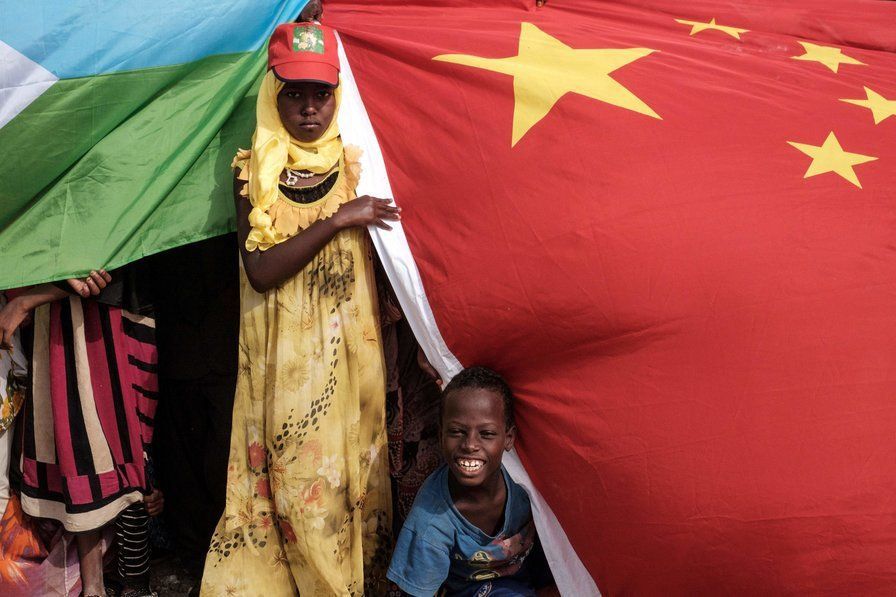 People hold up the Chinese and Djiboutian flags before the launch of a 1,000-unit housing development funded by a Chinese company (photo by YASUYOSHI CHIBA/AFP/Getty Images).
Furthermore, the new infrastructure is designed to enable Chinese corporations to extract natural resources, such as minerals and oil. Unfortunately, many of these ventures fail to meet regulatory, environmental, and ethical standards. Chinese companies have been accused of illegal mining in Ghana; corruption in Angola, Guinea, and others; environmental degradation in Chad; and generally poor working conditions. In the Democratic Republic of Congo, Chinese companies have been linked to the use of child labor to extract cobalt for smartphones.
Nigeria, where Boko Haram bases their operations, paid $470 million for the development of a grid of CCTV cameras to improve security in the capital of Abuja. The Chinese company ZTE developed the CCTV cameras, but many were found to be completely non-functioning. If ZTE sounds familiar, it's because President Trump recently lifted a ban that prevented US companies from selling electronic components to ZTE after it was discovered that they were illegally exporting technology to North Korea and Iran.
As a token of their growing relationship, China funded the development of the African Union headquarters, based in Addis Ababa, Ethiopia. This development also included an IT system that, according to Le Monde, allegedly contained a backdoor that was sending the African Union's data to Shanghai.

China's growing presence in Africa is essentially an effort to transform Africa into the next factory of the world. Although China currently holds this title, its rapidly growing economy is likely to lift its citizens out of poverty and into roles that are more service-oriented, like the US, and less based on manufacturing. Instead, Chinese factories are relocating to Africa.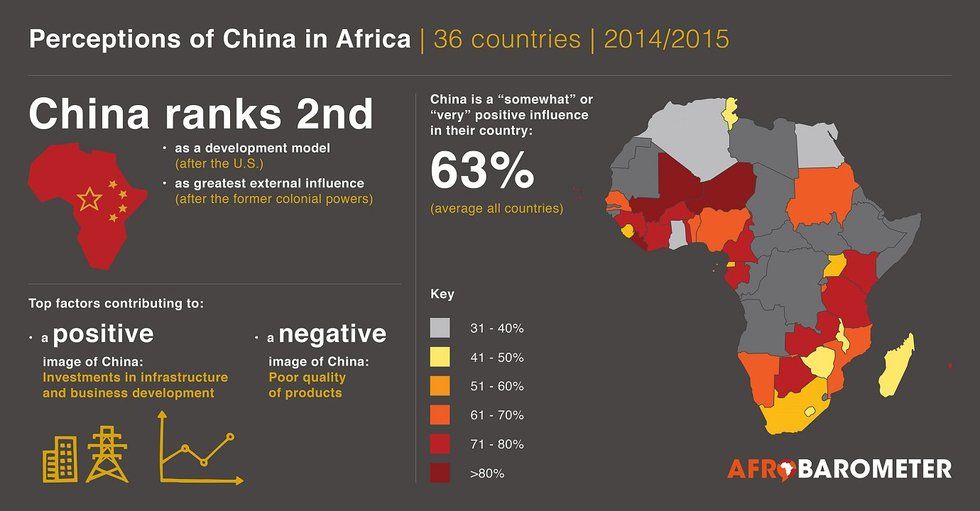 Source: Afrobarometer.
And despite the lack of regulation from Chinese investment, many Africans see this as a positive thing. A survey conducted in a variety of African countries found that 63% of Africans see China's influence positively. According to the survey, this positive feeling is mainly due to China's investments in infrastructure. While China is seen favorably in Africa, the survey also uncovered that the US's development model was still the most popular, with China's development model coming in second. However, considering the vast disparity in how much each country is investing in Africa, it may not matter which economic development model is more popular so much as which model is put in place.
Related Articles Around the Web
From Your Site Articles
As religious diversity increases in the United States, we must learn to channel religious identity into interfaith cooperation.
Sponsored by Charles Koch Foundation
Religious diversity is the norm in American life, and that diversity is only increasing, says Eboo Patel.
Using the most painful moment of his life as a lesson, Eboo Patel explains why it's crucial to be positive and proactive about engaging religious identity towards interfaith cooperation.
The opinions expressed in this video do not necessarily reflect the views of the Charles Koch Foundation, which encourages the expression of diverse viewpoints within a culture of civil discourse and mutual respect.
Two Apollo 11 astronauts question NASA's planetary safety procedures.
Credit: Bettmann, Getty Images.
Surprising Science
Buzz Aldrin and Michael Collins revealed that there were deficiencies in NASA's safety procedures following the Apollo 11 mission.
Moon landing astronauts were quarantined for 21 days.
Earth could be contaminated with lunar bacteria.
Here's why you might eat greenhouse gases in the future.
Technology & Innovation
The company's protein powder, "Solein," is similar in form and taste to wheat flour.
Based on a concept developed by NASA, the product has wide potential as a carbon-neutral source of protein.
The man-made "meat" industry just got even more interesting.
When it comes to sniffing out whether a source is credible or not, even journalists can sometimes take the wrong approach.
Sponsored by Charles Koch Foundation
We all think that we're competent consumers of news media, but the research shows that even journalists struggle with identifying fact from fiction.
When judging whether a piece of media is true or not, most of us focus too much on the source itself. Knowledge has a context, and it's important to look at that context when trying to validate a source.
The opinions expressed in this video do not necessarily reflect the views of the Charles Koch Foundation, which encourages the expression of diverse viewpoints within a culture of civil discourse and mutual respect.