People who read live longer than those who don't, Yale researchers say
The benefits of reading should not be understated, even when it comes to living a longer life. A new study finds that reading books in particular returns cognitive gains that increase longevity.
09 August, 2016
---
Bookworms rejoice! A new study in the journal Social Science and Medicine just discovered that people who read books live longer than people who don't.
Researchers at Yale University asked 3,635 participants over 50 years-old about their reading habits. From that data, they split the cohort into 3 groups: non-readers, people who read less than 3.5 hours per week, and people who read more than 3.5 hours per week. The researchers followed up with each group for 12 years. The people who read the most were college-educated women in the higher-income group.
Over the course of the study, the researchers consistently found that both groups of readers lived longer than the non-readers. The readers who read over 3.5 hours a week lived a full 23 months longer than the people who didn't read at all. That extended lifespan applied to all reading participants, regardless of "gender, wealth, education or health" factors, the study explains. That's a 20% reduction in mortality created by a sedentary activity. That's a big deal, and a very easy fix for improving quality of life in anyone over 50.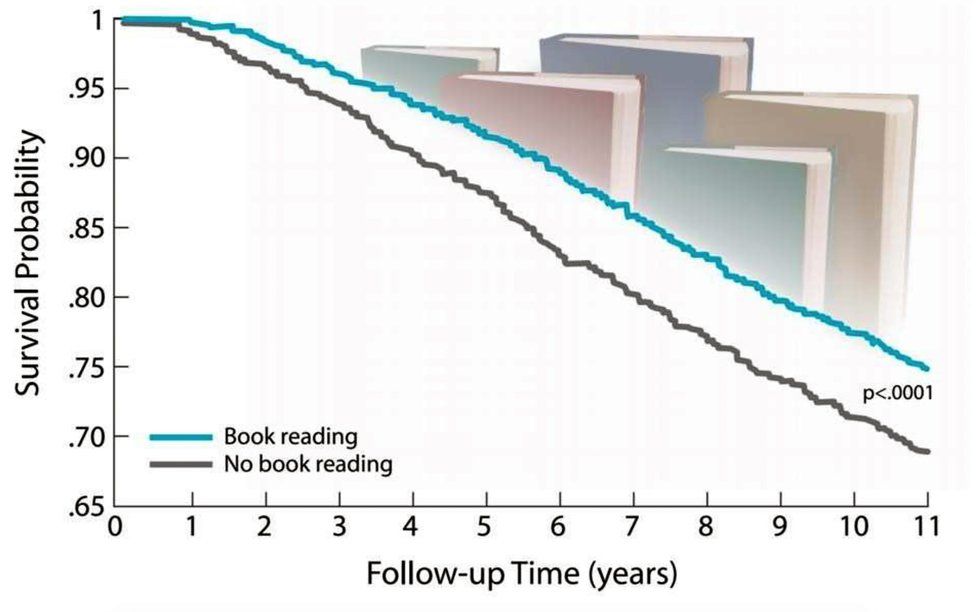 Credit: Social Science and Medicine
The results get better. "Compared to non-book readers," the authors continue, "book readers had a 4-month survival advantage," at the age when 20% of their peers passed away. "Book readers also experienced a 20% reduction in risk of mortality over the 12 years of follow up compared to non-book readers." The authors continue:
"Further, our analyses demonstrated that any level of book reading gave a significantly stronger survival advantage than reading periodicals. This is a novel finding, as previous studies did not compare types of reading material; it indicates that book reading rather than reading in general is driving a survival advantage."
The reason books had greater gains than periodicals is because book reading involves more cognitive faculties. The readers didn't begin with higher cognitive faculties than the non-readers; they simply engaged in the activity of reading, which heightened those faculties. "This finding suggests that reading books provide a survival advantage due to the immersive nature that helps maintain cognitive status," said the study's authors.
As any book lover knows, reading involves two major cognitive processes: deep reading, and emotional connection. Deep reading is a slow process where the reader engages with the book and seeks to understand it within its own context and within the context of the outside world. Emotional connection is where the reader empathizes with the characters, and that promotes social perception and emotional intelligence. Those cognitive processes were cited by the Yale team and used as markers for this study. While they apparently offer a survival advantage, "better health behaviors and reduced stress may explain this process [as well]," according to the study. Still, those cognitive benefits are real, as writer Nicholas Sparr explains:
All the data was self-reported via phone survey and it didn't really account for ebooks, but it's still encouraging. There are no real downsides to reading, other than making the time for it. But if you're not convinced and would rather have John Green teach you literature instead of reading the classics for yourself, philosopher and Yale University Dean Jeffrey Brenzel lays out 5 additional pro-reading benefits for you:
Happy reading!
--
As religious diversity increases in the United States, we must learn to channel religious identity into interfaith cooperation.
Sponsored by Charles Koch Foundation
Religious diversity is the norm in American life, and that diversity is only increasing, says Eboo Patel.
Using the most painful moment of his life as a lesson, Eboo Patel explains why it's crucial to be positive and proactive about engaging religious identity towards interfaith cooperation.
The opinions expressed in this video do not necessarily reflect the views of the Charles Koch Foundation, which encourages the expression of diverse viewpoints within a culture of civil discourse and mutual respect.
Two Apollo 11 astronauts question NASA's planetary safety procedures.
Credit: Bettmann, Getty Images.
Surprising Science
Buzz Aldrin and Michael Collins revealed that there were deficiencies in NASA's safety procedures following the Apollo 11 mission.
Moon landing astronauts were quarantined for 21 days.
Earth could be contaminated with lunar bacteria.
Here's why you might eat greenhouse gases in the future.
Technology & Innovation
The company's protein powder, "Solein," is similar in form and taste to wheat flour.
Based on a concept developed by NASA, the product has wide potential as a carbon-neutral source of protein.
The man-made "meat" industry just got even more interesting.
When it comes to sniffing out whether a source is credible or not, even journalists can sometimes take the wrong approach.
Sponsored by Charles Koch Foundation
We all think that we're competent consumers of news media, but the research shows that even journalists struggle with identifying fact from fiction.
When judging whether a piece of media is true or not, most of us focus too much on the source itself. Knowledge has a context, and it's important to look at that context when trying to validate a source.
The opinions expressed in this video do not necessarily reflect the views of the Charles Koch Foundation, which encourages the expression of diverse viewpoints within a culture of civil discourse and mutual respect.