People who read live longer than those who don't, Yale researchers say
The benefits of reading should not be understated, even when it comes to living a longer life. A new study finds that reading books in particular returns cognitive gains that increase longevity.
09 August, 2016
---
Bookworms rejoice! A new study in the journal Social Science and Medicine just discovered that people who read books live longer than people who don't.
Researchers at Yale University asked 3,635 participants over 50 years-old about their reading habits. From that data, they split the cohort into 3 groups: non-readers, people who read less than 3.5 hours per week, and people who read more than 3.5 hours per week. The researchers followed up with each group for 12 years. The people who read the most were college-educated women in the higher-income group.
Over the course of the study, the researchers consistently found that both groups of readers lived longer than the non-readers. The readers who read over 3.5 hours a week lived a full 23 months longer than the people who didn't read at all. That extended lifespan applied to all reading participants, regardless of "gender, wealth, education or health" factors, the study explains. That's a 20% reduction in mortality created by a sedentary activity. That's a big deal, and a very easy fix for improving quality of life in anyone over 50.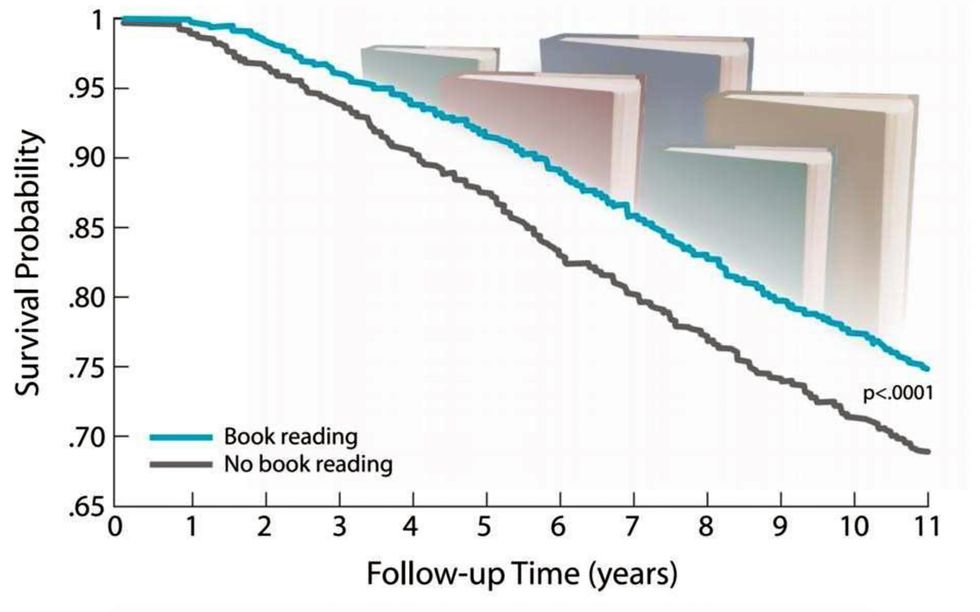 Credit: Social Science and Medicine
The results get better. "Compared to non-book readers," the authors continue, "book readers had a 4-month survival advantage," at the age when 20% of their peers passed away. "Book readers also experienced a 20% reduction in risk of mortality over the 12 years of follow up compared to non-book readers." The authors continue:
"Further, our analyses demonstrated that any level of book reading gave a significantly stronger survival advantage than reading periodicals. This is a novel finding, as previous studies did not compare types of reading material; it indicates that book reading rather than reading in general is driving a survival advantage."
The reason books had greater gains than periodicals is because book reading involves more cognitive faculties. The readers didn't begin with higher cognitive faculties than the non-readers; they simply engaged in the activity of reading, which heightened those faculties. "This finding suggests that reading books provide a survival advantage due to the immersive nature that helps maintain cognitive status," said the study's authors.
As any book lover knows, reading involves two major cognitive processes: deep reading, and emotional connection. Deep reading is a slow process where the reader engages with the book and seeks to understand it within its own context and within the context of the outside world. Emotional connection is where the reader empathizes with the characters, and that promotes social perception and emotional intelligence. Those cognitive processes were cited by the Yale team and used as markers for this study. While they apparently offer a survival advantage, "better health behaviors and reduced stress may explain this process [as well]," according to the study. Still, those cognitive benefits are real, as writer Nicholas Sparr explains:
All the data was self-reported via phone survey and it didn't really account for ebooks, but it's still encouraging. There are no real downsides to reading, other than making the time for it. But if you're not convinced and would rather have John Green teach you literature instead of reading the classics for yourself, philosopher and Yale University Dean Jeffrey Brenzel lays out 5 additional pro-reading benefits for you:
Happy reading!
--
Young people could even end up less anxiety-ridden, thanks to newfound confidence
Photos: Courtesy of Let Grow
Sponsored by Charles Koch Foundation
The coronavirus pandemic may have a silver lining: It shows how insanely resourceful kids really are.
Let Grow, a non-profit promoting independence as a critical part of childhood, ran an "Independence Challenge" essay contest for kids. Here are a few of the amazing essays that came in.
Download Let Grow's free Independence Kit with ideas for kids.
Researchers in Mexico discover the longest underwater cave system in the world that's full of invaluable artifacts.
Researchers discover a massive ceremonial structure of the ancient Mayans using lasers.
Credit: Takeshi Inomata
Surprising Science
Archaeologists use laser-based aerial surveys to discover the oldest and largest Mayan structure ever found.
The 3,000-year-old complex in the Mexican state of Tabasco was likely used as a ceremonial center.
Researchers think the site showed a communal society rather than one based on worshipping elites.
Technique may enable speedy, on-demand design of softer, safer neural devices.
Dan Kitwood/Getty Images
Surprising Science
The brain is one of our most vulnerable organs, as soft as the softest tofu. Brain implants, on the other hand, are typically made from metal and other rigid materials that over time can cause inflammation and the buildup of scar tissue.
Big Think LIVE
Join two-time NBA champion Shane Battier live at 1 pm ET this Monday.
Scroll down to load more…