People who read live longer than those who don't, Yale researchers say
The benefits of reading should not be understated, even when it comes to living a longer life. A new study finds that reading books in particular returns cognitive gains that increase longevity.
09 August, 2016
---
Bookworms rejoice! A new study in the journal Social Science and Medicine just discovered that people who read books live longer than people who don't.
Researchers at Yale University asked 3,635 participants over 50 years-old about their reading habits. From that data, they split the cohort into 3 groups: non-readers, people who read less than 3.5 hours per week, and people who read more than 3.5 hours per week. The researchers followed up with each group for 12 years. The people who read the most were college-educated women in the higher-income group.
Over the course of the study, the researchers consistently found that both groups of readers lived longer than the non-readers. The readers who read over 3.5 hours a week lived a full 23 months longer than the people who didn't read at all. That extended lifespan applied to all reading participants, regardless of "gender, wealth, education or health" factors, the study explains. That's a 20% reduction in mortality created by a sedentary activity. That's a big deal, and a very easy fix for improving quality of life in anyone over 50.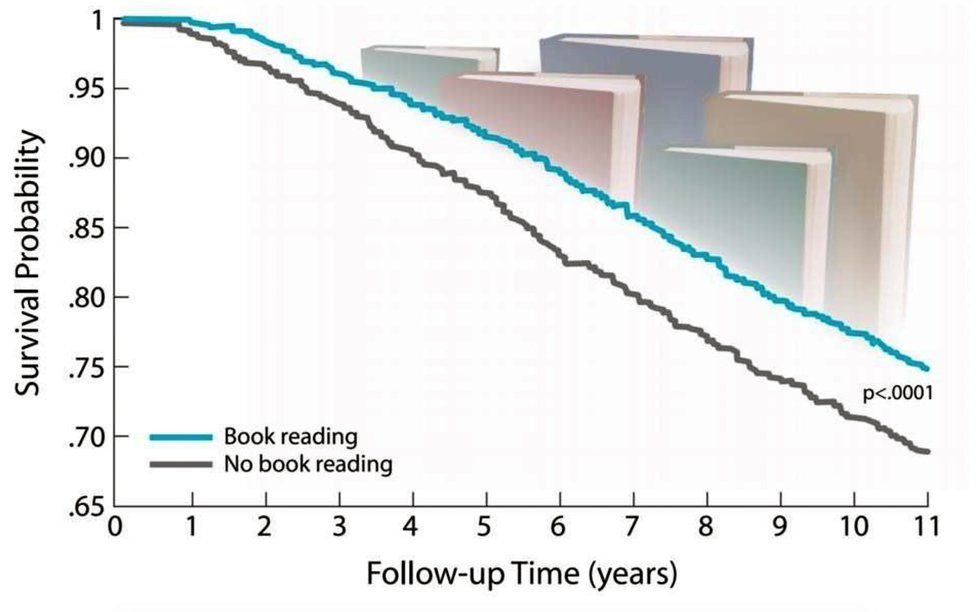 Credit: Social Science and Medicine
The results get better. "Compared to non-book readers," the authors continue, "book readers had a 4-month survival advantage," at the age when 20% of their peers passed away. "Book readers also experienced a 20% reduction in risk of mortality over the 12 years of follow up compared to non-book readers." The authors continue:
"Further, our analyses demonstrated that any level of book reading gave a significantly stronger survival advantage than reading periodicals. This is a novel finding, as previous studies did not compare types of reading material; it indicates that book reading rather than reading in general is driving a survival advantage."
The reason books had greater gains than periodicals is because book reading involves more cognitive faculties. The readers didn't begin with higher cognitive faculties than the non-readers; they simply engaged in the activity of reading, which heightened those faculties. "This finding suggests that reading books provide a survival advantage due to the immersive nature that helps maintain cognitive status," said the study's authors.
As any book lover knows, reading involves two major cognitive processes: deep reading, and emotional connection. Deep reading is a slow process where the reader engages with the book and seeks to understand it within its own context and within the context of the outside world. Emotional connection is where the reader empathizes with the characters, and that promotes social perception and emotional intelligence. Those cognitive processes were cited by the Yale team and used as markers for this study. While they apparently offer a survival advantage, "better health behaviors and reduced stress may explain this process [as well]," according to the study. Still, those cognitive benefits are real, as writer Nicholas Sparr explains:
All the data was self-reported via phone survey and it didn't really account for ebooks, but it's still encouraging. There are no real downsides to reading, other than making the time for it. But if you're not convinced and would rather have John Green teach you literature instead of reading the classics for yourself, philosopher and Yale University Dean Jeffrey Brenzel lays out 5 additional pro-reading benefits for you:
Happy reading!
--
What can 3D printing do for medicine? The "sky is the limit," says Northwell Health researcher Dr. Todd Goldstein.
Northwell Health
Sponsored by Northwell Health
Medical professionals are currently using 3D printers to create prosthetics and patient-specific organ models that doctors can use to prepare for surgery.
Eventually, scientists hope to print patient-specific organs that can be transplanted safely into the human body.
Northwell Health, New York State's largest health care provider, is pioneering 3D printing in medicine in three key ways.
It's a "canary in the coalmine," said one climate scientist.
Surprising Science
A team of researchers discovered that permafrost in Northern Canada is melting at unusually fast rates.
This could causes dangerous and costly erosion, and it's likely speeding up climate change because thawing permafrost releases heat-trapping gasses into the atmosphere.
This week, Canada's House of Commons declared a national climate emergency.
One of Stephen Hawking's predictions seems to have been borne out in a man-made "black hole".
Image source: NASA/JPL-Caltech
Surprising Science
Stephen Hawking predicted virtual particles splitting in two from the gravitational pull of black holes.
Black holes, he also said, would eventually evaporate due to the absorption of negatively charged virtual particles.
A scientist has built a black hole analogue based on sound instead of light.
Not every part of a satellite burns up in reentry. Considering the growing number of satellites in orbital space, that's a big problem.
Technology & Innovation
Earth's orbital space is getting more crowded by the day.
The more satellites and space junk we put into orbit, the greater a risk that there could be a collision.
Not all materials burn up during reentry; that's why scientists need to stress test satellite parts to ensure that they won't become deadly falling objects.
Big think's weekly newsletter.
Get smarter faster from the comfort of your inbox.
See our newsletter privacy policy
here
Most Popular
Most Recent
Big think's weekly newsletter.
Get smarter faster from the comfort of your inbox.
See our newsletter privacy policy
here
© Copyright 2007-2019 & BIG THINK, BIG THINK EDGE,
SMARTER FASTER trademarks owned by The Big Think, Inc. All rights reserved.