Why Being Taught in Your Learning Style Does Not Make You Smarter
People tend to believe that learning in the style they feel best suited to makes them soak up information more efficiently. This study debunks that belief.
06 October, 2016
---
We talk a lot about learning styles here on Big Think – how they don't really exist, why embracing them is dangerous, and why they're still being used in schools. Despite no scientifically proven benefits, people still believe learning styles both exist and work. The strongest claim people believe in is that learning in the style they feel best suited to makes them feel smarter. It must work if you feel smarter, right?
Wrong again.
A new study in the British Journal of Psychology found that participants were unable to recall information for a test even if they learned it in their preferred style. 52 female students at Central Michigan University completed a questionnaire assessing whether they learned best visually or verbally. They were then asked to memorize 60 pairs of words and images and rate how well they felt they learned them. After the researchers gave them busy work to erode their recall abilities, the participants were asked to recall the missing half of each pair.
The results? As British Psychology Society Research Digest reports, "the participants' preferred learning style (verbal or pictorial) was not related in any way to how well they recalled the pairs of words or the pairs of pictures." In fact, regardless of whether a subject preferred visual or verbal learning, participants were much better at remembering visual information than verbal.
As the BPS piece explains, "this is consistent with the well-known 'picture superiority effect' – pictures are easier to remember than words." Essentially "by counting the number of participants who showed a higher score for one dimension than the other, it was revealed that the sample consisted of mostly [visual learners] (40) as opposed to [verbal learners] (12)," the study says. Despite the fact that female participants were tested "to increase the likelihood of recruiting participants with a preference for verbal, as opposed to visual, information," the study authors explain, the experiment shows that participants retained information best through visuals. So "despite there being no link between learning style and objective performance, participants expressed more confidence in their learning of pairs that matched their preferred modality," according to the BPS piece.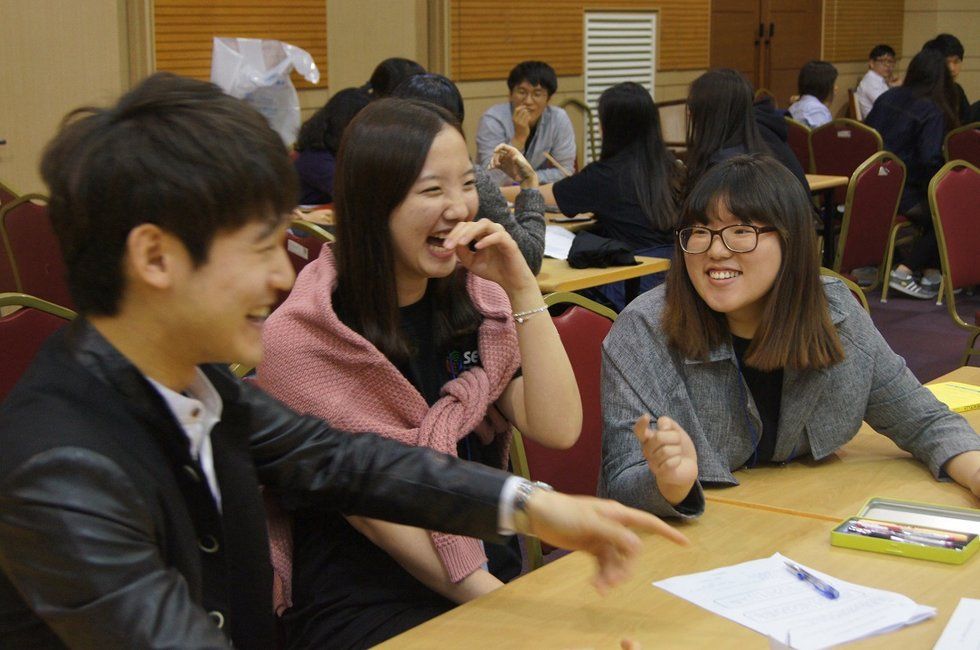 Credit: SEN Student Club/Flickr
There are a few caveats to these results. The sample size was very small. The memory test was very simple. Only one "binary division of learning styles" was examined, as the BPS points out, and there are many different kinds (and definitions) of learning styles. In deference to the researchers, visual vs verbal learners are the two most popular learning styles according to Professor Daniel Willingham of the University of Virginia. A larger study with a more complex test and cohort may show different correlations between recalled information and preferred learning methods. Also, the study did not treat the two learning styles as mutually exclusive. If they had, the significance of the results may have been more conclusive.
So even though students have preferences as to how they learn, those preferences apparently don't matter. Is there a best way to learn? No, according to NPR – but there is a common theme: "We all need to flex our brain muscles a bit when we're learning something, and take advantage of our ability to learn in different ways. We can all learn via different modalities, though we may have a preference of one over another." Regardless of how you think you might learn best, challenge yourself to engage with a learning style you don't naturally think you're suited to. You might surprise yourself. Professor Willingham gives us an example here:
Big Think Edge
The meaning of the word 'confidence' seems obvious. But it's not the same as self-esteem.
Confidence isn't just a feeling on your inside. It comes from taking action in the world.
Join Big Think Edge today and learn how to achieve more confidence when and where it really matters.
Lauren Miranda sent a nude selfie to a boyfriend years ago. Somehow one of her students discovered it.
Politics & Current Affairs
Math teacher Lauren Miranda was fired from her Long Island school when a topless selfie surfaced.
Miranda had only shared the photo with her ex-boyfriend, who is also a teacher in the school district.
She's suing the school for $3 million as well as getting her job back, citing gender discrimination.
If you're lacking confidence and feel like you could benefit from an ego boost, try writing your life story.
Personal Growth
In truth, so much of what happens to us in life is random – we are pawns at the mercy of Lady Luck. To take ownership of our experiences and exert a feeling of control over our future, we tell stories about ourselves that weave meaning and continuity into our personal identity.
Big think's weekly newsletter.
Get smarter faster from the comfort of your inbox.
See our newsletter privacy policy
here
Most Popular
Most Recent
Big think's weekly newsletter.
Get smarter faster from the comfort of your inbox.
See our newsletter privacy policy
here
© Copyright 2007-2019 & BIG THINK, BIG THINK EDGE,
SMARTER FASTER trademarks owned by The Big Think, Inc. All rights reserved.