This Might Be The HIV Cure We've Been Waiting For
Some much-needed good news this week.
18 November, 2016
---
We may soon have a cure for the Human Immunodeficiency Virus (HIV).
Scientists from the National Institute of Health (NIH) just identified an antibody in an HIV-infected patient that "neutralized 98 percent of HIV isolates tested, including 16 of 20 strains resistant to other antibodies of the same class," according to a statement. That antibody is called N6, and its ability to shut down that many HIV strains is something scientists haven't seen before.
HIV has been a really hard virus to fight because it "rapidly changes its surface proteins to evade recognition by the immune system," according to the NIH statement. Science Alert expands on the problem, reporting that "due to HIV's ability to rapidly respond to the body's immune defences, an antibody that can block a wide range of strains has been very hard to come by." Now that scientists have found an antibody that can do that, Science Alert reports the antibody "could form the basis of a new vaccine against the virus."
The antibody, named N6, "blocks infection by binding to a part of the HIV envelope called the CD4 binding site, preventing the virus from attaching itself to immune cells," reports NIH. That site, known as the V5 region, changes very little across all strains of HIV and is "the major mechanism of resistance to VRC01-class antibodies," according to the study, published in the journal Immunity. By binding to it, N6 is able "to tolerate changes in the HIV envelope," reports NIH, and bypass the resistance the virus forms to other antibodies. In doing that, N6 is able to prevent HIV from attaching, attacking, and ultimately destroying a patient's immune cells, "which is what makes HIV-positive people so vulnerable to AIDS," reports Science Alert.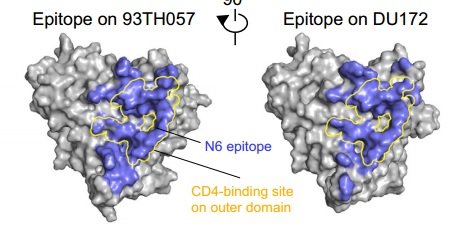 N6 antibody binding to CD4. Credit: Immunity.
"The discovery and characterisation of this antibody with exceptional breadth and potency against HIV provides an important new lead for the development of strategies to prevent and treat HIV infection," said Anthony S. Fauci from the US National Institute of Allergy and Infectious Diseases in the NIH statement.
The technique is about to be tested in humans in a Phase II clinical trial; right now, it's only been done on Rhesus monkeys. But it offers a much-needed ray of hope to HIV patients.
Fingers crossed the good news continues through the trial.
Related Articles
The surprisingly simple treatment could prove promising for doctors and patients seeking to treat depression without medication.
Photo by Luis Marina/Flickr
Mind & Brain
A new report shows how cold-water swimming was an effective treatment for a 24-year-old mother.
The treatment is based on cross-adaptation, a phenomenon where individuals become less sensitive to a stimulus after being exposed to another.
Getting used to the shock of cold-water swimming could blunt your body's sensitivity to other stressors.
Maybe try counseling first before you try this, married folks.
Surprising Science
The study looks at cannibalism in fish.
If it doesn't look like the brood is going to be 'productive,' it might get eaten.
Don't try this at home. Seriously, don't. Human beings deserve love and respect.
Why self-control makes your life better, and how to get more of it.
Buddhist monks of all nations mediate in Thailand. Monks are well known for their self-discipline and restrictive lifestyle. Is it possible that this leads them to happiness?
(Photo by Geem Drake/SOPA Images/LightRocket via Getty Images)

Personal Growth
Research demonstrates that people with higher levels of self-control are happier over both the short and long run.
Higher levels of self-control are correlated with educational, occupational, and social success.
It was found that the people with the greatest levels of self-control avoid temptation rather than resist it at every turn.
Big think's weekly newsletter.
Get smarter faster from the comfort of your inbox.
See our newsletter privacy policy
here
Most Popular
Most Recent
Big think's weekly newsletter.
Get smarter faster from the comfort of your inbox.
See our newsletter privacy policy
here
© Copyright 2007-2018 & BIG THINK, BIG THINK EDGE,
SMARTER FASTER trademarks owned by The Big Think, Inc. All rights reserved.