This Might Be The HIV Cure We've Been Waiting For
Some much-needed good news this week.
18 November, 2016
---
We may soon have a cure for the Human Immunodeficiency Virus (HIV).
Scientists from the National Institute of Health (NIH) just identified an antibody in an HIV-infected patient that "neutralized 98 percent of HIV isolates tested, including 16 of 20 strains resistant to other antibodies of the same class," according to a statement. That antibody is called N6, and its ability to shut down that many HIV strains is something scientists haven't seen before.
HIV has been a really hard virus to fight because it "rapidly changes its surface proteins to evade recognition by the immune system," according to the NIH statement. Science Alert expands on the problem, reporting that "due to HIV's ability to rapidly respond to the body's immune defences, an antibody that can block a wide range of strains has been very hard to come by." Now that scientists have found an antibody that can do that, Science Alert reports the antibody "could form the basis of a new vaccine against the virus."
The antibody, named N6, "blocks infection by binding to a part of the HIV envelope called the CD4 binding site, preventing the virus from attaching itself to immune cells," reports NIH. That site, known as the V5 region, changes very little across all strains of HIV and is "the major mechanism of resistance to VRC01-class antibodies," according to the study, published in the journal Immunity. By binding to it, N6 is able "to tolerate changes in the HIV envelope," reports NIH, and bypass the resistance the virus forms to other antibodies. In doing that, N6 is able to prevent HIV from attaching, attacking, and ultimately destroying a patient's immune cells, "which is what makes HIV-positive people so vulnerable to AIDS," reports Science Alert.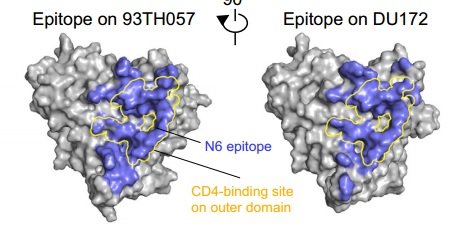 N6 antibody binding to CD4. Credit: Immunity.
"The discovery and characterisation of this antibody with exceptional breadth and potency against HIV provides an important new lead for the development of strategies to prevent and treat HIV infection," said Anthony S. Fauci from the US National Institute of Allergy and Infectious Diseases in the NIH statement.
The technique is about to be tested in humans in a Phase II clinical trial; right now, it's only been done on Rhesus monkeys. But it offers a much-needed ray of hope to HIV patients.
Fingers crossed the good news continues through the trial.
Pfizer's partnerships strengthen their ability to deliver vaccines in developing countries.
Susan Silbermann, Global President of Pfizer Vaccines, looks on as a health care worker administers a vaccine in Rwanda. Photo: Courtesy of Pfizer.
Sponsored
Community healthcare workers face many challenges in their work, including often traveling far distances to see their clients
Pfizer is helping to drive the UN's sustainable development goals through partnerships.
Pfizer partnered with AMP and the World Health Organization to develop a training program for healthcare workers.
The stories we tell define history. So who gets the mic in America?
Videos
History is written by lions. But it's also recorded by lambs.
In order to understand American history, we need to look at the events of the past as more prismatic than the narrative given to us in high school textbooks.
Including different voices can paint a more full and vibrant portrait of America. Which is why more walks of American life can and should be storytellers.

There is no doubt that the historical Jesus, the man who was executed by the Roman State in the first century CE, was a brown-skinned, Middle Eastern Jew.
Hans Zatzka (Public Domain)/The Conversation, CC BY-ND
popular
I grew up in a Christian home, where a photo of Jesus hung on my bedroom wall. I still have it. It is schmaltzy and rather tacky in that 1970s kind of way, but as a little girl I loved it. In this picture, Jesus looks kind and gentle, he gazes down at me lovingly. He is also light-haired, blue-eyed, and very white.
The controversy around the Torah codes gets a new life.
Michael Drosnin
Surprising Science
Mathematicians claim to see a predictive pattern in the ancient Torah texts.
The code is revealed by a method found with special computer software.
Some events described by reading the code took place after the code was written.
Big think's weekly newsletter.
Get smarter faster from the comfort of your inbox.
See our newsletter privacy policy
here
Most Popular
Most Recent
Big think's weekly newsletter.
Get smarter faster from the comfort of your inbox.
See our newsletter privacy policy
here
© Copyright 2007-2018 & BIG THINK, BIG THINK EDGE,
SMARTER FASTER trademarks owned by The Big Think, Inc. All rights reserved.