This Might Be The HIV Cure We've Been Waiting For
Some much-needed good news this week.
18 November, 2016
---
We may soon have a cure for the Human Immunodeficiency Virus (HIV).
Scientists from the National Institute of Health (NIH) just identified an antibody in an HIV-infected patient that "neutralized 98 percent of HIV isolates tested, including 16 of 20 strains resistant to other antibodies of the same class," according to a statement. That antibody is called N6, and its ability to shut down that many HIV strains is something scientists haven't seen before.
HIV has been a really hard virus to fight because it "rapidly changes its surface proteins to evade recognition by the immune system," according to the NIH statement. Science Alert expands on the problem, reporting that "due to HIV's ability to rapidly respond to the body's immune defences, an antibody that can block a wide range of strains has been very hard to come by." Now that scientists have found an antibody that can do that, Science Alert reports the antibody "could form the basis of a new vaccine against the virus."
The antibody, named N6, "blocks infection by binding to a part of the HIV envelope called the CD4 binding site, preventing the virus from attaching itself to immune cells," reports NIH. That site, known as the V5 region, changes very little across all strains of HIV and is "the major mechanism of resistance to VRC01-class antibodies," according to the study, published in the journal Immunity. By binding to it, N6 is able "to tolerate changes in the HIV envelope," reports NIH, and bypass the resistance the virus forms to other antibodies. In doing that, N6 is able to prevent HIV from attaching, attacking, and ultimately destroying a patient's immune cells, "which is what makes HIV-positive people so vulnerable to AIDS," reports Science Alert.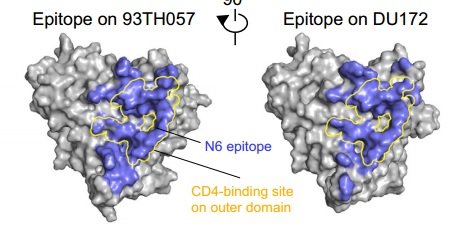 N6 antibody binding to CD4. Credit: Immunity.
"The discovery and characterisation of this antibody with exceptional breadth and potency against HIV provides an important new lead for the development of strategies to prevent and treat HIV infection," said Anthony S. Fauci from the US National Institute of Allergy and Infectious Diseases in the NIH statement.
The technique is about to be tested in humans in a Phase II clinical trial; right now, it's only been done on Rhesus monkeys. But it offers a much-needed ray of hope to HIV patients.
Fingers crossed the good news continues through the trial.
Lumina Foundation is partnering with Big Think to unearth the next large-scale, rapid innovation in post-high school education. Enter the competition here!
Soon, parents may be able to prescribe music to their kids to help them focus.
Videos
Instead of prescribing medications to kids with ADD or ADHD, Clark and his team at Brain.fm are looking to music as another option for treatment.
Through a grant from the National Science Foundation, the company is developing music that features "neural-phase locking" — a combination of different principles that create specific characteristics in the brain, such as increased concentration or relaxation.
As long as they're listening to the music, the neural phase-locking aspect of Brain.fm's tunes has the potential to keep people focused.
There are four main stages. Each has its own particular set of advancements and challenges. 
Jordan Bruner. Vimeo.
popular
Don't you wish you could predict your child's behavior with 100 percent accuracy? Any realistic parent knows it's an impossible daydream, but an appealing one nonetheless. Kids will always surprise you. There are so many factors that go into behavior, not to mention the fact that internal and external forces can sometimes make kids act out of character.
"I should be as happy as I'm ever going to be right now, but I'm not. Is this it?"
Personal Growth
The life choices that had led me to be sitting in a booth underneath a banner that read "Ask a Philosopher" – at the entrance to the New York City subway at 57th and 8th – were perhaps random but inevitable.

Big think's weekly newsletter.
Get smarter faster from the comfort of your inbox.
See our newsletter privacy policy
here
Most Popular
Most Recent
Big think's weekly newsletter.
Get smarter faster from the comfort of your inbox.
See our newsletter privacy policy
here
© Copyright 2007-2018 & BIG THINK, BIG THINK EDGE,
SMARTER FASTER trademarks owned by The Big Think, Inc. All rights reserved.