Big ideas.
Once a week.
Subscribe to our weekly newsletter.
The 2 Biggest Challenges We Need to Solve Before Living on Mars
It seems inevitable that there will be a Mars colony, but the path there won't be easy. There are two key challenges ahead that will push innovation.
02 December, 2016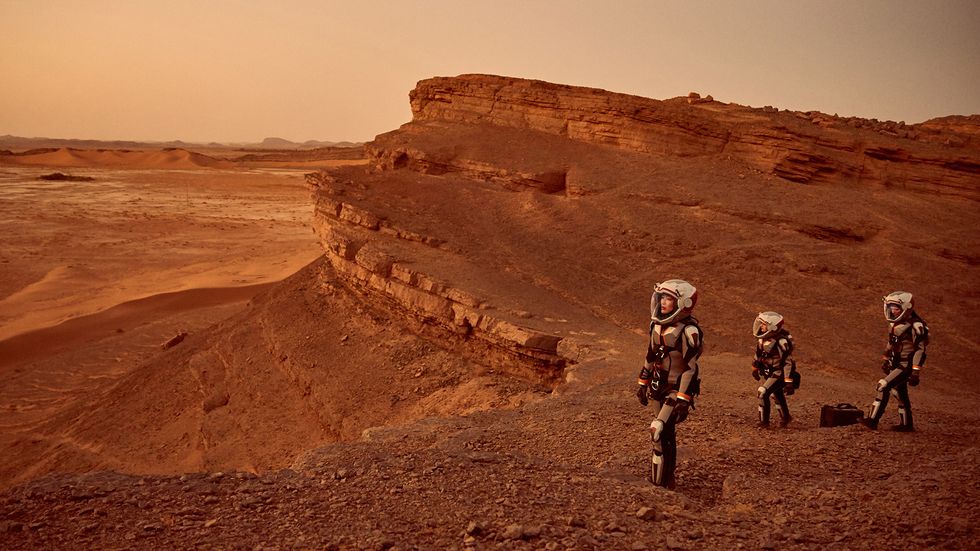 The first crew of Martian astronauts survey their new home. Credit: Mars, National Geographic Channel
---
Despite Elon Musk's inspiring plan to build a human civilization on Mars in 40 years, "the tricky part is to keep people alive," according to Stephen Petranek.
Petranek is the author of How We'll Live on Mars, and he knows the challenges of living on the red planet better than almost anybody. He brought that expertise to National Geographic Channel's Mars series, and each episode reveals a number of threatening hazards to sustaining human life on Mars.
PROBLEM 1: Tough Terrain
Mars isn't just a red planet, it's a dead one. "Mars is no place for the faint-hearted," NASA reports. "Arid, rocky, cold and apparently lifeless," Mars will be a challenge to live on. Its atmosphere is almost 100 times less dense than Earth's, temperatures average -81 degrees Fahrenheit, and it has 63% less gravity. All of those conditions, combined with lack of liquid water and oxygen, create really tough terrain for life to survive in.
Thankfully, there are ways we can learn to adapt to those conditions. One such way is through the Haughton-Mars Project, which invites 100 participants to live and work in conditions very similar to Martian terrain every summer. "The Haughton Crater resembles the Mars surface in more ways than any other place on Earth," the project site explains. It continues:
The surface of Mars is covered with craters of all different sizes, so the terrain, like a demolition site, is made up of loose rock. The terrain at Haughton Crater is similarly covered with loose rock, making it a good analog for researching extravehicular activities (EVAs) and mining technologies. Haughton Crater is also a valuable analog for science research, since it contains an uncannily large variety of Mars-like geological features.
By living and working in this environment, participants experience the challenges of life on Mars firsthand – including living in habitats and wearing suits that mimic the decreased gravity of the Martian atmosphere. Every participant brings back valuable data that will one day be used to create the first human settlement on Mars.
That said, Petranek told us that he thinks there's a better solution for humanity's survival on Mars: terraforming. Terraforming, or transforming Mars in a greener, more Earth-like planet by thickening its atmosphere, is a viable solution. But while Petranek likes terraforming because he believes it can be done quickly ("just look how quickly we changed our own atmosphere," he told me), other experts disagree. Michio Kaku bluntly told us it'll take centuries to terraform Mars. Bill Nye told us that terraforming Mars, or colonizing it all, would be practically impossible:
PROBLEM 2: Radiation
Another problem with Mars' thin atmosphere? Radiation – and it's a doozy. Richard Davis, Assistant Director for Science and Exploration in NASA's Planetary Science Division, explained it to The Week this way: "A longer-term hazard [to humans living on Mars] is the general exposure to higher levels of radiation whether it be from the sun or sources external to the solar system. We can minimize these effects, but there will be increased exposure and thus a higher risk of cancer later in life."
Radiation is the biggest problem we'll have to solve in order to live on Mars. Research done by University of California Irvine showed that "astronauts who experience prolonged exposure to space radiation could suffer from a long-term cognitive impairment," CBC reports. The results of the research, published in the journal Scientific Reports, were dire:
Exposure to these particles can lead to a range of potential central nervous system complications that can occur during and persist long after actual space travel - such as various performance decrements, memory deficits, anxiety, depression, and impaired decision-making. Many of these adverse consequences to cognition may continue and progress throughout life.
The study concludes that "cosmic radiation exposure poses a real and potentially detrimental neurocognitive risk for prolonged deep space travel... [and] deep space travel poses a real and unique threat to the integrity of neural circuits in the brain." Petranek agrees with this, as he told us:
Preparing humans to survive radiation exposure is a bit risky, so the best solution might be finding permanent shelter that offers long-term protection from it, like a lava tube – but training humans to live in a lava tube might still be problematic. "Lava Tubes are large cavernous underground caves formed by hardened lava after molten rock has flowed through it," Screener TV explains, per the Mars show. "To the untrained eye, it's a night-black hole as deep as the Grand Canyon. And it's at the base of this cave the astronauts are looking for their home sweet home." Of course, once humans live in those tubes, they'll have to setup power plants and generators and habitats in order to live down there. That's a tall order for people who are used to sunlight and fresh air – and not one very many are eager to try out.
Yet, for all of those difficulties, the excitement of making the red planet home inspires smart, dedicated people like Musk to create solutions. The more problems we identify now with our potential life on Mars, the better our chances for survival will be when we get there.
Inventions with revolutionary potential made by a mysterious aerospace engineer for the U.S. Navy come to light.
Credit: Getty Images
Surprising Science
U.S. Navy holds patents for enigmatic inventions by aerospace engineer Dr. Salvatore Pais.
Pais came up with technology that can "engineer" reality, devising an ultrafast craft, a fusion reactor, and more.
While mostly theoretical at this point, the inventions could transform energy, space, and military sectors.
The U.S. Navy controls patents for some futuristic and outlandish technologies, some of which, dubbed "the UFO patents," came to light recently. Of particular note are inventions by the somewhat mysterious Dr. Salvatore Cezar Pais, whose tech claims to be able to "engineer reality." His slate of highly-ambitious, borderline sci-fi designs meant for use by the U.S. government range from gravitational wave generators and compact fusion reactors to next-gen hybrid aerospace-underwater crafts with revolutionary propulsion systems, and beyond.
Of course, the existence of patents does not mean these technologies have actually been created, but there is evidence that some demonstrations of operability have been successfully carried out. As investigated and reported by The War Zone, a possible reason why some of the patents may have been taken on by the Navy is that the Chinese military may also be developing similar advanced gadgets.
Among Dr. Pais's patents are designs, approved in 2018, for an aerospace-underwater craft of incredible speed and maneuverability. This cone-shaped vehicle can potentially fly just as well anywhere it may be, whether air, water or space, without leaving any heat signatures. It can achieve this by creating a quantum vacuum around itself with a very dense polarized energy field. This vacuum would allow it to repel any molecule the craft comes in contact with, no matter the medium. Manipulating "quantum field fluctuations in the local vacuum energy state," would help reduce the craft's inertia. The polarized vacuum would dramatically decrease any elemental resistance and lead to "extreme speeds," claims the paper.
Not only that, if the vacuum-creating technology can be engineered, we'd also be able to "engineer the fabric of our reality at the most fundamental level," states the patent. This would lead to major advancements in aerospace propulsion and generating power. Not to mention other reality-changing outcomes that come to mind.
Among Pais's other patents are inventions that stem from similar thinking, outlining pieces of technology necessary to make his creations come to fruition. His paper presented in 2019, titled "Room Temperature Superconducting System for Use on a Hybrid Aerospace Undersea Craft," proposes a system that can achieve superconductivity at room temperatures. This would become "a highly disruptive technology, capable of a total paradigm change in Science and Technology," conveys Pais.
High frequency gravitational wave generator.
Credit: Dr. Salvatore Pais
Another invention devised by Pais is an electromagnetic field generator that could generate "an impenetrable defensive shield to sea and land as well as space-based military and civilian assets." This shield could protect from threats like anti-ship ballistic missiles, cruise missiles that evade radar, coronal mass ejections, military satellites, and even asteroids.
Dr. Pais's ideas center around the phenomenon he dubbed "The Pais Effect". He referred to it in his writings as the "controlled motion of electrically charged matter (from solid to plasma) via accelerated spin and/or accelerated vibration under rapid (yet smooth) acceleration-deceleration-acceleration transients." In less jargon-heavy terms, Pais claims to have figured out how to spin electromagnetic fields in order to contain a fusion reaction – an accomplishment that would lead to a tremendous change in power consumption and an abundance of energy.
According to his bio in a recently published paper on a new Plasma Compression Fusion Device, which could transform energy production, Dr. Pais is a mechanical and aerospace engineer working at the Naval Air Warfare Center Aircraft Division (NAWCAD), which is headquartered in Patuxent River, Maryland. Holding a Ph.D. from Case Western Reserve University in Cleveland, Ohio, Pais was a NASA Research Fellow and worked with Northrop Grumman Aerospace Systems. His current Department of Defense work involves his "advanced knowledge of theory, analysis, and modern experimental and computational methods in aerodynamics, along with an understanding of air-vehicle and missile design, especially in the domain of hypersonic power plant and vehicle design." He also has expert knowledge of electrooptics, emerging quantum technologies (laser power generation in particular), high-energy electromagnetic field generation, and the "breakthrough field of room temperature superconductivity, as related to advanced field propulsion."
Suffice it to say, with such a list of research credentials that would make Nikola Tesla proud, Dr. Pais seems well-positioned to carry out groundbreaking work.
A craft using an inertial mass reduction device.
Credit: Salvatore Pais
The patents won't necessarily lead to these technologies ever seeing the light of day. The research has its share of detractors and nonbelievers among other scientists, who think the amount of energy required for the fields described by Pais and his ideas on electromagnetic propulsions are well beyond the scope of current tech and are nearly impossible. Yet investigators at The War Zone found comments from Navy officials that indicate the inventions are being looked at seriously enough, and some tests are taking place.
If you'd like to read through Pais's patents yourself, check them out here.
Laser Augmented Turbojet Propulsion System
Credit: Dr. Salvatore Pais
Tips from neuroscience and psychology can make you an expert thinker.
Credit
: Olav Ahrens Røtne via Unsplash
Mind & Brain
This article was originally published on Big Think Edge.
Problem-solving skills are in demand. Every job posting lists them under must-have qualifications, and every job candidate claims to possess them, par excellence. Young entrepreneurs make solutions to social and global problems the heart of their mission statements, while parents and teachers push for curricula that encourage critical-thinking methods beyond solving for x.
It's ironic then that we continue to cultivate habits that stunt our ability to solve problems. Take, for example, the modern expectation to be "always on." We push ourselves to always be working, always be producing, always be parenting, always be promoting, always be socializing, always be in the know, always be available, always be doing. It's too much, and when things are always on all the time, we deplete the mental resources we need to truly engage with challenges.
If we're serious about solving problems, at work and in our personal lives, then we need to become more adept at tuning out so we can hone in.
Solve problems with others (occasionally)
A side effect of being always on is that we are rarely alone. We're connected through the ceaseless chirps of friends texting, social media buzzing, and colleagues pinging us for advice everywhere we go. In some ways, this is a boon. Modern technologies mediate near endless opportunities for collective learning and social problem-solving. Yet, such cooperation has its limits according to a 2018 study out of Harvard Business School.
In the study, participants were divided into three group types and asked to solve traveling salesman problems. The first group type had to work on the problems individually. The second group type exchanged notes after every round of problem-solving while the third collaborated after every three rounds.
The researchers found that lone problem-solvers invented a diverse range of potential solutions. However, their solutions varied wildly in quality, with some being true light bulb moments and others burnt-out duds. Conversely, the always-on group took advantage of their collective learning to tackle more complex problems more effectively. But social influence often led these groups to prematurely converge around a single idea and abandon potentially brilliant outliers.
It was the intermittent collaborators who landed on the Goldilocks strategy. By interacting less frequently, individual group members had more time to nurture their ideas so the best could shine. But when they gathered together, the group managed to improve the overall quality of their solutions thanks to collective learning.
In presenting their work, the study's authors question the value of always-on culture—especially our submissiveness to intrusions. "As we replace those sorts of intermittent cycles with always-on technologies, we might be diminishing our capacity to solve problems well," Ethan Bernstein, an associate professor at Harvard Business School and one of the study's authors, said in a press release.
These findings suggest we should schedule time to ruminate with our inner geniuses and consult the wisdom of the crowd. Rather than dividing our day between productivity output and group problem-solving sessions, we must also create space to focus on problems in isolation. This strategy provides the best of both worlds. It allows us to formulate our ideas before social pressure can push us to abandon them. But it doesn't preclude the group knowledge required to refine those ideas.
And the more distractions you can block out or turn off, the more working memory you'll have to direct at the problem.
A problem-solving booster
The next step is to dedicate time to not dealing with problems. Counterintuitive as it may seem, setting a troublesome task aside and letting your subconscious take a crack at it improves your conscious efforts later.
How should we fill these down hours? That's up to you, but research has shown time and again that healthier habits produce hardier minds. This is especially true regarding executive functions—a catchall term that includes a person's ability to self-control, meet goals, think flexibly, and, yes, solve problems.
"Exercisers outperform couch potatoes in tests that measure long-term memory, reasoning, attention, problem-solving, even so-called fluid-intelligence tasks. These tasks test the ability to reason quickly and think abstractly, improvising off previously learned material to solve a new problem. Essentially, exercise improves a whole host of abilities prized in the classroom and at work," writes John Medina, a developmental molecular biologist at the University of Washington.
One such study, published in the Frontiers in Neuroscience, analyzed data collected from more than 4,000 British adults. After controlling for variables, it found a bidirectional relationship between exercise and higher levels of executive function over time. Another study, this one published in the Frontiers in Aging Neuroscience, compared fitness data from 128 adults with brain scans taken as they were dual-tasking. Its findings showed regular exercisers sported more active executive regions.
Research also demonstrates a link between problem-solving, healthy diets, and proper sleep habits. Taken altogether, these lifestyle choices also help people manage their stress—which is known to impair problem-solving and creativity.
Of course, it can be difficult to untangle the complex relationship between cause and effect. Do people with healthy life habits naturally enjoy strong executive functions? Or do those habits bolster their mental fitness throughout their lives?
That's not an easy question to answer, but the Frontiers in Neuroscience study researchers hypothesize that it's a positive feedback loop. They posit that good sleep, nutritious food, and regular exercise fortify our executive functions. In turn, more potent executive decisions invigorate healthier life choices. And those healthy life choices—you see where this is going.
And while life choices are ultimately up to individuals, organizations have a supportive role to play. They can foster cultures that protect off-hours for relaxing, incentivize healthier habits with PTO, and prompt workers to take time for exercise beyond the usual keyboard calisthenics.
Nor would such initiatives be entirely selfless. They come with the added benefit of boosting a workforce's collective problem-solving capabilities.
Live and learn and learn some more
Another advantage of tuning out is the advantage to pursue life-long learning opportunities. People who engage in creative or problem-solving activities in their downtime—think playing music, puzzles, and even board games—show improved executive functions and mental acuity as they age. In other words, by learning to enjoy the act of problem-solving, you may enhance your ability to do so.
Similarly, lifelong learners are often interdisciplinary thinkers. By diving into various subjects, they can come to understand the nuances of different skills and bodies of knowledge to see when ideas from one field may provide a solution to a problem in another. That doesn't mean lifelong learners must become experts in every discipline. On the contrary, they are far more likely to understand where the limits of their knowledge lie. But those self-perceived horizons can also provide insight into where collaboration is necessary and when to follow someone else's lead.
In this way, lifelong learning can be key to problem-solving in both business and our personal lives. It pushes us toward self-improvement, gives us an understanding of how things work, hints at what's possible, and, above all, gives us permission to tune out and focus on what matters.
Cultivate lifelong learning at your organization with lessons 'For Business' from Big Think Edge. At Edge, more than 350 experts, academics, and entrepreneurs come together to teach essential skills in career development and lifelong learning. Heighten your problem-solving aptitude with lessons such as:
Make Room for Innovation: Key Characteristics of Innovative Companies, with Lisa Bodell, Founder and CEO, FutureThink, and Author, Why Simple Wins
Use Design Thinking: An Alternative Approach to Tackling the World's Greatest Problems, with Tim Brown, CEO and President, IDEO
The Power of Onlyness: Give Your People Permission to Co-Create the Future, with Nilofer Merchant, Marketing Expert and Author, The Power of Onlyness
How to Build a Talent-First Organization: Put People Before Numbers, with Ram Charan, Business Consultant
The Science of Successful Things: Case Studies in Product Hits and Flops, with Derek Thompson, Senior Editor, The Atlantic, and Author, Hit Makers
Request a demo today!
The Rijksmuseum employed an AI to repaint lost parts of Rembrandt's "The Night Watch." Here's how they did it.
Credit: Rijksmuseum
Culture & Religion
In 1715, Amsterdam's Town Hall sliced off all four outer edges of Rembrandt's priceless masterpiece so that it would fit on a wall.
Neural networks were used to fill in the missing pieces.
An unprecedented collaboration between man and machine is now on display at the Rijksmuseum.
Robert Erdmann, a senior scientist working for the Rijksmuseum, cannot help but smile when I ask him to explain — in as much detail as possible — how exactly he used artificial intelligence to recreate long-lost portions of Rembrandt van Rijn's most famous painting, The Night Watch (1642). "Most people just want the elevator pitch," he tells me over Zoom.
The Night Watch is a mammoth of a painting, and it used to be even bigger. In 1715, it came into the possession of the bureaucrats in charge of Amsterdam's Town Hall. In order to fit it on their wall, they sliced off all four outer edges of Rembrandt's priceless masterpiece, inadvertently creating the compromised version we know today.
Rembrandt's "The Night Watch," with the missing edges shown in black.
The missing pieces of "The Night Watch" were never recovered, but we know what they looked like thanks to Gerrit Lundens, a contemporary of Rembrandt who copied the painting when it was complete. These missing sections depict the top of the arch, a balustrade at the bottom, and two soldiers of Frans Banninck Cocq's militia company that stood at the far left.

Though the absence of these elements does not make "The Night Watch" any less impressive, their presence greatly alters the painting's look and feel. The balustrade emphasizes the company's movement forward. Together, the four missing pieces shift the principal figures — Cocq and Willem van Ruytenburch — to the right, creating a more compelling composition.
Copy of "The Night Watch" by Gerrit Lundens.
As part of Operation Night Watch, a multimillion-dollar restoration mission, the Rijksmuseum set out to recreate these missing pieces of the painting to show visitors The Night Watch as Rembrandt had originally constructed it. One easy way to do this would be to upload the smaller Lundens copy into Photoshop, blow it up by a factor of five, print it out, and call it a day.

Easy, but far from adequate. As Erdmann puts it: "There's nothing wrong with using an artist like that. However, the final product would still contain traces of that artist's own style." For Erdmann, the only viable solution was to create a series of neural networks — software that mimics the human brain through the use of artificial neurons — to transform the Lundens copy into an "original" Rembrandt.
Humans, unlike computers, aren't able to make perfect copies. Faithful though Lundens' painting is — especially in its visual detail, for example, the number of buttons on a coat, plumes on a feather, or engravings on a halberd — it still contains a myriad of miniscule differences that prevented Erdmann from simply copy-pasting it onto the original.
Perspective was the first and arguably most important item on Erdmann's list. "The geometric correspondence is pretty good at the bottom of the copy," he says. "At the top, that correspondence starts to fall apart; the composition looks stretched out, supposedly because Lundens was unable to reach the top of the painting to get its precise measurements."
Lundens' copy, adjusted for perspective by the AI.
After creating a neural network that could identify corresponding elements in both versions of The Night Watch — from faces and hands to clothing and weapons — Erdmann made a second neural network that could stretch, rotate, foreshorten, compress, and decompress the Lundens copy so that its measurements matched the Rembrandt original as closely as possible.

According to Erdman, this step was "a guide to where we should place the figures on the left, because they need to be consistent with the extrapolation from the original Night Watch." Aside from aligning the two paintings, Erdmann's adjustments also transformed the facial structure of figures like Cocq, bringing them closer to Rembrandt's expert rendering.
Detail of the Lundens copy before perspectival adjustments.
Detail of the Lundens copy after perspectival adjustments.
Just as a painter must tone their canvas before they can work on composition and color, so too did Erdmann have to get the dimensions right before he could move on to the third and final stage of his coding process. Erdmann's next part of the neural network involved — to paraphrase his elevator pitch — sending the artificial intelligence algorithm to art school.

"Not unlike how you might translate a text from Dutch to English, we wanted to see if we could transform Lundens' painterly style and palette into Rembrandt's," he explains, comparing the learning curve to a quiz. To educate it, the AI was given random tiles from the Lundens copy and asked to render the tiles in the style of Rembrandt.
As with any pedagogical situation, Erdmann evaluated the AI's efforts with a corresponding grade. The closer its output matched the contents of the original Night Watch, the higher the grade it received. When grading, Erdmann considered things like color, texture, and representation (i.e., how well does this frowning face resemble a frowning face, or this sword an actual sword?).
"Once you've defined what makes a good copy, you can train the network on thousands and thousands of these tiles," Erdmann goes on. There are 265 gigabytes of memory of thousands of attempts stored, which demonstrates improvement in quality over a very short time. Within less than a day, the error margin between the AI and the real Rembrandt grew so small it became insignificant; the training was complete.
Lundens copy when adjusted for perspective and Rembrandt's style by AI.
Along the way, the AI had developed a thorough understanding of what made Rembrandt Rembrandt. When translating Lundens' copy, it used a less saturated color palette and thicker, sketchier brushstrokes. It even adopted the painter's signature use of chiaroscuro — a technique involving sharp contrasts between light and shadow.

Then it was time for the final exam. Using the knowledge gained from copying Rembrandt, Erdmann ordered the AI to transform the four outer edges of the Lundens copy — removed from the original Night Watch — into Rembrandt's signature style. The result, an unprecedented collaboration between man and machine, is now on display in the Eregalerij of the Rijksmuseum.
Detail of the completed "Night Watch." The two figures on the left were added from the adjusted Lundens copy.
The missing pieces, resuscitated by AI, were printed onto canvas and varnished so that they had a similar gloss to the rest of the painting. The pieces were then attached to metal plates, which were placed in front of the original Night Watch at a distance of less than one centimeter, thus creating an optical illusion for visitors without actually touching Rembrandt's work.
While conservation science is evolving rapidly, the achievements of people like Erdmann are still eclipsed by the artistic genius of the painters whose work they try to preserve, which is a shame because Erdmann's software can be just as inventive as Rembrandt's brushwork. At the very least, Erdmann's problem-solving skills would have made the master proud.
Culture & Religion
If something is "true," it needs to be shown to work in the real world.
Scroll down to load more…